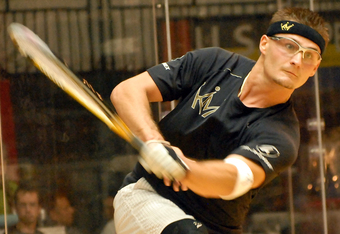 A statistically focused review of Kane Waselenchuk's career.
On 4/28/18, minutes after winning the final event of the 2017-18 season, Kane shocked the racquetball world by announcing that he was "90%" sure he was retiring from full-time touring.
There's all sorts of chatter here and there on this subject on facebook right now in the rball community, a lot of it inexplicably negative. So how about some positivity in reflecting on what an amazing career he's had to date?
I'll say this, from my perspective as the guy who tracks all of this data for www.proracquetballstats.com: Kane's dominance is the reason many of the cool reports on the site exist, and I'll be bummed to see him go and stop chasing records. There are not too many people in the professional sports landscape who get to say that they won their last match. As for the future, as a fan of the pro sport and someone who is always trying to predict who beats who in head to head match-ups, I'm also excited to see the next era of the sport, to see who steps up next year to challenge Rocky for the next title. It was always an inevitability that the current elder statesmen of the tour were going to step aside; i'm just surprised by who bowed out first and when. I sincerely hope he changes his mind and chases a 13th title (and beyond).
Its quite a few months away from the start of the 2018-19 season, and 90% isn't 100%, so this whole post may be premature … but going under the assumption that we've seen the last of Kane full time on tour, I thought it'd be fun to put out some fun stats on his career. Every one of these figures can be found by running a report on the website, but if you have any questions how to see these data points for yourself, i'm always available.
Pro Tour Titles:
– 12 pro tour titles; 6 more than the next closest competitor (Cliff Swain's 6 pro titles)
Some Tournament title stats:
– 110 pro tournament wins, 39 more than the next closest competitor (Cliff's 71 "known" tour wins)
– Tournament win percentage of 68.3% for his career. To put this in perspective, if 68.3% was his MATCH won/loss percentage
he'd still be top 15 of all time.
– He reached the finals in 74.5% of the tournaments he ever entered. Think about that fact; 3 out of every 4 tournaments for his career featured him in the final.
– He won the 7th pro event he ever entered (same as Cliff and Sudsy Monchik in terms of fastest ever).
– He owns 13 US Open titles, triple the closest competitor.
Wins and Losses
– "Retires" with a career record of 553-50, a .917 winning percentage.
– He's so far ahead of the 2nd best player in terms of career W/L percentage (Marty Hogan at .844) that he could lose 50 straight matches and still be in the lead. Fifty. This to me is the most amazing stat about Kane's career.
– 13 of his 50 career tour losses were forfeits where he never even took the court (either through injury or missing a tournament after the draw had been made). So some would like to say his career W/L record is even more impressive than it already appears.
– Most wins against him: Cliff Swain, who finished 9-13 head to head against Kane.
– He's had just 12 losses in the last decade, most by forfeit.
– There's just one player in the history of the tour who has a winning record against him: John Ellis , 2-1.
– He's 73-3 for his career against Rocky Carson, who was his closest competitor for most of his reign.
– the last on the court loss he suffered was to Jake Bredenbeck in May 2016, retiring in the 5th game after winning the first two and suffering an injury.
– The last on the court, non-fft related loss was to Jose Rojas in Sept 2013. Prior to that you have to go back to Jan 2009, a semis loss to Alvaro Beltran. That's nearly a decade ago.
Streaks
– Won 19 consecutive tournaments entered between Jan 2009 and Jan 2011.
– He owns the top six consecutive tournaments won streak of all time, each of which is in the double digits.
– Compiled a 134 match on the court winning streak, between Jan 2009 and Jan 2012.
– Also had additional such streaks of 108 matches and he retires with an intact 61 match winning streak on the court. He owns the longest three such match winning streaks in pro tour history (Marty's great 1976-77 season is the fourth longest winning streak).
– Completed two fully undefeated seasons (forfeits or otherwise); 2009-10, 2016-17; the first such seasons ever done on tour.
– Several other seasons, when accounting for forfeit losses, were also "undefeated" seasons.
– He completed a perfect season in terms of games won/lost, going 85-0 in games played during the 2016-17 season.
– This was part of a streak of 113 consecutive games won between May 2016 and Oct 2017. For me, this might be his most amazing accomplishment on the court. He was so dominant for so long that he didn't even drop a game for a year and a half.
Miscellany
– Career donut count: 130 given, 3 taken. During tournaments, I'm often asked to recall the individual donuts he's received in lieu of match losses. (In case you're wondering; Swain gave him a donut in 2001, again in 2004, then Rojas gave him a donut in 2012 before getting donutted himself in the second game.
– He won a title in the last 15 seasons in which he competed.
– He owns the top 7 most dominant finals performances in terms of points conceded, and 19 of the top 22.
– He owns the top 17 most dominant tournaments in history (and 33 of top 34), once winning a tourney and conceding just 19 points in 12 games across 4 matches.
– Just about the only records he doesn't own in the history of the tour are longevity/age based, ones that I'd have no doubt he could eventually eclipse if he were to continue playing deep into his 40s.
So, that's some fun stats for you. I hope you enjoy, and long live King Kane.