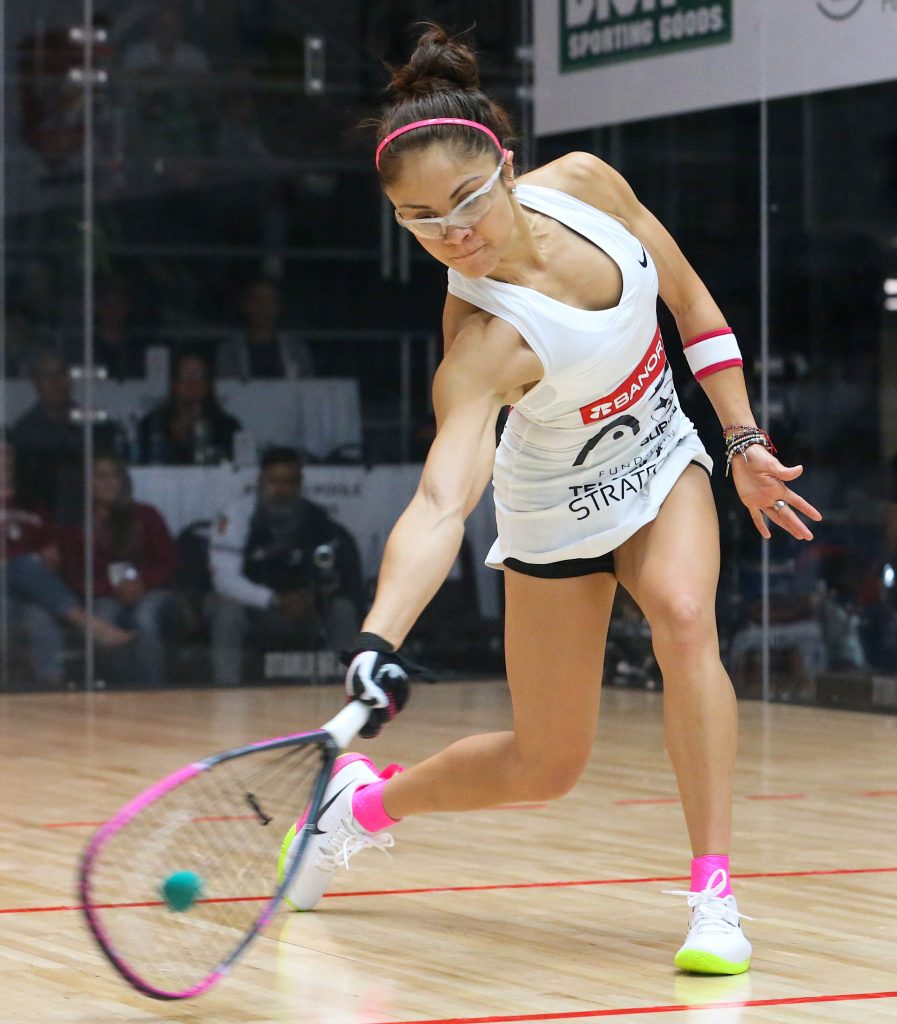 Congrats to your winners in the final LPRT event of the season:
Singles: Paola Longoria
Doubles: Paola Longoria & Samantha Salas
r2sports link: https://www.r2sports.com/website/event-website.asp?TID=30791
———————————-
Here's a summary of the event on the singles side:
PRS Match Report: http://rball.pro/2D8EB8
In the play-ins/round of 32: 
– #17 Montse Mejia took out #16 Carla Muñoz Montesinos in three games.
– #12 Cassie Lee was stretched to five games by #21 Marie Gomar, winning 11-8 in the 5th. 
– #20 Jessica Parrilla's first match back was a win over LPRT vet #13 Adrienne Fisher Haynes.
– #12 Sheryl Lotts was stretched to a 12-10 5th game win over #19 Erin Rivera.
– #15 Susy Acosta got a solid win over #18 Maria Renee Rodríguez to advance.
In the round of 16,, results went exactly chalk. All top 8 seeds advanced. There were a couple of notable results though.
– Unlike in Syosset, the Paola Longoria – Mejia match was a 3-game blow out, Longoria winning 3,1,4. 
– #8 Amaya Cris dropped the first game against #9 Masiel Rivera Oporto but won in 4.
– Similarly, #4 Alexandra Herrera dropped the first game to Parrilla before winning in 4.
– In a battle of Mexican LPRT vets, Susy Acosta Racquetball took a game off of Samantha Salas Solis before falling in four.
In the quarters, the draw went chalk … but not with out some tough matches:
– #1 Paola Longoria trounced #8 Amaya in 3
– #4 Herrera got her first ever win over #5 Rhonda Rajsich, breaking a long-running streak and solidifying her top 4 finish on the year.
– #3 Maria Jose Vargas was stretched to a 5th game against doubles partner #6 Natalia Mendez before advancing.
– #2 Salas came from 2 games down to win a very close one against #7 Nancy Enriquez, 11-9 in the 5th.
The semis and finals went chalk; Longoria over Herrera in 4, Salas over Vargas in 4. In the final Salas took the first game off of Longoria but Paola prevailed, completing an undefeated season.
———————————-
Doubles wrap-up:
PRS Match Report: http://rball.pro/5BAB23
– All four top seeds advanced to the semis … but the #2 seeded Argentinian team of Vargas/Mendes had to save match point against before advancing against the all-Mexican team of Parrilla & Enriquez.
In the semis, both the top Mexican teams cruised to two game wins to face off in the finals.
In the final, the top seeded Longoria/Salas team dropped game 2, but held on for the title.
———————————-
that's it for the season! A dominant season for Longoria, and for Salas, who have really established themselves as the #1 and #2 players in the world. Once the final rankings post to lprtour.com, I'll scrap them and do all the year end processing and send out a separate post summarizing the season.
Next up: we'll wait for the final points standings to post and then do typical PRS end of season work and will send out a seasonal summary after that.
next up on the rball calendar? US Junior Nats, then WOR outdoors, then Mexican Jr Nats, ,then the Pan Am games in august.