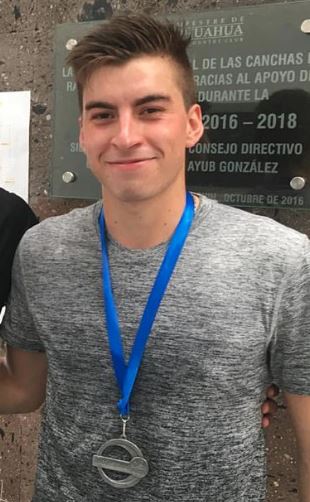 Congrats to the winners on the weekend:
– Singles: Javier Estrada
– Doubles: Javier Mar & Rodrigo Montoya
r2sports link for brackets: https://www.r2sports.com/tourney/home.asp?TID=30578
No database links at www.proracquetballstats.com; we don't load up non Tier 1 events, despite how amazing the draw was. We're reporting as fans of the pro game. And, what a tournament it was.
———————————
Wrap up of the singles event, with notable matches:
In the opening round 64:
– doubles specialist Roland Keller got a solid win over regular touring pro Jaime Martell Neri 14,11.
– Erik Garcia beat Mexican Jr legend David Ortega 12,11.
– Javier Moreno's break from pro racquetball retirement ended quickly at the hands of youngster Erick Cuevas 12,6.
– Jose Daniel Ugalde Albornoz was given a pass into the 32s and a match-up with Moscoso when Alex Cardona withdrew. This is a bummer; I thought the Cardona-Ugalde match would be great … and that a possible Moscoso-Cardona 32 match-up would be fantastic.
In the 32s:
– Carlos Keller Vargas took out IRT touring regular Justus Benson 1,14. Good come-back by Benson to make game 2 competitive.
– #5 Rodrigo Montoya Solis got a walk-over win over Roland Keller, who had to take injury time-out time in his earlier victory and may have been preserving himself for doubles.
– #12 Javier Mar got stretched by American youngster Garcia to a tie-breaker before advancing.
– Giant killer Alan Natera Chavez took out #13 Charlie Pratt in a tiebreaker. I thought Pratt had a solid run to the qtrs or semis here; will that now be Natera?
– #19 Javier Estrada trounced #14 Sebastian Fernandez 2,6. In my personal world rankings I have these two literally one after the other but this was a pretty dominant win.
– #7 Luis Conrrado Moscoso Serrudo took out long-time Ecuadorian veteran Jose Daniel Ugalde 5,10 to get his tourney started with a solid win.
– #15 Eduardo Garay Rodriguez got revenge for last week's loss by topping #18 Ernesto Ochoa in two close games.
– #2 Alvaro Beltran was taken to the limit by long time Ecuadorian vet Fernando Rios, saving match point against and advancing 11-10.
In the 16s, we started to see some serious upsets
– #1 Andree Parrilla lost game one 15-8, then got an injury walkover to advance over two-time defending PARC champ Keller. Carlos looked like he was in discomfort from the latter portions of game one and didn't event take the court for game 2. A shame, because I'd have liked to see if Keller could make a run to the semis or finals here.
– #9 Gerardo Franco Gonzalez took an 11-9 close win over Lalo Portillo in the latest iteration of their rivalry (they were one year apart in Juniors and faced each other often growing up).
– #5 Montoya downed doubles partner Mar 13,6, in a reverse of their match-up in Syosset. 
– Natera kept up his upsetting ways, this time topping IRT top8 player Sebastian Franco 11-9.
– #19 Estrada continued to dominate, this time taking out top IRT pro Daniel De La Rosa 11-9 in the breaker. Estrada is another example of a dominant Mexican player who rarely plays the IRT: his sole IRT appearance was in 2010, as a 14yr old, when the tour made a stop in Chihuahua (his home town)
– #6 Mario Mercado beat Costa Rican #1 Andres Acuña for the 2nd time in as many weeks to advance.
– #7 Moscoso wiped out Costa Rican #2 Felipe Camacho to advance.
– #2 Beltran recovered from his earlier match to take out the upset-minded Garay 11,1.
So your quarter final seeds are: 1,9,5,20,19,7,2.
– #1 Parrilla advanced eily over #9 Franco 9,6
– #5 Montoya dropped the first game but came back to beat Natera in a breaker.
– Hard hitting #19 Estrada came from 7-10 down in the breaker to score four unanswered and top IRT top 10 player and #6 seed Mercado 11-10.
– #7 Moscoso took a close first game in controversial fashion over #2 Beltran, who then hobbled off the court midway through the second in an injury fft.
Semis: 1,5,19 and 7 seeds.
In the semis:
– #5 Montoya trounced #1 Parrilla 6,3. This was technically their first IRT meeting; they'd met 8 times previously that I could track in the database (and likely more, since they're the exact same age and were frequent competitors on the junior circuit).
– #19 Estrada, if he hadn't already made a statement in this tournament, made an even larger one in taking out #7 Moscoso in a streaky tiebreaker win. He raced to a 6-0 lead, then fell behind 12-6, then raced to a 15-12 first game win. In the second, Moscoso cruised to a 15-3 win. in the breaker, Estrada really bore down and broke away with solid play to dominate and take teh breaker 11-5. I had Moscoso winning this event, now I wonder if Estrada can beat the winner of Parrilla/Montoya.
In the final, Estrada indeed got the breakthrough win, beating Montoya (14),9,3.
Quite a weekend for the home-town 24-yr old. He beat 3 of the top 10 players in the world to win this event and, for me combined with past results is now clearly himself in that same category.
———————————-
Doubles event:
The draw went mostly chalk to the quarters as expected, though the #10 seeded Pratt/Garcia team easily advanced over Guatemalans Christian Wer and Javier Martinez.
In the quarters: Beltran/DLR got a walkover, the CRC team of Acuna/Camacho took a scintillating 11-10 win over Parrilla/Portillo, Montoya/Mar beat a hobbled Bolivian team of Moscoso/Keller handily, and Pratt/Garcia took out #2 Colombian team 11-10.
In the semis, the two top Mexican teams both advanced to force a rematch of the 2018 Mexican National finals; Beltran/DLR over the Costa Ricans Acuna/Camacho, and Montoya/Mar over Pratt/Garcia.
In the final, Montoya/Mar got the better of Beltran/DLR 7,12 to take the title.
———————————–
That's a wrap for the 2018-19 IRT season! When the points post to the website, i'll scrape it and update the PRS sites with end-of-year season rankings and what not, and will do a notification post to that end with all the yearly artifacts updated. We look forward to the initial publishing of the 2019-20 IRT calendar.
Next up on the rball calendar is US Junior Nationals next weekend in Portland. After that, we have more solid Mexican non-sanctioned events, WOR outdoor nationals in July, Mexican Junior natioanls in July, and then the Pan American games in august.
International Racquetball Tour Federación Boliviana De Raquetbol – FeboraFederación Mexicana de Raquetbol RKT International Racquetball Federation – IRF