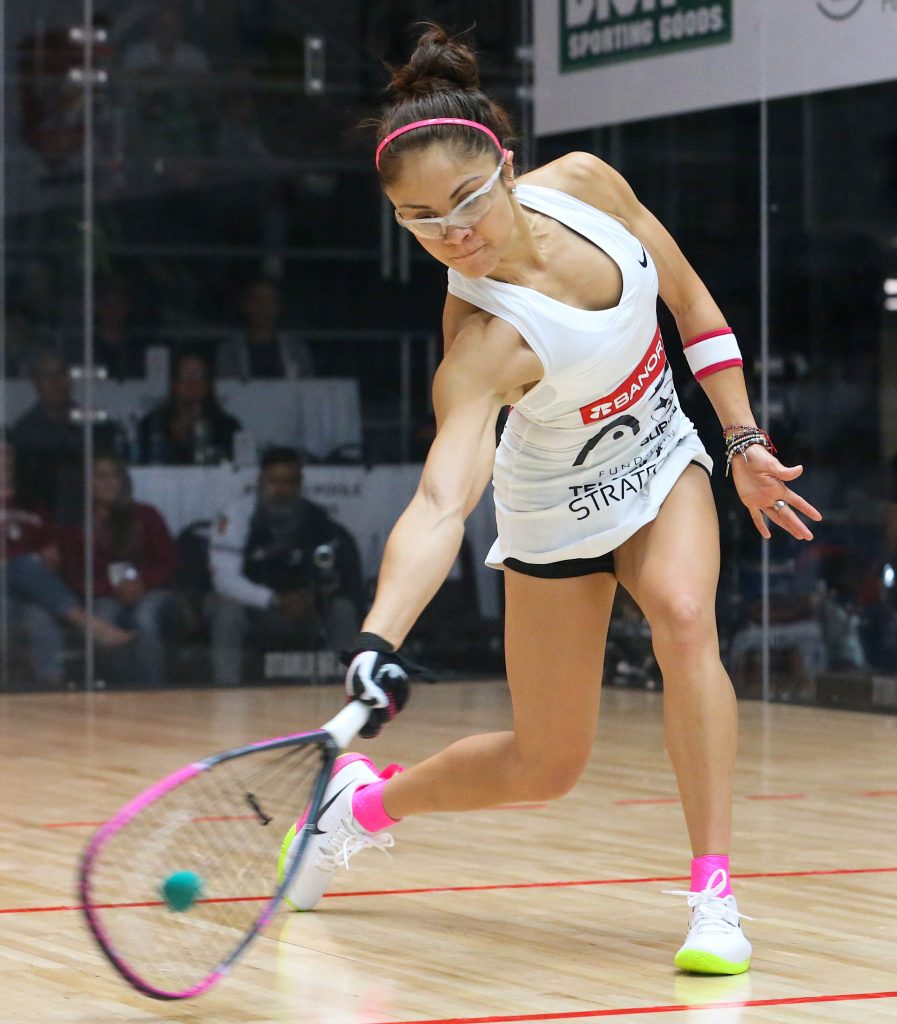 Congrats to your winners on the weekend:
Singles: Paola Longoria
Doubles: Monserrat Mejia & Alexandra Herrera
R2 Sports App link: https://www.r2sports.com/website/event-website.asp?TID=31123
Here's a wrap of the Singles matches of note by round:
Match report in the database: http://rball.pro/624927
In the 32s:
– #19 Denisse Maldonado took out #14 Sheryl Lotts in a tie-breaker for a career win.
– #11 Ana Laura Flores Saavedra was stretched to a tie-breaker by 15yr old Daniela Rico before advancing.
In the 16s:
– #8 Amaya Cris dominated #9 Masiel Rivera Oporto 3,9 to advance. This should be an interesting season for Amaya with her renewed training regiment.
– #12 Montse Mejia got a solid 2-game win over #5 Rhonda Rajsich, reversing the result from their meeting in Lima a few weeks ago.
– #4 Alexandra Herrera barely held off #13 Jessica Parrilla 11-9 in the breaker. Its the third straight defeat in the 16s for Parrilla at the hands of Herrera, but she keeps getting closer. 
– #19 Maldonado fared well against #3 Maria Jose Vargas Parada losing in two 9,10. A good showing for the 20-yr old.
– #11 Flores got the biggest (only) upset of the round, topping #6 Natalia Mendez Erlwein in two. Its the 2nd year in a row they've met in this event … and the 2nd year in a row Flores upset the Argentinian.
– #7 Nancy Enriquez was stretched to a tiebreaker by #10 Brenda Laime Jalil before advancing. Laime continues to make main events, solidifying her ranking in the 12-16 range, but she has yet to have a break through win.
In the quarters:
– #1 Paola Longoria took out #8 Amaya 8,9 to advance.
– #12 Mejia continued her upsetting ways, taking out #4 Herrera in two games and perhaps making a statement about the current heirarchy on the tour.
– #3 Vargas advanced in two straight over 18U champ Flores.
– #2 Samantha Salas Solis blitzed past #7 Enriquez 1,6.
In the semis; two heavyweight battles and two interesting matches:
– #1 Longoria and #12 Mejia were neck and neck in game one, with Longoria pulling out a close one, then she broke away in game two to advance 13,5.
– #3 Vargas got just her 3rd pro win over Salas in a tense, back and forth 11-9 tiebreaker win.
In the final, Vargas mounted a furious comeback in Game 1 but fell slightly short, then Longoria took over in game 2 to win her namesake title 13,6.
—————————————
Doubles review:
Match report in the database: http://rball.pro/A430D7
The two top Mexican teams advanced to the final as #1 and #3 seeds. #3 Mejia/Herrera downed the #2 Argentinian national team of Vargas/Mendez 12,13 to advance.
The final was a rematch of several major events in the last couple of years (these are all Finals);
– 2016 US Open
– 2017 Chihuahua Pro stop
– 2018 Battle at the Alamo
– 2018 World Doubles
– 2018 Mexican Worlds selection
– 2018 Paola Longoria Experience
– 2018 US Open
– 2019 Mexican Nationals
– 2019 Kansas City pro stop.
The #1 team had won every one of these finals matchups save for the 2018 Worlds selection event.
On this day though, the younger team of Herrera/Mejia stuck with the hard-hitting veteran team, mounted a solid comeback in game 2 after letting game 1 slip away, then just out-shot the #1 team behind really solid serving from Herrera and took the title.
—————————————-
Next up: IRF 35th Annual World Seniors is next week in Albequerque, then there's three major tourneys the following weekend: IRT kicks off in Atlanta, the LPRT visits my home state of Virginia for the LPRT By the Beach or LPRT Chesapeake event, and the 20th annual European championships kick off in Germany.
———————
LPRT
International Racquetball Tour
International Racquetball Federation – IRF
Federación Mexicana de Raquetbol