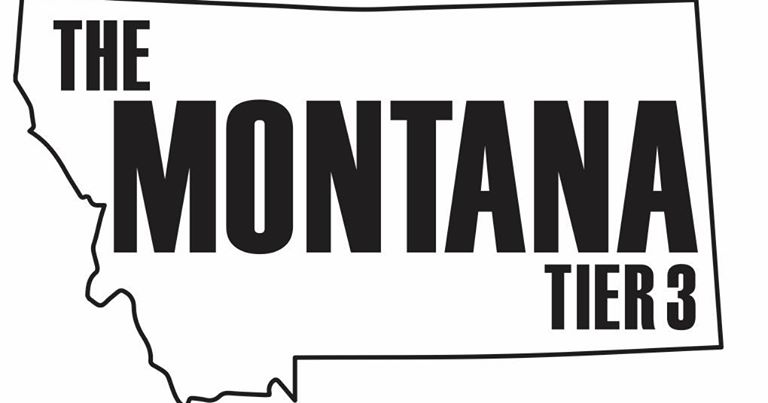 We have one more lower-tiered IRT event on the schedule prior to the beginning of the tier 1 slate in Atlanta in two weeks' time, and its this coming weekend in Missoula, Montana.
We've never had either a Men's or a Women's full-slate pro stop in Montana (at least as per what's in the database for the IRT and LPRT), so its great to see the sport getting to a market where there's clearly some players.
See the FB page for the event for news, draws and information on the weekend: https://www.facebook.com/Themontanatier3/
There's 25 players in the draw, including 6 IRT regulars, three top-10 players, a couple other well-known amateurs and internationals, and a slew of top local players. 25 players with 5 countries and 13 states represented.
Lets preview the singles draw:
—————-
The 32s are play-ins among locals for the most part.
In the 16s, here's some potential match-ups to look for, assuming no upsets-by-seed in the 32s.
– #8 Andrew Gale vs #9 Hr Coe; Gale is a long-time pro player, with IRT appearances dating to 2006 and with some solid wins on his resume (he beat current #4 Andree Parrilla back in 2012 and even beat Cliff Swain in 2013). Coe has significantly less pro experience (just one result in the DB, a 1999 loss to Swain in Denver) but is a solid local player. 
– #5 Justus Benson vs #12 Rich Carter; Benson may have his hands full here against a guy in Carter who played a couple of pros tough in WRT events in Seattle over the past few years.
– #6 Dylan Reid vs #11 Mitch Brayley; Brayley mostly plays locally in Canada regional and national events and has never ventured south to play a top-level USA-domestic event. Reid has some solid wins over IRT-touring pros on his resume and has qualified for several main draws in IRT events in the last few years. He also is, of course, the master of the Racquetball Podcast, a must-listen for fans everywhere of the sport. See https://podcasts.apple.com/…/the-racquetball-s…/id1310228396 for subscription information in Itunes. Disclosure: Reid interviewed me in June of last year (see https://podcasts.apple.com/…/episode-12-todd-…/id1310228396… for that episode).
Projecting the quarters:
– #1 Sebastian Franco vs #8 Gale: Franco is fresh off the Pan Am Games, where he represents Colombia and was knocked out early in the round of 16 by Canadian Iwaasa (more on him later). He faces someone of a make or break season this year on tour, with a slew of names looking to push him out of the top 8. He shouldn't have trouble with Gale here.
– #4 Charlie Pratt Racquetball vs #5 Benson: Pratt also is a veteran of the 2019 Pan Am Games, having represented USA and played both singles and doubles. In singles, he also suffered an upset loss at the hands of Iwaasa, then exited in the quarters at the hands of Bolivian Luis Conrrado Moscoso Serrudo (a rematch of the 2019 Pan American Racquetball Championships semis, where Pratt shocked the sport with an 11-10 defeat of the Bolivian Grand Slam champ. Pratt should advance easily here.
– #3 Mario Mercado vs #6 Reid: Mercado also represented Colombia at the Pan Ams (playing #2 to Franco), and really had a solid tournament, taking out two-time defending PARC champ Carlos Keller Vargas and USA #1 Jake Bredenbeck before falling in the semis to #1 seed Alvaro Beltran. He also managed to beat Keller a second time in the team competition, along with both Iwaasa and Montoya to wrap up a fantastic tournament. Mercado's attendance here indicates to me he's going to plan on a full slate of tournaments, which is great news for the tour and could spell some trouble for the IRT players in the 7-10 range, based on the wins he got in Lima. Mercado should advance over Reid here.
– #2 Rodrigo Montoya Solis vs #7 Coby Iwaasa; This is a finals-quality match-up that happens in the quarters, since Iwaasa has no ranking points. That's a shame, because Iwaasa has demonstrated his ability to beat top IRT players. Representing Canada in Lima, he beat both Pratt and Franco before losing to Beltran in the quarters 13,14. The last time he played a pro event, he made the finals (WRT Calgary open in oct 2018). Meanwhile, Montoya took his second major international title in two years by winning the 2019 Pan Am gold over his countryman/teammate Beltran in a match that will long be remembered for Beltran's hip check/shattered glass door (which just made ESPN's top 10 plays of the day). I think Montoya wins this in the end, but it'll be in two close games or perhaps drawn to a tiebreaker.
Projected Semis:
– #4 Pratt over #1 Franco: they've played 4 times in pros and IRF events in the last three years and Pratt is 4-0. I think Pratt has Franco's number, and should advance here.
– #3 Mercado over #2 Montoya: they've played once in the DB; a Mercado win over Montoya at the 2018 US Open. They also played in the team event in Pan Ams, also a win for Mercado. I'm going to go out on a limb here and predict the upset, even though I think Montoya is the better player.
Finals prediction:
– #4 Pratt over #3 Mercado: they've played 3x in the database, and Pratt has never lost to Mercado. It goes tie-breaker but Charlie prevails.
—————-
On the women's side, there's also a few solid players in town to compete: Hollie Rae Scott , Linda Tyler , and Cecilia Pratt head up the Ladies Open draw.
Lastly they populated the Open doubles draw with teams selected by raffle, to make for a fun integration of traveling pros with local players.
——————
Congrats to Tourney Director Matthew Ivar Majxner, Josh Doniak, Wayne LeBlanc and Gavin Usher for making this event happen.
——————
International Racquetball Tour
International Racquetball Federation – IRF