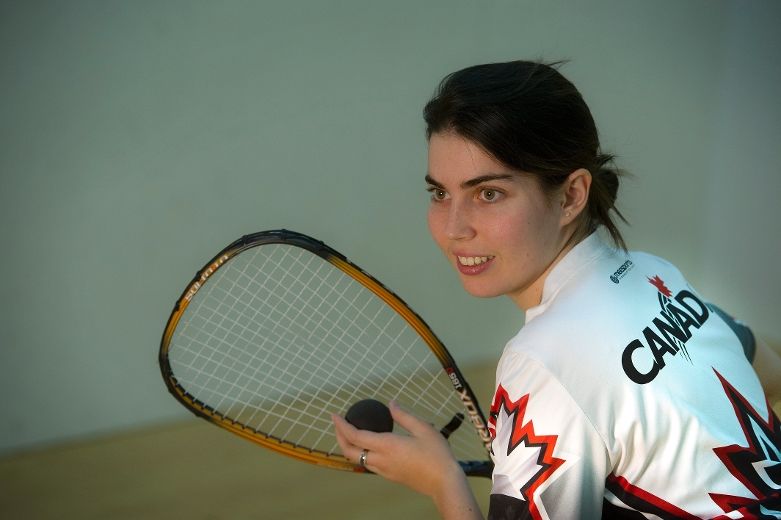 After a year-plus delay in hosting national events that saw the 2020 Nationals cancelled as well as the two normally held Selection events, Racquetball Canada is back this weekend with its National championships event, being held in Brossard, Quebec.
Both singles and Doubles champions are being crowned this weekend, and the tournament sees a pretty full slate of top Canadian players competing for the title.
Online tournament site: https://www.trackie.com/…/racquetball-canada…/471131/…
(Note: Canada has transitioned away from r2sports to use trackie.com due to Canadian data privacy concerns going forward).
Here's a quick run through of what to expect this weekend
Men's Singles draw:
1 seed Samuel Murray is the odds-on favorite to repeat; he has not lost a National or a selection event qualifier in Canada since May of 2017 (see http://rball.pro/0AC39E for a list of all Canadian National events historically). Murray has met the #2 seed Coby Iwaasa in the final of the last six such events, each time taking the win. Iwaasa does have a win over Murray, but it was more than six years ago at the 2015 nationals.
Trevor Webb and Lee Connell round out the top four seeds. Former national champ Corey Osborne is playing and could make for an interesting quarter final match if he advances to face Murray. The draw is missing a number of regulars, including both Landeryou brothers Tim Landeryou and James Landeryou and 2019 quarter finalist Ian Frattinger.
Look for Murray over Iwaasa in the final and for Sam (currently ranked #4 on the IRT) to continue his dominance in Canadian Men's racquetball.
---
Women's Singles draw:
1 seed Frederique Lambert has had spotty attendance at Canadian national events lately and has stopped touring full time on the LPRT (for good reason as she finished Medical school and began her residency). But she's still the player to beat in Canada. She has not been beaten in a Canadian national event since 2014 (see http://rball.pro/71FEBE for Canadian Women's national results historically).
Challenging her this weekend will be #2 seed Christine Keay (nee Richardson), #3 @michele morissette, and #4 Alexis Iwaasa, all of whom have made finals of Canadian national events in the past few seasons as Jen Saunders has retired from active play and Lambert has missed events.
Look for Lambert to take the title and for some tough semis matches to determine who faces her in the final.
---
Men's Doubles Draw
1 seeds Sam and his brother Tommy Murray (who curiously is only playing doubles here) are the favorites in this 7-team draw. The #2 seeded team of Iwaasa and Webb should put up a challenge.
Look for the Murrays to prevail and defend their 2019 title won together.
click here for a look at Canadian Men's national doubles results historically: http://rball.pro/F3CA5B
---
Women's Doubles Draw
1 seeds Lambert and Morissette have not played together at Canada Nationals since 2015, when they lost in the finals. But Morissette has two titles and two finals appearances since, and will look to return to the throne with Lambert.
They'll be challenged by the #2 seeded team of Keay and Prentice. Keay has made the doubles final four years running and has two prior titles.
In the end though, look for Lambert to win the double on the weekend.
click here for a look at Canadian Women's national doubles results historically: http://rball.pro/7C6CBB
Streaming: follow Racquetball Canada on Facebook for live streaming notifications.

Reminder to Players! Please like and follow this page so that when I tag you, you see it. Facebook will only retain tags of people that like/follow a page, which means lots of you are not getting the notoriety of getting tagged and noticed on FB. If your name is here and it isn't tagged … it probably means I attempted to tag you but FB stripped it.

Tags
@International Racquetball Tour
LPRT
@international racquetball federation