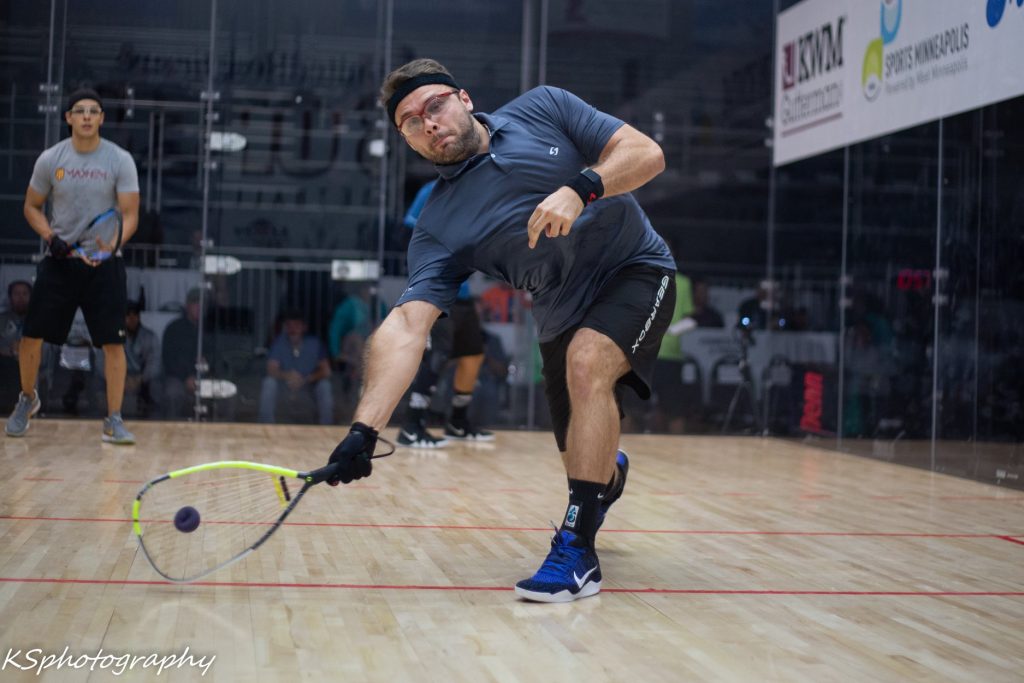 Congrats to your winners on the weekend:
Men's Singles: Sam Murray over Coby Iwaasa
Men's Doubles; Samuel Murray/Tommy Murray
Women's Singles: Frederique Lambert over Christine Keay
Women's Doubles: Christine Keay/Cassie Prentice

All singles finalists and the doubles champions now qualify to represent Canada at upcoming IRF events, including 2021 Worlds in Guatemala in December and 2022 PARC in April 2022 in Bolivia.

See https://docs.google.com/…/1V6OTid6rZ356voXVkoV2sN7KMMb…/ for PRS' master list of upcoming major events.

Trackie home page for the draws: https://www.trackie.com/…/entr…/matches/471131/4639/0/F/
Here's recaps of the four draws:
---
Men's Singles
Match report in PRS database: http://rball.pro/1C8AAC
The Men's singles draw went nearly chalk to the final, with the top two seeds Murray and Coby Iwaasa advancing to sunday's final and qualifying to represent Canada in IRF events coming up.
In the final…Murray made quick work of his frequent finals rival Iwaasa, topping him 8,4 to take the title. This is Murray's third National title, and third in a row.
Click here for all Canadian men's champs: http://rball.pro/372371
---
Women's Singles:
Match Report in PRS database: http://rball.pro/2F3B62
There were a couple of upsets by seed in the early rounds, with #5 seed Alexis Iwaasa topping #4 Brigite Richard, and #6 Juliette Parent topping #3 Michèle Morissette in the quarters, but the semis featured the top two seeds in #1 Frederique Lambert and #2 Christine Keay advancing to the final and making the Canadian National team.
In the final..Lambert topped Keay 13,2 to return to the throne of Canadian racquetball for the first time since 2017. This is her third overall title.
Click here for all Canadian Women's champs: http://rball.pro/AA5A24
---
Men's Doubles:
Match Report in PRS database: http://rball.pro/D207F5
#1 Seeded brother team Sam and Tommy Murray cruised to the title in a draw that mostly went chalk. In the final they defeated the #2 seeded team of Iwaasa and Trevor Webb in two quick games 4,7.
This is Sam's 5th national doubles title and Tommy's second. They defend their 2019 national title. Sam is now halfway to catching the all-time leader in Men's national titles for Canada ( Mike Green ), who had 10 titles and another 7 finals in his long career.
See here for a list of all Canadian Men's dbls champs: http://rball.pro/EF2A7C
---
Women's Doubles:
Match Report in PRS database: http://rball.pro/9DD6F3
Big upset in the semis, as the Parent sisters Marjolaine and Juliette Parent defeated the top seeded team of Lambert and Michele Morissete in a tiebreaker. They could not seal the deal though, losing in the final to #2 Christine Keay and Cassie Prentice in two tough games.
This is Christine's 3rd national doubles title, but her first since 2017. This is Prentice's first adult national title.
Click here for a list of all Canadian Women's dbls champs: http://rball.pro/1DC54F
Thanks for all the streaming on the weekend from Racquetball Canada.
Reminder to Players! Please like and follow this page so that when I tag you, you see it. Facebook will only retain tags of people that like/follow a page, which means lots of you are not getting the notoriety of getting tagged and noticed on FB. If your name is here and it isn't tagged … it probably means I attempted to tag you but FB stripped it since you don't follow this page.
Next up?
IRT's Shamrock Shootout is next weekend, then we have a week's break until the big one; the 25th US Open .
tags
Racquetball Canada
UnitedHealthcare US OPEN Racquetball Championships
International Racquetball Federation – IRF
Pan American Racquetball Confederation – PARC