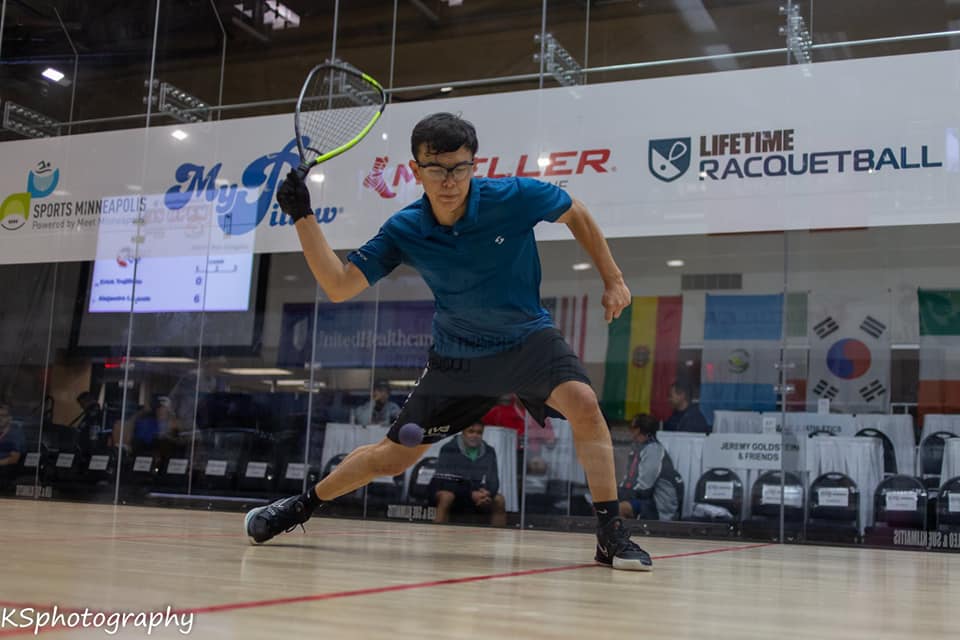 This past weekend featured both Mexico and Canada holding their Junior National tournaments. The results of these events determine the national team members that will represent their country at the upcoming World Juniors in Guatemala City the first weekend of December. We'll recap the Mexican tourney today and the Canadian tournament tomorrow.

R2 site for Mexican Jr Nationals: https://www.r2sports.com/tourney/viewResults.asp?TID=37940

Congrats to the following Boys singles finalists for team Mexico:
(click here: http://rball.pro/27C371 for a Matrix of all Mexican boy's titlists loaded into the database currently, dating to 2012. We'll work on the 2021 data entry later this week while on travel).
Boys 18U: Erick Trujillo , Sebastián Longoria
Boys 16U Jorge Gutierrez Ortiz and Cristhian Sánchez Raquetbol
Boys 14U: Eder Renteria and Sebastian Alejandro Ruelas
Boys 12U: Luis Carlos Ochoa and Diego Chavez
Boys 10U: Rene Palomino and Jhontan Garcia Banuelos
Boys 8U: Herman Gracia Castro and Max Soto
Trujillo is a name that's been in "the news" lately for his excellent showings in recent IRT events. He's come out of nowhere on the Mexican scene; this is his first junior national title. Longoria was the 16U champ in 2019. This is the first junior title for Ortiz. Renteria is a familiar name to junior racquetball; this is his 6th junior national title, and he's got a chance to come close to David Ortega's record of 11 career Mexican junior national titles. This is Ochoa's 3rd junior title; he previously won an 8U and 10U title.
---
Congrats to the following Girls Singles finalists for team Mexico:
(click here: http://rball.pro/271CB4 or a Matrix of all Mexican girls's titlists loaded into the database currently, dating to 2012)
Girls 18U; Daniela Rico and Ximena Martinez
Girls 16U: Angela Veronica Ortega and Cynthia Gutierrez
Girls 14U: Mariafernanda Trujillo and Yanna Salazar
Girls 12U: Lilia Farias and Natalia Guillen
Girls 10U: Michelle Gomez and Maria Melo
Girls 8U: Maria Jose Juardo and Eva Chavez Enriquez
A second junior national title for Rico, who has already played in 8 LPRT events, the first of which was in her age 13 season in 2017. Keep an eye on Rico; the list of recent Mexican junior 18U titlists reads like a list of players you'll be seeing playing weekend matches on the LPRT: Ana Laura Flores, Montse Mejia, Erin Nocam Rivera, Montse Perez, Lucia Gonzalez, Alexandra Herrera and Diana Aguilar are the 18u winners from the last decade.
A third title for Ortega (she previously won in 2015 and 2017) and for Trujillo (she won previously in 2017 and 2019). All our other winners are new
fyi; the format for the Mexican draw was as follows (as far as I can tell): a single-elimination draw to determine the champion, then a loser's bracket draw, the winner of whom was crowned the 2nd place finisher. This will present somewhat of a challenge for my database; its the first time that the "finalist" wasn't necessarily the "2nd place finisher." I'm not sure how i'm going to address this in the code.
Also, unlike in other jurisdictions Mexico does not hold a separate doubles competition, generally just naming the doubles team from the two singles reps.
Congrats to Favio Soto for another successful Mexican national tournament.
International Racquetball Tour
LPRT
@federacion mexicana de raquetbol
International Racquetball Federation – IRF