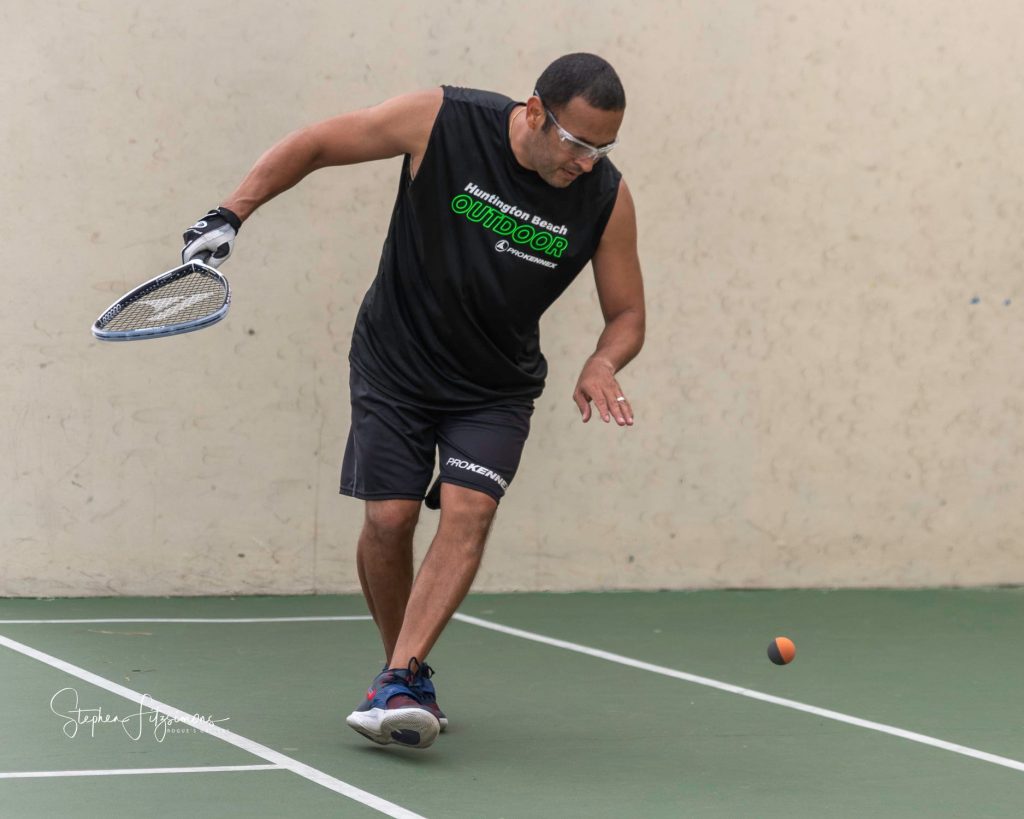 R2 Sports App link: https://www.r2sports.com/website/event-website.asp?TID=37761
The 12th Annual 3WallBall Outdoor Tournament is upon us. Held on the grounds of the STRAT hotel on the Las Vegas Strip, this tournament has grown to now be the second largest annual racquetball tournament in the world (trailing only the US Open in terms of participation). This year is no different, as the tournament will host roughly 440 players for the 2021 iteration.

Your Pro defending champions from last year:
Men's 3-Wall Doubles: Daniel De La Rosa & Alvaro Beltran
Women's 3-Wall Doubles: Paola Longoria & Janel Tisinger-Ledkins
Mixed 3-Wall Doubles: Daniel De La Rosa & Michelle De La Rosa
Men's 1-Wall Doubles: Robert Sostre & William Rolon
Women's 1-Wall Doubles: Kelly Gremley & Amie LeBrun Brewer
Mixed 1-Wall Doubles: @Rick "Soda Man" Rick Koll & Rhonda Rajsich
Men's 3-Wall Singles: Andree Parrilla
Women's 3-Wall Singles: Paola Longoria
3-Wall Doubles Pro Previews

The 2021 Men's Pro 3-Wall division will feature the defending champs (Daniel De La Rosa/Alvaro Beltran) as well as their vanquishers from this past summer's Outdoor Nationals ( Jason Newberg Geis / Micah rich), as well as past Vegas winners Rocky Carson/Jesus Ustarroz, past Outdoor Nationals champs (Greg Solis, Brandon Davis, Robert Sostre), and a slew of the best outdoor players from Florida, New York, California, and beyond. It should be a highly competitive event.

The 2021 Women's Pro 3-Wall division will also feature its defending champs, as Paola Longoria has committed to returning to defend her title with Tisinger-Ledkins. They'll be challenged by the 2019 Vegas winners Michelle De La Rosa/Carla Muñoz as well as multi-time past champion and outdoor legend Rhonda Rajsich.

The 2021 Mixed Pro 3-Wall defending champs (the De La Rosa husband/wife team) will defend their 2021 title and try to build on their record 12 major outdoor titles together. They'll be challenged by some tough teams, including the frequent Rajsich/Rick "Soda Man" Koll pairing, the two-time defending finalists Sostre/Muñoz team, a dark-horse challenging team of Tisinger-Ledkins/Solis, and a very interesting mother-son team of Martha & Jack McDonald.
---
1-Wall Doubles Pro Previews
The one-wall Pro Doubles crowns for all divisions (Men's, Women's, and Mixed) seem set to go to new teams in 2021, as the 2020 champion teams are either not present in 2021 or are not defending their titles.
---
Pro Singles Preview:
We'll have a new Singles pro winner this year, as 2020's winner is not here. The Women's Singles division looks stacked, with four entrants (Longoria, Rajsich, Tisinger-Ledkins, and Muñoz) owning major outdoor singles titles. Longoria is the favorite every time she takes the court, but she'll face stiff competition.
King of the Court

This year's competition features a fun new event, King of the Court. 3WB's team has invited a slew of legends of the sport to compete in a "King of the Court" singles division. Participants include former touring pros such as Doug Cohen, Bret Harnett, Egan Inoue, Todd O'Neil, and Ben Koltun. They'll be joined by outdoor legends such as Craig "Clubber" Lane, Rick "Soda Man" Koll, and Jesus Ustarroz, and will face off against a slew of current outdoor stars for the title.
On a personal note, yours truly Todd Boss will not only be in Las Vegas for this event helping to stream and to do meet and greets, but i'm actually playing. For the first time since I believe 2003, I'm entered into a racquetball tournament.
Look for Streaming in the regular places; three major streamers are traveling to Las Vegas for this tournament. We'll have streaming on the IRT feed (hosted by Dean DeAngelo Baer and Pablo Fajre), we'll have streaming on the LPRT feed (hosted by Timothy Baghurst and Tj Baumbaugh) and we'll have streaming hosted by JT R Ball, who is already on-site in Vegas and has been giving us great walking video tours and drone shots.
Thanks to the Tourney Director Peggine Tellez and of course to MC Vegas for all your hard work on this event.
Reminder to Players! Please like and follow this page so that when I tag you, you see it. Facebook will only retain tags of people that like/follow a page, which means lots of you are not getting the notoriety of getting tagged and noticed on FB. If your name is here and it isn't tagged … it probably means I attempted to tag you but FB stripped it.
Tags
@International Racquetball Tour
LPRT
3WallBall Outdoor World Championships
USA Racquetball
WOR – World Outdoor Racquetball
Zurek Construction, LLC/Francisco Fajardo
AGE SOLUTIONS /Andy Gomer
Team Root.com/Randy Root
KWM Gutterman Inc./Keith Minor
Hashtags #racquetball #proracquetball #outdoorracquetball #irt #lprt #wor