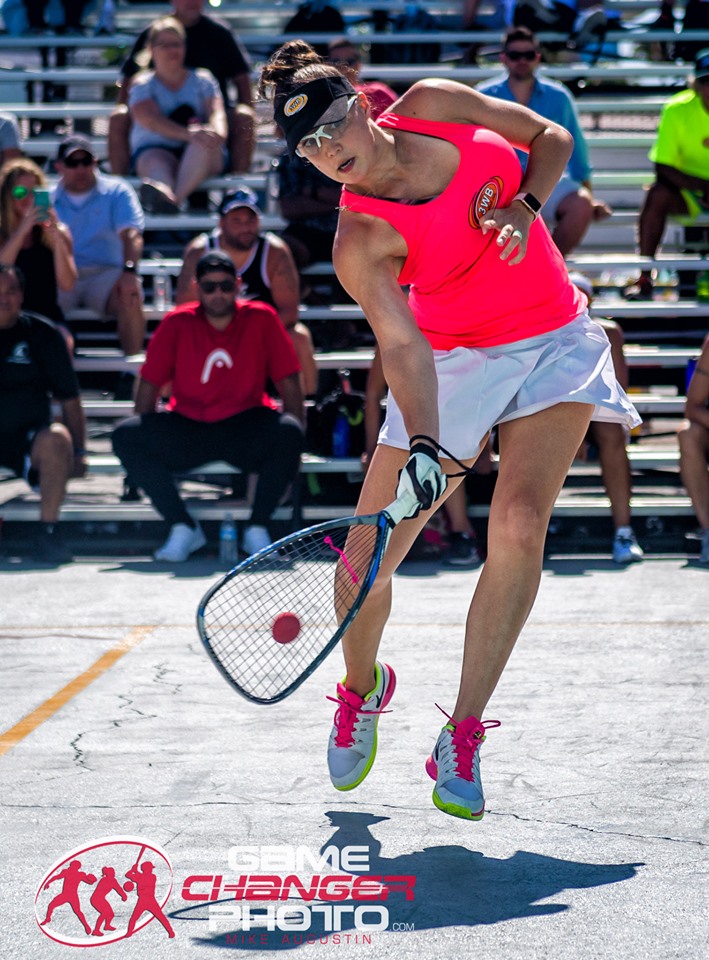 Congrats to your winners on the weekend:
Men's Pro 3-wall Doubles: Daniel De La Rosa/Alvaro Beltran
Women's Pro 3-wall Doubles: Michelle De La Rosa/Carla Munoz
Mixed Pro 3-wall Doubles: Daniel De La Rosa/Michelle De La Rosa
Men's pro 1-wall Doubles: Adam Manilla/Nick Riffel
Women's Pro 1-wall Doubles: Victoria Rodriguez/Katie Neils
Mixed pro 1-wall Doubles: Rick "Soda Man" Koll/Michelle De La Rosa
Men's 3-wall Singles: Mario Mercado
Women's 3-wall Singles: Carla Munoz
CPRT Pro Doubles: Robert Sostre/Greg Solis
Paddleball Men's Doubles: Daniel De La Rosa/Alvaro Beltran
Paddleball Mixed Doubles: Brenda Laime/Emmett Coe

Quite the amazing weekend for the De La Rosas in particular; Daniel entered and won three divisions (3-wall pro doubles, 3-wall mixed doubles, and Paddleball), while Michelle entered and won three divisions herself (3-wall pro doubles, 3-wall mixed and 1-wall pro mixed). 6 divisions, 6 titles. Bravo.

R2 Sports App home page for event: https://www.r2sports.com/website/event-website.asp?TID=37761

Special thanks to the major sponsors for 2021's 3WB event KWM Gutterman, AGE Solutions, and Pro Kennex. Thanks as always to tournament host and sponsor Mike Coulter MC Vegas and to Tournament director Peggine Tellez, (and all the volunteer staff for 3WB) who worked so tirelessly all weekend to coordinate on-site.
---
ProRacquetballStats.com links to match reports for all the pro divisions:
Men's Pro 3-wall Doubles: http://rball.pro/D204CC
Women's Pro 3-wall Doubles: http://rball.pro/48852E
Mixed Pro 3-wall Doubles: http://rball.pro/D90DBF
Men's pro 1-wall Doubles: http://rball.pro/693F45
Women's Pro 1-wall Doubles: http://rball.pro/FE0189
Mixed pro 1-wall Doubles: http://rball.pro/CDB793
Men's 3-wall Singles: http://rball.pro/43291F
Women's 3-wall Singles: http://rball.pro/6FF3B2
---
Men's 3-wall Pro doubles recap;

17 teams competing in this draw, and the big storyline was the seeding. 2021 outdoor champs Gies/Rich were seeded just 11th, outdoor legend and two-time outdoor national champs Carson/Ustarroz were seeded 10th, and some really tough top indoor pros were stuck in the 16/17 play-in. You have to beat them all to win, as they say, and the seeding made for some really compelling early matches.
In the 16/17 play in, Alex Landa and Sebastian Fernandez were not able to overcome the outdoor experience of Brian Pineda (playing with Eduardo Portillo Rendon) and lost 5,13.

In the 16s, some notable matches:
#1 seeds Daniel De La Rosa and Alvaro Beltran, for the 2nd year running, faced a significant challenge in the first round, having to take on the experienced Pineda playing with the quickly learning Lalo. The defending champs were down early, but rallied to run to a first game win 15-11 and then held on in game two to move on.
Solid win by the #8 seeded NorCal team of Walter Ramos and Israel Torres.
#5 dark horses Emmett Coe and Rick Koll advanced past two IRT touring pros in Adam Manilla and Nick Riffel with ease 7,6
The #4 seeds from Florida were upset by a drastically under-seeded #13 team of Brandon Davis and Alejandro Barcelo.
#3 Robert Sostre and Daniel Lavely held serve against two tough veterans of outdoor Greg Solis and Charlie Pratt Racquetball to move on.
The most ridiculous under-seed of the event, #11 Jason Newberg Geis and Micah Rich, upset the #6 seeded team of tough Formulaflow partners Mario Mercado and MoMo Zelada in a breaker.
Nor Cal tough doubles players David " Bobby" Horn and Jose Diaz took out the legendary Rocky Carson/Jesus Ustarroz team in a breaker.
And the biggest upset of the day was the #2 seeds Tommy Medina and Thomas Gerhardt losing to the upstart team of Patrick Allin and Alan Natera Chavez 2,13. The #2 seeds looked completely lost in game one, then rebounded to push the envelope in game two but ultimately couldn't push it to a breaker.

In the qtrs, some solid matches:
#1 seeds DLR and Beltran cruised to wins in games ones and three, but seemingly took off game two against NorCal specialists Ramos and Torres. Final score: 2,(6),0. I might be wrong, but i'm not sure Ramos/Torres even served in the breaker. The lefty power of Ramos and lanky getting ability of Izzy powered them to a game two win, but the champs hunkered down for the breaker win to move on.
The #13 seeded team of Davis/Barcelo kept cruising, dominating against the #5 seeded team of Coe/Koll to move into the semis 12,2 The first game was close, but in game two Davis/Barcelo got into a nice rhythm of forcing awkward shots out of both competitors from the backhand side, with Barcelo hitting bomb after bomb from the deep forehand side to move on.
Four outdoor specialists, including one Hall of Famer, played a really entertaining match in the #3/#11 quarter, with your defending Outdoor National champs Geis/Rich moving on. They squeaked by in game one 15-14 over Sostre/Lavely, then dropped game two in fast fashion. But they refocused in the breaker, overcoming Lavely's amazing getting ability and Iceman's smart one-wall-inspired shot making to move into the semis.
The #7 seeded Area-code 209 team of Horn/Diaz squeaked past a shocked Natera/Allin team in game one 15-14, mounting a furious come back to steal the game after Natera/Allin served for it four times. Then, in game two a back and forth affair came down to just a few mistakes from the losing side; NorCal represented in the semis.

The semis featured two dominating performances from the two pre-tournament favorites:
#1 DLR/Beltran controlled the match from the get go, forcing the issue primarily to Barcelo on the right hand side and advanced with relative ease 9,7. Their game plan was to isolate and avoid the dangerous Davis and be opportunistic with their attacking shots, and they were successful.
#11 Geis/Rich dominated the Stockton duo of Horn/Diaz 3,10 to move to the final. Game one was a blur of excellent technical outdoor racquetball, and though Diaz/Horn were able to make game two closer, the Southern California duo won out. Horn has been nursing a shoulder injury, which was not unknown to his opponents, and they forced him to hit lots of uncomfortable shots and took advantage.

In the final…we got the rematch of the July outdoor nationals pro final, and the fans were treated to a pretty special performance from Daniel De La Rosa. Geis/Rich came out firing, worked Alvaro on the left side and limited their mistakes and surprised the #1 seeds 15-11. But game two and three was another story; DLR brought the pressure to Geis on the serve and was a man on a mission in the front court, hitting every shot he was presented. The second game was a blur 15-5, and the domination continued into the breaker. The top pair ran out to a fast 5-0 lead before Geis/Rich even got in the box, and despite their best efforts the top players ran away with the game 11-6.

Great win for the top Mexican duo, who defend their 2020 3WB title and pad their ever-growing list of indoor and outdoor titles together.
---
Men's 3-wall CPRT Doubles re-cap
We didn't preview the CPRT, but it turned into a really solid pro-quality draw with some streaming on the weekend, so here's a recap:
The #1 seeds Koll/Beltran were taken out by the Florida outdoor specialists Joe Young and Marcos Gravier in the quarters in what some would view as an upset, but Young/Gravier are highly experienced veteran outdoor players and ground out the win.
The #9 seeds were joined in the semis along with the other top 3 seeded teams, which include a slew of the top outdoor pros in the land.
In the semis:
The #4 seeded team of Allin & Gerhardt controlled the power shots of Young & Gravier to move into the final.
The #3 team of dual hall of famers Greg Solis and Sostre took out the two-time outdoor nationals pro doubles champs Carson/Ustarroz in a spirited tiebreaker.
In the final, the Sostre/Solis team came back from a quick game one defeat to blow out Allin & Gerhardt 11-0 in the breaker to take the title.
---
Women's 3-wall Pro Doubles re-cap
Last minute withdrawals of several top players thinned the women's pro doubles draw to just a 3-team round robin. In the RR final though we got an excellent match between the defending champion team of Michelle De La Rosa and Carla Muñoz Montesinos taking on the decorated Janel Tisinger-Ledkins teamed with Arizona's Katie Neils.

In the title match, Neils (the least experienced player on the court) made her presence known and handled the right hand side, matching Munoz shot for shot, but the defending champs squeaked by with a 15-14 game one win. That opened the flood gates, and Tisinger-Ledkins/Neils couldn't stop the train in game two. mDLR and Munoz defend their title 14,4.
---
Mixed 3-wall Pro Doubles re-cap
A star-studded draw was featured in the Mixed doubles draw, including several Hall of Famers and several top touring indoor pros.
In the quarters:
NorCal duo of Williams/Ramos played solid ball to squeak past Alejandro Landa and Aimee Brewer.
Team Formula Flow (Zelada and Brenda Laime Jalil) upset the #3 seeded team of Riffel/Neils.
A tough opener featured Hall of famer vs Hall of Famer, with the team of Greg Solis and Tisinger-Ledkins taking out the #2 seeded team of Sostre/Munoz. Solis/Tisinger-Ledkins is quite a decorated team; they're a 5-time winner in Huntington Beach and won the pro mixed in Vegas in both 2010 and 2011.
In the semis:
Defending champs DLR and mDLR cruised past the NorCal duo of Ramos/Williams 5,1
Solis/Tisinger-Ledkins thwarted efforts by the indoor specialists Zelada and Laime to move to the final 12,6.
In the final, Daniel continued his sharp-shooter ways and drove the conversation, and the husband-wife pair won going away 8,8 to capture their 13th major mixed pro title together.

Side note: kudos to Tisinger-ledkins for playing and competing this weekend at … 8 months pregnant. Fantastic showing for someone with obvious mobility limitations to still compete at such a high level.
---
Men's 3-wall Singles Recap:

Forfeits and injuries plagued the Men's pro singles draw, with just one match managing to get played before the final. In the final, two IRT touring pros in Alan Natera and Mario Mercado faced off for the title. Mercado has a bit more outdoor experience than Natera and it showed, as he took the crown 13,7.
Women's 3-wall Singles Recap:
Two California outdoor specialists in Erica Williams and Victoria Rodriguez attempted to dethrone the reigning Outdoor Nationals singles champion Carla Muñoz Montesinos. Munoz and Williams held serve against Rodriguez and competed for the title. Williams shocked the LPRT touring pro in game one with a 15-13 win, but Munoz turned the tides and raced away with the next two games to win the title. Final score: (13),6,4.
Men's 1-wall Pro Doubles recap
Natera & Pratt upset the #1 seeded team of Daniel Lavely and Jeremy Mcglothin to move into the final. There they met the college buddy duo of Adam Manilla & Nick Riffel for a one-wall power racquetball shootout final.

In that final, the four IRT pros battled it out with a display less about one-wall tactics and more about brute force, with the lefty/righty Coloradans coming out on top 10,9.
Women's 1-wall Pro Doubles recap
The top seeded team of Rodriguez/Neils took out team Virginia (TJ Baumbaugh & Aimee Brewer) to win the 4-team round robin and the title.
Mixed 1-wall Pro Doubles recap
The top two seeds advanced to the title game, with Rick "Soda Man" Koll teamed up with Michelle De La Rosa at the top. The bottom of the draw was packed, but team Virginia Gerhardt/Brewer advanced to make the final.
In the final… Koll/mDLR outlasted Gerhardt/Brewer 15-13 in the first game, then ran away with it to take the title 13,1. This is Koll's 4th mixed pro one-wall title out of the last 5 years.
Paddleball Pro Doubles
We don't normally cover much besides racquetball here, but 3WB features paddleball events that get tons of crossover between regular racquetball players and top paddleball pros from Southern California.
In the Men's pro paddleball doubles, DLR/Beltran took out the athletic team of Emmitt Coe and Sebastian Fernandez to take the title.
In the Mixed pro paddleball doubles, Brenda Laime teamed up with perhaps the best paddleball player in the nation in Emmett Coe to top the legendary Aaron Embry and his San Diego partner Roxanne Rehling to take the title.
Thanks for all the streaming on the weekend, especially from broadcasters Dean Baer, Favio Soto, Pablo Fajre and the IRTLive crew
Thanks for all the streaming on the weekend, especially from broadcasters Timothy Baghurst, Jerry J Josey Jr., JP Edwards and @Tj Baumbaugh]
Reminder to Players! Please like and follow this page so that when I tag you, you see it. Facebook will only retain tags of people that like/follow a page, which means lots of you are not getting the notoriety of getting tagged and noticed on FB. If your name is here and it isn't tagged … it probably means I attempted to tag you but FB stripped it.
Next up?
No rest for the weary; Alvaro and De La Rosa head straight to San Luis Potosi for the 2021 Mexican National doubles event next weekend. Then a couple weeks after that we have a combo IRT/LPRT event in Arizona that will feature pro mixed doubles, a rare treat for fans.
tags
KWM Gutterman Inc.
ProKennex Racquetball
AGE solutions inc