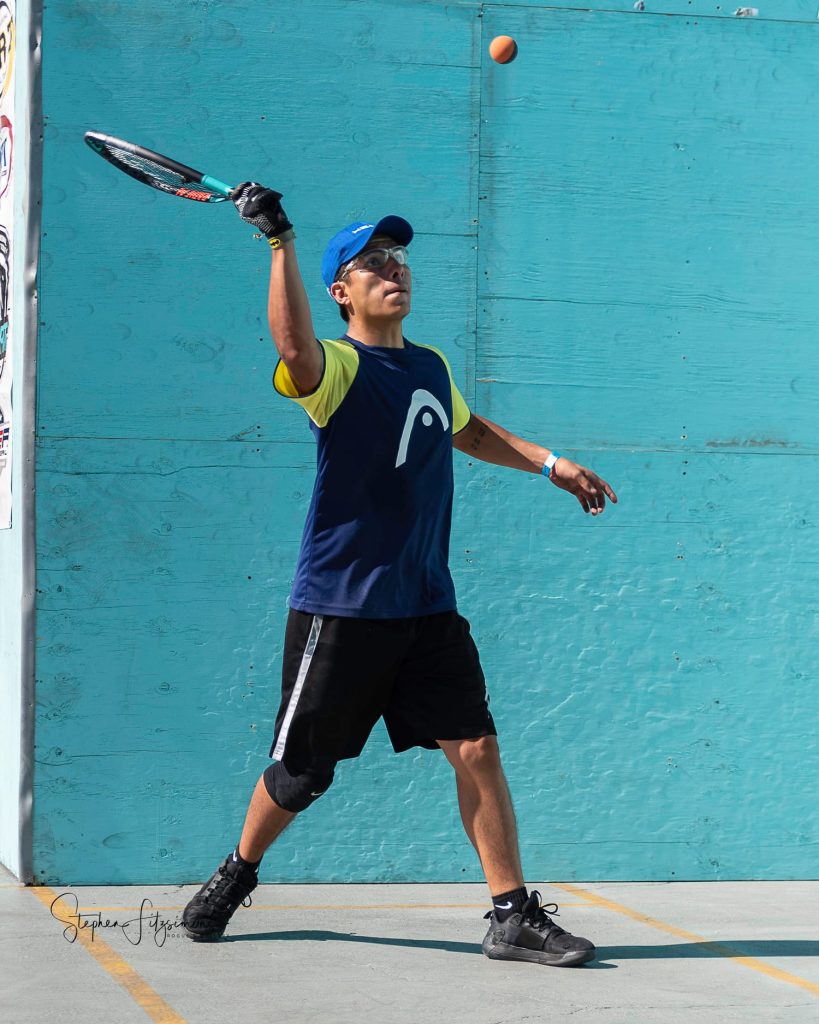 (see other re-cap for LPRT and Mixed Doubles review coming tomorrow).
Congrats to your Men's winners on the weekend:
IRT Singles: Mario Mercado
Open Singles: Alan Natera
Open Doubles; Sebastian Fernandez/Rodrigo Rodriguez
Mario Mercado earns his first ever IRT win, and becomes the 42nd player ever to win a tier 1 IRT event. He becomes the second player representing Colombia (after Sebastian Franco), and the second native Bolivian (Conrrado Moscoso) to take a title on tour. Bravo!

R2 Sports App home page for event: https://www.r2sports.com/website/event-website.asp?TID=37835
Lets review the notable matches in the Singles draw.
---
Singles Match report in the PRS database: http://rball.pro/EE9595
In the 128s and 64s:
Gerhardt and Brennen Jennings had the expected close match in the 128s, with the Arizonian advancing 11,13 before getting dominated in the 64s by regular touring pro Alan Natera Chavez.
Rodrigo Rodriguez got a great win over former IRT touring pro Jose Diaz 11-8 in the breaker.
Arizonian intercollegiate player Ben Baron got a solid win over Californian Majeed Shahin.
Roland Keller took out "the Ref" Scott McClellan in a breaker in one of his rare singles appearances.
Guatemalan Javier Martinez had to go breaker to top SoCal's Joel Adler.
In the 64s:
Edwin Galicia topped his fellow Guatemalan Juan Salvatierra to advance into the 32s.
Rodriguez got his second solid win in a row over veteran IRT competition, topping Costa Rican' #2 Felipe Camacho in a tiebreaker. Excellent showing so far by the lefty Mexican.
Utah's Anthony Martin squeaked by Bolivian Roland Keller in an 11-10 tiebreaker
#18 seed Sam Bredenbeck went the distance to get by Guatemala's Martinez 11-8 in the breaker.
---
In the 32s, two upsets by seeds and some other interesting results:
#16/#17 featured two Mexican players who last met in 2020 in Sebastian Fernandez and Alan Natera. Fernandez played his typical athletic and smooth game and controlled the match throughout,
#20 Kadim Carrasco pulled off one of his better career wins, upsetting #13 Eduardo Garay Rodriguez in a breaker. Solid win to put Carrasco into the main draw for just the second time in his career.
#14 Sebastian Franco was played tough by #19 Rodriguez, but was able to move on 7,12.
Maryland's MoMo Zelada got the upset by seed over #11 Thomas Carter, going breaker to move on.
---
In the 16s, several upsets and several strong performances.
#1 Daniel De La Rosa was really pressed by #16 Fernandez, who was hitting the ball with significant pace but didn't quite make all the right decisions on the court, which DLR took advantage of to win a tight 13,11 match. Fernandez was in control in game one but DLR ran off 10 straight points to win it, then stuck ahead most of game 2 to move on.
In a battle between the two losing finalists in the last two IRT events, Minnesotan Jake Bredenbeck came to play and moved past #9 Carlos Keller Vargas 12,7 to get a repeat shot at DLR.
#12 Adam Manilla is on absolute fire this weekend, and hot on the heels of his upset win in mixed doubles he took an 11-9 win over #5 Lalo Portillo. Manilla is showing the same kind of form he had when he raced to the semis at the 2020 Longhorn Open as a #19 seed.
#4 Andree Parrilla handled #20 Carrasco to move on.
The round's biggest upset was the #3 seed Samuel Murray falling at this juncture to long-time IRT vet Franco. An all-around disappointing event for Big Canada, losing in the 1st round as a top seed with high expectations.
#6 Rocky Carson blitzed the upset-minded Zelada 0,6 to have his easiest opener in some time on tour.
#10 Mario Mercado was the benefactor of a hobbled #7 Alvaro Beltran, who retired in the second set to save himself for doubles.
In the latest version of the leading IRT grudge match, #2 Alex Landa and #15 Andres Acuña faced off at this juncture yet again. Acuna cruised to a game one win, but Landa turned the tide to take the breaker. Acuna seems like he's ready to make a big move, but just needs to get out of that #15-18 range where he constantly plays into one of the two top guys. If that happens, look out because he's playing solid ball.
---
In the Quarters
#1 DLR dominated #8 Bredenbeck 9,2 to move into the semis. This is a stark contrast in performance from the last time the tour was in DLR's home state, when he suffered a shock round of 16 loss in Oct 2019.
#4 Parrilla held off the upset-minded Manilla, but needed a breaker to do it. After getting dominated in the first game, Parrilla made adjustments and cruised to win the next two games.
#6 Carson stayed unbeaten for his career against Franco, moving past the Colombian with relative ease after a close game one 13,6.
In the shock of the singles tourney so far, #2 Landa was destroyed by #10 Mercado 5,9. Mercado has beaten Landa in the past; in fact the last time they played professionally was a Mercado win, and Mario has been playing really solid ball lately, but 5,9 loss by the #2 player in the world is a shock. Landa has not made the finals of an IRT event now in more than 2 years.
---
In the Semis
DLR continues to look like a man on a mission, blasting #4 Parrilla 7,2 to move into the final. DLR is playing with such amazing confidence that it seems hard to fathom him taking a loss right now.
Mercado made his third career pro final, and got his first ever win over Rocky, with an 11-10 thriller Saturday night.
---
In the Finals, It looked like DLR was going to take his 4th successive tourney and really put a dominant stamp on this season … but then after cruising to a first game win, Mercado figured something out. He took a tight game two then ran away with the tiebreaker, giving DLR a 11-0 donut to take the title.
---
Points Implications of results
It remains to be seen; if the IRT decides to "catch up" on points expiration, then three tourneys from Oct/Nov 2019 will come off the books. If that happens, then DLR will take an absolutely commanding lead atop the IRT rankings table.
Murray and Landa would flip spots, giving Sam his highest ever ranking at #3. Jake and Mario would rise to #7 and 8 respectively, while Moscoso would tumble out of the top 10.
But, this is all speculation until we see the updated rankings.
---
Men's Open Singles review

As generally happens with big IRT draws … the open singles was also huge and well competed. 34 players entered. On the top, Sam Bredenbeck took advantage of Acuna's withdrawal (he's won the last few Open singles draws at IRT events) to cruise to the final with wins over Anthony Martin, Julius Ellis, and Felipe Camacho. On the bottom, Alan Natera took a walkover against Mercado (who forfeited the Open semis to focus on the IRT final), then beat Sam in the final 12,13 to win the Open title.
Men's Open Doubles review
It wasn't a sanctioned/ official IRT pro doubles draw, but 19 teams competed in it anyway, including a ton of pro players, Here's a quick recap:
From the top-side of the draw, up and coming Mexican doubles pair Fernandez/Rodriguez advanced to the final by topping two top Arizona pairs of players (including Genhardt and @charlie stadler in the quarters) and the top Guatemalan pair of Salvatierra/Martinez in the semis.
From the bottom-side of the draw, top doubles player Diaz playing with NorCal's Will Reynolds cruised to the final with little trouble.
In the final…Fernandez/Rodriguez took the title and took the next step in perhaps being the next big Mexican doubles team to watch out for.
---
Thanks for all the streaming on the weekend, especially from broadcasters Dean Baer, Favio Soto, Pablo Fajre and the IRTLive crew
Thanks to the Tourney Director Jim Winterton for putting this event on!
Reminder to Players! Please like and follow this page so that when I tag you, you see it. Facebook will only retain tags of people that like/follow a page, which means lots of you are not getting the notoriety of getting tagged and noticed on FB. If your name is here and it isn't tagged … it probably means I attempted to tag you but FB stripped it.
Next up?
Per our handy master racquetball calendar …
https://docs.google.com/…/1V6OTid6rZ356voXVkoV2sN7KMMb…/
IRT is in Sarasota next weekend for a back to back. Meanwhile the LPRT heads to Chicago. So both tours in action; it will be a great weekend.
tags