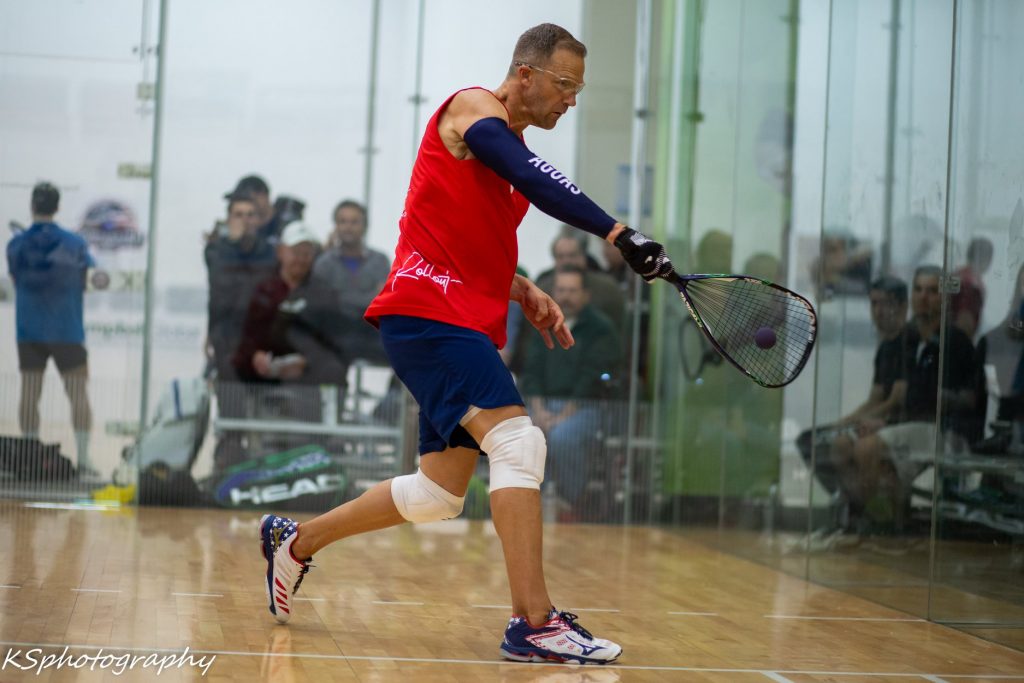 Here's part 2 of the previews for this weekend: the IRT draw.
We have a a full Men's pro draw (with 45 players), so get ready for some great racquetball this weekend. Instead of a men's pro doubles draw, we have big money in mixed doubles but still a huge Men's Open doubles draw (38 teams), so we'll run through that as well.

R2 Sports App link: https://www.r2sports.com/website/event-website.asp?TID=37835

top-20 players missing on the men's side: A last minute withdrawal from #6 Moscoso caused some last minute draw adjustments. He misses the event along with 3 other top 20 players: #2 Waselenchuk, #17 Montoya and #18 Mar.
---
Here's a preview of qualifying, with matches to watch for:
In the round of 128:
#32/#33: A very interesting first rounder between Texan Brennen Jennings and Arizonian Thomas Gerhardt. Gerhardt plays a ton of outdoor, but he's also got a ton of indoor experience. This should be an intriguing match to follow.
#44 @Julius Ellis, son of IRT legend John Ellis, makes his pro debut on the heels of making the US junior national 18U final earlier this year. He faces Colombian veteran Set Cubillos Ruiz in an fun first rounder.
Former touring pro and 209-veteran Jose Diaz returns to the IRT for the first time since Nov 2019. He faces off against a dangerous up-and-coming lefty from Mexico Rodrigo Rodríguez.
18U player Cody Elkins makes his pro debut here as well, and he gets long-time IRT player from Maryland MoMo Zelada for his troubles.
#23 Scott McClellan faces off against an interesting competitor in Bolivian Roland Keller, who is a doubles specialist and normally doesn't play singles
---
Projecting the round of 64: if my predictions go as I think they will, here's some interesting possible round of 64:
we might see an all-Guatemala grudge match between @Juan Salvatierra and Edwin Galicia for a shot at the main draw.
#19 @Felipe Camacho faces the winner of Diaz/Rodriguez in what could be a fun match.
An all-south American possibility between Kadim Carrasco and team Zurek's Juan Pablo Rodriguez Castrillon is in the offing.
#18 Sam Bredenbeck will be pushed by Guatemalan Javier Martinez.
---
Projecting the 32s: here's some possible matchups for a shot at the main draw.
#16/#17; thanks to two top10 players missing, we finally get a different 16/17 match from the past couple of events. This time Sebastian Fernandez is back to being "stuck" at #16, and he projects to play #17 Alan Natera Chavez in a battle of Mexicans.
Adam Manilla has gotten bumped up to #12 and likely faces Colombian veteran Cubillos for a shot at the main draw.
Eduardo Garay Rodriguez projects to face off against Bolivian veteran Carrasco, if he can get by the young Rodriguez.
An old-school IRT veteran matchup between Sebastian Franco and Jose Diaz projects in the #14/#19 spot.
#11 Thomas Carter will have his hands full to hold off an upset by #22 Zelada.
Lastly, #15 Andres Acuña gets a new match up in the round of 32 and projects to face the younger Bredenbeck brother.
---
round of 16: The first round will have some fun ones
#1 Daniel De La Rosa gets just his second ever #1 overall seed in an IRT event (first one was in march of 2018) having ascended to the #1 spot on tour after the US Open. He projects to face the winner of Patata and Natera, not the easiest opener he could have hoped for.
#8/#9 features two guys who have both been trending up this year in Carlos Keller Vargas and Jake Bredenbeck. Both players made pro finals in the past two events, and now they face off in the 16s. They've played twice, with Jake topping Carlos at the 2015 PARC and Keller topping Jake at the 2019 Iris open. I'm favoring Keller here.
#5 Lalo Portillo should cruise by Manilla here.
#4 Andree Parrilla will handle Garay's pace and advance.
#3 Samuel Murray projects to face Sebastian Franco in the 16s again; these two met at the US Open at this juncture and Murray dominated.
#6 Rocky Carson will be favored to move on against the winner of Zelada/Carter.
#7 Alvaro Beltran, who I know hates it when i pick against him in these writings, has his hands full with #10 Mario Mercado. These two met in Denver and Mercado blitzed Alvaro 12,6 to move on. I'm predicting the upset here as well.
#2 Alex Landa is set to face none other than Acuna. Again. They played at this juncture in both Denver and Chicago earlier this year and there's famously history here. These two have set to play a money match later this year and promotional videos have laid out all the past conflicts. Will this match prove to add another chapter to their story?
---
Projected Qtrs:
#1 DLR over #8 Keller. A rematch of the final of the US open happens two rounds earlier in Arizona, with Keller getting another shot at Daniel. DLR knows the game plan and will stick to it at his "home" tournament.
#4 Parrilla over his doubles partner #5 Lalo. The last time they played was at Mexican Nationals, a tie-breaker win for Andree. The gap between these two is closing though; and the last time they played professionally was a Lalo win. I expect a close breaker here, but like the way Andree has been playing and favor him to move on.
#6 Carson over #3 Murray. Carson is 11-0 lifetime over Murray, is not playing any doubles this weekend, and should have a somewhat easier time of it to get to the quarters. I like his chances here.
#2 Landa over #10 Mercado. Mercado can beat Landa; in fact the last time they played was a Mercado tight 2-game win over Landa. So this is no gimme for Alejandro. The question will be; is Alex healthy? He's struggled with some physical issues lately, and has struggled to live up to his seeding for more than a year now.
---
Semis:
DLR over Parrilla. I think Daniel still has Andree's number. They both play a similar style … Daniel just does it better right now.
Carson over Landa. Landa has not made a pro final since March 2020, the last event before Covid19 shut down. And even though Landa has a number of wins over Rocky in his career, he's lost the last two times they played (both times for a USA national title). Landa is doing double duty this weekend as the #1 seed in Mixed, and I suspect it might just be enough of a toll on him physically to cost him in singles.
---
Finals;
DLR over Carson. An old-school meeting: these two have played no less than 31 times (29 on the IRT). Carson leads professionally 17-12 (19-12 including two IRF wins). But DLR has won 5 out of the last 7 times, dating to january 2018, sometimes impressively so. This could be a statement win for DLR, vanquishing a long-time rival when the stakes are highest.
---
Open Doubles review
Not an official "IRT pro doubles" draw, but there's a massive Open doubles draw with a number of top team. here's a quick preview:
From the top half, I like #1 Franco/Garay to top the young mexican lefty-righty team of Fernandez/Rodriguez in one semi. From the bottom half I'll go chalk, with the #2 brother/brother Keller team topping #3 Diaz and Will reynolds.In the final, its Colombia over Bolivia, as Garay/Franco overpower the Kellers.
---
Look for Streaming in the regular places; follow the IRT on facebook and sign up to get notifications when they go Live.
Look for Dean DeAngelo Baer, Favio Soto, Pablo Fajre and the IRTLive crew all weekend on the mike, calling the shots!
Thanks to the Tourney Director Jim Winterton and to Arizona State for putting this event on!
Reminder to Players! Please like and follow this page so that when I tag you, you see it. Facebook will only retain tags of people that like/follow a page, which means lots of you are not getting the notoriety of getting tagged and noticed on FB. If your name is here and it isn't tagged … it probably means I attempted to tag you but FB stripped it.
Tags
Sponsor links
@International Racquetball Tour
@Reaching Your Dream Foundation
Formulaflow
Beastmade Apparel
Zurek Construction, LLC/Francisco Fajardo
Hashtags #racquetball #proracquetball #outdoorracquetball #irt #lprt #wor