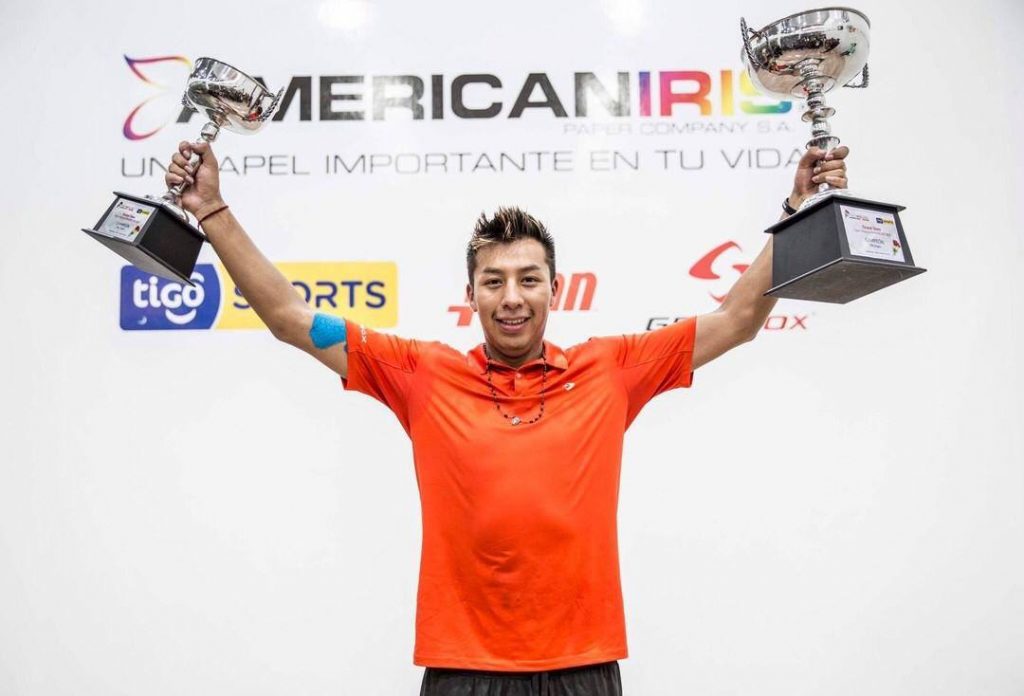 Congrats to your winners on the weekend:
Singles: Conrrado Moscoso
Doubles; Rocky Carson & Lalo Portillo
R2 Sports App home page for event: https://www.r2sports.com/website/event-website.asp?TID=37424
Lets review the notable matches in the Singles draw.
Singles Match report in the PRS database: http://rball.pro/14339C
In the 128s and 64s, here was some of the notable results for me:
18U New Yorker Josh Shea took out Canadian-turned-Chilean Pedro Castro, but then couldn't overcome #17 Sam Bredenbeck, falling 11-9 in the 64s.
Floridian Alex zamudio got a solid win over Bolivian Roland Keller in the first round before falling in a tiebreaker to another Bolivian in Kadim Carrasco.
Little known Bolivian Esteban Reque Zambrana took out two IRT regulars in Juan Pablo Rodriguez Castrillon and Scott McClellan to move into the round of 32.
Erick Trujillo had flight issues unfortunately, which gave Guatemalan Javier Martinez a walk-over into the 32s.
Top Florida player @Nolsen Jimenez took out two Guatemalan regulars in Edwin Galicia and Christian Wer to move into the 32s.
– Long-time Costa Rican touring pro Felipe Camacho took out Guatemalan Geovani Mendoza to earn a spot in the 32s.
In the 32s:
In the always close #16/#17 match, Sebastian Fernandez was stretched to a tiebreaker by the younger Bredenbeck brother before advancing.
Forced down into the round of 32, #9 Alvaro Beltran played a very tight match over Guatemala's @Juan Jose Salvatierra, advancing 13,14.
#12 Sebastian Franco advanced past an improving Erick Cuevas 8,12.
#14 Eduardo Garay Rodriguez was really pushed to the limit by Carrasco, advancing 11-8 in the breaker.
#11 Carlos Keller Vargas really had to dig deep to advance past Guatemalan #1 Martinez, splitting the first two games close 14 and 13 before breaking away in the tie-breaker.
– Floridian Jimenez stayed close with last week's winner Mario Mercado, losing 13,13 to the IRT touring pro
In the 16s:
#1 Daniel De La Rosa made quick work of #16 Fernandez, as compared to last week.
#8 Jake Bredenbeck made even quicker work of Beltran, crushing the veteran Mexican 6,3
#5 Lalo Portillo99 dominated #12 Franco 11,0 to move on.
#4 Andree Parrilla gave little room for the red-hot Adam Manilla to operate, advancing 11,3.
#3 Samuel Murray staved off a late game two challenge from Garay to move on 3,14.
#6 Rocky Carson made quite a statement in his win over Keller, absolutely dominating the vastly improving Keller 1,4 to move on. There might have been an injury issue here, as Keller;s doubles team forfeited later in the evening.
#7 Conrrado Moscoso reminded the tour of his presence, beating last weekend's winner Mario Mercado in two very close games to move on.
– The sole upset of the round was one that's been months in the making, as the oft-seen grudge match between #2 Alex Landa and #15 Andres Acuña finally turned in an upset. After a close game one, a seemingly disinterested Landa fell rather quickly in game two to lose 14,7. There might have been an injury involved; Landa has had a nagging back issue for months, but this party did not see any evidence of it on the court (though later in the evening the Landa/Murray doubles team forfeited due to "injury" so… maybe that was a factor). This is just he second ever quarter final for Acuna, the first being in Sept 2019.
In the Quarters
#8 Jake certainly made it closer than it was last week in Arizona, mounting a furious comeback in the breaker to have match point on his racquet before losing 11-10 to #1 DLR.
#5 Portillo got a rare win against his former doubles partner #4 Parrilla, cruising to an 11,6 win.
#3 Murray cruised past #6 Carson 13,8 to move into the semis.
– #7 Moscoso won an international tinged matchup against Costa Rican #1 Acuna in two to move closer to the finals.
In the Semis
#5 Portillo topped #1 DLR in an 11-10 thriller to advance to his 2nd ever finals. The two were locked in a tight tiebreaker when DLR jumped to a 10-7 lead, but Lalo got the serve back and then ran out the match. Great comeback and a career win.
#7 Moscoso took care of business in an 11-8 tiebreaker huge comeback over Murray to make the final.
In the Finals, we got the close match that was expected and hoped for, given two underdogs both fighting for something they rarely have a chance at. The two players played a great , entertaining match; the tiebreaker was awesome, featuring some really great rallies back and forth. Moscoso found a little strategic tweak on his serve towards the end of the breaker and it seemed to make the difference, as he broke away for an 11-9 tiebreaker win and the title. Portillo is thwarted in his attempt to get his first career win, while Moscoso adds title #2 to his resume.
Points Implications of results; i'm not entirely sure how the points are being calculated right now. But at some point the tour will have to expire points from the fall of 2019, and when they do Daniel is going to have a monstrous lead in the rankings. He has definitely sewn up the year end title, and when that becomes official nearer to Dec 31st we'll be covering it of course.
Doubles review
Match report in the PRS database: http://rball.pro/36DE6B
There were no real surprises in the 16s, as seeds held. The real fun started in the quarter finals, where all four top seeds fell.
#8 Parrilla/Fernandez, a newer pairing after Parrilla had played most of the last two seasons with Portilo, took out #1 DLR/Beltran 14,8. After a close game one, game two was not nearly as close as the score indicated.
In a projected rematch of the Bolivian national doubles final, the reigning champs Keller/Carrasco forfeited with injury to the dangerous and multi-international champion Moscoso/Keller pairing. We're not sure which party was injured, but wonder if it was a factor in Keller's blowout pro singles loss.
#6 Carson/Portillo just crushed team Zurek Construction, LLC Franco/Garay 7,3. Carson played the forehand side (a rarity for him in indoor, though he's well accustomed to playing forehand in doubles due to his decades of outdoor experience), and Lalo is becoming a formidable doubles team.
#7 Mercado/Manilla, two excellent doubles players and a great lefty/righty pairing, got a walkover against Landa/Murray.
In the wide open Semis:
Moscoso/Keller saved match point against in game two and then took the breaker.
Carson and Portillo also saved match point against, winning an 11-10 breaker.
In the final, Carson reminded everyone why he's a top doubles player and led his team to a dominant 12,3 win for the title.
Men's Open, other draws
It was the top 4 seeds into the semis in Men's Open. There, Acuna topped Cuevas, while Sam Bredenbeck got a solid win over Camacho to make the final. There, Acuna took out Bredenbeck for the title. Acuna is a frequent Men's open finalist/champion in the last few IRT events.
Thanks for all the streaming on the weekend, especially from broadcasters Dean Baer, Favio Soto, Pablo Fajre and the IRTLive crew
Thanks to the Tourney Directors X and X for putting this event on!
Reminder to Players! Please like and follow this page so that when I tag you, you see it. Facebook will only retain tags of people that like/follow a page, which means lots of you are not getting the notoriety of getting tagged and noticed on FB. If your name is here and it isn't tagged … it probably means I attempted to tag you but FB stripped it.
Next up?
Per our handy master racquetball calendar …
https://docs.google.com/…/1V6OTid6rZ356voXVkoV2sN7KMMb…/
Worlds! Is happening in Guatemala in two weekends. It will be great to have the international community back in action. We'll take a break for Thanksgiving weekend, then kick into gear for both World Adults and World Juniors in Guatemala City.
tags