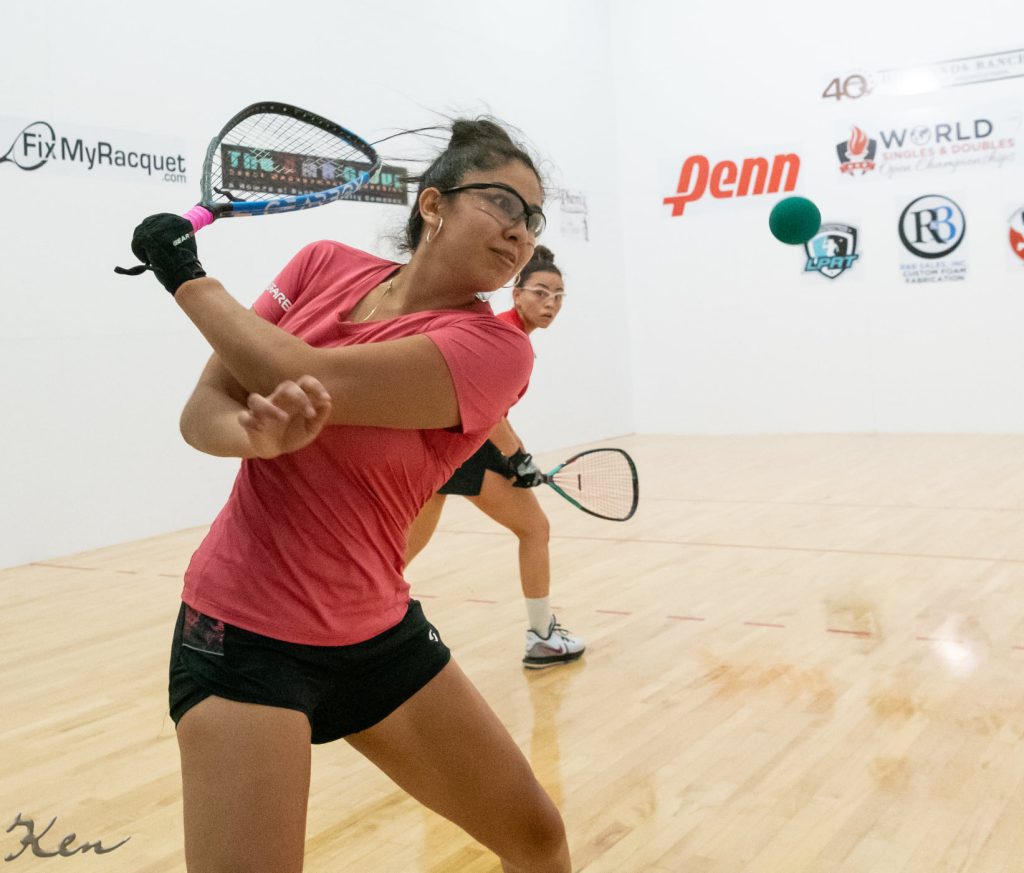 Congrats to your winners on the weekend:
Singles: Paola Longoria
Doubles; Longoria & Salas
R2 Sports App home page for event: https://www.r2sports.com/website/event-website.asp?TID=37340
Lets review the notable matches in the Singles draw.
Singles Match report in the PRS database: http://rball.pro/3CCEC1
In the 16s:
#1 Paola Longoria gave Ecuadorian former top 8 pro Vero Sotomayor little room to operate and moved on 5,5.
#9 Rhonda Rajsich took out #8 Valeria Centellas at this juncture for the second straight weekend.
#5 Angelica Barrios held serve against American #12 Kelani Lawrence.
#4 Natalia Mendez Erlwein was pushed but held off an upset challenge from #13 Erika Manilla in a tiebreaker.
#3 Alexandra Herrera blew out her fellow lefty Mexican rival Ana Laura Flores 2,8.
#11 Carla Muñoz Montesinos got a well-earned upset over #6 Samantha Salas Solis 9,11
#10 Brenda Laime Jalil got yet another upset of a top-8 player, this time vanquishing #7 Jessica Parrilla by the always-fun margin of an 11-10 tiebreaker.
– #2 Maria Jose Vargas Parada crushed LPRT veteran Adrienne Fisher Haynes to move into the quarters.
In the Quarters
Longoria moved past her most frequent rival in Rajsich, 8,11.
Barrios got a solid win over #4 Mendez to move into the semis.
Herrera crushed Munoz 1,3 to get a statement win against the upstart Chilean
Vargas similarly crushed Laime 2,3 to put down the budding challenge of the up and coming Colombina.
In the semis, a big upset.
Longoria moved into the final with a straightforward 4,12 win over Barrios.
Herrera got a career best win over Vargas, topping her for the first time in 9 tries on tour.
In the final, Herrera played some of her best ever racquetball, taking the first game off of the #1. Longoria blitzed the lefty in game two, and then the tie-breaker was a back and forth affair that looked like it could go either way. In the end, Paola got a quick lead and then ended the match on an avoidable, a bummer of an ending for a great match.
Doubles review
Match report in the PRS database: http://rball.pro/A67933
Two upsets in the quarters; one expected and one not. The underseeded team of Vargas/Sotomayor took out the #2 seeds Herrera/Munoz in a tie-breaker, while the pairing of Flores/Lawrence shocked the regularly teamed up Parrilla/Perez in a tie-breaker to earn a semis spot.
In the semis….#1 Longoria/Salas were pushed by the upstart Flores/Lawrence team but advanced in a breaker. #3 Mendez/Centellas took out Vargas/Sotomayor in two straight.
In the final, the #1 team won again, claiming their 35th pro doubles title together.
Women's Open, other draws
An odd Women's Open draw was robbed of any drama on the top side, as both top seeds Barrios and Centellas forfeited. This gave Lawrence a free shot into the final, having only to play one match against a local player who she vanquished 0,0.
On the bottom side, it was a different story, as four top LPRT players duked it out. Munoz got a solid win over Flores, and Sotomayor got a solid win over Manilla, and then Munoz took out the tiring Sotomayor in the semis 11-8 to earn a shot against Kelani in the final.
In that final, Lawrence got a very solid win over Munoz in a breaker.
Men's Pro draw
A 13-player IRT pro draw featured a couple of traveling pros in @Maurice Miller and Rodrigo Rodriguez, who met in the final. There, the young lefty downed the veteran IRT touring pro 9,12 for the title.
Thanks for all the streaming on the weekend, especially from broadcasters Timothy Baghurst, Jerry J Josey Jr., JP Edwards and @Tj Baumbaugh]
Thanks to the Tourney Director Geoff Peters for putting this event on and generally being one of the biggest racquetball benefactors out there.
Reminder to Players! Please like and follow this page so that when I tag you, you see it. Facebook will only retain tags of people that like/follow a page, which means lots of you are not getting the notoriety of getting tagged and noticed on FB. If your name is here and it isn't tagged … it probably means I attempted to tag you but FB stripped it.
Next up?
Per our handy master racquetball calendar …
https://docs.google.com/…/1V6OTid6rZ356voXVkoV2sN7KMMb…/
Worlds! we take a week off for Thanksgiving, then head to Guatemala for Worlds.
tags