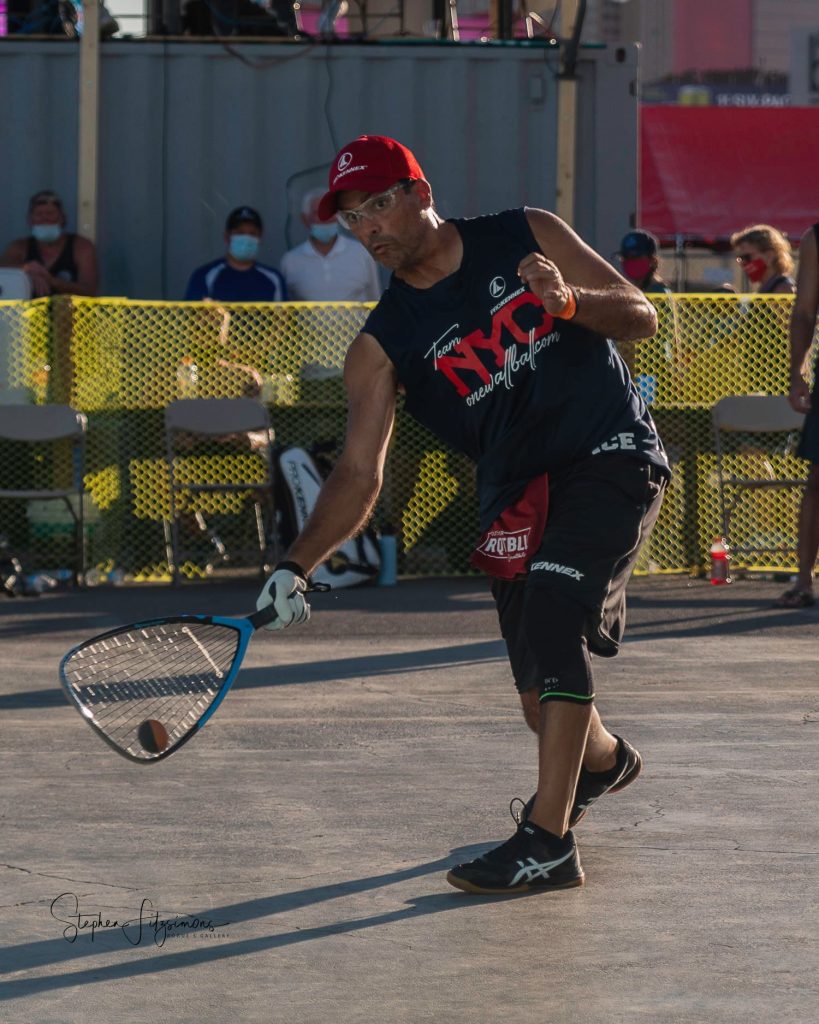 The AGE Solutions Hollywood Beach Battle
r2sports home page: https://www.r2sports.com/website/event-website.asp?TID=37870
Just when you thought the outdoor season was over … the venerable DC-based team of racquetball promotors Thao Le and Maddie Melendez are bringing racquetball back to the Historic Garfield Street one-wall courts in Hollywood, Florida this coming weekend, with a little help from regular Florida racquetball organizers like Vic Leibofsky, Rob Mijares and Jeff Wright.
Headline sponsored by DC-area player @Andy Gomer and his company AGE Solutions, this is the first time tournament racquetball has been played on these courts since the March 2019 Beach Bash. 2020's event was one of the first major rball events to be cancelled thanks to the burgeoning Covid crisis, and 2021's event never got off the organizational floor with the city from a permitting perspective. But here we are, and the draws look amazing.
Despite a space-limited capacity figure for the tournament, this tournament has drawn a who's who of one-wall players from up and down the east coast, with a number of players flying in from New York/New Jersey and Washington DC. Other top outdoor players are coming in from Arizona and Texas and North Carolina. And of course, a ton of Florida's finest are here, ready to fend off the challenges from one-wall out-of-towners and try to take home the titles on home soil.
Here's a quick preview of the doubles-only pro draws to be competed this weekend. Note: some of these draws and partnerships may change by the time draws are released; some last minute withdrawals have forced some scrambling to find new partners… the Tournament Director's lament.
---
Men's Pro Doubles.
There's 12 teams entered into the Pro one-wall doubles, and the competition will be fierce. They're split into three RR groups of four teams each to start.
In Group 1, the favorites are the top seeded NYC team of Robert Sostre and William Rolon, who were the 2019 and 2020 One-Wall champions in Vegas together. Individually, these two hold a slew of Beach Bash titles; Rolon won in 2017 and 2018 with David Blatt, while Sostre holds four Beach Bash titles (and made another four finals) with long-time partner Freddy Ramirez. The "Iceman" and "The Warrior" will be tough to beat. However, Group 1's #2 seed is the sneaky good team of Thomas Gerhardt and Mike Harmon, who very accomplished indoor players who also more than hold their own in the outdoor arena.
In Group 2, the #1 seeds are the tough team of Richard Miller and David Blatt, who themselves are one-wall royalty from NYC. Miller owns three Beach Bash titles (and made the pro finals another five times), while Blatt (known as "The Hulk" or "The Hulkster") has both a Beach Bash and a Vegas one-wall title on his resume. They'll be pushed in their group by top outdoor Florida players such as @Marcos Gravier, Alejandro Barcelo, and Yasmani Pérez. Also, shoutout here to Osman Alejandro Lazarte, a long-time DC area top player who's entered in with a dark-horse New Englander in Sudheer Tata and could make waves.
In Group 3, the top seeded team is one-wall royalty in Freddy Ramirez paired up with perhaps the most powerful player in Hollywood this weekend in Joe Young. Freddy owns dozens of one-wall titles in his career and is perhaps the best right-sided one-wall player in history, while Young blasted his way to a Beach Bash title in 2015 and is a regular in outdoor majors. They'll be challenged in the group stage by NYC ex-pat @Ignacio Espinal (Iggy) playing with @Eric Faro from New York and a dark horse team from Stratton Woods in @Sergio Rivera and @Suresh Vemulapalli.
Group Predictions: I hate to go chalk, but its hard to see any of the three top seeds getting upset in the group stage. Best chance for an upset goes to Gerhardt/Harmon in group 1.
The playoffs will be determined in a cool way: the three group winners advance to the semis, while the three runners-up will play a mini RR to determine the fourth semi finalist.
In the knockouts, I like Miller/Blatt over Ramirez/Young in the final, if the brackets work out that way.
---
Mixed Pro Doubles
The Mixed Pro draw is stacked. Some of the teams that stood out to me as immediate contenders include:
Sostre playing with LPRT touring pro Masiel Rivera Oporto
Gerhardt playing with Virginia top outdoor player @Aime brewer.
Ruben Pagan of onewallball.com playing with Hall of Famer Aimee Roehler.
Blatt playing with the legendary Anita Maldonado, who owns five major one-wall titles and is perhaps the best female paddleball player of all time.
Miller playing with @Maira Ramos, a pairing that won both the 2010 and the 2013 Mixed pro Beach Bash titles together.
Freddy playing with Kathy Guinan – Norwex Independent Consultant, who owns two Beach Bash doubles titles from 2010 and 2012.
Wow. These round robins are going to be amazing. Each RR group has three teams that you could make easy arguments for advancing.
Predictions: I'm going to go with Sostre/Rivera winning group one, Pagan/Roehler in group two, and Sostre/Rivera taking the playoff.
---
Women's Pro Doubles
There's eight women's pro doubles teams entered, and the competition looks fierce.
In Group A, an old-school pairing of Guinan/Ramos will look to fend off what looks like a very powerful team of Roehler/Rivera.
In Group B, look for a battle between the Virginia-based pairing of Carrie Handfinger Hoeft and Brewer and the @Claudia Andrade/@Michelle Michbo Herbert team, which could be pretty tough.
In the final, I don't think Roehler/Rivera can be stopped.
---
Other Draws
There's huge Draws in Elite, in Men's 75+, and others. Kudos to all the players who are flying in to support this event.
---
Look for streaming from the individual players throughout the weekend. I know that wifi is tough at the court, so we'll hope for the best we can.
3WallBall Outdoor World Championships
Mid-Atlantic World Outdoor Racquetball
WOR – World Outdoor Racquetball