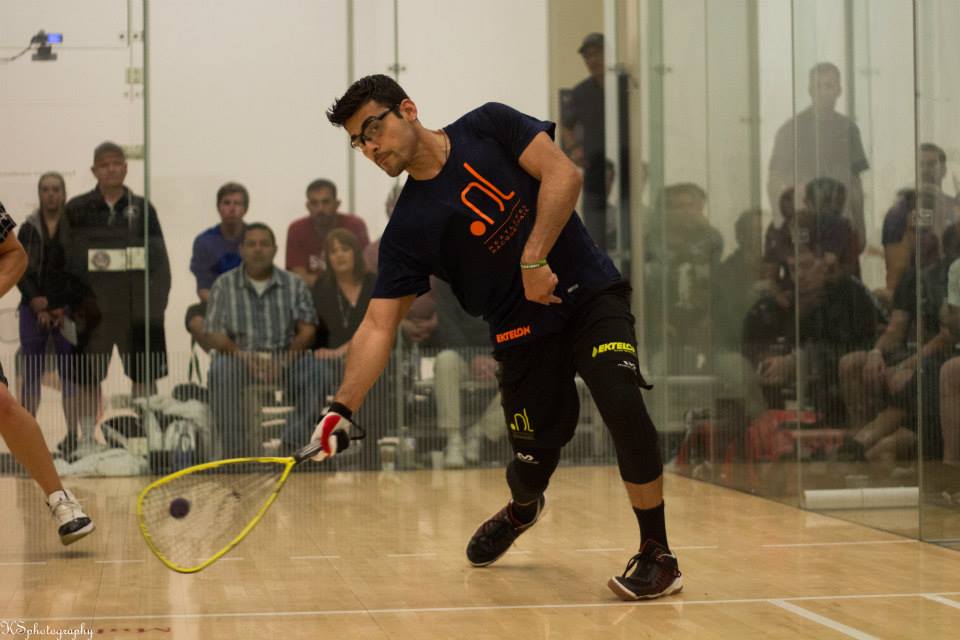 For the first time in years, perhaps dating to the old Hogan-Yellen winner-take-all matches in the late 1980s, a racquetball promoter has put together a pay-for-play exhibition and its happening this coming weekend.

The Manilla Athletics Court Wars 2021 is set to happen on 12/18/21, live on pay per view and available at this website:
https://manillaathletics.com/courtwars-info

Consider supporting this endeavor and buying your tickets. I've got mine. We need more of this kind of out-of-the-box thinking, not less, in our sport.

Title sponsors include the two owners of Manilla Athletics (that being pro players and team USA members Adam Manilla and Erika Manilla) as well as two of the leading sponsors of racquetball in the Atlanta area, Williams Consulting and Suivant Consulting.
There's already a great preview at https://manillaathletics.com/courtwars-info of each of the 5 matches (which I highly recommend to go read) but here's my preview and prediction for the five matches in the event.
---
Match #1: Antonio Rojas versus Nikhil Prasad.
First up is an all Junior (well, nearly junior) event, featuring two of the more decorated Junior competitors the USA has ever seen. Both players hail from northern California (Rojas from Stockton, and Prasad from Fremont). Rojas finished his junior career with 8 junior national titles and simultaneously held the 16U and 18U titles in 2019 (a rare feat: it has only been done by two other males, that being Jose Rojas and Jack Huczek). Prasad is still going, is the reigning 16U junior national champion as we speak and holds six junior national titles, with a chance to sweep the 18Us in the next two years to match Tatoe's accomplishments.
Neither player has yet to debut on the pro tour (though Tatoe did play in a WRT event when he was quite young).
Prediction: I think age wins out here: Prasad is an excellent player and clearly the best 16U player in the land, but Rojas was winning 18U titles when he was Prasad's age, and at this young age, a couple of years of experience and strength means a ton.
---
Match #2: Mario Mercado versus Andree Parrilla
Match #2 features two IRT touring pros, the currently ranked #4 and #10 players on tour. Both are experienced international players, and both represented their home countries at the recent World championships (Parrilla playing for Mexico, Mercado playing for Colombia).
They've met 5 times professionally, all on the IRT. Parrilla leads h2h 3-2. Their last meeting was at this year's US Open, a two game 11,8 win for Andree. But, Mercado is coming off a strong run of form; he won the Arizona pro-am IRT event in November and made it to the semis of Worlds, where he dropped an 11-9 thriller to Acuna to miss out on the finals.
They play a somewhat contrasting style: Mercado is inarguably a shooter, going for bottom boards and pinch shot rollouts at every opportunity. Parrilla is more of a grinder, a defender who relies on accuracy more than power. This match could come down to who is sharper, and despite the run of form lately I give the edge to the higher ranked pro:
Prediction: Parrilla in a breaker.
---
Match #3: Erika Manilla versus Jessica Parrilla
I love this matchup, especially right now, because Manilla has had a great run of form and is looking like she merits a spot in the top 10 on tour. Meanwhile, Parrilla IS in the top 10 on tour right now, meaning this could be a very evenly matched contest.
They've only met once: way back in 2017 at the US Open, an easy 3-game win for Parrilla when Erika was barely out of juniors. But so much has happened since then: Parrilla suffered an awful knee injury and missed an entire year on tour, and really is still working her way back. Manilla finished college and has now been able to focus more fully on playing, and her results show. She had a great run at the US Open (making the pro semis and really pushing #1 Longoria), and she made the doubles final at Worlds with Rhonda Rajsich. She continues to get solid wins on tour.
The key to this match will be emotions. As in, who can manage theirs better. Both players play with their emotions plainly on their sleeves; a missed shot results in gesticulation, while a made shot results in exaltation. Sometimes playing with emotion can be good, other times it can be blinding to proper game management. Look for plenty of "Come on!" and "Vamos" from the competitors as they battle this one out.
Prediction: Parrilla in a close breaker.
---
Match #4: Doubles: Jose Diaz & Marco Rojas versus Jake Bredenbeck and Sam Bredenbeck
A fun doubles exhibition, featuring two of the best doubles players in America and long-time double partners Diaz and Jake. Diaz and Jake made the finals of the 2014 Pan American sports Festival, the Finals of the 2015 US Open, a bunch of Pro doubles finals, and the 2020 US national doubles finals.
But now times have changed: Jake played 2021 US nationals with his brother Sam and seems to have taken his brother on as a permanent doubles partner, likely due to Diaz stepping back from playing. How will these two fare on the court facing each other for the first time in years?
Meanwhile, some newer fans of the sport may not "remember" just how good Rojas was on tour. He was in the top 10 for four years in the mid 2010s, a constant presence in the back-ends of tournaments, and maintains to this day winning h2h records against a slew of top players (Landa, DLR, Pratt, Murray, Horn, and Diaz). A victim of the financial issues in our sport, Rojas quit the tour in May of 2017 to focus on getting a "real job," which he's been doing ever since.
But now he's back, and he's part of what promises to be a very vocal "209" pairing, going against the Minnesota farm hand brother-brother pairing. There is no lack of confidence coming from the Rojas/Diaz pairing, and they'll be sure to let everyone know as the game moves on.
Generally when i predict doubles matches, I look at the strongest and weakest players on the court as the determining factors. I'm assuming Rojas will get some practice time in, but will his rustiness be a factor? Meanwhile, Jake projects to be the most dominant player on the court; can he carry the team? Of the four players, Sam is the least accomplished player; will that be the determining factor?
Prediction: Diaz/Rojas eke it out.
---
Match #5: Alex Landa versus Andres Acuña
Well, you couldn't ask for a better match here. This is an immediate rematch of the 2021 World final, won in dominant fashion by Landa 6,6.
I won't rehash the "history" between these two; it is well documented elsewhere. What I will point out is this: these guys have played each other, a lot, this year. This will be the fifth meeting between these two players since August. Landa won the first three (all round of 16 matches in pro events), before Acuna took out the mentally fatigued Landa in Sarasota, a huge upset and a marquee win for Acuna's career. Then Acuna played fantastic ball all week in Guatemala to earn a well-merited spot in the gold medal game.
On paper, this is World #2 versus World #16, and you wouldn't think it would be that close. But in reality, these are players moving in opposite directions. Acuna is up and coming, has added pace and is starting to get notable wins left and right. Landa is now 33, kind of a "witching hour" age for pro racquetball players where they generally lose a step or two, lose a few MPH on their fastballs, and suddenly go from top dogs to upset-fodder. Not to mention … at some point you have to "grow up" and realize you can't play rball forever. Is this where Landa sits right now, career wise? His recent results (outside of winning Worlds) certainly show this; he has not made a final since March of 2020, and he's taking first-time losses to a number of up and coming players.
The big question for this match will be; is Landa's heart going to be into it? If he's not getting up for pro tournaments, can he get up for an exhibition? Meanwhile, Acuna plays to win; he doesn't take matches off; he can't afford to right now. Every win for him is more important than the last and he's hungry.
Prediction: Acuna wins.
---
Tune in 12/18/21 at 11am PST/2pm EST.