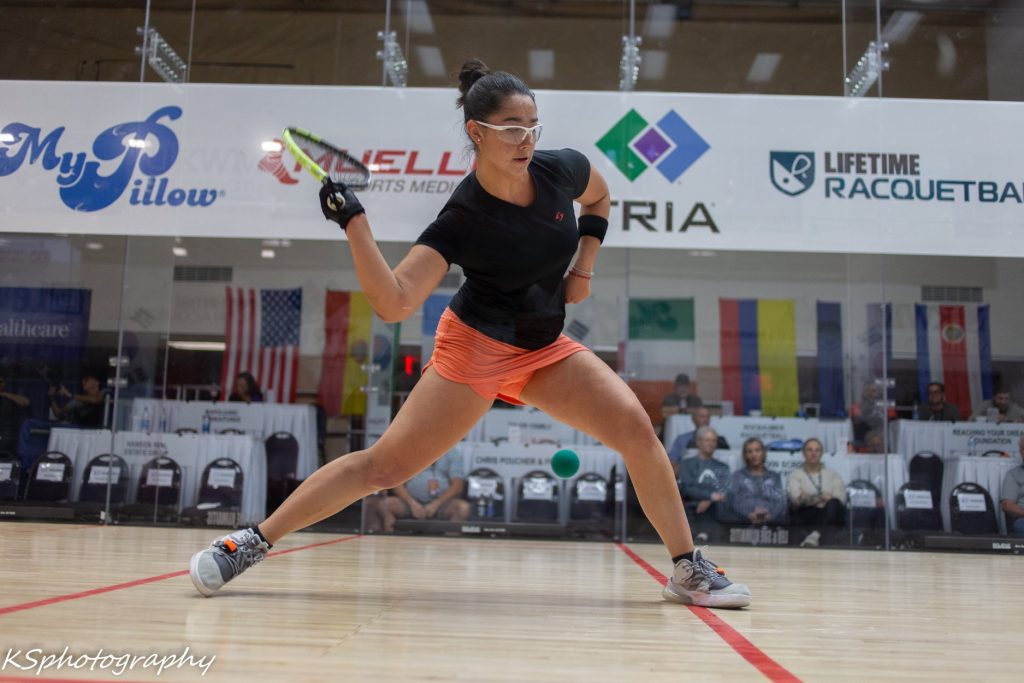 Inspired by an idle question from Steve Castleberry on a post a few weeks ago, I'm writing up a couple of forward looking missives to talk about the movers and shakers on the LPRT, looking forward at 2022. I'll post the IRT version tomorrow or Friday.
The LPRT uses a split-year schedule, so we're basically at the halfway point of the 2021-22 season. So, looking at the standings now we'll do some proclamations and talk about players to watch.
We start at the top: #1 Paola Longoria has a 1200 point lead at the top of the tour rankings as we speak. Players earn 200 points for a Tier 1 win, 300-320 for a Grand slam win. So, basically, Longoria already has this season's title sewn up, unless we get an influx of tournaments and Longoria suddenly fails to enter any of them.
Have we seen chinks in the armor of the long-time #1? Not really; after a couple of less-than-sporting incidents at the US Open and Mexican Nationals, she was on her best behavior in a dominant run to the 2021 Worlds title and the subsequent pro event. It is hard to envision the sport without her at this point, nor envisioning someone pressing her at the top. #2 Vargas is a career 2-41 against Longoria, and the player who i thought would most press Longoria going forward (Mejia) is scuffling.
– #2 and #3 Maria Jose Vargas Parada and Alexandra Herrera might be starting to show something of a rivalry at the 2/3 spot, which is great for the sport. Vargas holds a dominant h2h lead over Herrera (9-1) for their careers, but that one loss was recent and their matches are getting closer. Can Herrera make a push for #2 the rest of the way? She'll have to continue to hold serve in the quarters against challengers and continue to look for ways to beat Vargas in the Semis.
– #4 Ana Gabriela Martínez had a disappointing Worlds event on home soil, and suffered an upset loss to Manilla at the US Open. Her win against Longoria in the 2018 Worlds looks like a fluke win; in all competitions Gaby is now just 1-18 against the world #1. But, she's playing the tour regularly and seems a lock to stay in the top 8.
– #5 Natalia Mendez Erlwein sits tight at #5 and has a couple of key wins against Martinez this year. But, she's had little success against the top 3 players on tour (a combined 1-23 lifetime against the current 1-3rd ranked players) and seems like she's plateaued a bit. She does a good job beating players who she "should" beat, but needs to get some success against her fellow top 4 players.
– #6 Angelica Barrios made the semis of the US Open, taking advantage of some upsets on her side of the bracket, but took an early loss at Worlds to Lawrence. She's spent the last 2 years on tour generally only losing to players who she "should" be losing to, and has some notable wins. She's a lock to stick in the top 8 and could move up to #4 with the right results.
#7 Montse Mejia continues to be an enigma on tour. She had an amazing run to win Kansas City, topping Centellas, Herrera, Gaby and then Paola to win the title, never dropping a game. But in her 3 tournaments since she has losses to Laime and two losses to Manilla. She went a number of tournaments basically winning until she ran into Paola (whether that was in the 16s, quarters, semis or the final), but has scuffled as of late. Can she right the ship?
#8 Samantha Salas Solis and #10 Rhonda Rajsich both have the same questions facing them: are they done being forces on the pro tour at this point? Salas went from making 9 finals in the 2018-19 season to her current struggle to get past the opening rounds. Same with Rhonda, who hasn't made a pro semi since Jan 2020 and has nearly fallen out of the top 10. Both played well at worlds, with Salas losing to eventual champion Longoria at the quarterfinal stage and Rhonda putting a loss on Vargas before losing to her teammate Lawrence, so they can still play. But the realities of aging on tour face them both.
#9 Jessica Parrilla just cannot get back to where she once was on tour. She finished #3 in the 2017-18 season, then badly injured her knee … and she's has not made even a pro semifinal since. Her tripwire is the quarterfinals; she's made 9 of them in the past three seasons but has gone no further.
————
Thoughts on Players ranked 11-20 range of Note
– #11 Valeria Centellas is too young to be having a mid-life career crisis, but she's seemingly at a cross roads right now. She made a pro semi in Jan 2020, but has struggled since then, taking a number of losses against players she should be beating if she wants to maintain a top 10 finish. She has lost in the 16s in 5 of the last 6 pro events, and seems to have lost her way on the court.
#12 Brenda Laime Jalil is now part of Team Zurek Construction, LLC, which is great news for her career and the supportability of her aspirations. And she's had some really promising results in 2021, with wins over Mejia, Herrera, and Vargas. She seems like a lock to be in the top 10 if she can play full-time. She curiously missed the most recent LPRT event (basically held at her home court), an opportunity missed with the thin field.
#13 Carla Muñoz Montesinos has had a very busy year, lots of travel, lots of court time. She's had some up and down results on tour, with solid wins against the likes of Centellas and Salas, but losses to Lawrence and Scott. She needs a couple more marquee wins in the 16s and to challenge in the quarters to eke her way back to the top 10.
#16 Kelani Lawrence had a dream run to the finals of Worlds, but is stuck in a very dangerous ranking position on tour that guarantees a very difficult opening round match. She's got several round of 16 losses to players ranked in the top 4, which makes it hard for her to move up. She had a great win against Barrios at Worlds, and has played the likes of Vargas and Herrera tough, but needs a marquee win to get herself into the 12-14 range that makes for an easier first round matchup.
#18 Erika Manilla might be the biggest dark-horse on tour right now. She blew it up at the US Open, with wins over Mejia and Gaby before a controversial close loss to Longoria. She followed that up with another convincing win over Mejia at the Xmas classic before falling for the third time this year to Mendez. She she's put herself on the map as a player who can beat some of the best on tour. I see no reason why she can't get to the top 10 … perhaps not by the end of this season, but sometime in the fall of 2022.
————–
Players to watch for in the 20s and beyond
– #22 Micaela Meneses Cuellar just won Junior Worlds, and if I have her birthday right still has another year of juniors to go. She's getting plenty of LPRT experience, and already has some solid wins against regular touring pros like Enriquez and MRR. When she's faced off against the tour elite she's generally held her own, taking games off of Vargas and Barrios. Assuming she can get back to the US during the school year, she's one to watch for.
– #23 Ana Laura Flores has some solid wins on her resume (Mendez, Hollie Scott), but has gone one-and-done in her last four tournaments, which can be pretty discouraging, especially for a traveling international player. Lets hope she gets some results going forward and continues to play.
– #29 Montserrat Pérez plays part time and presents as a tough lefty out; is she more of a doubles specialist going forward?
#31 Lucia Gonzalez remains the darkest of the dark horses on the LPRT. When she gets the right draw, she's dangerous (in the last two Mexican nationals she's beaten Herrera twice and Enriquez), but she's lost in the 32s in the last four pro events she's entered (to stiff competition, but still). Without results you can't get seeding, and without seeding you're playing into the top seeds, so she has kind of a chicken or egg thing going on, but she has the talent to compete. Will she going forward?
#38 Vero Sotomayor; who is now living in Florida and is back on the pro tour after a 4 year absence, is ready to make waves. She's clearly the "player who nobody wants to face in qualifying" right now, and has shown she's easily got top 8 talent. How far can she move up in the second half of the season? It remains to be seen, but the next scheduled stop is at her home club.
#43 Aisling Hickey, Ireland's #1, has now relocated to California and should be playing more tour events. She raised some eyebrows at the US Open, defeating a couple of solid players in Pazita Munoz and Rivera, and though she went winless at Worlds she played four tough LPRT vets and will be in Birmingham for the 2022 World Games. I could see her moving into the 20s soon and pushing for a higher ranking.
—
Predicted 2021-22 Season ending Standings:
1. Longoria
2. Vargas
3. Herrera
4. Mendez
5. Barrios
6. Gaby
7. Parrilla
8. Salas
9. Mejia
10. Laime or Manilla
—
Looking forward to 2022!