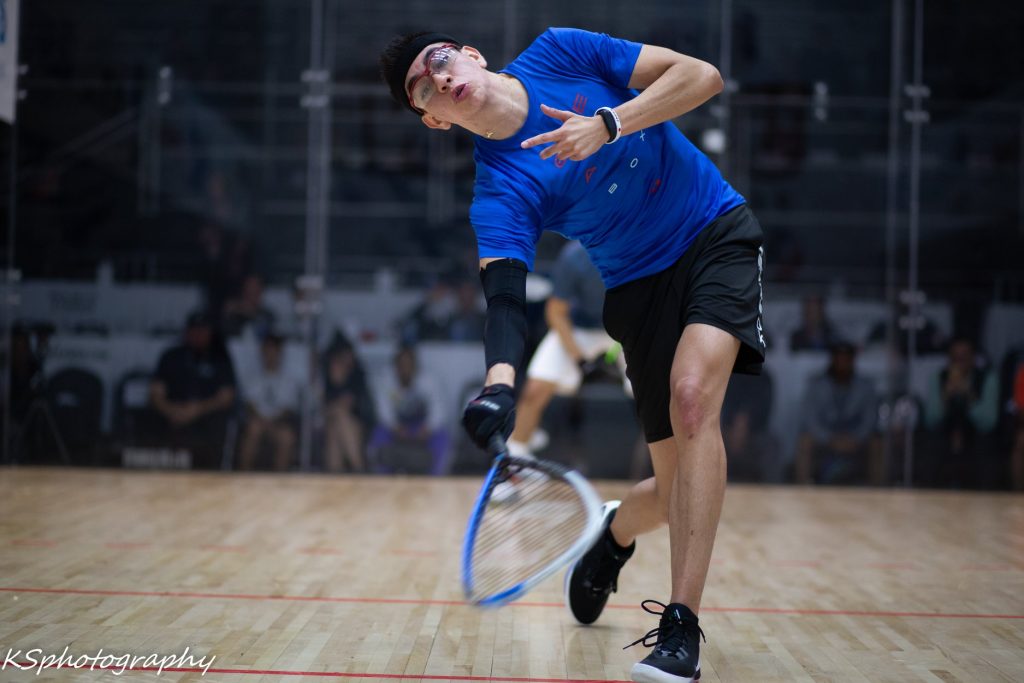 We published the LPRT" version of this post earlier this week. Now here's the same post for the MEn's pros.
Lets take a look forward at what may come on the pro tour in 2022.
Top 10 players right now:
#1 Daniel De La Rosa had a 2022 to remember; he won his first US Open, and he secured his first pro year end title. He ends the season with a massive lead atop the rankings (more than 900 points), thanks to winning three of the year's six events and making the final of another. He finishes the season 20-3; all 3 losses were in tiebreakers. In fact, the last time he lost in two was all the way back in January of 2020, a 9 & 10 loss to Kane in the final of the 2020 Longhorn Open. He's playing consistent, thoughtful racquetball, controlling the power players he faces and out-playing the tacticians on tour. It seems like we're entering a new era on tour, given that DLR is 28 and many of his long-time rivals are in their mid 30s or older. Unless a certain Texan returns to tour, I see no one in the immediate horizon who can challenge DLR for the top.
#2 Alex Landa somehow remains ranked #2 on tour despite an (for his standards) awful 2021 on tour. He failed to make a single final this season, and took uncharacteristic losses to players like Bredenbeck, Acuna, and Mercado. No offense to these players, but they're not multi-time tournament winners. 2022 will see Landa's ranking dip and quickly, but he just had a career win at the Worlds, where he looked like his old dominant self, so perhaps he can build on that victory and rebound. Working in his favor will be the points expiration battle; he'll be defending lesser points and has a great opportunity to replace poor 2021 results with better 2022 results as the year moves on. His biggest issue is health; he's been battling a back issue for months and needs to get healthy.
#3 Samuel Murray started 2021 with an unbelievable win in Atlanta, taking out four players who I believe ranked him in the world pecking order to win his first title. He's been hit or miss since, with a couple of curious losses (twice to Keller, once to Franco), and then the even more curious decision not to play singles at Worlds. He sits at #3 now, but his points lead is perilous and he'll lose a ton of points once his January 2021 grand slam expires. He may quickly slip in to the 5-8 range and will have to fight to get back to the top 4.
#4 Andree Parrilla has completely rebounded from his awful spell in early 2020, where he lost in the round of 16 in four straight tournaments before Covid shut things down. He has been a model of consistency on tour this year, with 3 semis and 3 quarters to his name. His big challenge will be to fend off the players right behind him on tour (specifically his former doubles partner Portillo) to maintain the status quo while trying to get big wins to make more finals.
#5 Lalo Portillo is the busiest player on the planet, somehow fitting in 18 tournaments in the last two years with some players struggled to do half that. It has led him to ascend to #5 on tour, and he seems set to move forward. He's done a great job of holding serve against lower-ranked players (with the exception of a 16s loss to Manilla in Arizona), and has gotten a ton of wins over higher ranked players (he's topped Landa, Parrilla and De La Rosa this year). By the end of next year he may be DLR's main challenger to the title.
#6 Kane Waselenchuk is, of course, the biggest question mark on tour. He has played just one singles draw since March of 2020, and in that one tournament he inexplicably retired due to a "disagreement" with the tour that, frankly, should have been dealt with after the tournament was completed. In his long-winded interview to explain what happened, he stated he was taking some time off. How much time off? Will he play again? Will he only play the US Open, a title he most covets? Whatever happens, he's set to plummet in the rankings, and by the end of March may be buried in the 20s unless he plays more events.
#7 Conrrado Moscoso remains an interesting player to predict. He entered four pro events this year; he made the final of three of them, winning in Sarasota to finish the season. But he's lost his edge; DLR has topped him the last two times they've played and he took an inexplicable loss to Keller at the US Open (paving the way for Carlos' run to the finals). He continues, amazingly, to foot fault about every third drive serve attempt, a maddening mechanics flaw that a world class player should have addressed two years ago. Where does he go from here? Well, he needs to play every event if he wants to be #1. But traveling from Bolivia for every event is a tall order. Does he (and his home country) covet international titles more than pro titles? Perhaps. Whenever he enters an event, he's a favorite to make the final, and if he can keep his focus he's got a great chance to win.
#8 and #11 Rocky Carson and Alvaro Beltran are now 42 and 43 respectively, and their rankings have shown that gradual slip for a couple years now. Carson made one semi final in six tries this year; two seasons ago he made the semis in all 9 of the events on tour. Beltran made the quarters or better in 9 of 10 events in the 2019-20 season; he lost in the 16s in every tournament he entered this year. Beltran readily admits he's more interested in Doubles play right now, and we may see him cut back on touring to only play events where doubles is offered. Carson is a couple early round upsets from getting bumped from the top 8, which means one additional qualifier and an even longer road to profitability. 2022 may finally be the year these two stalwarts step back from touring.
#9 and #10 Jake Bredenbeck and Mario Mercado are worth talking about together, because they've played each other frequently as of late, trading wins at Worlds and at the LPRT Xmas event in Maryland. Both are players on the rise and are getting good wins lately. In 2021, Jake has topped Landa, Parrilla, Montoya, Mercado, Franco and Keller, all players he would have struggled with a couple years ago. Meanwhile, Mercado had an astounding Arizona Open for his first title, topping Beltran, Landa, Carson and DLR in order. Both players will look to stay consistent and push their way into the top 8 by mid-2022.
—————-
Notables in the Teens
#12 Carlos Keller Vargas toured for the entire season 2019-20, losing in the 16s seven times and the 32s twice. I figured, well that's about as good of an indicator of talent level as any, and I figured that'd be the end of his full time touring. But I was wrong; in 2021 he made a quarter, a semi and a final (at the US Open), getting solid wins against players like Murray (twice), Mercado, and Moscoso.
#13 @Sebastian Franco just had a surgical procedure done in his home country of Colombia and is set to miss some time, further dropping him in the rankings. Can he get back to the top 10 or is his days of full time touring complete?
#14 Adam Manilla remains an enigma on tour, getting amazing wins but then following them up with curious losses. He has wins over the likes of Parrilla, Mercado, Mar, and Portillo. But he's struggled to dominate against his fellow mid-teens ranked players, splitting recently with the likes of Acuna (whom he played three events in a row in the 16/17 round). He needs to consistently make more quarters to have a shot at the top 10.
#16 Andres Acuña, in this observer's opinion, has added some serious velocity as of late. He looked like he was really hitting for power in Guatemala, and the results show it. He made the finals of Worlds, with wins over Montoya and Mercado along the way. In the last pro stop, he vanquished his long-time rival Landa to advance to the quarters. I feel he's on the rise, and will push for the top 10 by the end of 2022. His biggest issue is his seeding: #16 means he's playing into a top 2-3 seed at every event, and advancing means a huge upset is required.
#17 Rodrigo Montoya Solis and #20 Javier Mar are now, together, inarguably the best doubles team in the world. They've topped DLR/Beltran in the last two Mexican Nationals finals, they're the reigning World and Pan Am Games champions, and they're getting to the point where they may simply choose to focus on doubles moreso than singles. In the last pro event, Mar did not even bother to enter singles. Montoya, despite all his power and skill on the court, cannot seem to put it all together consistently enough to make a legitimate top 10 push. But, he's also been nursing some injuries lately; he forfeited out of the US Open and didn't play for two months until Worlds. So, maybe we'll see what happens next. When healthy and focused, Montoya is one of the best 5-6 players in the world.
—————-
Notables in the 20s and beyond
– #21 and #22 Alan Natera Chavez and Javier Estrada, the Chihuahua pair of hard hitters, remain wild cards on tour. Estrada has shown he has what it takes to win, taking out a slew of top players to win the Black Gold cup on home soil two years ago. But he has not parlayed that into any success on tour for some reason.
– #28 MoMo Zelada is becoming more of a fixture on tour, thanks to his promotion of his new brand Formulaflow. Look for him to move up in the rankings since he'll be a constant presence at events and he has the ability to make main draws.
#32 Erick Trujillo has blown onto the scene with an impressive tournament in Chicago (where he beat Martinez, Mar and Collins), and then played Landa tough in Minneapolis. He then cruised through the Worlds 18U draw, winning the gold medal. He can play on tour, right now, and if he plays a full 2022 i have no doubt he'd be in the mid teens by year's end.
#52 Rodrigo Rodriguez is a recent Juniors grad who got some impressive wins in 2021. At the US Open he topped Pruitt and Zelada, then in Arizona he handled Diaz and Camacho . In his eventual losses to top8 pros, he pressed both Parrilla and Franco before losing. Like Trujillo above him, this is a player who could easily push his way into the high 20s or low teens with a full year on tour.
—————-
Predicted 2022 final top 10
1. DLR
2. Portillo
3. Parrilla
4. Landa
5. Murray
6. Moscoso
7. Jake
8. Mercado
9. Keller
10. Acuna
————————
Looking forward to the new year and new season!
International Racquetball Tour