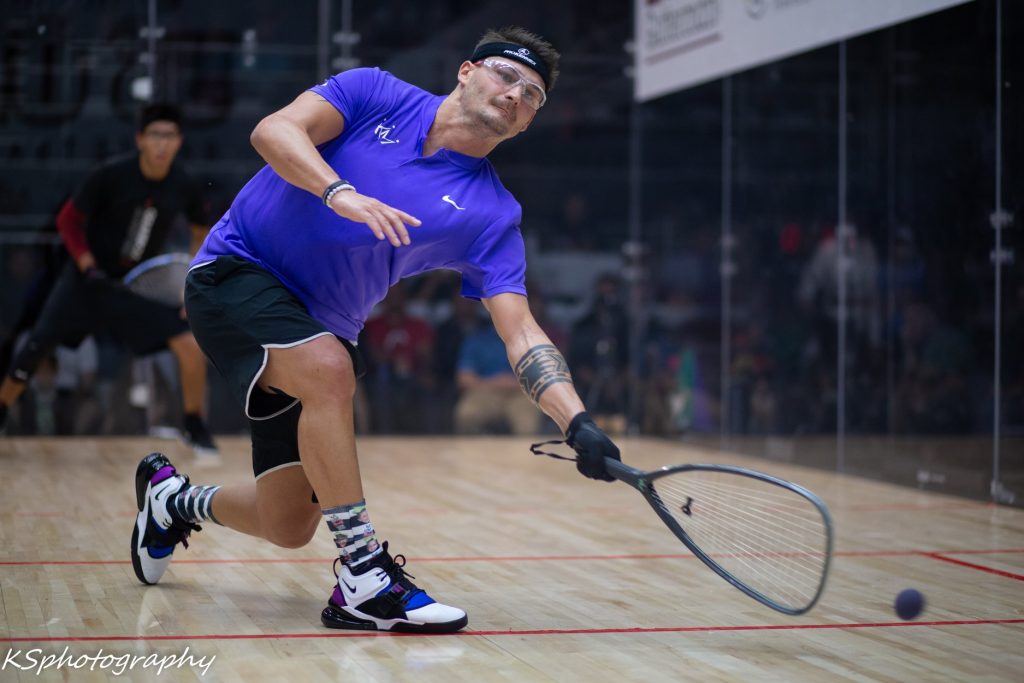 The IRT returns to Atlanta for its first big tourney of the new season, and its a Grand Slam thanks to the continued patronage of Donald Williams and his firm @Suivant Consulting .
Its time for the 2022 Suivant Consulting Grand Slam.
In the early days of the sport, Atlanta was a frequent host on the men's pro tour, hosting a Catalina event in 1980 and then hosting the DP/Leach Nationals in 1983 and 1984. The city returned to hosting in the mid 1990s, being the main host of the VCI named events. But then there was a hosting gap from 1997 to 2015, when pro racquetball returned to the city and has been an continued presence ever since. Recreation ATL is the host club in Lilburn, a north-east suburb of Atlanta proper, host to a very active racquetball community that hosts tournaments all year long.
This year's tournament, as is now well known to the racquetball community, marks the return of 14-time Pro tour champion Kane Waselenchuk to the court. Kane's been an infrequent presence on tour ever since Covid shut things down in March 2020; he's played in just two of the six IRT tier 1 events hosted since, and only played singles in last year's US Open. Despite not having taken an on the court loss since April 2019 (when he was hampered by a hand injury), he has slid to #6 on tour based on points and faces an interesting gauntlet of matches to get to a prospective final.
R2 Sports App link: https://www.r2sports.com/tourney/home.asp?TID=38056
There's a big draw for this event: 46 pros are entered, making for an excellent and deep tournament. Despite it being a grand slam, we are missing a couple of the more regular IRT touring pros at this event: #12 Carlos Keller Vargas , #14 @Adam Manilla, #15 Eduardo Garay , and #20 @Javier Mar are missing out of the singles draw. Mar is at the event, but only playing doubles (he did the same at the US Open, an interesting trend for a player who I still rate as one of the top players in the world).
——————————
Lets preview the draw. Here's some notable qualifying matches that I'm looking forward to. Because this is a grand slam, the main draw starts in the 32s so there's just one qualifying round on Thursday; the round of 64.
– #32/#33 NY up-and-coming junior @Josh Shea gets an interesting matchup against IRF veteran Guatemalan @Javier Martinez. Martinez has shown himself to be a tough opponent, taking top-20 IRT pros to breakers on tour recently. Shea had a great showing in his first IRT event last November, taking out Canadian team member @Pedro Castro before falling 11-9 to @Sam Bredenbeck . I like Shea to take the next step and make the main draw here.
– #21 @Erick Cuevas versus #44 @Alejandro Bear: two Mexicans facing off; Bear is relatively new to the scene while Cuevas has been a tour regular for some time. Can the newcomer force the issue against Cuevas?
– #28 @Bobby Horn vs #29 @Jordy Alonso: perhaps the best match of the round, you have a former top 10 player in Horn who has stepped back a bit in the past two years versus a player in Alonso who is not a frequent IRT player, but who has a number of big wins on the old WRT and took Keller to an 11-8 breaker loss in his last IRT appearance. I'm looking forward to this match.
– #29 Atlanta native @Austin Cunningham has an interesting match-up against Argentine veteran #36 @Shai Manzuri. I'd expect the younger player to outlast Shai, who has been playing for Argentina at IRF events since 1998, but there's a reason Manzuri continues to be selected to represent his home country.
– Look for #35 @Rodrigo Rodriguez to upset #30 Guatemalan vet @Christian Wer in the opener; the lefty Rodriguez has splashed onto the scene lately with big wins.
– One more fun matchup for Thursday is #31 @Dylan Pruitt versus #34 @Abraham Pena. Pruitt is a frequent tour player, having just matriculated out of US Juniors, while Pena is a veteran Mexican player of the previous generation, representing Mexico at IRF events in the mid 2000s before the likes of De la Rosa and Beltran started taking all the Team Mexico slots. Pena plays an athletic, powerful game but Pruitt is excellent at playing controlled racquetball on the court, making for a great contrast in styles.
——————————-
Projecting the 32s: here's some possible matchups, though the depth of this draw could make for some upsets and make these predictions moot:
– #16/#17: once again Patata gets stuck into the #16/#17 match. This time, @Sebastian Fernandez takes on @Alan Natera Chavez at this juncture. I like Fernandez here; he topped Natera at the same juncture last November in Arizona.
– #9 @Rocky Carson projects to play his USA teammate and frequent doubles partner @Charlie Pratt in the 32s. Pratt has shown he can take out Rocky in the past, but I sense Rocky is the favorite here.
– #5 @Lalo Portillo projects to play the winner of Horn/Alonso. That should be a great round of 32 irrespective of the 64-winner.
– #3 @Samuel Murray projects to play the lefty Rodriguez in his opener. Rodriguez will score points here; probably not enough to win, but enough to press Big Canada.
– #11 @Alvaro Beltran projects to play his young countrymate @Erick Trujillo in the 32s. Probably not the player Beltran wanted to see; Trujillo already has significant wins over solid IRT players and just finished blowing through world juniors. Upset watch here.
– #26 Jaime Martell faces a stiff challenge, going up against the winner of last November's Sarasota IRT event in #7 @Conrrado Moscoso. Martell pushed DLR in last week's Wintergreen and should hang with Moscoso but I sense the Bolivian has too much firepower here.
– #15/#18 @Thomas Carter versus @Kadim Carrasco; these two met at this exact juncture in this event one year ago, a slim 11-8 win for Carter. This match will come down to form; who is sharper? They're evenly matched and i give Carter the slight edge.
——————————-
Round of 16 predictions
– #1 @Daniel De La Rosa is set to face Fernandez for the third straight tournament at this juncture. Look for a close match as Patata uses his athleticism to stay in the game, but for DLR to pull away in two games.
– #9 @Jake Bredenbeck is set to face Carson in another all-USA team matchup. Ironic that three of our team members are all in the same mini-quadrant here. I like Jake here in the mini upset.
– #5 Portillo over #12 @Sebastian Franco, who he's topped a couple times lately and shouldn't trouble him too much. Franco is recovered from surgery and didn't show much in the way of wear last weekend at Wintergreen.
– #4 @Andree Parrilla versus #13 @Andres Acuna. After months of work getting out of the dreaded "16-seed hole," Acuna looks to build on his win over Landa in the last IRT event and his run to the final of Worlds against Parrilla. These two players are similar in age and have been meeting in World Juniors for years, but their pro experiences against each other are limited. Andree crushed Acuna at this event last year, but Acuna topped Parrilla in Sept 2019 to advance to his first ever pro quarter. Acuna has improved mightily in the last year; upset watch here for me.
– #3 Murray vs #14 @Rodrigo Montoya : a very interesting matchup here; Montoya continues to be an enigma to predict; he has stellar wins but curious losses all throughout his resume. He absolutely has the ability to out-power Murray (he topped Sam in the 2019 Pan Am Games en route to the gold medal), but will he? Will the winner of this match be the one doing the least amount of bracket watching? On paper, the prediction is Murray, but upset watch here.
– #6 Kane Waselenchuk is set to face the winner of Beltran and Trujillo. If its Beltran, it makes for an interesting matchup between the top player in the world and a guy who is not afraid of him at all. Beltran has always shown the ability to hang with Kane with his excellent shot making abilities, but Kane might be a man on a mission this weekend.
– #7 Moscoso takes on #10 @Mario Mercado , a player who will play Conrrado tough. Last time they met it was a two game win for Moscoso, but he was made to work for it. Mercado has been playing great ball lately, got a win over Lalo in Maryland last weekend and really pushed the #1 player in the final, and could surprise Moscoso if he's not focused.
– #2 Landa should outclass either of Carrasco or Carter advancing to move on.
——————————
Projected Qtrs: There's a lot of what-ifs in this draw, so take these projections with a grain of salt.
– #1 DLR over #9 Jake: it was 11-10 to DLR the last time they met in Sarasota last fall; it probably will be close again, but DLR wants a matchup with Kane.
– #5 Lalo over #4 Parrilla: another quarters rematch from Sarasota, where Portillo easily handled Parrilla and I predict it happens again.
– #6 Waselenchuk over #3 Murray: Canada on Canada crime; Kane moves on here.
– #7 Moscoso over #2 Landa: I'm not sure Landa is recovered enough from his back ailments from last fall to hang with the younger, more powerful Moscoso here.
Semis:
– #1 DLR over #5 Portillo; yes Lalo beat DLR 11-10 in Sarasota; i don't think DLR is coasting through this event.
– #6 Kane over #7 Moscoso; well, if you asked me which matchups i'd most like to see on tour, this is a close #2 to the final we're likely to see. They've only met four times, but neutrals were really treated to some fun top level shot making each time. This was the 2019 US Open final, and gave us a scintillating game one between these two players. Lets hope for another barn burner.
Finals; if all goes well, we will see the match everyone wants to see. The current #1 DLR versus the presumed #1 Kane, irrespective of his current ranking. The big questions for this match:
– we've watched DLR really mature over the past year, playing lots of controlled, smart racquetball on the court, beating all comers. Can he maintain his poise against the relentless power and pressure of Kane?
– how rusty is Kane? He's played exactly three pro singles matches since March of 2020. In that time he's gone from age 38 to 40 and has been contemplating his future in the sport. But, when he comes to a tournament, he comes to win.
Prediction: Kane over DLR 12,10
——————————-
Doubles review
The doubles draw looks awesome: #1 DLR/Beltran and their heirs-apparent in Mexico #3 Montoya/Mar are my favorites to advance to the final. however, the top half features two tough teams in #4 Keller/Moscoso and #5 Lalo/Carson that will make for a fun semi. From the bottom half, Fernandez and Parrilla make for an interesting pairing, and of course the #2 seeds Murray/Landa will have something to say about my prediction.
Finals prediction: Montoya/Mar over DLR/Beltran.
———————————
Look for streaming in the regular places; follow the IRT on Facebook and sign up to get notifications when they go Live. Look for Dean Baer , @Favio Soto, @Pablo Fajre and the IRTLive crew all weekend on the mike, calling the shots!
Thanks to the Tourney Directors Chad Bailey and @Rob Lyons for putting this event on!
Reminder to Players! Please like and follow this page so that when I tag you, you see it. Facebook will only retain tags of people that like/follow a page, which means lots of you are not getting the notoriety of getting tagged and noticed on FB. If your name is here and it isn't tagged … it probably means I attempted to tag you but FB stripped it.
Associations
International Racquetball Tour
Countries
@USA RacqueTeam USA
@RaRacquetball Canada
@FedeFederación Mexicana de Raquetbol
@Federación Boliviana De Raquetbol – Febora
@FedeFederación Boliviana de Racquetball
@Racquetball Colombia
Federacion Colombiana de Racquetball
Federación Costarricense de Racquetball
@AsAsociación Argentina de Racquetball
ASOCIACION DE RAQUETBOL DE GUATEMALA
Major Sponsors
@Reaching Your Dream Foundation
@BeastmBeastmade
@suivant consulting and @Williams accounting
Hashtags #racquetball #proracquetball #outdoorracquetball #irt #lprt #wor