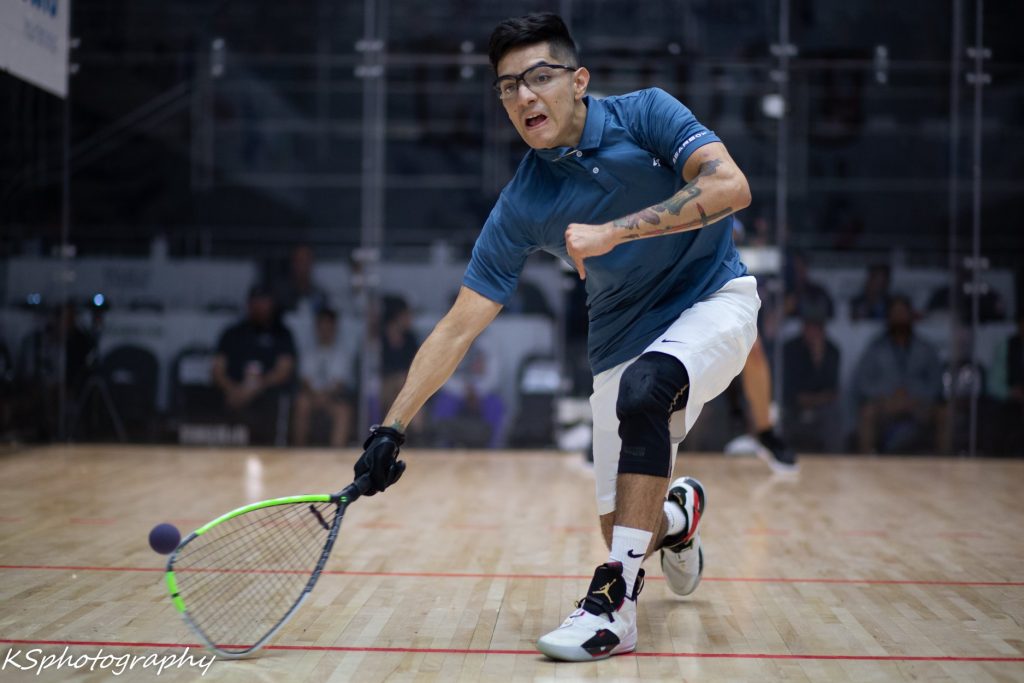 Congrats to your winners on the weekend:
– Pro Singles: Andree Parrilla
– Pro Doubles; Conrrado Moscoso & Roland Keller
Parrilla does the impossible and vanquishes the King, and gets a second career IRT win. Moscoso & Keller edge past a familiar rival team, one they've played 6 times in the last 2 years.
R2 Sports App home page for event: https://www.r2sports.com/tourney/home.asp?TID=38056
——————
Lets review the notable matches in the Singles draw.
Singles Match report in the PRS database: http://rball.pro/F1138C
—————-
In the 64s:
– Mexican Jordy Alonso got a solid win against former IRT touring pro David Horn 14,7.
– Mexican 18U junior @Mauricio Delgadillo had a great pro debut, topping IRT regular Sam Bredenbeck 13,13 to move into the 32s.
– Mexican Rodrigo Rodriguez struggled with Guatemalan veteran @Christian Wer, going to a tiebreaker before moving on (11),10,4.
– Mexican @Jaime Martel had a slow start this week, dropping the first game to Guatemalan Geovani Mendoza before moving on in the breaker (11),6,0.
– Mexican veteran @Abraham Pena played a solid game and dispatched Maryland's @DyDylan Pruitt 10,4 to move into the main draw.
In the 32s, we saw some interesting results and some upsets.
– In the always-competitive #16/#17, we got a barn burner. #16 @SeSebastian Fernandez was pushed to the very edge, advancing over #17 @AlaAAlan Natera in an 11-10 tiebreaker thriller.
– #8 Rocky Carson and #25 @CharCharlie Pratt Racquetball played a predictable match, each trying to out-think the other and stretching each other to a tie-breaker before Carson prevailed 11-5 to move on.
– #22 Erick Trujillo was the beneficiary of an injury to veteran @AlAlvaro Beltran , who lost the first game 15-1 then retired. Trujillo thus earned the magic ticket to face the King in the next round.
– #6 @Kane Waselenchuk started off his return to the tour with a straightforward 2,3 win over Mexican youngster @Elias Nieto . Kane shook off a bit of rust but was not really threatened by his round of 32 match.
– #7 @CoConrrado Mosco was the unlucky top 8 seed to get the dangerous Martell in this tournament; he advanced but it was pretty close 14,11. This is two IRT events in a row for Martell, who as a full time player on tour probably gets into the teens relatively quickly; we'll see if he sticks to the tour full time in 2022.
– In the always-close #15/#18 slot, @ThThomas Carter got a solid win over Bolivian @Kadim Carrasco 11-8 in the breaker to force a meeting with Landa.
—————-
In the 16s, we started to see some major developments in this tournament, as the challenges and part-timers were mostly vanquished and the veterans started to meet up.
– #1 Daniel de la Rosa was set for his expected stiff challenge from Patata, having faced him in the 16s in the last two events as well. But eight points in, Fernandez retired due to injury. Fernandez had tweaked his back in the round of 32 win, played about 5 minutes into his round of 16 and called it off. An unfortunate development for Sebastian, but DLR moves on with little fanfare.
– In the #8/#9, a battle of two team USA players turned into a close encounter, eventually won by the veteran Carson, who took out #9 Jake Bredenbeck 14,11 to setup a rematch against long-time rival DLR in the quarters.
– #5 Eduardo Portillo 's day came to a quick halt; at 1-4 in the first game he was also forced to retire due an unspecified injury against Sebastian Franco . Franco was definitely the underdog to Portillo here, who has been on a run and was a favorite to make the semis in this event. This definitely opens up the top half of the draw for all parties.
-#4 Andree Parrilla frustrated #13 @AAndres Acuña on the court and grinded his way to an 5,12 win Parrilla used an effective Z serve most of the match, which Acuna struggled to attack, often attempting to jump the Z-serve but then jamming himself and making for easy points for the Mexican. Parrilla moves on.
– #14 Rodrigo Montoya got his best win on tour in nearly two years by taking out #3 @Samuel Murray in a tiebreaker (12),9,6. Montoya may have World titles and Pan Am gold medals on his resume, but his pro results have been inconsistent. But this is a great win for the young Mexican, and one of his best ever wins on tour. Murray won this event last year but exits early. Murray eventually forfeited his doubles match later in the evening, with some implying he picked up an unspecified injury in this match that helped him to the door, so its an early exit all around. For the neutrals, we now get a Montoya-Kane match that could have some fireworks.
– Whatever rust there was on Kane's game in the round of 32 was completely gone by his round of 16, as he obliterated Mexican junior phenom @Erick Trujillo 1,1. Kane's serving was crisp, as was his shot making. There was the familiar booming sound of his kill shots, and the excellent shotmaking from the back court. Look out; he's back and he doesn't seem like he's lost a step.
– #7 Moscoso advanced past a potentially tricky @Mario Mercado 8,13. Mercado has been playing really great ball lately, with a ton of "upsets" on his resume leading up to his first tier 1 win last November in Arizona. So far, the sometimes mercurial Moscoso has held serve and not taken the surprise loss; he now gets a shot at #2 Landa to move on.
– #2 Landa moved past #15 Carter with relative ease 8,12 to setup what projects to be a challenging quarter final for the Mexican.
—————-
In the Quarters…
– #1 DLR cruised past his long-time rival Rocky 8,8 to move into the semis. This was the 30th time they've met professionally, with DLR having taken their last three meetings
– #4 Parrilla held serve against the surprise quarterfinalist Franco 10,11 to quietly move into the semis. Parrilla has two solid wins on his belt and has yet to really be troubled, and now gets a shot at #1 DLR in the semis.
– #6 Waselenchuk played a fireworks-filled match against fellow power-player Rodrigo Montoya , who hung with him for most of the first game and was ahead 9-6 before Kane characteristically "turned it on" and ran away with the game and the match. From 6-9 down Kane scored 24 of the next 28 points to win 15-9, 15-4. Early in game one, Montoya's serve and power seemed to nettle Kane, who gave up points here and there, but he played himself into more consistent power form by the middle of game one and completely ran away with game two. Montoya could do little to stem the flow of points from Kane, and was in danger of taking a twinkie before netting a few points at the end. For any who think Kane's lost a step or a tick off his fastball, this match showed he can still out power one of the best power players on tour.
– #2 Landa outclassed #7 Moscoso 9,6 in a match that wasn't as close as the score suggests. Moscoso spent most of the match taking ill-advised shots and giving away points left and right on lob serves and defensive returns from Landa. He essentially gave up mid-way through game two and just went through the motions to even get it to 15-6. It was a real disappointment, in that I legitimately thought the Bolivian would be "up" for the challenge and the thought of a Kane matchup in the semis.
—————
– #6 Kane absolutely demolished #2 Landa 1,5 in a match that barely took 30 minutes end to end. Landa had zero answers for Kane early, as he ran out to an 8-0 lead with little effort in game one. I texted a colleague and literally said at that point, "double donut is in play." Landa's mobility looked lacking, perhaps another remnant of months-long issues with his back bothering him, combined with Kane's lethal attacks made for a quick game one. Kane began lob serving at some point, easing off as it became apparent he was going to be able to win this contest without exerting max effort.
– #4 Parrilla came from a game down to shock the #1 player DLR 11-7 in the breaker. The game was played in spurts, as Parrilla ran out to a quick game one lead only to have DLR run off 10 straight points to take it. In game two, Parrilla ran out to an insurmountable 11-2 lead, but DLR pulled way back and for a short moment looked as if he could take the match in two. A couple of arguable points ended game two with some argument, and there was a tense feeling between the players (and with the referee) the rest of the way. The Tiebreaker was excellent, back and forth action up till around 9-7, when a very light hinder claim went uncalled for DLR and he literally stopped playing in the middle of the point. This immature action was more reminiscent of a C player, not the #1 player in the world, and he lost that point and eventually the match 11-7 in the breaker. Thus Parrilla advances to just his fourth career pro final (in 55 career Tier 1 events) and gets the top half's shot at the King.
—
In the Finals, a pretty amazing match. Many thought we'd see a continuation of the steamrolling Kane has done through this draw. But Andree has a history of playing Kane tight and had something to say about the flow of the game. It was neck and neck for the entire first game, and Parrilla had first crack at a game point when he inexplicably held up on a very borderline avoidable claim, which seemed to get into his head and cost him game one 15-14. Instead of letting that call get to him and losing focus mentally, Andree hunkered down and gave Kane a beat-down like he hasn't seen since the early 2000s, taking game two 15-2.
In the breaker, Kane took control and it looked like game two was just an aberration, jumping ahead 7-3. Parrilla fought back though, and lessened the gap. Parrilla was using a Z-serve with great effect, getting service winners and uncharacteristic weak returns. Meanwhile, Kane's first serve percentage plummeted in the breaker, and Parrilla made a ton of shots. For me, this was all evidence of a gassed Waselenchuk just trying to get to the finish line. Despite his fatigue, Kane worked his way to match point at 10-7 for, but Parrilla calmly waited out a ball off the back wall and buried the return. From there, Andre never left the box again, serving out the match and scoring 4 straight in a flash to take the title 11-10. One of the best matches we've seen on tour in quite a while ended with a possibly transformative result for the tour.
—————-
Points Implications of results
Assuming that the tour continues to expire points on the same cadence as before, this event should replace the two Jan 2020 events in Austin and Sioux Falls in the rolling calendar. Parrilla should thus move from #4 to #2 on tour, as he's replacing two round of 16 losses in early 2020 with a massive 600-point grand slam win. The rest of the top 10 remains the same, just pushed down one slot (meaning Kane still sits at #6).
Other interesting moves:
– Beltran drops from #11 to #13 and he seemingly gets closer to possible singles retirement.
– Acuna rises from #16 to #14, which continues to put himself in place to face winnable round of 16s.
– Carrasco enters the top 20.
– Trujillo makes a big jump up to #23; he'll be closing in on a 9-16 protected seed soon.
– Martell makes a big jump up as well with this and last week's results: I've got him projected as #33 now; lets hope he continues to feature on tour.
– Rodrigo Rodriguez jumps from the 50s to the mid 30s.
– Jordy Alonso jumps from the mid 70s to the mid 40s.
—————-
Doubles review
Match report in the PRS database: http://rball.pro/3C740A
In the 16s:
Injuries suffered by players playing singles earlier in the day Friday led to the withdrawing of two top teams and the hampering of two more, gutting the Pro doubles draw of some of its favorites but keeping in tact some stellar matchups. The #2 seeds Murray/Landa and #5 Portillo/Carson withdrew before playing, giving first round wins to Alonso/Rodriguez and @juaJuan Jose Salvatierra and @Javier Martinez respectively. Fernandez, who dropped out of his singles match with an injury, recovered enough to gut out a win with Parrilla in his opener. Beltran, who withdrew from singles after a heavy first round loss, came back to participate in an easy first round win as the #1 seed. The biggest upset went to the #9 team of Acuna/Natera, who took out the Bredenbeck brothers in a tiebreaker.
In the quarters:
– #1 DLR/Beltran held off the upstart Acuna/Natera team in the first, then cruised to a 14,6 win.
– #4 Moscoso and doubles specialist Roland Keller blasted the Guatemalan pair of Salvatierra & Martinez 5,8.
– #3 Montoya and @Javier Mar faced tough opposition from the Bolivian pairing of Mercado & Carrasco, advancing in two closely fought games 11,12.
– #7 Parrilla/Fernandez shook off ailments and took advantage of the #2 seeds withdrawal to advance to the semis over the young Mexicans Alonso & Rodriguez 12,6.
Doubles Semis:
– The reigning Bolivian national champs upset the #1 seeds DLR/Beltran 11-7 in a breaker to move into the final.
– Montoya & Mar cruised past #7 Parrilla/Patata to setup an excellent final.
In the final, we get a fun matchup. This is the sixth time these teams have met since mid 2019; they met at 2019 PARC, the finals of the 2019 Pan Am Games, the 2019 US Open, the 2021 World Doubles in Denver, and most recently in the finals of 2021 Worlds in Guatemala. Ahead of this match, they're split 3-2 in favor of the Mexicans.
And on the court, we got a treat. The Bolivians evened the recent score of results by taking a two game match 14 and 14. In both games, the Mexican pair got to 14 first and served for the game, but in both cases the Bolivians saved game point against, got back in the box, and served it out. Great showing by both teams.
—————-
Other Draws
In the 25-man Men's Open Singles, the quarters went essentially chalk (with just small upsets at the 8/9 and 7/10). From there, the semis were nearly chalk as well, with #1 Mercado topping #9 Cuevas, #5 Trujillo upsetting #4 Natera, #3 Martell cruising past #6 @Sam Bredenbeck , and #2 Acuna defeating local Georgian Austin Cunningham
In the semis, it was #1 and #2 prevailing; Mercado took a 14,14 win over the up and coming Trujillo, while Acuna labored to get past the always-tough Martell. In the Open singles final, Mercado grinded his way to an 11-7 breaker win over Acuna.
The men's Open Doubles also went chalk to the semis, where the reigning world champion team of Montoya/Mar (the #3 seeds in the pro doubles draw) destroyed the #4 seeds Cunningham/Pruitt to make the final. From the bottom side, double specialist @Roland Keller teamed with Carrasco to top the all-American Pratt/@Robbie Collins pairing. Mar/Montoya got a walkover win in the final.
In the 3-team Mixed Open draw, Carrasco teamed with @Kelani Bailey to defeat her fellow team-USA teammate @Hollie Scott (playing with Sebastian Fernandez) 11-8 in their RR group final to take the crown.
In the 6-player Women's Open, the two LPRT touring players Lawrence and Scott each topped their small RR group to advance to a winner-take-all final. There, Lawrence continued her recent dominance over Scott, winning in two 9,9
—————–
Thanks for all the streaming on the weekend, especially from broadcasters Dean Baer, Favio Soto, Pablo Fajre and the IRTLive crew
Thanks again to the Tourney Directors Rob Lyons and @Chad Bailey for putting this event on! Thanks for all the sponsors as well; without you we have no pro racquetball.
Reminder to Players! Please like and follow this page so that when I tag you, you see it. Facebook will only retain tags of people that like/follow a page, which means lots of you are not getting the notoriety of getting tagged and noticed on FB. If your name is here and it isn't tagged … it probably means I attempted to tag you but FB stripped it.
——————
Next up?
Per our handy master racquetball calendar …
https://docs.google.com/…/1V6OTid6rZ356voXVkoV2sN7KMMbIP9S…/
There's a Tier 5 in Nebraska that is drawing a bunch of top players from the mid-west. The 53rd annual Florida State Singles is being held in Sarasota, always a solid event featuring a bunch of top players. Kane & Sudsy are hosting another iteration of their Experience, this time in Vero Beach, Florida. The next pro event is in mid Feb when Sudsy also serves as a pro tour host, having the LPRT come visit his new home town in Vero Beach.
——————-
tags
Associations
International Racquetball Tour
Countries
@USAUSA Racquetball
@RaRacquetball Canada
@FedeFederación Mexicana de Raquetbol
@Federación Boliviana De Raquetbol – Febora
@FedeFederación Boliviana de Racquetball
@RaRacquetball Colombia
@FedeFederacion Colombiana de Racquetball
Federación Costarricense de Racquetball
@ASOCIACION DE RAQUETBOL DE GUATEMALA
Major Sponsors
@Reaching Your Dream Foundation
@BeastmBeastmade
@Suivant CSuivant @WWilliams Accounting / @DonDonald Williams
@ZurZurek Construction, LLC / @Francisco Fajardo
Francisco Fajardo Francisco Fajardo
Hashtags #racquetball #proracquetball #outdoorracquetball #irt #lprt #wor