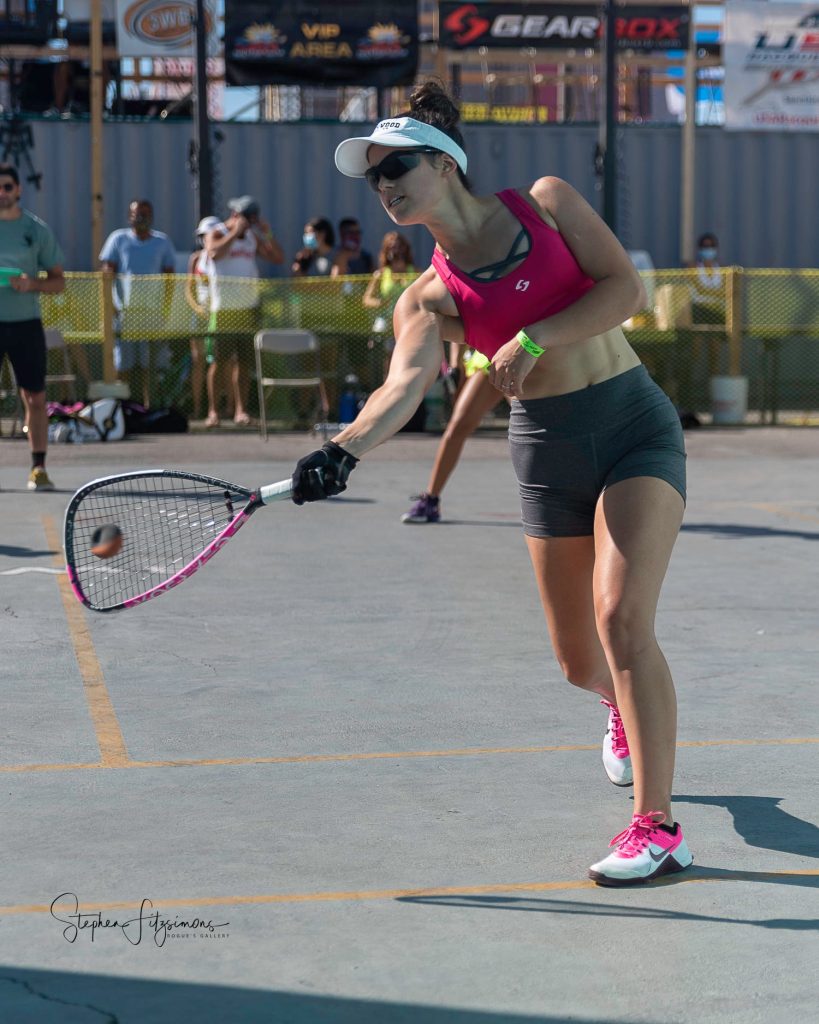 Congrats to your winners on the weekend:
Men's Singles: Daniel De La Rosa
Women's Singles: Hollie Scott
Men's Doubles: Mario Mercado/Javier Mar
Women's Doubles: Erika Manilla/Katie Neils
Mixed Doubles: Daniel & Michelle De La Rosa
CPRT: Eric Faro/Ignacio "Iggy" Espinal

Lots of first time winners here this weekend; both pro doubles winners are first-time outdoor major titlists. But in singles this is more of the same; this was DLR's 3rd Beach Bash singles title and Scott's 3rd as well. Lastly, Faro & Espinal turn back the clock and take the CPRT title nearly 20 years after Faro made the finals of the first big-time rball event on these courts in 2004.
This year's Beach Bash was A great tournament that featured a ton of first-time pros who "got it" and fit into the vibe of the event. One-wall is unique, as is the culture surrounding it, and there's been nothing but positives about the event from all who were there.
R2 Sports App home page for event: https://www.r2sports.com/tourney/home.asp?TID=31509
Triple Crown Reports: here's links to the "triple crown" winners of all the Outdoor majors, updated to the 2022 Beach Bash:
Men's Singles: http://rball.pro/74BC5A
Women's Singles: http://rball.pro/1A00B2
Men's Doubles: http://rball.pro/E90109
Women's Doubles: http://rball.pro/6DBFD5
Mixed Doubles: http://rball.pro/B63A8C
---
Lets review the notable matches in the Singles draws. First up, and first to be mostly competed, was the Men's Singles draw.
Men's Singles Match report in the PRS database: http://rball.pro/6BFD79
In the 16s:
Slight upset #8 @Mario Mercado taking out #9 @David Blatt. Blatt's a one-wall specialist from NY, but Mercado has plenty of one-wall experience from playing at Stratton Woods in DC. He squeaked out a 21-19 win.
#5 @Thomas Gerhardt got a solid win over top IRT touring international @CConrrado Moscoso . Gerhardt's strategy was clear: drive serve on open court to get points, then force the indoor pro into awkward overhead shots on quadrant serving. Moscoso made multiple errors going for too good of a shot early, and Gerhardt rode the lead to the win. A textbook example of how outdoor players strategize their way to wins.
#13 @Sebastian Franco upset the 4th seed William Rolon 21-14. A tough draw for Rolon, getting an "indoor" pro with a ton of one-wall experience at this juncture.
– The biggest upset of all though was new-to-outdoor @Javier Mar taking out the 4-time champion #2 seed @Robert Sostre 22-20. Mar proved to be quite a quick study to outdoor and squeaked out a close win.
In the Quarters
#1 @Daniel de la Rosa was mostly untroubled by #8 Mercado, advancing 21-13
#13 Franco advanced past #5 Gerhardt 21-16.
DC area one-wall enthusiast #6 @Dylan Pruitt got a statement win by taking out Hall of Famer #3 @FreFFreddy Ramirez with ease 21-11.
Mar continued his on-the-fly education, taking out a very capable outdoor player in #7 @Andres Acuna again by the 22-20 score line.
Your semis are the #1, #13, #6 and #15 seeds.
In the Semis
#1 DLR methodically topped #13 Franco 21-12 to move into the final.
#15 Mar outclassed the youngster Pruitt 21-6 to move to the final.
In the Finals, Mar and DLR went toe to toe for much of the game, with Mar more than holding his own and showing an amazing combination of power and touch on the one-wall courts. But, DLR was just a hair better, taking the final 21-15. He wins his third Pro Singles title in Hollywood and 2nd running.
---
Women's Pro Singles preview
PRS Match Report: http://rball.pro/559CFB
The Women's singles was one of the absolute first draws to get started on Thursday morning, and right off the bat we got the #1 seed and defending champion @Hollie Scott getting pressed by two fellow LPRT pros. She managed to top both @KKelani Lawrence and @Masiel Rivera Operto by the razer thin score-line of 22-20 to pave the way for a defense of her title. She finished off the sweep of the 4-person round robin with a comprehensive 21-8 win over @kKatie Neil to repeat as Beach Bash women's singles champ.
---
Men's Pro Doubles review:
Match report in the PRS database: http://rball.pro/BA011F
There were upsets galore in the Men's Doubles draw, from the round of 16 onwards. Lets recap the unpredictable draw.
In the 16s:
The #1 seeds and defending champs @BennGolden Benny and Ryan Lopez were handed their walking papers by the #17 seeded team of relative outdoor newbies (but regular IRT touring pros) @Andres Acuna and @Eduardo Portillo 9,10.
CPRT champs Faro/Iggy took out the #8 seeds @Rick "Soda Man" Koll and @EEmmett Coe in a slight upset in the 8/9 match.
2021 Vegas one-wall doubles winners Adam Manilla and Nick Riffel took out the 2018 Beach Bash Champs @WWilliam Rolon and @DaDavid Blatt (aka "The Warrior" and the "Hulkster") in two solid games to advance.
Singles finalist Mar teamed up with experienced one-wall player @MMario Mercado to take out @RoRocky Carson and @AlejaAlejandro Barceló in an upset in the 7/10 match.
So, four of your top 8 seeds were topped in the round of 16. But the upsets were just starting.
In the quarters:
#17 Acuna/Lalo took out #9 Faro/Iggy in a match that went deep into the night, finishing under the lights on Garfield street. The young touring pros collaborated to take out two of the OGs of one-wall racquetball on these courts in a breaker.
#12 Manilla/Riffel shocked the 2015 championsSebastian Franco and @Joe Young 1,8.
#3 @RRobert Sostre and @DavDaDavid Horn held serve over the #6 seeds and 3-time champs Richie Miller and @Nelson Deida in dominant fashion 9,2 to move on.
And in a massive upset, #10 Mar/Mercado took #2 DLR and @Alvaro Beltran in a tiebreaker. No career triple crown for DLR/Alvi this year.
So, #17, #12, #3 and #10 into your semis.
In the Semis …
Portillo/Acuna blasted Riffel/Manilla 5,7 to move into the final. These two IRT regulars have really taken to outdoor.
Mercado/Mar nearly got whitewashed in game one, losing it 15-2, but then made adjustments like one-wall old hats to cruise to game 2 & 3 wins 15-7, 11-4 to move into the final over one-wall royalty in Sostre/Horn.
In the final: the two teams of IRT pros traded games, but Mercado & Mar pulled away in the breaker to take the title. Final score (12),13,3.
---
Women's Pro Doubles review
Match report in the PRS database: http://rball.pro/E72C77
Six teams competed for the Women's pro doubles title, with some throwback teams and some surprising new teams.
From the top, #1 seeds DLR/Scott outlasted the @Kathy Guinan / @Maira Ramos team (each of whom has won prior Pro doubles titles here), in one semi, while the #6 seeds @Erika Manilla and @Katie Neils took out both the #2 and #3 seeds to get to the finals themselves.
In that final … outdoor veteran Neils and outdoor newbie (but red-hot lately) Manilla completed the sweep of the top seeds here, ousting the #1 seeds and overwhelming favorites mDLR and Scott to take the title. Final score: 8,(10),1.
Fun fact; every match in the Women's pro doubles draw went tiebreaker. Never seen that before.
---
Mixed Pro Doubles review
Match report in the PRS database: http://rball.pro/F553E8
The Mixed Pro draw was completed on Friday; the entire draw in one day, very Pickleball style. Here's a recap.
On the top-half, what many think might be the best mixed doubles team of all time (the De La Rosa husband-wife pair) faced a stiff quarter final challenge against the under-seeded Rocky Carson/Kelani Lawrence team, but moved on to face NY one-wall specialists David Blatt (aka, the "Hulkster") and @Susan Stephen in one semi. The New Yorkers pressed the Arizona duo, but fell 11-8 in the breaker.
On the bottom half, another under-seeded team of @Eduardo Portillo and Hollie Scott upset two higher ranked teams (Pagan/Roehler in the 16s then Riffel/Neils in the quarters) to make the Mixed semis. There they met the very tough team of Sostre/Rivera, who cruised past the Manillas in the quarters. The east coast duo of Sostre/Rivera outlasted the young duo of Lalo/Hollie to advance to the final.
In the final, Masiel and Iceman tried to break the DLR streak of wins, but fell in the breaker 11-5. The husband-wife team defends their 2019 title here and wins their 14th career pro outdoor Mixed doubles title together.
---
CPRT Doubles review
Though not tracked in the database, the CPRT takes on new importance in 2022 because it counts for the Cup series. So Let's recap.
The top half of the CPRT draw went chalk, with #1 @Alvaro Beltran and @Rick "Soda Man" Koll advancing with ease into the semis. There they faced the sneaky-good Florida pair of @Eric Faro and @Ignacio "Iggy" Espinal.
The bottom half featured upsets, as 1988 IRT pro tour champ @Ruben González put down the pickleball paddle he was playing with in Hilton Head and came out of retirement to team with TiTo Montanez and upset the 3rd seeded team of one-wall experts Rolon/Young to advance to the semis. There they faced the dark-horse Florida team of @Max Heymann and Seran Ramkissoon , who won two rounds and upset #2 Freddy Ramierz and @Albert Jimenez to make the semis. Heymann and Seran made fast work of the legends to advance to the final.
In the final … the experience of Faro & Iggy (Faro is one of the few players who was at the original 2004 outdoor nationals event and is still playing here this weekend) outlasted the upstart Floridians; they take the CPRT title 7,7.
---
Thanks for all the streaming on the weekend, especially from the LPRT-sponsored broadcast team of JT R Ball, Vic Leibofsky , and friends.
Thanks to the Tourney Directors @Peggine Tellez and @Mike Coulter for putting this event on!
Reminder to Players! Please like and follow this page so that when I tag you, you see it. Facebook will only retain tags of people that like/follow a page, which means lots of you are not getting the notoriety of getting tagged and noticed on FB. If your name is here and it isn't tagged … it probably means I attempted to tag you but Facebook stripped it.
Next up?
Per our handy master racquetball calendar …
https://docs.google.com/…/1V6OTid6rZ356voXVkoV2sN7KMMb…/
Next weekend is National Masters in the DC area, but more importantly Mexican Nationals! One of my favorite tourneys every year.
From an Outdoor Major perspective, Leg 2 on the "Road to Vegas" is Outdoor Nationals in July. The r2 site is live now; reserve your spot and start making travel plans to visit sunny Southern California.
Before that though; breaking news: 3WallBall is partnering with the IRT to host a Sunday May 1 Outdoor shootout the day after the IRT pro stop finishes in Fullerton in a month's time. More details coming, but basically we'll run a one-day pro shootout for all the travelling pros to play the day after the tournament saturday night finish.
tags
Associations
World Outdoor Racquetball
USA Racquetball
LPRT
International Racquetball Tour
Major Sponsors
@Formulaflow
@onewallball.com
3WallBall Outdoor World Championships
MC Vegas
@AAGE SOLUTIONS / Andy Gomer
APCON / MZ Companies / @Abel Perez
@Team Dovetail / Mike Kinkin : a special thanks to Team Dovetal for enabling a slew of pros to make this event.
Daily Racquetball
Hashtags #racquetball #proracquetball #outdoorracquetball #irt #lprt #wor