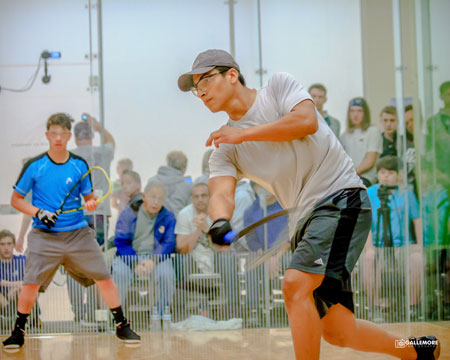 Part 1 (published yesterday) previewed the Mexican National singles draws.
Part 2 today covers the three doubles draws: Men's, Women's, and Mixed.
r2sports site: https://www.r2sports.com/tourney/home.asp?TID=38926
Men's Doubles
13 Teams are here, highlighted by the top two seeded teams of #1 @Javier Mar and @Rodrigo Montoya and #2 @Daniel de la Rosa & @Alvaro Beltran. These two teams have met on plenty of occasions as of late:
the 2021 Mexican Nationals final (Mar/Montoya win)
2021 US Open Semis (DLR/Beltran win)
2021 Shamrock Shootout Semis (DLR/Beltran win)
2020 Shamrock final (DLR/Beltran win)
2020 Mexican Nationals final (Mar/Montoya win)
2020 Lewis Drug Final (DLR/Beltran win).

So, the two wins for the Mar/Montoya team were … in the Mexican Nationals finals, which then opened a pathway for them to represent their country at the last few international events, where they have had great success. They're the current reigning 2019 Pan Am Games champs and the 2021 World Champs.

So, can anyone stop either team on the way to another finals rematch?
The only other team I'd be fearful of here is the #4 seeded team of @Sebastian Fernandez and Andres Parrilla ; they'll give Montoya/Mar a run for the money in the semis. DLR and Beltran should cruise to the final.

My prediction? Another Montoya/Mar defeat of DLR/Beltran. I think Alvaro is dinged up right now, not getting any younger, and as a team they've gotten upset early in the last few events they've entered.
---
Women's Doubles Preview:
Nine teams here, highlighted (like the Men's draw) by two powerhouse teams at #1 and #2 seeds. #1 @Paola Longoria and @Samantha Salas Solis continue their partnership, which now includes 36 pro titles together, somewhere in the range of 15 Mexican national titles, and 19 International titles together. Amazing. But the #2 team of @Montse Mejia and @Alexandra Herrera is coming up fast on the veteran team's heels. They've beaten Longoria/Salas in a couple of significant pro events recently ( the 2019 US Open being most memorable) and have several pro titles together. But they've yet to take a National doubles title.

Is this the weekend?
Like on the men's side, it is difficult to see anyone standing in the way of a 1-2 final. In that final, I'm going to predict a changing of the guard with the Mejia/Herrera team topping Longoria and Salas to take their first national title together.
---
Mixed Doubles preview.
Today marks a new day for Pro Racquetball Stats: the beginning of what seems like it will be a sustained movement of regular mixed doubles competition at both the National and International level. For the nearly 20 years I've run this site, we've never had anything other than a couple of one-off Mixed pro events when the two tours just happened to be in the same spot (World Doubles in Denver, the Syosset Open, Arizona Pro-am to name a few over the past few years). But now we have Mixed to add to both the Amateur and International database and report code.
Lets preview the first National mixed doubles draw.
There are 15 Mixed Doubles teams competing here; lets go through with some predictions.
Matches to watch for in the 16s (which happened yesterday so this is old news)
#5 Beltran/Mejia were done no favors having to play #12 Polo/Acosta. A lefty righty pair will present some interesting choices for Beltran and Mejia. Polo is always hard to beat. In the end though, Beltran/Mejia advanced rather easily 10,4,9
QF matches to look for
The 4/5 of Beltran/Mejia versus the Parrilla/Parrilla brother/sister combo could be great. Andree is a great doubles player and will push this matchup. I think there's an interesting balance of talent here; Parrilla is a better player than Beltran right now, while Mejia is a better than Jessica. But, the key for me is the fact that Beltran plays almost entirely on the right hand side when he plays doubles with DLR in mens; here he'll have to play the left hand side, where I think Parrilla has the advantage. I see the Bro/Sis pairing advancing.
I like the 3/6 matchup between DLR/Longoria and Cardona/Lucia. It might be odd to think that a pairing of the two currently ranked #1 pro players in the world is seeded third (hey, Mexican national seeding), but chemistry is important in doubles pairings, especially in mixed. Cardona will bang it out on the right side with DLR, while Longoria could overwhelm Lucia on the left.
Projected Semis:
#1 Montoya/Salas, who won the 2021 World Doubles mixed pro title with relative ease, are set to face the Parrillas.
#2 Fernandez/Herrera, who made the 2021 World doubles final (perhaps this is the tourney they used to seed this draw) are set to face the #1/#1 team of DLR/Longoria. What makes this matchup interesting is the lefty/righty pairing. Herrera will be on the left, meaning DLR will be serving to her. DLR is not hitting photons at 160mph … but he does hit with pace and can place his "walking drive serve" with an accuracy and depth that Herrera is not used to seeing. On the flip side, Patata can blast serves at Paola's forehand, but probably will choose to either hit wallpapers or hard Zs. Either way, for whatever reason Longoria has not fared well in past Mixed pro matches and I think they'll lose again here to setup 1v2.
In the final, I like a rematch of the Denver World doubles final from 2021, where Montoya/Salas crushed Fernandez/Herrera 12,6. I think we'll see a closer match but a similar result. #1 seeds to win.
Streaming has started: follow RKT on Facebook to get live notifications. The tournament runs through Sunday early afternoon. Juarez is Mountain time, so 2 hours later than EST for your planning purposes.