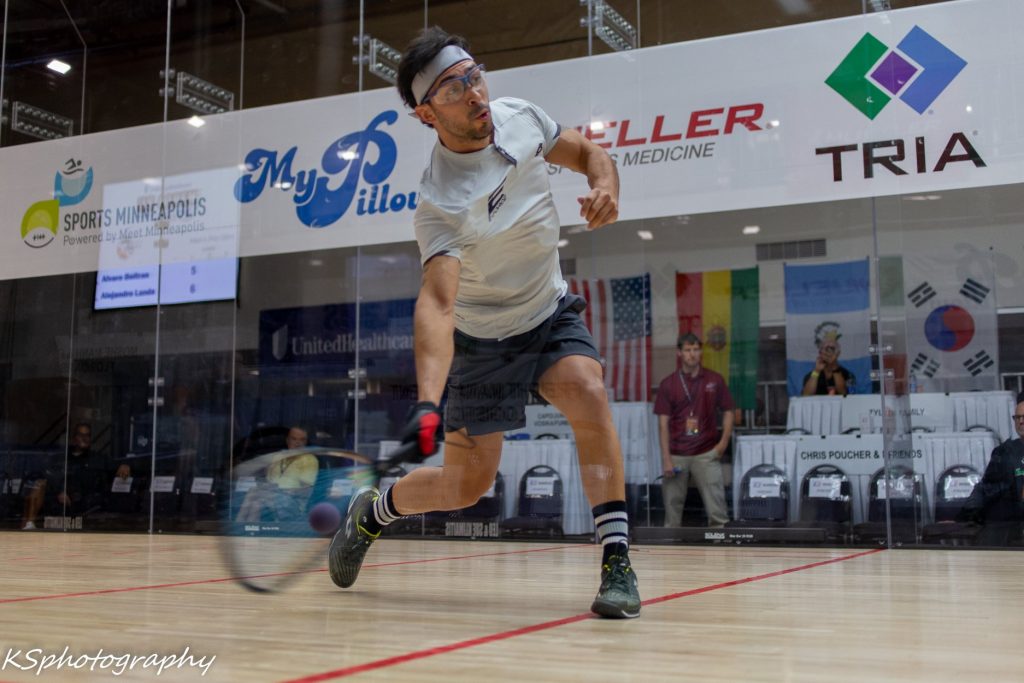 The 33rd annual Pan American Racquetball Championships kicks off this weekend with a slew of singles round robins, new rules, and new divisions.
It is back after two years of cancellations due to Covid.
We'll hold off until the RRs are competed and the knockout brackets are determined to do predictions, but did want to highlight some interesting items at this juncture.
First off, the IRF has FINALLY FINALLY decided to use R2sports.com to coordinate the tournament. For years (decades?) they've depended on hand creating PDFs and uploading them to Dropbox, but could never seem to keep the results updated in a timely manner mid-tournament, and the Dropbox links constantly change so I can't embed sources for tournaments … So everyone can be happy that this tournament will be in the same platform as every other racquetball tournament.
R2sports home page: https://www.r2sports.com/website/event-website.asp?TID=39092
Rally scoring is now in play. A reminder that the IRF went to rally scoring because they claimed it would shorten matches (it doesn't), or that its because they want to be presentable to TV (a TV contract they don't have), or so they can hold team events (which they've always been able to do). Other than that … yay! can't wait for rally scoring so that we can not have any epic comebacks or fantastic back-and-forth tiebreakers or any semblance of a match that doesn't look like its being competed in a rush because the participants are late for a dinner reservation….
Reminder on seeding: the seeding is done based on the COUNTRY, not the PLAYER. So, you might have someone like a top 10 touring pro (Mario Mercado) seeded below someone ranked outside the top 1000 in the world thanks to the prior success (or lack thereof) by their countrymen in previous IRF events.
New event here: Mixed Doubles. Should be fun. The Mexican Nationals mixed event was great, and i'm sure this one will be fun too.
They have junior divisions here, including an U21 division. They seem to be competed basically by Mexican players and South American players. This is not an official IRF junior international event, so only countries that can afford to send players are doing so.
Now for some thoughts on each main draw:
Men's Singles:
there's 22 players competing. A bit light as compared to past PARC events (in 2019 they had 30 men competing)
There is a definitely has a "Group of Death" so to speak, with defending Pan Am games gold medalist @Rodrigo Montoya , top IRT pro @Mario Mercado , and dangerous argentine young player @DDiego Garcia all joined by Canadian #2 @Trevor Webb in one RR group. Wow; i'm not sure i've seen such a strong international group stage collection in a while.
The draw overall is good: there's some solid players here; the quarter finals will be epic here if they play out to seeds in that eight regular touring players are present, many of whom have won IRT events.
Mexico's #2 player is a name maybe not as well known to fans in Elias Nieto. He earned this spot by making the semis in last June's Mexican Nationals event, an event won by Montoya over Parrilla in the final, and with Portillo topping Nieto in the 3rd place game. With both Parrilla and Lalo begging out of the event, the slot went to Nieto.
Women's Singles:
17 players entered, also a light draw. 25 entered the 2019 version of the PARC.
Shockingly … no Paola Longoria, who lives for these international competitions to add to her astounding count of titles (21 at current). I'll have to get some insight as to why she's not here.
Clearly Mexico had some issues filling the spot, because the Mexican #2 female is junior Angela Ortega, who is competing in her age 17 season and who has never appeared on the LPRT. Very odd, in that there's probably 10 other Mexican touring pros who would have been a more competitive entrant here (just off the top of my head …. Mejia, Parrilla, Enriquez, Salas, Lucia Gonzalez, Flores, Groves, Acosta, Perez, Rico, or Aguilar). Interesting. Salas is here, but already competing in both doubles events, and adding a third event probably was a non-starter.
In fact, I might be wrong, but it doesn't seem like any player is playing in all 3 events; maybe that was a purposeful limitation on the entrants.
The group of death seems to be Group A, with @Maria Jose Vargas, @AmAmaya C , and @Angelica Barrios. A top 3, top 10 and top 15 player.
Despite no #1 Longoria, 6 of the top 10 are in the singles draw plus another 3 from the top 20.
– Another notable absence; no @Maria Renee Rodriguez from Guatemala, who has been a mainstay at these events for the better part of a decade representing her country alongside Gaby Martinez.
Men's Doubles:
There's 10 teams/countries represented here.
Interestingly Moscoso is NOT playing with his typical doubles partner Roland Keller; instead its Carrasco and Carlos Keller representing Bolivia.
The Bredenbeck brothers are representing the USA, which should be fun.
Acuna is not playing with his regular partner Camacho from Costa Rica.
I think your two early favorites here are Canada (Murray and Iwaasa are tough) and USA (the Bredenbecks have played together a lot).
Women's Doubles
8 teams here, split into two RR groups to start.
Group A is stacked, with three teams I think could win this all together (Bolivia, Mexico and USA).
Group B is … well, significantly weaker than Group A, and its 4th seed is clearly the best team in Argentina. They'll get a cakewalk into the #2 seed in knockouts.
I just don't see how these groups/seedings make sense: you have clearly the top four racquetball playing countries (USA, Canada, Mexico, and Bolivia) in one group, then Columbia, Guatemala, Chile, and Argentina in the other. That just doesn't seem balanced at all. Even if the past results support it.
I think your favorites are clearly Mexico (Herrera/Salas), but Argentina (Vargas/Mendez) have been playing together regularly for most of the last few LPRT seasons and should make it a compelling final if they get there.
Mixed Open
A first time through for Mixed and we have some intriguing teams for sure.
10 teams here and it seems like players have prioritized Mixed over Gender doubles; the better players are here.
– My early favorites are Mexico (Montoya and Salas, who just won Mexican Mixed), USA (Landa and Manilla are both great doubles players), and Colombia (Mercado and Amaya are both highly experienced doubles teams). Don't sleep on Bolivia, who has Moscoso hitting bombs on the right hand side, always a challenge in doubles.
Streaming apparently doesn't start until next week. But maybe we'll get some of the players streaming their matches in the interim.
More to come next week on this event when we get to the knockouts.