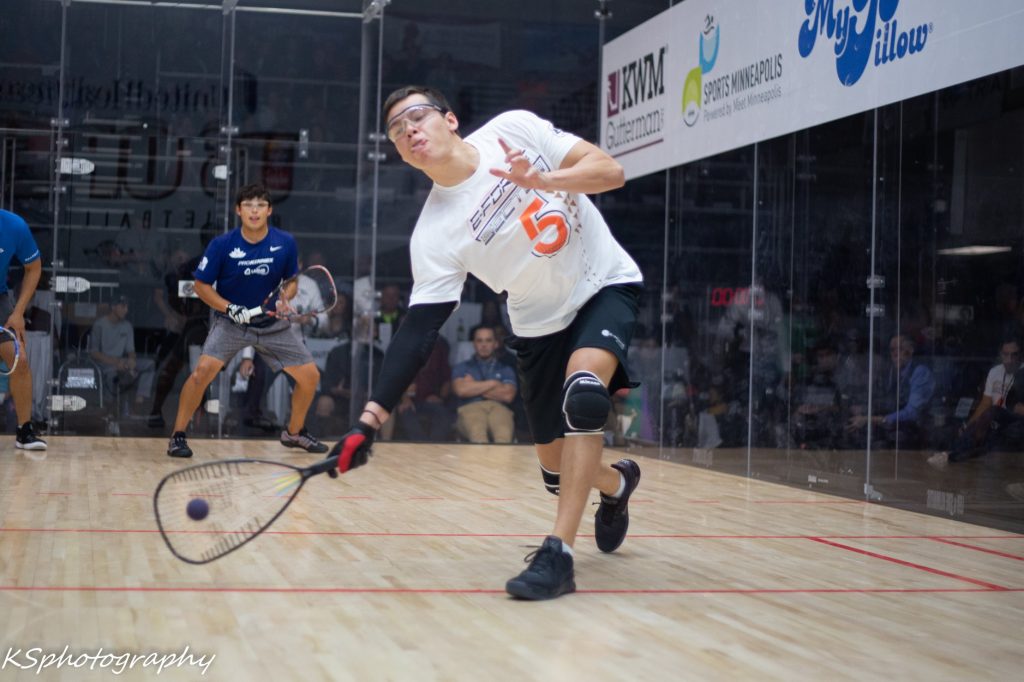 We're through the group stage at the 33rd annual Pan American Racquetball championships, being held in Santa Cruz, Bolivia and have whittled the field down to just the top finishers per group for the knockout stage.

Here's a preview/prediction of each bracket plus some quick observations about the group stage results.

r2sports site: https://www.r2sports.com/website/event-website.asp?TID=39092
For streaming, follow the IRF on Facebook and sign up for live video notifications.
Men's Singles
Group Stage thoughts: No surprises for me in the first four groups, as the top 4 seeds advance with relative ease, and the "expected" players finished in second place.
Group 5 and 6 though had some shockers. In group 5, #5 pre-tourney seed @Rodrigo Montoya topped the group, but in a shock IRT top 10 player and Nov 2021 IRT tourney winner Mario Mercado was taken out by Argentina's recently matriculated junior @Diego Garcia and failed to advance to the knockouts. Garcia represented Bolivia until his age 17 season, then converted to Argentina and had to sit out a couple years. But he's back, and he's quite good. He could be a regular representative for Argentina for the next 15 years, and we hope to start seeing more of him on the IRT.
Group 6's shock was at the top, when IRT top10 player @Samuel Murray was dominated by Mexico's #2 Elias Nieto 13,3,(3),7 to fall to 2nd place in the group. Nieto tops the group and grabs the #6 seed in the knockouts.
Here's how I see the knockouts going:
In the 16s, Nieto's #6 seed gets him #11 @AndAAndres Acuna , a really tough draw and a likely upset.
In the quarters:
#1 Conrrado Moscoso over #8 Garcia; they met in 2021 Worlds and Moscoso crushed him, but it will be a good all South American test.
#4 @Jake Bredenbeck over #5 @Rodrigo Montoya . This will be close, as both hard hitters can make deep runs in tournaments. Jake has topped Rodrigo the last three times they've played and I think he'll do it again.
#3 @CarloCarlos Keller over #11 Acuna. They have not played in years (last meeting 2017), and both players have improved significantly over the past year. Keller made the finals at the 2021 US Open, Acuna made the finals at 2021 Worlds. Keller always seems to rise to the occasion at this event (and, lest we forget, is the 2-time defending PARC champ, having won in both 2018 and 2019), and is playing on home soil so we'll go with the Bolivian here.
#2 @AlAlejandro Landa gets his pro doubles playing partner @Samuel Murray , who he has traded results back and forth with on the singles court recently. However, Landa is here to win. Landa in 3.
Semis prediction:
#1 Moscoso over #4 Jake; I just think Conrrado is too good on these courts.
#3 Keller over Landa. They've only met 3 times, but its been years since they've played and they've never played internationally. I think Keller's familiarity on these courts gets him the win over the mercurial Landa, who has a tendency to start slow in his matches and that might mean the difference in a rally scoring match where every point counts.
Final: Moscoso over Keller in an all-Bolivia final that will have the crowd pulsating.
---
Women's Singles
Group stage review: No real surprises in the group stage for me; The top seed in group 4 should have been one of the top Mexican pros, but instead the seed went to Chile's @CCarla Munoz , who topped USA's @Kelani Lawrence in a 5-game thriller on the competition's opening day to claim the 4th seed in the knockouts. The best player to not advance is Cris Amaya, who finished 3rd of 3 in the group of Death, falling to two top-10 LPRT pros.
Knockout predictions:
In the 16s, a really tough matchup between #7 @Kelani Lawrence and #10 Angelica Barrios looms; Advantage Barrios here.
Quarters prediction:
#1 @MariMaria Jose Vargas over #8 Micaela Meneses . Meneses is pulling triple duty here as a junior but doesn't yet have the firepower to topple Vargas.
#5 @Rhonda Rajsich over #4 Munoz: on paper Munoz is the better player right now, but Rhonda always plays "up" at these competitions.
#3 Natalia Mendes over #6 @Ana Gabriela Martinez ; Gaby may have the world title, but Mendez is the one on her native soil (she grew up in Bolivia before converting to represent Argentina). Plus, Mendez has topped Gaby 2 out of their last 3 meetings.
#2 @Alexandra Herrera over the Barrios/Kelani winner. There's no easy matches from the quarters on, so Herrera will get a top 10 touring pro from here on out despite being the #2 seed#1s
Semis prediction:
#1 Vargas over #5 Rajsich
#2 Herrera over #3 Mendez
Final: Vargas tops Herrera on her native soil. She may represent Argentina, but Vargas was born in Santa Cruz and will take the title in her hometown.
---
Men's Doubles
Group stage thoughts: Great win by the Bredenbeck's to take the #1 seed in their group of death. Likewise, really solid win by the Costa Ricans to seize the #2 seed over the Mexicans.
Knockout round preview:
Unfortunately, 3 of the 4 best teams are in the upper bracket so we're going to get what should be the final in the semis. Look for #4 Canada (Murray and @CoCoby Iwaasa ) to take out #1 Team USA to make the final.
From the bottom, I think the Bolivians (Keller and @Kadim Carrasco ) will bounce back on home soil to advance to the final as the #6 seed.
Final: Canada over Bolivia.
---
Women's Doubles:
Pool play reaction: no surprises for this observer, despite the seeding not going as expected. The top LPRT pros in both groups rose to the top.
Knockout predictions:
Mexico over Bolivia in one semi. I like the Herrera/ @Samantha Salas Solis team to cruise past the @Yazmine Sabja Aliss and Meneses team, though the home town will cheer them to at least one game win.
Argentina over USA in the other semi. I just think the two native Bolivians (Mendez and Vargas) are too good on the court together, despite the international heroics of @RRhonda Rajsich and @ErikErika Manila .
Final: Mexico over Argentina: Herrera/Salas are just too good at Doubles to lose here.
---
Mixed Doubles
Pool play reactions: Chalk in Group A, but a huge win for Team USA (Landa and Manilla) to upset my pre-tourney favorite Team Mexico (Montoya/Salas) to claim the #2 seed. I was slightly surprised to see team Colombia (Mercado and Amaya) finish 3rd in their group, being the solid doubles players they both are.
Knockout predictions:
From the top half, Team Bolivia (Moscoso and Meneses) seem like they have the easier path to the final and may have a harder quarter vs Colombia than semis versus Argentina (Valeria Centellas and Diego Garcia).
From the Bottom half, we probably get a rematch of the group stage Mexico vs USA … and I like the passion of Landa/Manilla to advance. They beat them once, they can do it again.
In the final? I think the Bolivia – USA matchup favors the Americans. Landa can hang with Moscoso, while Manilla would out-perform Meneses on the right hand side. USA for the inaugural international Mixed title.
---
Should be great matches this week. Can't wait.
Pan American Racquetball Confederation – PARC
International Racquetball Federation
International Racquetball Federation