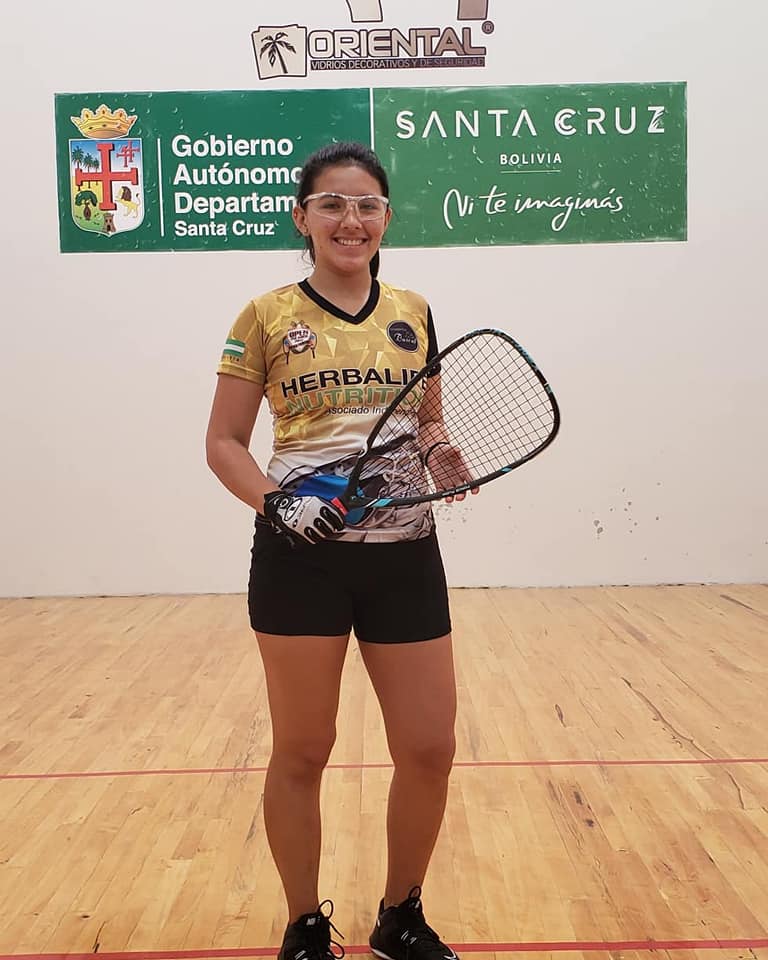 Congrats to your winners on the weekend:
Men's Singles: Conrrado Moscoso, Bolivia
Women's Singles: Angelica Barrios, Bolivia
Men's Doubles; Samuel Murray & Coby Iwaasa, Canada
Women's Doubles: Maria Jose Vargas & Natalia Mendez, Argentina
Mixed Doubles: Rodrigo Montoya & Samantha Salas, Mexico


Links to "Category Reports," which show a history of all current and past PARC finalists, so you can see all 33 such tournaments that have happened since inception in 1986.
Men's Singles: http://rball.pro/F5F5D2
Women's Singles: http://rball.pro/9BC953
Men's Doubles: http://rball.pro/68D315
Women's Doubles: http://rball.pro/6F9E9F
Mixed Doubles: http://rball.pro/BA46DA
R2 Sports App home page for event: https://www.r2sports.com/website/event-website.asp?TID=39092
---
Men's Singles:
Singles Match report in the PRS database: http://rball.pro/486271
The quarters gave us some unexpected results for sure.
#1 @Conrrado Moscoso took out the upstart Argentinian Diego Garcia in 3.
#5 @Rodrigo Montoya got a very solid win over USA's @Jake Bredenbeck in three straight. Montoya always seems to play well in these structured international competitions. This sets up a juicy Moscoso-Montoya match that has some interesting history.
Huge upset: #3 @Carlos Keller , 2-time defending champ and playing on home soil, was taken out by Costa Rican @Andres Acuna , and it wasn't particularly close (11,6,12). I thought Keller was a great bet to three-peat.
– #2 Alejandro Landa held serve against his tough doubles partner, Canadian @SSamuel Murry to setup a rematch of the 2021 World's final with Acuna.
In the Semis
#1 Moscoso outlasted fellow hard hitting IRT regular #5 Montoya in three close games.
#11 Acuna took the latest salvo in his rivalry against #2 Landa, beating him in four games to move into his second successive major international final.
In the Finals… the two players traded 15-14 games to start, then Conrrado turned on the heat in game three, racing to a 15-6 win before finishing off another close game four to take the title. This is his first "major" IRF title in his career.
Fun side note: the two Men's finalists both came from the group stage of the #1 pre-tournament seed.
---
Women's Singles:
Match report in the PRS database: http://rball.pro/9C2A60
The knockout quarters featured some HUGE upsets, with both the #2 and #3 seeds going down early.
#1 Maria Jose Vargas cruised past the Bolivian junior @Micaela Meneses to move into the semis.
#4 @Carla Munoz took out the veteran #5 Rhonda Rajsich in four games. Great solid win by Munoz to take out a competitor in Rajsich who always plays tough in these IRF competitions.
#6 @Ana Gabriela Martinez upset #3 Natalia Mendez in a 5-game thriller. Even though these two are very close talent wise, this was a surprising result for me for Mendez to lose on home soil.
The biggest upset of the round on either side though was #2 @Alexandra Herrera , winner of the last two LPRT events and the odds-on favorite here, losing to Bolivian @Angelica Barrios in four. Never underestimate the Bolivian, who made a run to the semis of the Bolivian Iris event as an unknown and typically flies under the radar at these events.
In the semis
#1 Vargas continued her quest to win the title in her home town, overcoming a game 1 loss to down Chilean #4 Carla Munoz .
#10 Barrios continued her upset ways, getting her third straight upset-by-seed win, this time against former World champion #6 Guatemalan Martinez. Barrios makes a major international final on home soil to setup an intriguing all-native Bolivian final.
In the final…a fantastic back and forth affair that wasn't settled until 12-10 in the fifth. Barrios gritted out a comeback win in game 4 to push it to a 5th, then kept the ball in play and took advantage of a slightly tight Vargas to win 12-10 and claim her first ever IRF title.
Fun side note: As with the Men, the two Women's finalists both came from the group stage of the #1 pre-tournament seed.
---
Men's Doubles review
Match report in the PRS database: http://rball.pro/E4307D
A shocking result in the quarters, with the home-town Bolivian team of @Carlos Keller and @Kadim Carrasco both top doubles players, both of whom are regular IRT touring pros, falling in 3 straight (albeit close) games to the Ecuadorian pair of @Juan Francisco and Jose Daniel Ugalde. Cuevas and Ugalde have been representing Ecuador for a long, long time; Ugalde first played in the 2006 Worlds, Cuevas in juniors since 2011 and this is a great win for them. Otherwise, the #1, #2 and #4 seeds advanced as expected.
In the semis …
Team Canada took out #1 USA in three games; despite their seeding they're the pre-tourney favorites and make it to the ifnal.
Team Ecuador upset #2 Costa Rica to move into the finals. its the first Men's doubles final in an IRF event since 2016 for Ecuador.
In the final … I thought for sure this was a cake-walk for Canada, but Ecuador won the first and pushed it to a 5th game before falling 11-5 to team Canada. Great showing by Ecuador, making a major IRF final for the first time in years, and congrats to team Canada for returning to the throne.
---
Women's Doubles:
Match report in the PRS database: http://rball.pro/B73598
No surprises in the quarters, as the top 4 teams (Mex, USA, Bol, Arg) advanced as expected, each in three games.
In the semis, two very close matches between the four top Women's doubles teams resulted in the top two seeds advancing to the final. #1 Mexico dropped the 2nd game but beat Bolivia in four, while the experienced Argentina team squeaked out a win against team USA with two games going 15-14 their way.
In the final … the four LPRT top 10 players, who are quite familiar with each other from years of touring together, battled it out to the very end. Team Argentina made the clutch shots in the 5th to win 11-9 and take the title.
---
Mixed Doubles:
Match report in the PRS database: http://rball.pro/78C637
No surprises in the 16s or quarters really, even though the #3 and #4 seeds lost to lower seeded competition. We knew going in that one of the groups was weaker than the other two, and no Group 3 mixed teams advanced into the semis here.
In the semis, some fireworks:
#1 Bolivia blasted #5 Argentina 5,4,5. Just a complete dominant win.
#6 Mexico took got revenge for a RR loss to #2 team USA and advanced to the final by virtue of a technical forfeit for accumulated technical fouls. The IRF referees are very pedantic, and team USA was penalized once too often. The final play that led to the disqualification was arguable, as most hinder calls end up being, and its a shame the match was decided on what I thought was a referee error, but passions must be held in check and referee arguing isn't as tolerated on the IRF as it is on the pro tours. Landa (per the US Team handbook) may face a lengthy suspension after this incident.
In the final … team Mexico (my pre-tourney favorite) eked out a win over the hard hitting Bolivian team to take the first ever Mixed IRF title.
---
Despite my publishing this wrap-up … the event continues. After these brackets are done, the "Team Event" commences, returning to IRF competitions for the first time in years. This can be confusing for those who query the Pro Racquetball Stats site: we keep "Team stats" but that's not the same as a "Team Competition." Team stats are driven by the accumulated individual accomplishments. We do not track the team event results in the database.
Speaking of Team results, here's the unofficial team winners (based on my working xls):
Men's Team: Bolivia, Costa Rica, USA. This is by far Costa Rica's best ever team finish; the only other time they placed was in 1990's regional competition. Amazingly, Mexico did not place. Costa Rica eked out a 4-point win over USA to claim 2nd.
Women's Team: Argentina, Bolivia, Mexico. Argentina gets 1st in doubles, 2nd in singles and easily wins. No USA on the podium.
Combined/Overall Team: Bolivia, Argentina, USA. Bolivia runs away with the combined title, with a singles win and a finals mixed appearance. Mexico finishes 4th despite taking the Mixed title and one has to wonder how these results would have gone had Mexico #1 Longoria played.
I'll load up the full Team Results once they're blessed by the IRF.
Reminder to Players! Please like and follow this page so that when I tag you, you see it. Facebook will only retain tags of people that like/follow a page, which means lots of you are not getting the notoriety of getting tagged and noticed on Facebook. If your name is here and it isn't tagged … it probably means I attempted to tag you but Facebook stripped it.
Next up?
After this weekends team competition in Bolivia …
Per our handy master racquetball calendar …
https://docs.google.com/…/1V6OTid6rZ356voXVkoV2sN7KMMb…/
IRT returns to action in two weeks time in Canoga park.
tags
International Racquetball Federation