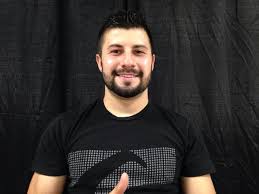 The IRT returns to Southern California and its rich player base for the first time in 2.5 years with the SoCal Open. The tournament will be held at the Canoga Park club, which hosted an annual IRT event recently and is now back in the fold.

Play starts today 11am PDT/2pm EDT.

R2 Sports App link: https://www.r2sports.com/tourney/home.asp?TID=38996

There's a huge draw: 42 singles players are entered in to the pro singles draw, with a good chunk of them also playing in the "Open Doubles" draw.
top20 players missing; #13 Bolivian @CarloCarlos Keller did not make the long trip from Bolivia for this one. #15 @RodriRodrigo Montoya and #20Javier Mar are both missing (they may have burned their available vacation for long PARC trip). Otherwise the full top 20 is here plus a ton of guys ranked in the next 10.
Notably, #2 @Kane Waselenchuk was a very-last minute commit, which sets up back end of this tournament well and should be a boon for neutrals and Kane fans.
Lets preview the draw. Here's some notable qualifying matches that i'm looking forward to:
In the round of 128:
Colombian @JJuan Pablo Rodriguez takes on NorCal's Wayne Antone IV in a fun opener.
Bolivian junior @Hector Barrios has a solid opener against Texas' DJ Mendoza
Former WRT #1 @Alejandro Cardona returns to the IRT for the first time in more than 3 years and faces IRT regular @Anthony Martin in his opener.
– top SoCal amateur @Iain Dunn takes on Colombian international veteran @Set Cubillos
In the round of 64:
@Jordy Alonso should face a tough qualifier against the winner of the Rodriguez/Antone match.
@Erick Cuevas will face a stiff challenge from the Barrios/Mendoza winner for a spot in the main draw.
Top Guatemalan @JuanJuan Jose Salvatierra has the tough task of facing Cardona, assuming Alejandro wins his opener.
– An international-heavy quadrant in the draw will see the Colombian Cubillos challenged by Mexican up and comer @MiMiguel Angel Arteaga for a spot in the main draw.
Projecting the 32s: some guys face a third singles match on Thursday, a difficult proposition for any player… so factoring that in, here's some interesting round of 32s to get into the main pro draw:
#16/17: Patata versus @Thomas Carter . Carter has been playing well, but Fernandez is better.
#9 @Mario Mercado faces a very tough draw against #24 @Bobby Horn … who is 7-1 lifetime against him. But, Horn will be playing his third singles match of the day. Mercado is coming off a relatively disappointing PARC event on his native soil … will he bounce back against an opponent he's struggled against historically?
#12 @Sebastian Franco has serious upset potential versus #21 @Jordy Alonso. Alonso took out Bredenbeck with relative ease at the last event and may get the upset here as well.
#11 @Alvaro Beltran is the unlucky recipient of Cardona's qualifying spot … but again, Cardona will be on his third match of the night. Can he muster enough juice to top the hobbled Beltran? He may. Upset watch here.
– Lastly, in the 15/18 spot we have a great potential match, with @Eduardo Garay set to take on the up and coming Mexican @Erick Trujillo . Trujillo is fresh off his U21 wins at PARC and his first real big win on tour in Chicago. Look for Trujillo to move on here.
Round of 16: I'm predicting a couple of upsets, otherwise chalk.
#17 Fernandez pressures but fails to supplant the #1 Daniel de la Rosa
#21 Alonso continues his run and takes out #5 Samuel Murray .
On the back of his big run at PARC, #14 @Andres Acuna takes out #3 @Andree Parrilla
– While not necessarily an upset, #7 @EduaEduardo Portillo takes out #10 @JaJake Bredenbeck to setup a meeting with the King.
Projected Qtrs:
#1 DLR over #8 @Rocky Carson; It'll be two matches on Friday for these two, and I think DLR can get some revenge from his upset loss in the last event
#4 @Alejandro Landa halts the Cinderella run of Alonso
#14 Acuna falls to #6 @ConrradoConrrado Moscoso in a rematch of the PARC final earlier this month.
#2 @Kane Waselenchuk wipes out Mexican youngster Trujillo in a rematch of their Atlanta meeting in January.


Semis:
#1 DLR over #4 Landa: DLR is 10-5 career over his Mexican compatriot and moves on here.
#2 Kane over #6 Moscoso; these two have met several times and the matches can be super-fun, but the Bolivian needs a better strategy than he had in Chicago.

Finals;
– #2 Kane over #1 DLR. Odds are we won't get this matchup but this is what all the neutrals want. Kane is still the king, but how far has DLR come?
Look for Streaming in the regular places; follow the IRT on Facebook and sign up to get notifications when they go Live.

Look for Dean Baer, Favio Soto, Pablo Fajre and the IRTLive crew all weekend on the mike, calling the shots! @Leo Vasquez is also flying in this weekend to help broadcast, and of course the venerable JT R Ball is based in Southern California, so he should be in the streaming mix too!