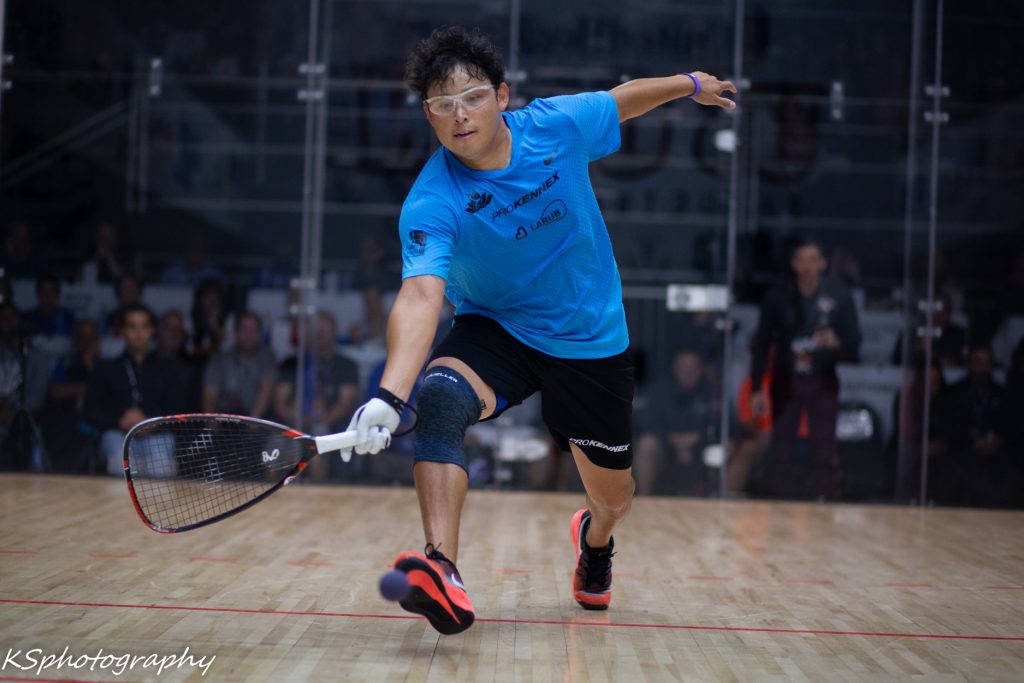 Congrats to your pro singles winner Daniel de la Rosa for his win in Canoga Park on Saturday 4/30/22.
He secures his 8th career Tier1 title, which moves him into a tie for 13th all time with newly inducted Hall of Famer John Ellis . 12th on the list is 1981-82 pro tour champion and fellow Hall of Famer @Dave Peck , who won 11 tier1 titles.
See this link for a list of all 42 historical Tier1 IRT pro tourney winners: http://rball.pro/1D09B4
R2 Sports App home page for event: https://www.r2sports.com/tourney/home.asp?TID=38996
---
Lets review the notable matches in the Pro Singles draw.
Singles Match report in the PRS database: http://rball.pro/22795E
In the 128s and 64s:
Great showing this weekend from Bolivian Junior @Hector Barrios, who won twice on Thursday, including an upset of IRT regular @Erick Cuevas Fernandez, to get into the round of 32.
@Alejandro Cardona 's return to the IRT started out well, with two quick wins over seeded competition.
@Jim Douglas secured his first career IRT win in the round of 128, taking out @Brad Levine in a breaker.
In the 32s, some big upsets.
#17 upset #16 when @Sebastian Fernandez took out @Thomas Carter in two. Patata can't seem to get out of the #16 seed at IRT events and will shoot for the big upset on Friday.
#9 Mario Mercado almost fell to former IRT touring pro @David "Bobby" Horn, but outlasted him 11-8 in the breaker. Its hard to win three matches in a day.
#21 @Jordy Alonso got the biggest upset of the day, continuing his excellent streak of play lately and beating #12 @Sebastian Franco in two 6,13. Alonso is making a statement lately, now with wins in the last few months over Horn, Franco, and Bredenbeck.
Cardona made quick work of a hobbled #11 @Alvaro Beltran 13,2 to move into the round of 16
#18 Mexican junior phenom @Erick Trujillo staved off match point against in game two versus #15 fireballer @Eduardo Garay, then raced to a 11-3 tiebreaker win. Trujillo continues to get solid wins against solid pros.
---
In the 16s, two upsets by seeds and a couple other notable matches:
#8 @Rocky Carson made quick work of #9 @Mario Mercado 6,11 in the 8/9 spot that generally sees really competitive matches. Mercado won his first Tier 1 recently, but has scuffled as of late both professionally and internationally.
#13 @Adam Manilla got one of the best wins of his career, topping #4 Alejandro Landa in an 11-8 tiebreaker.
#3 @Andree Parrilla was pushed to the edge by the improving @Andres Acuna but prevailed 10,14
#6 @Conrrado Moscoso shook off the jet lag after falling behind big in the first, then raced to a two game win over Cardona 14,4.
In the always competitive 7/10 match, #7 @Eduardo Portillo took a solid win over #10 @Jake Bredenbeck in a tiebreaker
#2 @Kane Waselenchuk was a no-show, reportedly having "flight issues," which gave Mexican reigning 18U World champion @Erick Trujillo a walkover into the quarters, his career best.
In the Quarters
#1 @Daniel de la Rosa reversed his previous result against #8 Carson, topping him in a breaker. These two had met in the last event at this juncture and Carson upset the #1 player; not this time.
#5 @Samuel Murray cruised past the upset-minded Manilla in two games. It is difficult to come back after a career win and compete in the next round, especially when its just a few hours later.
#3 Parrilla showed pretty sturdy mental game against #6 Moscoso, coming back from 10-0 down in the first to win 15-12. He then ground out a 15-13 game two win against the talented Bolivian to get a really solid win and move into the semis.
#7 Lalo put his foot down against his junior Mexican rival, topping Trujillo 8,4 in a dominant showing to move into the semis.
In the Semis
#1 DLR improved to 5-1 lifetime against Murray, playing a solid match to advance despite Murray's best acrobatic efforts 13,9.
#3 Parrilla played a masterful tactical match against #7 Portillo, frustrating his young San Luis Potosi rival to advance 8,8.
---
In the Finals, DLR improved to 9-2 career against Andree and took care of business, driving the action and out playing Parrilla en route to a comfortable 8,11 win.
Points Implications of results
The IRT for the time being is doing the ranks on a rolling 11 Tier1 basis, dropping the lowest Tier1 showing and any other events that add up to more than 11 played events. That means this tournament "retires" two Jan 2020 events, where DLR had a win and a final, so he had 700 points to defend. This means his lead at the top will shrink, but he will remain #1 by a sizeable margin.
The big move will be Kane dropping; he had a win in Austin in January 2020 to defend, and earned zero points here, so he'll drop at least a few spots (my projection shows him dropping to #5 on tour). This means that Parrilla will ascend back to the #2 spot, Landa moves up to #3, and Murray to #4.
---
Men's Open Singles and Doubles draws
No pro doubles here, so a lot of the non top 8 also entered Open Singles … and then a lot of them dropped out, giving a bad look with a ton of WBF-ns on the sheet. Four of the top 8 seeds forfeited out at the round of 16.
The semis featured a very international flavor, with two Bolivians, a Guatemalan, and a Colombian competing. Bolivian 16U payer @Ezequel Subieta took out Colombian vet @SeSet Cubillos in one semi, while Mexican youngster @Miguel Arteaga Guzman got a walkover against Guatemalan vet @Juan Jose Salvatierra in the other. The final thus was #15 versus #16, with Arteaga taking out Subieta 11-10 in a thrilling match.
In Open Doubles, seeds held to the semis, which was full of IRT touring regulars. #1 Garay/Franco (a good representation of the top Colombian doubles team) beat the young team of Trujilo/Rodriguez in one semi, while the excellent pairing of Acuna/Alonso topped the NorCal duo of Antone/Horn.
In the final, Acuna/Alonso prevailed over the hard hitting Colombians, winning easily 13,5.
Thanks for all the streaming on the weekend, especially from broadcasters Dean Baer and Leo Vazquez , who flew in specially for this event. We also got to see a ton of streaming from @JTRB , thanks as always for all you do. Thanks also to @Wayne Antone who did some great work on the mike and reffing.
Reminder to Players! Please like and follow this page so that when I tag you, you see it. Facebook will only retain tags of people that like/follow a page, which means lots of you are not getting the notoriety of getting tagged and noticed on Facebook. If your name is here and it isn't tagged … it probably means I attempted to tag you but Facebook stripped it.
Next up?
Per our handy master racquetball calendar …
https://docs.google.com/…/1V6OTid6rZ356voXVkoV2sN7KMMb…/
We have a break next weekend, then on the 5/15 weekend both pro tours are back in action. IRT is in NYC, while LPRT has its Grand Slam in South Carolina.
tags