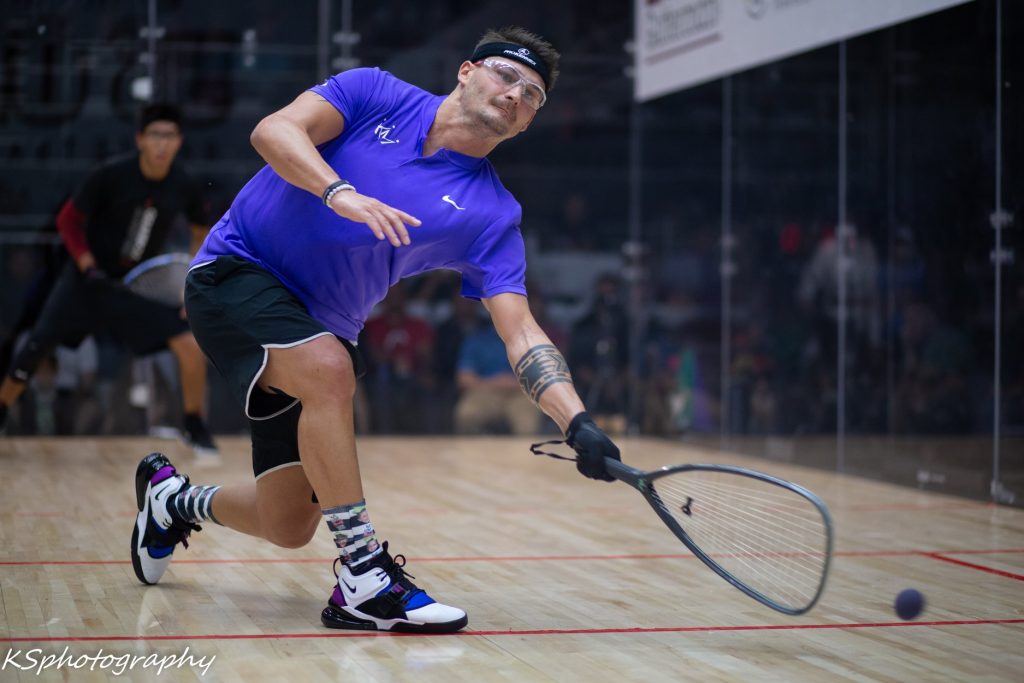 Congrats to your winner on the weekend … well, there was no Pro winner this weekend. For just the 2nd time in recorded pro tour history, an event was started but not completed. #1 Daniel de la Rosa and #7 Kane Waselenchuk had just finished game one of the singles final when the viewers saw them talking with the IRT commissioner @Pablo Fajre on the court … and then we saw nothing but commercials for what seemed like 10 minutes straight before the feed cut out. We eventually got the explanation; wet courts and safety concerns.

IRT statement on the situation: https://www.facebook.com/racquetballtour/posts/10159763607656737

It's a bummer, because Kane was as dialed in as I've ever seen him this weekend and had just taken the first game 15-4. But, the court conditions (which by all accounts were already sketchy all tournament) turned unbearable after an HVAC issue overnight turned the courts into skating rinks. The players will split the points and money, and we'll have a ? for the winner in the database for the rest of time.

What was the other IRT tournament that never finished? That would be the 2005 Summer Cooler traditional season opener that used to happen in New Orleans every season. But in August 2005 … Hurricane Katrina bore down on the town and the players had to get out of town after completing the quarters on Friday night. The tourney was never finished, Katrina decimated the area … and there's never been another tournament in New Orleans since.
R2 Sports App home page for event: https://www.r2sports.com/website/event-website.asp?TID=38842
Lets review the notable matches in the Pro Singles draw.
Singles Match report in the PRS database: http://rball.pro/5BBBF2
In the 128s and 64s: Here were some of the eye-brow raising results for me in the first day of qualifying:
Bravo to the traveling Ecuadorian pros, who fared very well this weekend. Cueva won a round before losing to Horn, and Ugalde made the round of 32s before playing Fernandez tough and losing 13,10.
Bolivian junior Ezequiel Subieta got two solid qualifier wins over Warigon and Salvatierra before falling to Garay.
Flight issues took Cardona out of the event, giving Iwaasa a clearer path to the 32s.
– Mexican junior Guillermo Ortega Jr. got a couple of solid wins over established international pros Gomez and Cuevas to get into the 32s.
In the 32s:
Horn upset #9 Jake Bredenbeck with relative ease 7,10.
#12 Manilla was pushed to a 11-9 breaker by Guatemalan Galicia
Acuna and Iwaasa played a very close match, with Acuna advancing 10,14. Iwaasa could absolutely be a mid-teen ranked player on tour if he played regularly.
Bolivian junior qualifier Hector Barrios got the biggest win of the round, taking out #10 Franco 14,11.
Another top 16 seed upset was #15 Robbie Collins, taken out by the young Mexican Ortega.
Three qualifiers into the round of 16.
In the 16s:
#1 DLR calmed the upstart #16 Alonso
Underseeded Horn gave Mercado everything he could handle.
#12 Manilla took out another top 8 player, this time the #5 seeded Portillo in a breaker.
Fernandez was just a couple points away from an upset of #4 Landa … but couldn't convert and Landa squeaks by 14,13.
Murray and Garay played a close game one, and a not-so close game 2 as the Canadian advances 13,0.
#6 Moscoso made fast work of his oft-difficult rival Acuna 6,4
#7 Waselenchuk put on a clinic against the young Bolivian Barrios, winning 3,5
– #2 Parrilla was made to work for it by his young Mexican rival Ortega, but advanced 9,12.
In the Quarters
DLR held off the mercurial Mercado in a breaker.
Landa cruised past Manilla in two.
Murray put another loss on Moscoso. This is the third time in five meetings that Murray has controlled Moscoso and put a loss on him, something that observers continually seem shocked by.
– Waselenchuk made a statement against Parrilla, donuting him in the first and ensuring that there would e no repeat of Atlanta.
In the Semis
DLR survived match point against his long-time rival Landa and moved into the final.
Waselenchuk crushed his Canadian rival Murray 1,1 in another statement win.
In the Finals … as mentioned above Kane was cruising. DLR's points all came on aces or service winners, which is a difficult strategy to maintain when that's the only way you can score.
---
Points Implications of results
Kane and DLR split the points, getting 350 each, which doesn't make much of a change in the standings. The top 8 should stay the same after this event, which expires the 2020 Lou Bradley.
DLR (who didn't play the Lou Bradley in 2020) only expands his lead at the top of the points; he now leads #2 Parrilla by 1400 points, a huge margin. The rest of the top 8 tightens: the difference between #2 and #8 is now less than 500 points, and we'll see some major jostling in the 2-7 spots after every event going forward.
Acuna should rise to #11, his career best. Manilla should also see a big jump to #12. Beltran will drop, possibly to #15 by virtue of his absence here and expiring points. The other big mover will be Alonso, who will jump from in the 30s to in the 20s.
---
Men's Open and other draws
Men's Open Singles had 33 players, and the final featured two veteran international competitors in Canada's Iwaasa and Ecuador's Ugalde. They played the "perfect" match, with Iwaasa winning 14,(14),10.
Men's Open Doubles featured more of the tour regulars with no pro doubles component, and the competition was fierce. The final was won by Acuna/Alonso topping Fernandez/Ortega Jr in two close games. Great event for Ortega jr.
– The U21 was a new event here, with players representing SEVEN different countries competing. In the end #1 seeded Bolivian Hector Barrios took out #2 Cuevas in the final, but lots of top young players competed and fared well.
---
Thanks for all the streaming on the weekend, especially from broadcasters Dean Baer, Favio Soto, Pablo Fajre and the IRTLive crew
Next up?
We'll recap the LPRT event tomorrow, then talk about what's next on the calendar