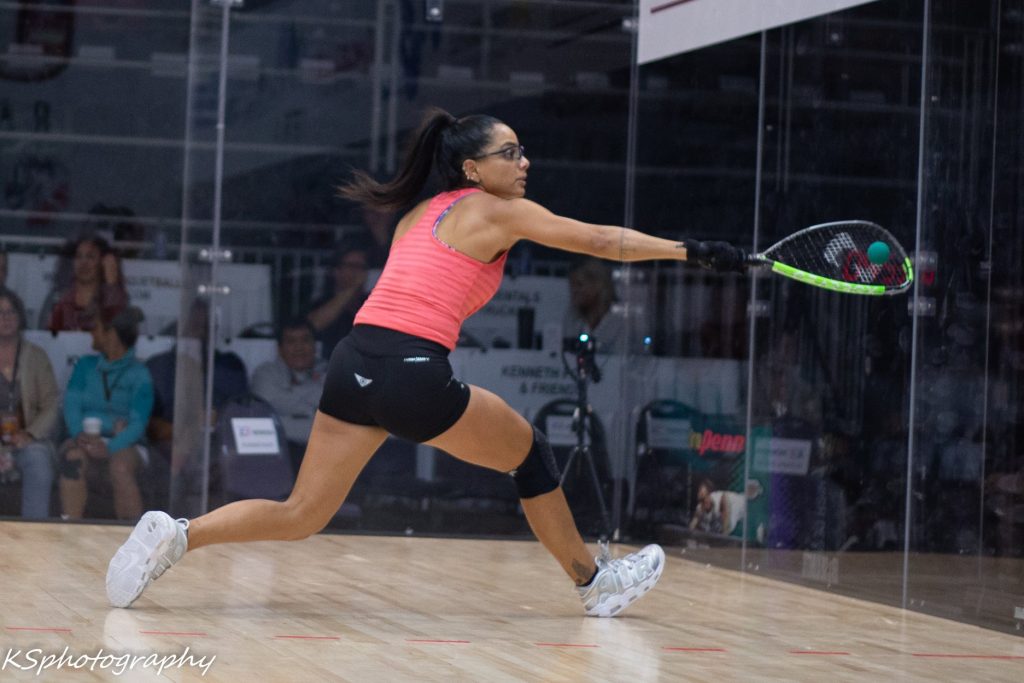 Congrats to your winners on the weekend:
Singles: Paola Longoria
Doubles; Alexandra Herrera/Jessica Parrilla
Longoria reverses the script from the last two finals against Herrera and wins her 106th career LPRT tier1 event.
See http://rball.pro/6CB839 for a list of all LPRT singles tour winners
Both Herrera and Parrilla get their second pro doubles title of the season, each done with different partners.
R2 Sports App home page for event: https://www.r2sports.com/portfolio/r2-event.asp?TID=38854
---
Lets review the notable matches in the Singles draw.
Singles Match report in the PRS database: http://rball.pro/9FD2AF
In the 32s:
I was shocked by Lotts' 2,2 win over Meneses, considering that the Bolivian junior had bested Lotts handily the last two times they played. Lotts played lights out and took it to the up and coming Micha.
– Naomi Ros continues to look for a breakthrough win, playing Scott tough before losing 9,10
In the 16s:
Salas trounced Centellas in the 8/9 game 4,6. Centellas seems to be lost on the court lately.
Mendez forced to a breaker by Scott before advancing in a match that looked like an upset for a while.
MRR took Vargas to a breaker before falling.
Lawrence handed Rhonda a donut in the first before moving on.
– Biggest shock of the round: Munoz absolutely dominated Manilla 7,4 to move into the quarters. Manilla had been riding high all season but came out flat today.
In the Quarters
Longoria took out Salas in what is now the 2nd most frequent rivalry in tour history.
Mendez' luck ran out as she was taken out by Parrilla, who amazingly returns to a Pro semifinal for the first time since the 2017-18 season.
Lawrence advanced to her first ever pro semi with a career win over Vargas in a close tie-breaker 11-9
– Herrera cruised past Munoz 7,2 to slide into the semis for the 7th time in her last 8 pro events.
In the Semis, the #1 and #2 players showed their dominance on tour, each winning their semi finals in dominant fashion; Longoria 2,6 over Parrilla, and Herrera 8,3 over Lawrence.
In the Finals, we got the third straight meeting of 1v2, and the fans got another compelling back and forth close match. This time though the GOAT Longoria prevailed in the breaker and ended Herrera's 2-tourney win streak.
---
Points Implications of results
So, the 2022 SC event should expire off the 2020 KC and 2021 SC events (if they're continuing to do a 12-month rolling calendar of points), which will mean a significant tightening at the top of the race for the top of the tour. But, with just one more LPRT event on the books, Longoria's lead is insurmountable for the 2021-22 season, meaning irrespective of the KC events she will capture the year end title, which will be her 12th.
See this link for a list of all LPRT tour winners. https://www.proracquetballstats.com/…/lprt_year_end…
Herrera trails Longoria by a bit more than 500 points, which is a lot, but which represents her cutting that lead in half just since the last LPRT event thanks to the way the points work. A couple more good results for Alexandra and we'll have a real good race for the 2022-23 title.
Elsewhere notable, Mendez should return to #4 by virtue of Gaby's missing this event, and Barrios will drop a couple slots with her absence. Despite an early loss, Manilla will move up to #9 (her career best), and Lawrence's big semis should propel her up to #11 (also her career best). It is good to have a couple of American's returning to the top 10 just as the long-standing stalwart of American racquetball (Rajsich) begins her gradual falling out of the top 10.
---
Doubles review
Match report in the PRS database: http://rball.pro/EE4945
Herrera and Parrilla gave the Longoria/Salas team a rare pro doubles loss in the final, and game two wasn't that close.
Four of the top US women's doubles teams heading into US nationals all played with each other as practice for the event in Texas in two weeks:
Diaz/Ros took the veteran Roehler/Manilla team to a breaker
Roehler/Manilla lost to the #1 pro team Longoria/Salas 6,9
Scott/Lawrence took out the #4 seeds and took the #1 seeds to a breaker before losing
Rajsich/Lotts were unlucky to lose against the #2 seeds, going down 11-10.
Based on these results, Scott/Lawrence look like the team to beat.
---
Women's Open, other draws
Centellas rebounded from a disappointing pro event to take the Women's open title, downing Munoz and Amaya along the way. #1 Seed Meneses lost to Amaya 7,2, another shocking result that indicates to this observer that something was amiss with Micha this weekend.
Maurice Miller cruised to the Men's Open title as the #1 seed, topping Alabama #1 Destry Everhart in the final. However Miller couldn't convert the Men's open double, losing the doubles final with his twin brother Marquis to Everhart playing with Shane Karmelin.
Thanks for all the streaming on the weekend, especially from broadcasters Timothy Baghurst, Jerry J Josey Jr., and @Tj Baumbaugh]
Reminder to Players! Please like and follow this page so that when I tag you, you see it. Facebook will only retain tags of people that like/follow a page, which means lots of you are not getting the notoriety of getting tagged and noticed on Facebook. If your name is here and it isn't tagged … it probably means I attempted to tag you but Facebook stripped it.
Next up?
Per our handy master racquetball calendar …
https://docs.google.com/…/1V6OTid6rZ356voXVkoV2sN7KMMb…/
We have a rare break in the calendar next weekend… then the final weekend of the month is Nationals! US in Texas, Canada in Brossard.