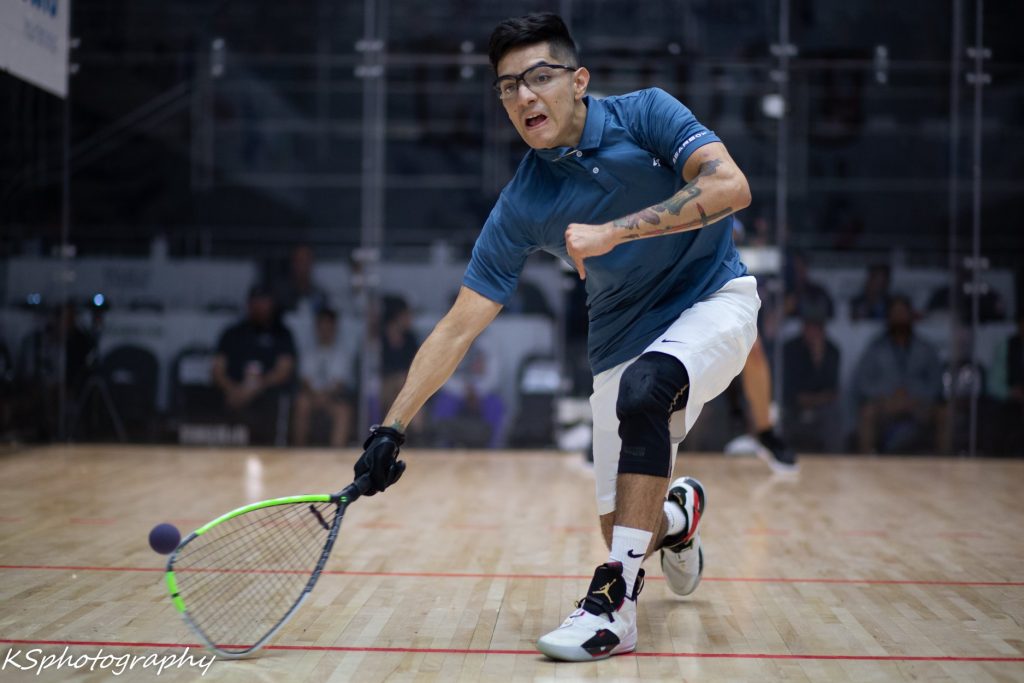 Congrats to the pro winners on the weekend:
Singles; Andree Parrilla
Doubles: Parrilla & Sam Murray
r2 link: https://www.r2sports.com/tourney/home.asp?TID=39311
Lets recap the Pro Singles draw:
In the 16s, I had my eye on a couple of matches that might be close … but in the end, the draw went essentially chalk to the quarters. I say "essentially' because #9 Javier Mar took out #8 Erick Trujillo 8,3, which may be an upset by seed but certainly is not by talent. The other pro-vs-pro round of 16 that looked intriguing turned into a blowout, with #7 Eduardo Garay Rodriguez handling #10 Alan Natera 12,3.
In the quarters:
#1 @AnAndree Parrilla made fast work of #9 Mar 7,6. This used to be a much closer rivalry, now Mar has his work cut out to close the gap.
#5 Andres Acuña cruised past #4 @Sebastian Franco 9,3 on his home courts.
#6 @Rodrigo Montoya got a statement win over #3 @Eduardo Portillo 9,9; tour observes often wonder what would happen if Montoya committed to the tour full time, with his full attention. Could he be a top 5 player?
– #2 @Samuel Murray cruised past #7 Garay 4,7.
Both Semis featured great comebacks from the top seeds.
#1 Parrilla dropped the first game to the home-town favorite Acuna before advancing (😎,12,2.
#2 Murray looked like he was going to lose two fast ones to the athletic Montoya, but held on to win (😎,12,7.
In the final: Parrilla and Murray played a barn burner, each going through multiple shirts and fighting both each other and the humidity before Andree pulled away at 7-7 in the breaker to take it. Solid match.
Pro Doubles review:
The pro doubles went completely chalk to the finals, where #1 Montoya/Mar took on #2 Parrilla/Murray.
In that final … Parrilla & Murray, who had just walked off the court as singles competitors in the final, teamed up to take out the #1 Montoya/Mar pairing 13,13. This is an interesting result for me: Montoya & Mar are an accomplished, veteran team who have shown the ability to beat any other pairing in the world. Meanwhile, Parrilla just spent the last season exclusively playing doubles with Portillo … who was here in Costa Rica. So why didn't the two play together? Meanwhile, Murray normally plays with Landa and has for several years and is securely ranked #2 on the doubles circuit. Is he looking for a change?
Men's open review:
The Men's open draw was nearly the size of the Men's singles draw and featured some interesting players and interesting results.
From the top half, #1 Erick Trujillo topped #4 @Set Cubillos in one semi, while #2 @Alan Natera took out #3 former IRT touring pro @Felipe Camacho in the other. Camacho advanced in part by topping LPRT #5 @Ana Gabriela Martinez along the way in a breaker.
In the Open singles final… Trujillo got a solid win against a tough veteran player in Natera to take the Open title.
Thanks to Dean Baer and Pablo Fajre for making the trek to San Jose to broadcast for us!