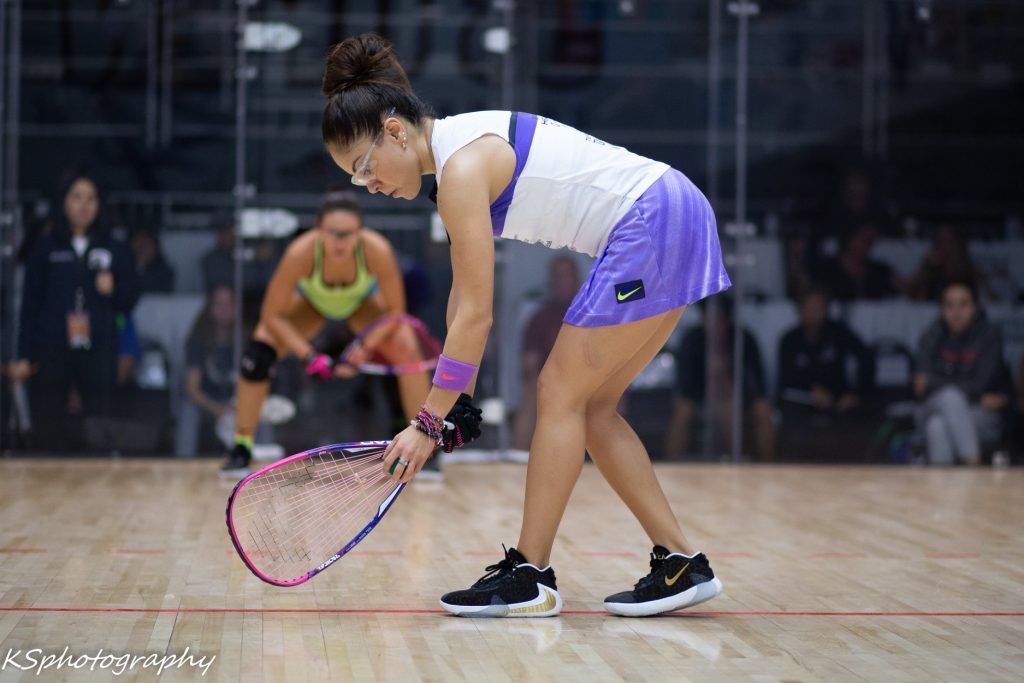 The Kansas City SuperMax last week also marked the official end of the 2021-22 season. After a covid-ravaged season, the LPRT ended up this season with 9 events, including three majors.

The final season rankings have been updated to the website: see https://www.lprtour.com/lprt-singles-rankings for the year end standings.
We have captured the standings and uploaded them to the proracquetballstats.com website, where they will now be picked up in all year end rankings queries as appropriate. For example, click here http://rb.gy/x0t9jz for the year end singles standings in the database, and click here http://rb.gy/ysxyi8 to see how they flow into the Season Summary report.
Here's some commentary on the LPRT finishers. We'll break this post into four posts; in this post we'll talk about the top 10, then talk about 11-20, then the rest, then list notable news items that happened this season to finish it off.
Paola Longoria : finishes #1 for the 13th time (see here for a list of all LPRT year end title winners: https://www.proracquetballstats.com/…/lprt_year_end… . She now has nearly double the next closest player, that being Michelle Gould with 7 year end titles.
Longoria won 6 of the 8 events she entered, but showed a chink in the armor with two successive tourney final losses to #2 Herrera. She ends the season with a 600 point lead at the top; by way of comparison she ended last season leading the tour by nearly 1,000 ranking points.
Still, her dominance this season should not be overlooked; finishing a season 31-2 is no mean feat. We have a tendency to focus on the losses for our two GOATS of the sport, not the wins. She's still the #1 until someone takes it from her.
Predicted Rank next season: #1 again.
2 Alexandra Herrera ; she finishes #2 for the second year in a row, but this #2 finish seems meaningful. For me, she has clearly taken over the title of "Best player not named Paola," a title owned by Vargas for the past couple of years, and then Salas for a few years prior to that. Herrera found a way to beat Paola, and will be thinking she can continue the trend.
The beginning of next season should be rather interesting, as Herrera has a good chance of really narrowing that points gap and putting Longoria's reign at #1 in jeopardy.
Predicted Rank next season's end: #2 again.
3 Maria Jose Vargas finishes #3, having made three finals and three semis, but took some earlier-than-expected losses this season. She is also 4 months pregnant, which puts her childbirth right in the middle of the fall section of the LPRT schedule, meaning she's likely to miss significant time next season. She missed an entire season earlier in her career after having one child and she missed half a season in 2017-18 around the birth of her second kid. So we'll see how much she can factor in next year. Suffice it to say, there likely will be a new #3 next year.
Predicted Rank next season's end: outside the top 20
4 Natalia Mendez improved to a year end ranking of #4, her career best, by playing consistently and generally playing up to her seeds. She made three semis, three quarters, and had three first round upset losses on the year. She's a good ways behind Vargas for #3, and the players who finished 4-5-6 are relatively tightly packed and could see some shuffling into next season.
Predicted Rank next season's end: #5 or #6: i think she gets bumped down.
5 Gaby Martinez managed to finish ranked 5th on tour (and missed out on 4th by less than 30 points) this season despite missing 4 of the 9 events played, quite a feat. She did this by becoming the 31st player ever to win a LPRT tier 1 event back in August in Denver, when she took the World Singles & Doubles title as the #10 seed. This powered her to a huge jump in ranking (she finished last season ranked #11).
It wasn't too long ago (March 2019) that Gaby announced she was "retiring." Since then, she's managed to play more than half the pro events. If she played 100%, one has to wonder if she's be pushing Herrera for #2.
Predicted Rank next season's end: #4/#5 if she plays enough events.
6 @Erika Manilla is the clear Player of the Year on tour. After playing just 9 pro events in her career, she played all 9 this season and vaulted herself from a ranking in the upper 30s to the #6 spot on tour. She had wins this year over Gaby, Mejia, Barrios, and Parrilla, and earned her first US National singles title. Quite the season. She's within striking distance of #3 on tour (as are several players in this range), so the fall of 2022 could be super interesting.
Predicted Rank next season's end: #3. I think Manilla will continue to rise up and take Vargas' place at #3.
7 Angelica Barrios finishes the season ranked 7th, a one-spot improvement from last year. She made 3 semis and was upset in the 16s three times (by Manilla, Gaby, and Rhonda), so kind of an up and down pro season. Of course, Barrios' major accomplishment this year was taking the PARC title on home soil, beating four top players in a row (Lawrence, Herrera, Gaby, and Vargas) to do so.
Predicted Rank next season's end: #5 or #6; incremental update, but not enough to press the top 4.
8 Jessica Parrilla may have dropped back a spot from last season's finish, but she accomplished something this season that she hadn't since Jan 2018: she advanced to a Pro semi final. Since badly injuring her knee in June of 2018, Leoni has endeavored to get back to her rankings peak (she finished 2017-18 at #3 on tour), and this was a big first step. She needs to get out of the 8-9 spot though, which plays into #1 every quarter, in order to have a chance to really move up.
Predicted Rank next season's end: #7 /#8: i think she's right in the same range again next season.
9 @Rhonda Rajsich finishes #9 on the year, missing out on #8 by a scant 5.5 points, and finishes in the LPRT top 10 for an amazing 22nd consecutive season. She made four quarters out of nine events and got some really solid wins along the way. Additionally, Rhonda had solid results at both international events this year, and qualified for the US Team for the 20th time.
Predicted Rank next season's end: just outside top 10: I think father time is catching up.
10: Montse Mejía finishes 10th despite going into the season's final event as the #6 seed and reaching the final. Three missed tournaments and a couple of shaky early round losses conspired against Montse this season, and even a grand slam final couldn't make up the difference. Mejia is one of the more talented players on tour, with a classical style and athleticism to beat any player she faces, and the new season setups better for her to make an impact.
Predicted Rank next season's end: #4, assuming she continues to miss events and not play full time.
Players 7-10 were very tightly bunched; Less than 30 points separated them at season's end. To put that in context, players get 25 ranking points for making just the round of 16 in a normal tour stop. So, suffice it to say, the 7-10th players will quickly switch places next season as play picks back up.
Check back in for Part 2, where we cover the players who finished 11-20.