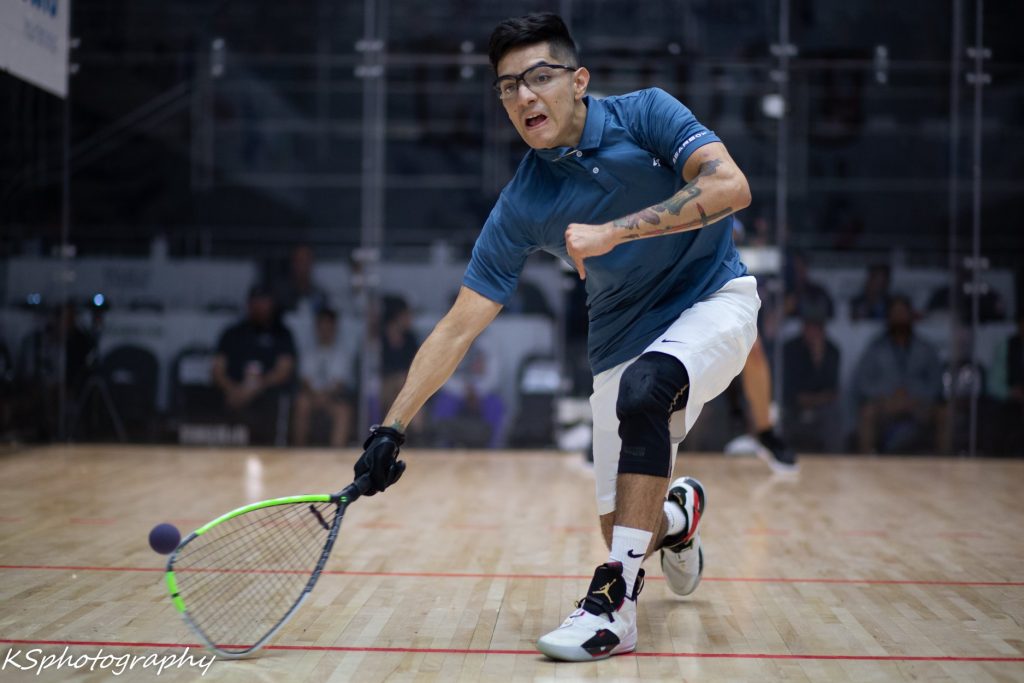 Welcome back to Men's Pro Racquetball! It seems like it has been ages since the last IRT event, in May, in New York. We've had two international events, multiple nationals, outdoors, and ladies pro events in the interim … but now we've got the Men's tour back in action.
And the tour returns to the Washington DC/Baltimore area for a Tier-1 for the first time since 2019, when the old Valentine Open was held at the former Laurel SportFit club (since closed, a Covid casualty unfortunately).
This weekend we're at the legendary Severna Park Health and Racquet, roughly halfway between Washington and Baltimore, a club that has run tournaments for decades and still has a old-school stadium seating behind its show court.. The IRT did run a lower tier event at this club in May of 2021, so some of the pros are familiar with the setting.
R2 Sports App link: https://www.r2sports.com/website/event-website.asp?TID=39163
There's 40 IRT men's pros entered into the singles draw this weekend, and we have a couple of curious missing players which will make for interesting seeding. #1
Daniel de la Rosa is not here, meaning that Andree Parrilla is the #1 seed, a career first for him. Also missing for one of the rare non-injury times in his life is #8 @Rocky Carson , perhaps "travelled out" after multiple IRF trips this summer and looking to avoid a cross-country trip so close to the US Open. This puts both @
Mario Mercado and @Jake Bredenbeck into top 8 seed placement, giving them guaranteed byes into the round of 16.
Other top 20 players missing include Fernandez and Trujillo (who is at Mexican Junior Nationals this weekend along with a few others who normally would be here). Interestingly, @Alvaro Beltran is here, and will be playing Pro Doubles with someone not named De La Rosa for the first time in recent memory (he's playing with Landa as the #1 seeds).
Lets preview the draw. Here's some notable qualifying matches that I'm looking forward to:
In the round of 128:
A rare singles appearance by Bolivian doubles specialist Roland Keller , facing New Jersey's @
David Austin in the opening round.
Junior U16 Texan @Cole Sendry is here and starts his tourney against local open player @Troy Moore.
Top New England player John Behm has travelled down I-95 for the event and faces off against one of the Kelley Brothers in Sam.
– Two of the better Maryland-based open players (@Dylan Pruitt and @Ben Bleyer are entered and have their work cut out for them against @Abraham Mercado and former IRT touring pro @Kyle Ulliman respectively
In the round of 64:
#17 overall seed @Javier Mar gets a tough one in Roland Keller to get into the main draw.
Bolivian veteran @Kadim Carrasco returns to the tour and likely faces Texan youngster Sendrey to move on. This will be a great test for Sendrey if he makes it here in the opener.
Mexican dark-horse @Jaime Martel is here and kicks off his event against the Pruitt/Mercado winner.
– A tougher opener than #18 @Jordy Alonso deserved, likely facing Ulliman.
Projecting the 32s: here's some possible matchups, which should be great.
#16 @Eduardo Garay projects to face Mar, a really nice matchup and contrast of styles. Mar is the better player, but has been out of singles action for a while. Can Garay grind out a win against the veteran control player?
#12 @Carlos Keller versus #21 @Alan Natera; Keller should advance here, but Natera can surprise.
#11 @Andres Acuna , who has now put himself squarely in the conversation of "man I'd least like to see in the qualifying draw," faces local pro
MoMo Zelada in the 32s. Zelada will get home-town bounces and fan support, but Acuna should advance.
#10 @Adam Manilla gets perhaps the toughest qualifier draw in #23 @Jaime Martel. I've got Manilla higher on the pecking order, but Martel can get wins. This will be an upset watch for sure.
#15
Thomas Carter has his work cut out for him against #18 Alonso. Another upset watch: Alonso has been on a hot streak lately, with 2022 wins over Horn, SFranco, and Jake.
Round of 16: Here's some interesting projected matches for me in the 16s, which start Friday afternoon.
#1 Parrilla vs #17 Mar: wow, not the easy opener the #1 seed would normally expect. Up until quite recently I rated Mar as the better overall player than Parrilla, and these two go back a long ways. I don't see an upset, but I do see a close match.
In the always-close 8/9, we get @Sebastian Franco on his (sometimes) home courts versus @Jake Bredenbeck . These two have split their last few meetings, dating to 2018, but Jake topped Sebastian easily the last time they met. Edge to Jake.
#5 @Conrrado Moscoso projects to face his country-man Keller, the mane he'd least like to see here. With DLR out of the top of this draw, Moscoso has to like his chances to get to the final (especially on the back of his great run at Worlds). But first he has to get past a player he's played dozens of times in the past, and who knows how to beat him. Carlos beat Conrrado handily at last year's US Open on the way to the final; Conrrado needs to find a way to mentally win this.
#3 @Alex Landa versus #14 @Rodrigo Montoya. Tough one for the #3 seed, as Montoya just beat Alex at the World Games rather handily. Montoya's only losses this entire year have come against Kane, Moscoso, De La Rosa, and Acuna (in the World Games final). I think Montoya moves on here, and is starting to really take his place at the top of the pro food chain.
– #6 Lalo Portillo versus #11 Acuna: first time they've ever met in a top level setting, and I've got them neck and neck in my pure talent rankings. Tough one to predict, but I'm leaning towards Acuna, who has been hot lately. Lalo won the 2021 event on these courts so he's a fan favorite, but Acuna has really turned it up a notch lately.
Projected Qtrs:
Parrilla over Jake: they just met in Birmingham and Andree handled the American easily.
Moscoso over @Samuel Murray. Yes I know Murray had a couple of recent wins over the Bolivian; to me Moscoso is the 2nd best talent in the world and blew out the Worlds draw, and seems like he's on fire right now. That being said … sometimes its about the match-up and not about the talent; if Murray can control Conrrado's power and force him to play impatiently … this could be a loss for the Bolivian at the hands of Big Canada once again.
Montoya over Acuna: even though Acuna topped Montoya at World Games final .. it was rally scoring. I think longer non-rally scoring games will favor Montoya, who can grind out points and wait for opportunities.
Waselenchuk over Mercado: Mario's goal will be to not get donuted in either game at the hands of the GOAT.
Semis:
Moscoso over Parrilla. Parrilla is a grinder, but Moscoso is a phenom.
Kane over Montoya. Montoya has the power and talent to get some points … and has had some impressive showings against Kane before, but he cannot keep up flawless shot-making for the entirety of a match, which is what it takes to beat Kane right now.
Finals: Kane over Moscoso, in what hopefully is a more enjoyable match than the last time they met, where the Bolivian didn't seem to have any semblance of a game-plan and got wiped out attempting to lob serve one of the best shooters in history.
(Note: I really hope t his turns out to be the progression of matches, because my semis features 3 of my 4 favorite players to watch in terms of athleticism, power, and shot-making.)
Doubles review
As noted at the top, DLR is not here, so the usual #1 seeds are now different. Beltran has teamed up with Landa and they're #1. But they're going to face some serious challenge; the #4 team is Moscoso/Keller, who have three IRF titles to their name and are coming off a finals appearance at Worlds.
From the bottom, #2 Montoya/Mar are the 2021 Worlds champions and are also a tough team to beat, but they've got to contend with a relatively new team of Acuna/Portillo as the #3 seed, both of whom are excellentdoubles players.
In the end, I like Montoya/Mar to top Moscoso/Keller in the final.
Look for Streaming in the regular places; follow the IRT on Facebook and sign up to get notifications when they go Live.
Look for Dean Baer, Favio Soto, Pablo Fajre and the IRTLive crew all weekend on the mike, calling the shots! Also look for @Gary Mazaroff on the mike this weekend, as well as yours truly Todd Boss, coming in for Saturday's action.
Thanks to the Tourney Director Slemo Warigon and regular helpers Grisz and Milbach et al for putting this event on!
Associations
International Racquetball Tour
Hashtags #racquetball #proracquetball #outdoorracquetball #irt #lprt #wor
Topics
lprt
wor
outdoorracquetball
proracquetball
Racquetball
IRT