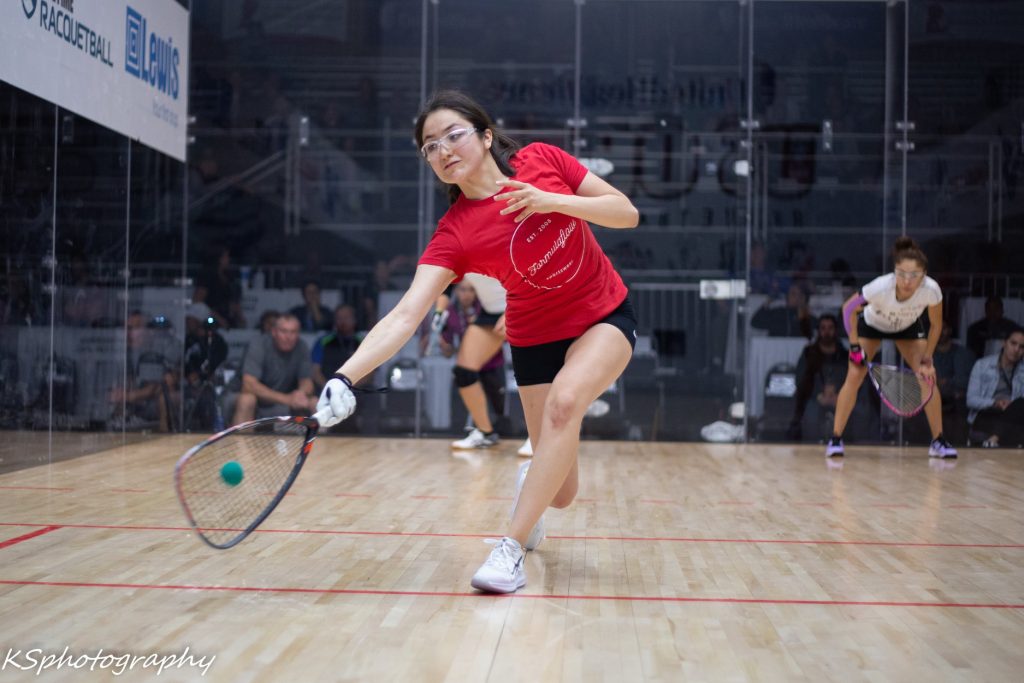 Congrats to your winners on the weekend:
Singles: @Alexandra Herrera
Doubles; Kelani Lawrence and Hollie Rae Scott
It was an interesting weekend in Chesapeake. Lets read on for some thoughts.
R2 Sports App home page for event: https://www.r2sports.com/portfolio/r2-event.asp?TID=32188
Lets review the notable matches in the Singles draw.
Singles Match report in the PRS database: https://rball.pro/o32
In the 16s:
#8 Brenda Laime crushed #9 Scott 3,9, a result that portended the rest of the weekend.
#4 Erika Manilla needed a breaker to get past the veteran tour player Cris Amaya .
– In the 7/10 match-up, home town fans were rewarded with a solid win by Kelani Lawrence , who got an excellent win over Argentinian Valeria Centellas
In the Quarters
#8 Laime sent shockwaves across the landscape by upsetting #1 Paola Longoria 11-10 in the breaker. Laime's classical game has gotten her big wins in the past (she has career wins over multiple top-4 players in the past couple of seasons), but never as big of a win as this. Longoria's quarter-final loss was the first time she's lost that early in a pro event since February of 2008, a pretty amazing feat.
#4 Manilla outlasted #5 Jessica Parrilla in a breaker. After losing 14 in the first, she cruised to a 15-2, 11-3 win.
#6 Carla Munoz upset #3 Mendez and returned to the pro semis for the first time since April of 2017 with a solid 11,14 two game win.
– #2 Herrera squeaked out a 15-14, 15-14 two game win over Lawrence. Not much between these two players on the day.
In the Semis
Laime rebounded from a first game let-down to move past Manilla in a breaker to get to the final. This tournament represents the first time Laime has advanced to the semis in her career, and now its the first time she's made a pro final.
Herrera cruised past Munoz 6,7 to get to the final.
In the Finals, Herrera took her 3rd career title by topping Laime 7,12.
Points Implications of results
There are no 2021 points to expire, so there's not a ton of changes with these results.
#2 Herrera closes the gap a bit on #1 Longoria, thanks to her early loss. She still leads by nearly 1,000 ranking points at the top.
Mendez and Mejia switch places at 4/5, with Mejia missing the event.
Parrilla and Barrios switch places at 7/8, again with Barrios missing the event.
Lawrence moves into the top 10 I believe for the first time.
– Laime bumps up her ranking from 13 to 11 with the finals appearance.
Doubles review
Match report in the PRS database: https://rball.pro/7gv
A small pro doubles draw was taken by USA reigning national champs Scott and Lawrence, a first pro doubles title for Scott and second for Kelani. They crushed Longoria/Centellas 1,12 in the final.
Thanks for all the streaming on the weekend, especially from broadcasters Timothy Baghurst , Jerry J Josey Jr. ., and Tj Baumbaugh
Thanks to the Tourney Director @Malia Bailey for putting this event on!
Reminder to Players! Please like and follow this page so that when I tag you, you see it. Facebook will only retain tags of people that like/follow a page, which means lots of you are not getting the notoriety of getting tagged and noticed on Facebook. If your name is here and it isn't tagged … it probably means I attempted to tag you but Facebook stripped it.
Next up?
Per our handy master racquetball calendar …
https://docs.google.com/…/1V6OTid6rZ356voXVkoV2sN7KMMb…/
Next weekend, the pro tour moves slightly north from Virginia Beach to Severna Park (outside of Baltimore) for the first IRT pro stop of the new season, and the first time we've seen the Men's pros since May. There's 42 pros entered into the Singles draw as of this writing, so it'll be a big tourney.
Yours truly will be onsite, probably on the mike for some of the Saturday action.
tags
LPRT