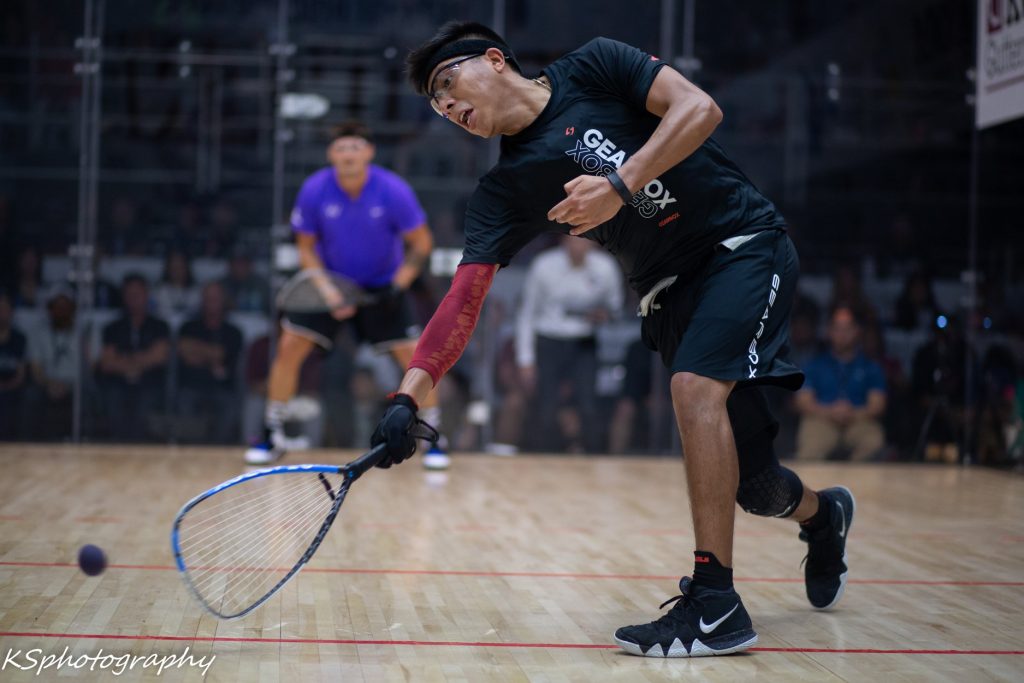 Congrats to your Pro winners on the weekend:
Men's Singles: Conrrado Moscoso
Women's Singles: Paola Longoria
Men's Doubles: Daniel De La Rosa & Alvaro Beltran
Women's Doubles: Natalia Mendez & Erika Manilla
All results now uploaded to the PRS datbase. Here's the Match Report links:
Men's Singles: https://rball.pro/lsu
Women's Singles: https://rball.pro/pb5
Men's Doubles: https://rball.pro/sq4
Women's Doubles: https://rball.pro/t72
On the Men's singles side, a brand new US Open winner in Moscoso, who blew through the draw to capture his 3rd career title and really make a statement on the tour. Paola wins her 12th career US Open title but had to work to do so. DLR/Beltran win their 3rd US Open doubles title together and defend their title, maybe the last time doing so if Beltran retires. And we have a brand new team and brand new faces on the US Open women's pro podium.
R2 Sports App home page for event: https://www.r2sports.com/tourney/home.asp?TID=39683
Lets review the notable matches in the Men's Singles draw.
In the qualifying, only a couple of surprises for me (from my preview) making the main draw:
Christian Wer gets a walk-over against Alejandro Cardona , a bummer b/c I thought he'd really press Portillo in the 32s.
Tough win for the up-and-coming Bolivian Miguel Angel Arteaga over tough NJ player @Joe Kelley to advance.
– U21 up and coming Mexican @Guillermo Ortega Jr. took out top American player @Maurice Miller in two.
In the 32s, just three upsets by seed (and we predicted two of them)
#19 Mar topped #14 Beltran 1,0, a score line that indicates that Beltran probably was going through the motions or protecting against injury to focus on doubles.
#18 Garay took out #15 Carter in a tie-breaker.
– The biggest upset though, was #54 Garcia taking out #11 Sebastian Franco 11-8 in the breaker. Franco has been on a rough stretch on tour lately, and Garcia is a sneaky good player who's gotten wins in the past.
In the 16s, 7 of the 8 matches went chalk, but one massive upset and a couple of surprising results to this observer:
#16 Rodrigo Montoya upset the #1 seed and Defending champion @DaDaniel de la Rosa in a tiebreaker (10),14,9. DLR had match point on his racquet in game two, then missed a slew of shots in the breaker to really squander this match. No offense to Rodrigo, but for me this was more DLR losing than it was Rodrigo winning. Montoya utilized a high lob Z to DLR's backhand throughout the breaker that DLR uncharacteristically did not attack, leading to setups and setbacks. After bailing out of the Virginia event with little notice and little information, one has to wonder what DLR's level of commitment to the sport is at this point, given his rising Pickleball stature (he is on a @Major League Pickleball team and competes often on the PPA tour).
#5 Landa gave #12 @Andres Acuna no room for drama with a straightforward win.
My big upset pick was a repeat of #19 Mar over #3 Samuel Murray , but after a first game loss Murray found the solution and ground out an 11-8 tiebreaker win. All credit to Murray for a huge comeback in the breaker, going down 0-7 before coming back to win; that'd never happen in rally scoring folks!
I thought #10 @Adam Manilla had a shot against #7 @Rocky Carson, and took game one. But Carson bounced back to win the breaker.
Its the second straight IRT event with a #16/#17 seed upsetting the #1 in this round, and unless Carson makes a huge run it guarantees a new US Open champion for 2022 (here's a summary of the first 25 US Open finishers: http://rb.gy/cifvcf )
In the Quarters, my predictions went out the window.
Montoya improved to 6-3 h2h against Bredenbeck in top-level events by winning two close, sometimes controversial games 13,14.
Landa reversed the result from two weeks ago in Maryland, beating Lalo 14,10 to move on and continue to fulfil @Sudsy Monchik 's bold predictions.
In a stunning result, #6 Moscoso destroyed #3 Murray 7,2 to move on. Clearly the Bolivian has tired of losing to Big Canada and found a game-plan to counter Murray's in a big way.
– #2 Parrilla quietly moved into the semis by moving past Rocky.
In the Semis:
Montoya crushed Landa 6,5 to advance to his first pro final.
Moscoso similarly crushed Parrilla 5,6 to move into the final.
In the Finals, Montoya really had no answers for Moscoso on the day. The second game was a complete blow out, and Conrrado really made a statement here winning the title 8,4.
Points Implications of Men's Singles results
This event will expire the March 2020 Chicago event, the last event before Covid shut the sport down, and the points ramifications are large:
Moscoso should move up to #2 on tour, though still 700 points or so behind DLR.
Kane drops to #8; he won Chicago in 2020 and loses all those points.
Montoya should move up to #12, finally getting out of that 16/17 range and making it easier on himself to continue to get to back ends of tournaments.
Franco and Beltran now project to #15 and #16 on tour, putting significant questions on their continued participation on tour.
– We should also see significant rises from the two long-shots who advanced into the main draw, Garcia and Barth.
LPRT Pro Singles Review
Here's a recap of notable matches in the Ladies singles draw.
In the 32s, almost no surprises but a couple of good matches.
Cristina Amaya got a solid win over Nancy Enriquez 4,12
Jenny Daza won a very tight match over @Maria Renee Rodriguez (14),13,7.
#15 Sheryl Lotts overcame a first game loss to blank #18 @Micaela Meneses in game 2 and survive the tiebreaker.
Nearly half the round of 32 matches were complete blow outs: 8 of the matches played featured score-lines where the losing player scored 6 or fewer points TOTAL in the match. There's definitely a line of delineation on tour right now.
In the 16s: 100% chalk. All top 8 seeds advanced, though there were a couple of surprising results for me, and several close matches
In the 8/9, Brenda Laime setup a rematch with Longoria by taking out #9 @KelaLawal Kelani in a breaker.
#5 Jessica Parrilla went breaker to down #12 Valeria Centellas
The shocker of the round for me was #4 @Natalia Mendez holding serve and downing #13 Ana Gabriela Martinez in two close games. Based on form and talent, I thought for sure Gaby was making the semis here.
Great win for #7 Carla Munoz , downing #10 and frequent rival Samantha Salas Solis to earn her first ever US Open quarter final.
In the quarters:
#1 @Paola Longoria pasted the player who defeated her in Virginia two weeks ago in Laime 1,8 to make a statement and move on.
#5 Parrilla got another solid win, this time over #4 Mendez, to move back into the US Open semis for the first time since 2016.
#3 Erika Manilla turned the tables against @AANgelica Barrios (who defeated her at Worlds a few months ago) and moved into the semis by edging the Bolivian 13,14.
#2 @Alexandra Herrera made fast work of the #7 Chilean @Carla Munoz 5,2.
So, nearly chalk into the semis, with 1,2,3 and 5 seeds.
Semis:
Longoria was not troubled by her long-time Mexican rival Parrilla, winning 4,5 to get back to the US Open final for the 14th straight time
Manilla got her best ever professional win, crushing Herrera 6,6 to get to her first pro final.
In the Final, Manilla took a scintillating first game, then Longoria made some adjustments and cruised to the title, her 12th. Final score (13),5,3. Manilla has definitely put her name into the ring among the sport's elite players as someone who absolutely could take the crown from Paola, but has her work cut out for her to vanquish the GOAT.
Points Implications of this event:
At the top of the LPRT, these results won't change much. Vargas still held a sizeable lead on Manilla for #3 and it will take a couple more results for that lead to evaporate.
Longoria and Herrera still hold a huge lead at the top of the tour.
– Mejia will drop a couple of slots, especially once the 2021 US Open expires off.
Men's Pro Doubles review
Chalk in the 16s, with all 8 top seeds advancing without any even being pressed to a breaker.
The big story of the Men's Doubles was the amazing play by the Bredenbeck brothers, who beat the presumptive favorites Mar/Montoya and then handled the excellent #3 seeds Murray/Parrilla to get to the final.
From the top, all credit due to DLR/Beltran, who beat the excellent Bolivian pair of Moscoso/Keller to get to the final themselves.
From there, DLR/Beltran overcame a 15-14 first game loss to win t heir 3rd title.
Women's Pro Doubles review:
No real surprises in qualifying; the only qualifier upset was the solid Bolivian doubles team of Barrios/Daza taking out the relatively new partnership of Lotts/Enriquez to get into the main draw.
In the quarters, the Guatemalan national team of Gaby/MRR took out the reigning US National champs and the winners of the last pro stop Scott/Lawrence in the 4/5 seed matchup. Otherwise the top 3 seeds moved on with ease.
The big story was the play of Mendez/Manilla, who took out the top two seeds en route to the title.
U21, Open, other notable draw results:
The IRT U21 was won by Diego Garcia, who took out presumptive favorite Trujillo in the semis and then held serve against hte improving Ortega in the final. Great win.
The LPRT U21 was taken by Centellas, who ground out a win against 18U Bolivian champ Meneses.
Men's Open was taken by #1 seed Jordan Barth, who took out former IRT touring pro Costa Rican Felipe Camacho in the final.
Women's Open was taken by Chilean Carla Munoz, who took out precocious Costa Rican MariCruz Ortiz in the final.
Men's Open Doubles was taken by Mexicans Romano/Trujillo over Californians Torres/Reynolds.
– Women's Open Doubles was won by Kaiser/Ros.
Thanks for all the streaming on the weekend, especially from broadcasters Dean Baer, Favio Soto, Pablo Fajre and the IRTLive crew , as well as the LPRT crew led by @Tim Baghurst and Sandy Rios.
Thanks to the Tourney Director @Connor Shane for all the work for putting this event on!
Reminder to Players! Please like and follow this page so that when I tag you, you see it. Facebook will only retain tags of people that like/follow a page, which means lots of you are not getting the notoriety of getting tagged and noticed on Facebook. If your name is here and it isn't tagged … it probably means I attempted to tag you but Facebook stripped it.
Next up?
Per our handy master racquetball calendar …
https://docs.google.com/…/1V6OTid6rZ356voXVkoV2sN7KMMb…/
We have a super fast turnaround for the IRT pros, who immediately head to the Bay Area to play in Manilla/Horn's Golden State Open.
After that, a break until 3WallBall in Vegas, which i'll be at all weekend! If you're there definitely come say high.
tags