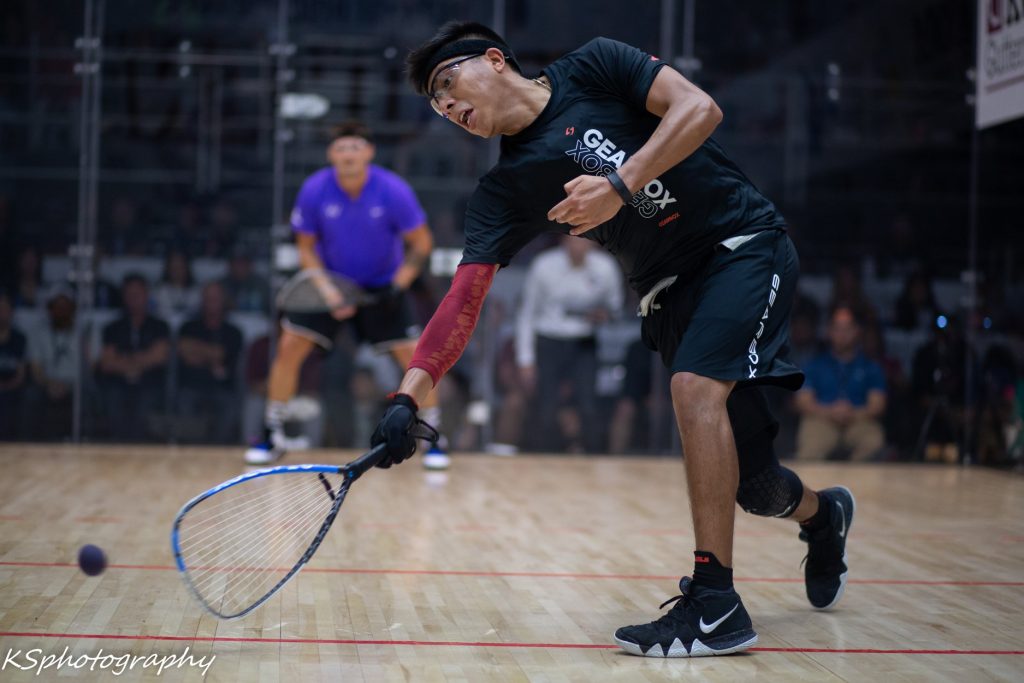 Congrats to your winners on the weekend:
– Singles: Conrrado Moscoso
– Doubles: Samuel Murray & Andree Parrilla
Moscoso wins his 4th pro IRT singles title, tying him with Alejandro Landa , Steve Keeley , @Steve Serot, and @Gregg Peck for 20th all time. Murray and Parrilla each break long title-less streaks: Sam wins his first pro doubles title since 2018, and Andree his first since 2019.
R2 Sports App home page for event: https://www.r2sports.com/tourney/home.asp?TID=39852
——————
Lets review the notable matches in the Singles draw.
Singles Match report in the PRS database: https://rball.pro/avw
—————-
In the 128s and 64s:
– Solid win by Nick Riffel to advance over Colombian @AndAndres G
– Bravo to Colombian junior Jhonathan Flores to push solid Mexican veteran Jaime Martell to a breaker before falling.
– @Anthony Martin with a solid win over budding star @EzeEzequiel Subi to move on.
– NorCal's @Walter Ramos pushed Sam Bredenbeck a little in the second game but fell 2,10.
—————-
In the 32s, a few blow-outs but five tie-breakers with some upsets.
– Natera pushed to a breaker to down Collins in the 16/17 match.
– Riffel pushed Keller to an 11-7 breaker before losing.
– Sam Bredenbeck got the first game but cou ldn't close out against Bolivian @Kadim Carrasco.
The two notable upsets:
– Argentina's Diego García took out @Javier Mar 11-10 in perhaps his best professional win. Match point was amazing, with multiple dives from Mar to extend the rally and then a backhand overhead splat winner from Diego to take it. He gets a crack at Rocky next, and is clearly building on his main-draw appearance last week at the US Open.
– In an all-Mexico affair, Martel took out Fernandez to move on. This is an upset by seed, and probably a slight upset by true talent levels, but its still a great win for Martel, who always seems to make noise when he plays IRT events.
—————-
In the 16s, a couple more massive wins for infrequent tour players
– Martell took out #3 @Samuel Murray 8,14 to make his first ever IRT pro singles quarterfinal.
– Garcia achieved the same feat, topping Carson in a breaker to get to his first ever pro quarter as well.
Other notable 16s results:
– #8 Manilla held serve and topped the always-tough #9 Keller in a breaker
– The mercurial Mercado (hey, that almost rhymes!) dispatched the US Open finalist Montoya with relative ease. Its all about the matchups: despite recent runs of form, Mercado has now beaten Montoya in 3 of their 4 meetings, and in all 3 pro meetings.
—————-
In the Quarters, some more shocks
– Moscoso ground out a win against Manilla, who made it closer than some may have thought it'd be.
– The Garcia train came to a crashing halt at the hands of fellow youngster Portillo, who blew past him 2,5.
– For about 15 minutes it looked like another major upset for Martell, who took down his former frequent WRT rival Bredenbeck 15-2 in the first. Then, Jake woke up and crushed Jaime 15-3, 11-2 the rest of the way to improve to 7-1 lifetime against him to move into the semis.
– Mercado continued providing surprises, edging #2 @Andree Parrilla 13,14 to move into the semis.
—————
In the Semis
– Moscoso pulled a rabbit out of his hat to win an 11-10 breaker over Portillo, in a match he really should not have won. Portillo had a setup at 10-7 and missed it, and Conrrado never gave the serve back. Lost opportunity for Lalo, but credit to Conrrado for making it to the final.
– Jake repeated the results from last week at the US Open, topping Mercado in two straightforward games to make his second ever IRT pro final.
In the Finals, Moscoso cruised to his 4th title, winning 11,7.
—————-
Points Implications of results:
This tournament expires the Jan 2021 Atlanta Grand slam, which was won by Sam, so he had a ton of points to defend. Fittingly, he'll fall from #4 to #6 after this weekend. Despite winning this weekend with Daniel missing the event, Conrrado only picks up a few points on DLR in the race for #1. Despite not playing, Kane actually improved one spot since he did not play the 2021 event that dropped off.
—————-
Doubles review
Match report in the PRS database: https://rball.pro/acs
Due credit to Portillo/Acuna, who have teamed up anew this year and are getting results. they made the MD pro doubles final, and now they've topped the #1 seeds Montoya/Mar to make this final from the top half.
On the bottom half, #2 Parrilla/Murray had to fend off mat-point against from home town favorites Manilla/Fernandez before advancing 11-10 into the final.
In the final, the veteran doubles team of Murray/Parrilla finally got a win together, topping team Dovetail 10,13 for the title.
—————-
Men's Open, other draws
– Sebastian Fernandez won the Men's Open title as the #1 seed, beating surprise finalist Colombian junior @Jhonatan Flores in the final.
– Garcia teamed with NorCal top player @Will Reynolds to take the Men's Open doubles title.
– @Carla Munoz topped @Annie Roberts in the Women's Open final.
– Mercado teamed with @Kimberly Randolph to beat Munoz/@Tyrone Snipes in the Mixed Open final.
—————–
Thanks for all the streaming on the weekend, especially from broadcasters @Favio Soto and his collection of guest broadcasters, which included Erika Manilla and other local voices who did a great job.
——————
Next up?
Per our handy master racquetball calendar …
We get a little break in the schedule, then the big Outdoor Major in Las Vegas, @3W3Wall Ball !
——————-
tags