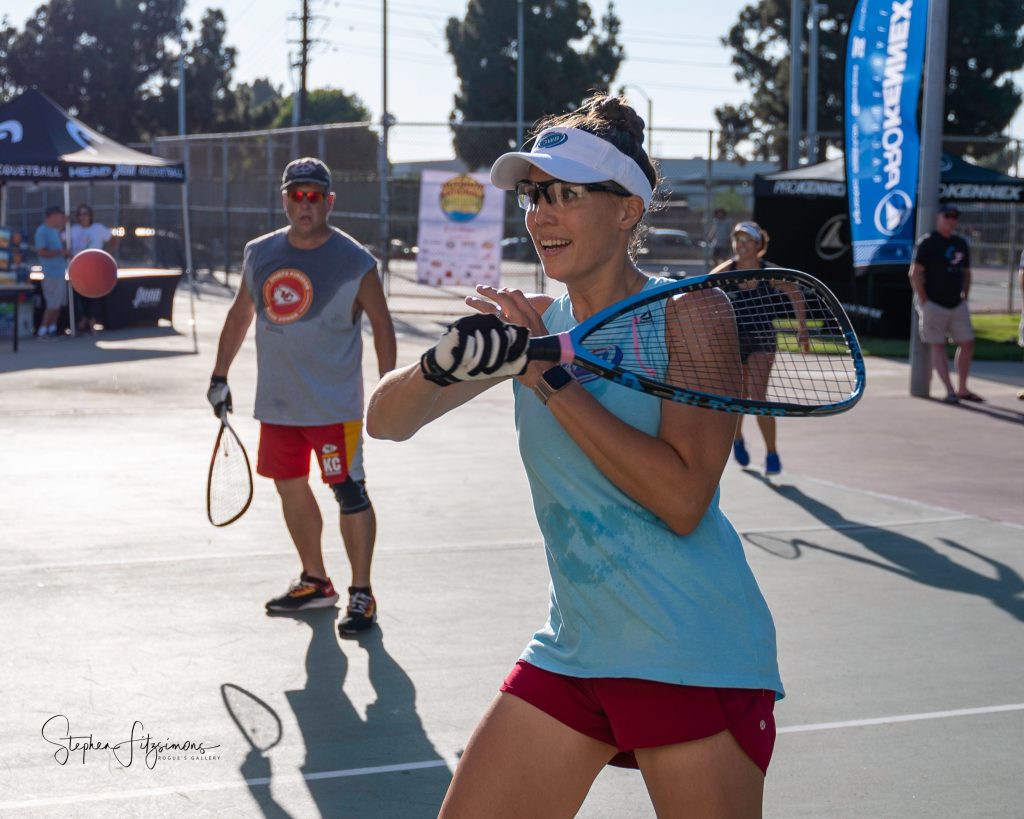 Congrats to your winners on the weekend:
– Men's Pro 3-wall Doubles: Rocky Carson/Eduardo Portillo
– Women's Pro 3-wall Doubles: Michelle De La Rosa/Janel Tisinger-Ledkins
– Mixed Pro 3-wall Doubles: Michelle De La Rosa / Daniel De La Rosa
– Men's Pro 1-wall Doubles: Javier Mar / Mario Mercado
– Women's Pro 1-wall Doubles: Michelle De La Rosa / Carla Munoz
– Mixed Pro 1-wall Doubles: Daniel De La Rosa / Hollie Scott
– Men's 3-wall Singles: Conrrado Moscoso
– Women's 3-wall Singles: Carla Munoz
– CPRT Pro Doubles: Robert Sostre / Greg Solis
– Combined 75+ Mens Doubles: @Patrick Allin / Lou Orosco
– Men's Open Doubles: Emmett Coe / Cesar Chavez
– Squash57 Upper Doubles: Adam Manilla / Nick Riffel
– Paddleball Men's Doubles: Sebastian Fernandez / Jeremy McGlothin
– Paddleball Mixed Doubles: Aaron Embry / Roxanne Rehling
R2 Sports App home page for event:https://www.r2sports.com/website/event-website.asp?TID=38918
—————————–
Match Reports in the database by division:
– Men's Pro 3-wall Doubles: https://rball.pro/iz0
– Women's Pro 3-wall Doubles: https://rball.pro/q1n
– Mixed Pro 3-wall Doubles: https://rball.pro/bgm
– Men's Pro 1-wall Doubles: https://rball.pro/25i
– Women's Pro 1-wall Doubles: https://rball.pro/ou5
– Mixed Pro 1-wall Doubles: https://rball.pro/ncy
– Men's 3-wall Singles: https://rball.pro/t7r
– Women's 3-wall Singles: https://rball.pro/wzz
—————————–
Yours truly was at the event this year, and on the mike for a lot of the Men's and Mixed pro events; check out the @inInternational Racquetball Tour feed on FB or on YouTube for rebroadcasts.
This is one of the longest recaps we do all year, with so many divisions and so many great matches to talk about. Get ready to dig in.
——————
Men's Pro 3-wall Doubles Recap
19 Teams entered the Men's Pro doubles to compete for the biggest outdoor title of the event. And we got some fantastic teams and a great draw.
A few upsets in the round of 16:
– Floridian Chris McDonald , son of outdoor Hall of famers Greg and Martha, teamed up with another WOR Hall of famer in @Greg Solis to upset the #5 seeds Emmett Coe and @Thomas Gerhard to move into the quarters. McDonald is a force on the court, with incredible power and an intimidating playing style borne of short-court play in North Florida, where he stands almost with his toes on the short line to receive serve and then relies on some of the fastest hands in the sport to return drive serves.
– Colorado pair Adam Manilla and Nick Riffel upset the #3 seeded team of Soda Man and Brandon Davis in two closer games 10,13. Both players may not have a ton of access to outdoor courts in Colorado but have been making waves in the genre and got a great win against two very solid outdoor pros.
– IRT legend and outdoor newbie @Sudsy Monchik teamed up with a very talented outdoor player from Southern California in @Patrick Allin to upset the #6 seeded team of top Floridians Joe Young and Marcos J. Gravier in a tiebreaker 11-8. The two teams played back and forth racquetball, with all four players at various times taking over and attempting to impart their will on the match.
In the quarters:
– #1 Daniel de la Rosa and @Alvaro Beltran rose to the challenge and topped the #8 seeds, Beach Bash pro doubles champs @Javier Mar and @Mario Mercado 12,12. This was perhaps the best match I saw all weekend in terms of talent and shot-making on the court, with all four players at the top of their game. DLR was (as he always is) the dominant player on the court and came to Las Vegas looking in-shape and laser focused. The ball sizzles off his racquet, and he remains as always one of the best players in the world at ending rallies with pinch kills. Beltran remains the shot-making crafty veteran, routinely pulled off the court but making running over-the-shoulder shots to keep the ball in play. Mar has come into his own, with a recent IRT pro finals appearance and hit shot for shot with DLR along the left side. Lastly Mercado displayed getting ability on a par with anyone in the world, with some of the fastest hands around (its no wonder they're one-wall kings). But in the end, the talent of DLR took over and was the difference maker in this shot-maker's paradise.
– #4 @Rocky Carson and his young teammate @Eduardo Portillo (aka "Team Dovetail") ground out a win over the dangerous McDonald/Solis pairing 9,9 to move on. Future WOR Hall of Famer Carson put on a clinic of outdoor racquetball, and Lalo continues to show his mastery of the classification improves at every outdoor event.
– #14 Riffel/Manilla continued their run, upsetting fellow upstarts #11 Monchik/Allin with ease 10,5 to move into the semis. Riffel's mustache game is as strong as his racquetball game this weekend, but the story of the team is Manilla's growing dominance of outdoor racquetball this weekend.
– #2 seeds and reigning Outdoor Nationals champs Jason Geis and @Micah Rich dominated NorCal's @Tom Durham and HoFamer Robert Sostre 11,4 to move into the semis. Sostre and Durham had no answers for the great lefty-righty pairing of Rich and Geis, nor for the power and outdoor finesse that Rich displays on the left hand side.
In the semis on Saturday afternoon, we started out with hopes of a great set of matches but ended up with a jarring injury that silenced the crowd.
– The #1 vs #4 semi final pro doubles match was shaping up to be a fantastic contest, featuring the red-hot De La Rosa on one side and the legendary outdoor Goat in Carson on the other. Game one did not disappoint, as Carson/Portillo fell behind DLR/Beltran 10-5 early, ground their way back to tie it at 11, then saved a couple of game points before getting the serve back and getting to 14-14. At game point, Carson hit a high Z to Beltran, and when Portillo went for a reverse pinch kill both DLR and Beltran dove for the ball at the same time in the front court, colliding as they retrieved the ball. Beltran immediately began writhing in pain as Rocky hit the game winning shot. Soon it was clear that Alvaro was badly injured: DLR dove into Alvi's outstretched left arm and he suffered a dislocated elbow on the court. Unfortunately this knocked the DLR/Beltran team out of the event; Carson/Lalo advance 15-14, inj fft.
– The second semi was played under a somber tone; the crowd and the players seemed in shock after watching the injury in the first game. Nonetheless, a spot was on the line in the final. #2 Rich/Geis seemed to be the prohibitive favorites over the upstart #14 Manilla/Riffel team and jumped out to a first game lead. The Colorado duo ground their way back into the game and shocked the Outdoor National reigning champs by taking game one 15-14. Game two was a back and forth affair, close all the way to the death, when Nick and Adam got to match point and then took it on a scuffled service return error. Riffel played fantastic on the day, and the SoCal team seemed a bit off, missing a number of offensive opportunities that ended up costing them the game.
The final turned out to be a blowout: Carson and Portillo dominated from start to the end, and Riffel/Manilla couldn't find the magic that led them to get there, losing 6,3. Carson wins his 6th pro doubles title in Vegas, first since 2015, while Portillo gets his first outdoor title.
——————
Women's Pro 3-wall Doubles Recap:
Lots of new teams this year in the Ladies pro, guaranteeing a new winner and some great action.
Just one upset in the quarters, as two relatively newcomers to outdoor in @Brenda Laime and @Alexandra Herrera took out #3 seeds, reigning US National doubles champions @Kelani Lawrence and @Hollie Scott 6,10. Laime has made a heck of an impression here despite little prior outdoor tourney experience, but its worth noting she lives with and plays frequently with Mercado in the DC Area where a strong outdoor community exists.
In the semis…
– The #1 seeds De La Rosa and Tisinger-Ledkins went down a game to the upstart Manilla/Roehler team, but raced back to take the tiebreaker 11-7 to move on.
– The upstart team of Laime and Herrera dominated the #2 seeds Parrilla and Carla Munoz 6,12 to become the surprise finalists.
In the final … the #1 seeds crushed the #6 upstarts in game one 15-2, then held on 15-11 for the title. Each player wins their 5th Vegas doubles title, but their first one playing together.
——————
Mixed Pro 3-wall Doubles:
14 teams entered into the stacked Mixed Pro doubles division looking to take down three-time defending champs in the De La Rosa husband/wife team. And the early rounds did not disappoint, with two teams running multiple upsets to make the semis:
– #12 seeded Brother/Sister Manilla pairing of @Adam Manilla and @Erika Manilla advanced past the husband/wife team of @Alan Natera and @Carla Munoz in the 16s before taking it right at #4 Rich/Lawrence in the quarters, dominating the action and doing a masterful job of neutralizing Rich's power to win the Friday nightcap quarter 11,8 to move into the semis.
– Meanwhile on the bottom side, #7 Mercado/Laime took out the hard-hitting Mexican team of @Rodrigo Montoya and Herrera in the 16s before shocking the #2 seeds Janel Tisinger-Ledkins and Solis 8,7 in the quarters. The two outdoor legends just had no answers for the shot-making exploits of Mercado and the power of Laime, who worked drive serves at Solis with great effect all match. Look out for this team.
In the Semis…
– #1 DLRx2 cruised past Manillax2 10,8 to move into the final. The Cinderella Brother/Sister team just had no answers for the dominant husband/wife team.
– Team FormulaFlow Laime/Mercado came from a game down to upset the #3 seeds Scott/Portillo in a tough 11-8 breaker.
In the final, Laime continued to show why she will be a force to reckon with in the outdoor game for some time to come, leading her team to a game one victory. In game two, Mercado thought he had rolled out the match winner at 14-14 … but it was overturned on appeal. Daniel got the game 2 winner and pushed the match to a breaker. Perhaps deflated from having thought they won at the end of game two, Laime and Mercado fell behind big early in the breaker and were steamrolled 11-3 to give the title to the DLRs. Daniel and Michelle win their 8th Vegas Mixed pro title in the last 9 years, and complete the 2022 "triple crown" of mixed pro titles (they also won Pro mixed in Florida and in Huntington Beach).
——————
Men's Pro 1-wall Doubles recap:
#1 Seeds @Robert Sostre (aka the Iceman) and @William Rolon (aka the Warrior) cruised into the final from the top half of the draw looking to win together for the third time.
Meanwhile the bottom half of the draw featured the two teams that competed in the Beach Bash finals earlier this year. Javier Mar & Mario Mercado topped Acuna/Portillo again (just as the did in March), then upset the Sostre/Rolon one-wall specialists for the title.
Mercado & Mar win the one-wall pro doubles "double" on the year, having won both Beach Bash and Vegas.
——————
Women's Pro 1-wall Doubles:
Michelle De La Rosa did the Women's pro doubles "double" on the weekend, and won her third title out of the four events she entered, by teaming with her regular partner Carla Munoz to take a tightly contested Women's one-wall doubles draw. They topped two LPRT top 10 players in Parrilla and Herrera in the final.
——————
Mixed Pro 1-wall Doubles:
The #9 seeded Montoya/Herrera pairing upset three teams to make the final, but then ran into outdoor juggernaut Daniel De La Rosa , paired in one wall with Hollie Scott. The final went breaker, but the #1 ranked IRT pro outslugged his Mexican counterparts and led his team to the title.
——————
Men's 3-wall Singles:
10 brave souls entered the most grueling division of the tournament: 3-wall singles. And we got some unexpected results in the early rounds.
In the top half, top seeds Andres Acuña and Mar advanced to the semis as expected, but the bottom half featured #2 and #3 getting upset in the quarters. IRT #2 Conrrado Moscoso took out #3 @Brandon Davis 7,14, while the shock result was relative unknown Mexican lefty Mario Hildago taking out first #7 @Jeremy McGlothin and then #2 Gerhardt 8,14 to advance to the semis against Conrrado. Hildago hasn't had a top-level tournament result since the 2017 Mexican Nationals and plays out of Juarez, but impressed with his diving and shot making to take out two really solid outdoor players.
In the semis, Outdoor Nationals singles champ Acuna took out Beach Bash singles finalist Mar in two close games, while Outdoor newcomer Moscoso (the #2 ranked IRT player on tour) cruised to a victory over Hildago to make the final.
In the final, two IRT regulars took to battle in the sun. Acuna mounted a huge comeback to force a tiebreaker, when Conrrado finally started to go to more of an "outdoor" style serve that threw the Costa Rican off balance and drove him to victory. Moscoso adds an outdoor singles title to his growing collection of pro titles in 2022.
——————
Women's 3-wall Singles:
In the end it was #1 vs #2, but not before #1 Carla Munoz escaped the semis by the skin of her teeth, edging Virginia's Kelani Lawrence 11-10 in the breaker.
Fittingly, Munoz faced @Janel Tisinger-Ledkins in the final. Tisinger owns no less than 12 outdoor major singles titles, while Munoz has won three of the last four competed. It was the current belt holder versus the former belt holder … and Munoz came out on top in a 11-8 bruiser on the show court Sunday Morning.
——————
A quick run through some of the other main divisions played here, which included some Squash57, Paddleball, and some combined men's divisions that feature nearly as strong of draws as the pros:
—————–
CPRT Pro Doubles:
Beltran and Soda Man ran to the finals in CPRT as the #3 seed, but then had to default after Alvi's arm injury. #1 seeds and dual Hall of Famers Sostre & Solis win the title by injury walkover.
—————–
Combined 75+ Men's Doubles: The last show court/broadcast final of the weekend featured one of the best 75+ teams from Florida versus one of the best from SoCal. The McDonald brothers Chris and Greg teamed up to face Patrick Allin and "Sweet" Lou Orosco in the 75+ final. The McDonalds are famous for their short-court positioning, standing just a few feet behind the service line, while Allin /Orosco feature strong forehands and sharp shooting. A back and forth affair went almost to the full distance, with the Huntington Beach lefty/righty pair topping the McDonalds 11-9 in the breaker.
—————–
Men's Open Doubles: Paddleball specialist Emmett Coe teamed with SoCal car enthusiast Cesar Chavez to win the Open doubles. They topped strong Florida pairing of @Yasmani Perez and Javier Trujillo.
——————
Squash57 Doubles:
A new sport for Vegas 2022: Squash 57. For those not familiar, its basically racquetball on a racquetball court with a squash tin and a deadened racquetball (I believe they took a Gearbox black racquetball and punched a hole in it). The result is a fun variant of our sport, featuring long, tactical rallies and lots of endurance requirements. The sport plays rally scoring due to its long rallies (just as squash does) and its players relied less on power and more on control to win.
The "upper" division was won by Manilla/Riffel, who outlasted Sostre and Vegas legend Brian Pineda in the final 5,4,4.
—————–
Paddleball Men's Doubles: The San Diego paddleball experts @Sebastian Fernandez and @Jeremy McGlothin won the title in a walkover as Beltran had to drop after injuring his arm.
—————–
Paddleball Mixed Doubles: Paddleball hall of famer @Aaron Embry teamed with his regular partner @Roxanne Rehling to win the 3-team mixed paddleball open round robin.
—————–
Thanks for all the streaming on the weekend, with both the IRT and LPRT crews in place. @Pablo Fajre and wife @Angelia Grisar worked tirelessly all weekend, as did @Alexis Iwaasa on the IRT side. I'd like to thank all my co-announcers on the weekend, which included the likes of Brian Pineda, Marcos Gravier, Joe Young, William Rolon, Mikey D, and Carla Munoz for the final match.
On the LPRT side, @JTRball was front and center all week, aided by @Leo Vazquez, Sudsy Monchik, Mikey-D, TJ Baumbaugh, and others on the LPRT feed from court 1.
Thanks to the Tourney Directors Mike Coulter, Peggine Tellez, and all the @3wallball staff for putting this event on!
——————
Next up?
Per our handy master racquetball calendar …
The IRT is back in action starting this Thursday, coming to you live from Sarasota in the Dovetail Open.
——————-
tags
Thanks to all the sponsors who make this event possible. A full list is here on the R2 tournament page, but here's a list of them.
– @KWM Gutterman Inc. and its owner Keith Minor , the title sponsor of this event. Keith is a great benefactor to multiple orgs in our sport, is an avid player and was here all weekend playing and watching.
– @AGE Solutions and proprietor Andy Gomer ; a frequent sponsor of DC-area and East coast programming.
– Ahern Rentals , who provided lots of the "stuff" that makes this tournament possible.
– Pro Kennex as the presenting sponsor, with Mike Martinez on the grounds all weekend supporting his many PK players.
– @Soda man and @Coffee Girl vending services, with proprietor @Rick Koll active in multiple pro draws in addition to his constant support of outdoor events on the west coast.
– @Gearbox Racquetball , represented by owner Rafael Filipini and director of Marketing @Anthony Herrera all weekend.
– The Strat Hotel & Casino , our host hotel and host site for the event.
– @LPL Financial and proprietor @Rosco Halsey , who I got to meet at dinner one night and who loves the sport.
Also thanks to the many silver sponsors on the weekend, which include @Team dovetail ad Mike Kinkin , @Melissa's Produce for providing fruit and snacks, The Root Team and @RaRandy R , who supports so much for our sport, APcom /@MZ cCompita Mz and their venerable owner @Abel Perez , a great guy from San Antonio who loves one wall. Sean Love racquetball, Philip's Plastics and @Progressive Cabinet Corporation fill out hte rest of the silver sponsors.