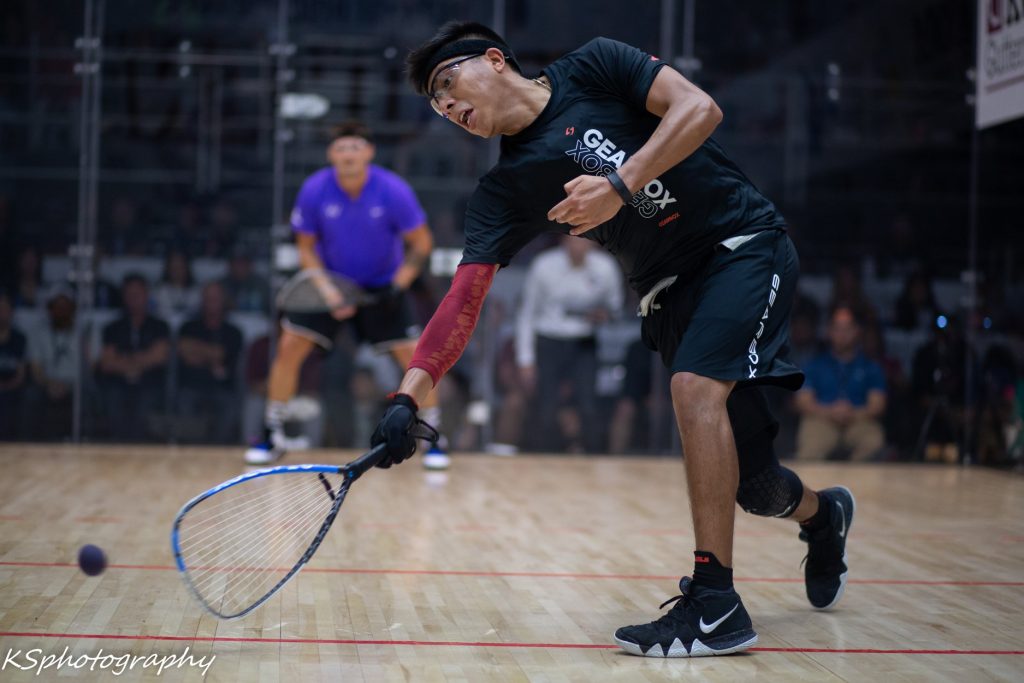 Just a couple days after we all got back from Vegas for @3w3Wall Ball , the IRT returns for the 2022 Team Dovetail open, being held in Sarasota, FL (home town of Mike Kinkin and the Dovetail enterprise).
R2 Sports App link: https://www.r2sports.com/website/event-website.asp?TID=39931
Draw size, observations; 38 players are here, a solid draw for a back to back.
top20 players missing; the two known injured veterans Kane Waselenchuk and Alvaro Beltran , both of whom are out for a bit. The rest of the top 10 is here, even those who just burned it up in Vegas. No #17 @Sebastian Fernandez , a west coaster who didn't want to make the west-to-east trip after a busy Vegas. No #11 @Carlos Keller, opting to skip the long Bolivan trip this time.
Other draw observations: we have a few of the Florida open regulars (@aleAlejandro Herrera , @Alex Zamudio ), a couple of notable juniors (@cCole Send , looking for some challenging matches ahead of Junior Worlds), and a few new names making their pro tour debuts (David Sosa Lopez and Lincoln Andres-beck ). Should be a solid tourney.
——————————
Lets preview the singles draw. Here's some notable qualifying matches that i'm looking forward to:
128s:
– Vargas vs Sendry: Vargas rarely plays the IRT, and is more of a Fronton player back home in Bolivia, but he can ball. Sendry has his hands full.
– Herrera vs @Christian Longoria : tough draw for both. Herrera still has the power, but Longoria is a tough out.
64s.
– @Sam Bredenbeck vs Rodrigo Rodriguez : great qualifier, R vs L, power versus touch. Hard to predict; Sam has been playing well, but Rodriguez has some scalps.
– Vargas/Sendry winner vs @ErErick Fernanado Cuevas : the 128 winner will like their chances over the young Mexican in the 64s to qualify.
– Jaime Martell vs Floridian Alex Zamudio ; Zamudio is tough, Martel is tougher and will look to build on his run to the quarters in Pleasanton.
– @Alan Natera versus the Herrera/Longoria winner: no easy match for Natera, especially for someone who just played Vegas.
– Kadim Carrasco vs Esteban Requez : two Bolivians battle it out; Reque just impressed highly in Vegas, winning the Open 3-wall singles over some very tough players.
——————————-
Projecting the 32s: here's some possible matchups, though the depth of this draw could make for some upsets and make these predictions moot:
– #16/#17 should be Erick Trujillo versus Javier Mar . Two great players, and possible trouble for DLR in the 16s (read on). I don't think Trujillo can top the veteran Mar just yet, but another good test.
– #20 Martell will favor his chances for another upset of #13 @Sebastian Franco in the round of 32.
– #14 Thomas Carter projects to face #19 Natera, and this could be a solid match. Carter has never faced Natera in a tier 1 event.
– The 15/18 match between Garay and Carrasco could be interesting.
——————————-
round of 16:
– #1 @dDaniel de la Rosa faces yet another far-too-difficult round of 16 matchup. He frequently plays Fernandez at this juncture, but has had to face off against Alonso, Montoya, and now likely Mar here. These are all better than #16 players, and the risk of a third straight upset of the #1 seed is in play. DLR looked laser focused though in Vegas and is still the favorite here.
– 8/9 Jake Bredenbeck v Mario Mercado : Mercado was lights out in Vegas and is sharp. But Jake made the final in Pleasanton and topped Mario 9,9 along the way. I think Jake's got his number for now.
– #4 Eduardo Portillo , newly crowned 3WB Outdoor pro doubles champ, projects to face the Martel/Franco winner to open his tourney.
– #6/#11 Montoya v Samuel Murray : tough opener for Murray; he's 2-2 lifetime versus Montoya and he's hot this season, having made the US Open final. Upset watch.
– 7/10 Battle of the Americans between @Rocky Carson and Adam Manilla . Manilla is 0-7 lifetime against Rocky indoors, but did take him to a breaker in Minneapolis last month.
——————————
Projected Qtrs:
– DLR over Jake; DLR's wired in right now.
– Portillo over Landa : Alex got him in US Open, but Lalo topped him the two times before.
– Montoya over Andree Parrilla : a rematch of the 1v16 upset in Maryland earlier this year; Montoya has his number.
– #2 Conrrado Moscoso over #7 Carson: Moscoso has owned this h2h matchup since Bolivia in 2019.
Semis:
– DLR over Portillo
– Moscoso over Montoya
Finals; 1 v 2: this is the match we all want to see right now as a measuring stick of how far Moscoso has come. Most observers have now elevated Conrrado to the "2nd best player in the world" status (behind a healthy Kane) and having pipped DLR for that mantle … but this would be a great final to see where they are right now. They havn't run into each other in a while: DLR won in 2021 Denver and 2020 Sioux Falls, but Moscoso has some h2h wins internationally and at the US Open semis in 2019.
I like Moscoso to win his 3rd straight pro title.
——————————-
Doubles review:
With the Beltran injury, DLR picked up a last minute doubles replacement in Carrasco and are seeded third; not likely they can top the dominant Mar/Montoya pairing from the lower half. 3WB champs Rocky/Lalo are the #6 seed, team Zurek (Garay/Franco) is #7, and an intriguing Mercado/Vargas all-Bolivian native pairing is #10, making for a stacked lower half.
From the upper side, #1 Murray/Parrilla is clearly the team to beat … but we get a Landa/Conrrado pairing for the first time at #4. Also at the top: the US national finalists Bredenbeck brothers at #5 and an interesting Trujillo/Manilla lefty-righty pairing at #9 will challenge.
Prediction: Montoya/Mar top Murray/Parrilla in the final.
———————————
Look for Streaming in the regular places; follow the IRT on Facebook and sign up to get notifications when they go Live.
@internaInternational Racquetball Tour