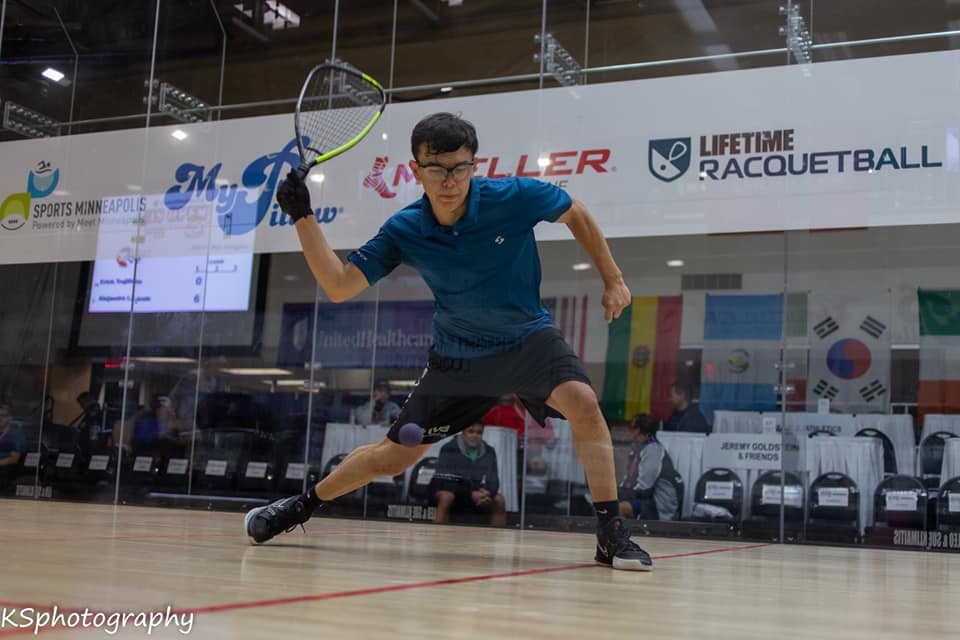 Welcome to Part 4 of our season recap: a discussion of some notable players ranked 21 and above this year.
Part 1: reference links to various year-end resources of note.
Part 2: the top 10
Part 3: 11-20
Part 4: notables ranked 21st and above (this post)
Thanks to the lack of funds available in our sport, more and more we're seeing quite talented players who, if everyone was touring full time, might very well be ranked higher. These are the players nobody wants to see in the qualifiers when they do show up, and they're the kind of "weekend warriors" who inspire the rest of us … we're all "weekend warriors" at heart.
Here's a run through some notable players ranked outside the top 20, with some comments and in some cases predictions on 2023.
– #21 Erick Trujillo ; might as well start with the elephant in the room. Trujillo has exploded onto the IRT scene, making a couple of rounds of 16 and even one quarter final. He made the finals of both Mexico u21 and World u21 (losing to Jose Ramos and Diego Garcia respectively). He's already got solid wins on his resume (Mar, Franco, Garay) and will continue to improve. I see him moving into the teens with ease, and possibly higher, as he improves.
– #24: Jaime Martel played more events in 2022 than he had in the last three seasons combined, and it showed. He made the main draw three times, got to a quarter final, got some really solid wins. He topped Patata, Murray, and Franco in the last two events before a quarters loss to Jake in Pleasanton (one where he beat the big man 15-2 in the first game).
If he continues to play full time, look for him to push for the top 20.
– #27 Jordy Alonso has gotten some really impressive wins this past season, and if he can string together more of a full time tour schedule I can see him (along with Martell) pushing for the top 20 on tour.
– #28 Sam Bredenbeck was really, really zinging it at Worlds, playing the left side in doubles. He's stepped up his game in terms of power, is training with some great players in Minnesota, and it'd be great to see him playing week in-week out to get his ranking up.
#31 Diego Garcia could be the best player not playing the tour full time. Here's a quick list of players he beat in 2022 (internationally or professionally): Mercado, Collins, Franco, Mar, Carson, Trujillo twice, and Ramos to win World 21U. That's quite a slate of wins. We hadn't seen him domestically since Oct 2019 as he switched countries from Bolivia to Argentina.
I wonder if he can start getting support to travel and tour, because if so watch out, he could be pushing for the top 10.
—–
#36 Bobby Horn is still heavily involved in the sport, working with the Manillas on their online training/coaching initiative and working hard to host programming at his home club in Pleasanton. When he does play, he's still dangerous.
#46 @Cole Sendry , USA 16U competitor, played his first few IRT events this year and got some experience.
#53 Maurice Miller took a big step back from touring but still is a dangerous opponent when he shows.
#83 @Jordan Barth is the highest ranked player (by USAR rankings) who doesn't tour regularly. he's #28 at USAR and would be an interesting addition to the tour.
#98 Cliff Swain ; his 35th year in the rankings.
#99 Coby Iwaasa , long-time #2 in Canada and who regularly gets strong international wins. Rarely appears on the IRT. Another guy who would be interesting to see play.
—-
A shout-out to the Guatemalans, who seem to play nearly every IRT event. Bravo, its always awesome to see the likes of @JuJuan Salvatiera , Christian Wer, @Javier martinez , Edwin Galicia , and @Geovani Mendoza at these events.
—————
That's it for our 2022 season retrospective. We have the Longhorn Open this coming weekend, so look for our preview soon.