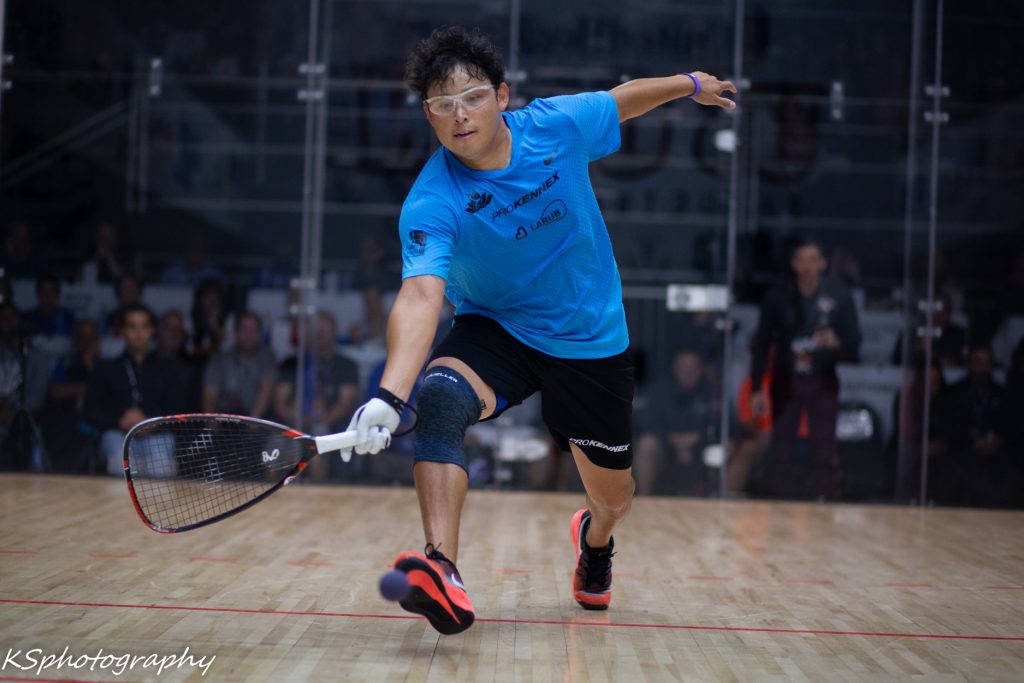 Congrats to your Pro winners on the weekend:
– Singles: Daniel De La Rosa
– Doubles: Rodrigo Montoya & Javier Mar
This is DLR's 12th pro singles title, and he closes in on @Dave Peck for 12th all time.
Montoya & Mar win their 5th pro doubles title ttogether and strengthen their hold on #1.
R2 Sports App home page for event: https://www.r2sports.com/tourney/home.asp?TID=39964
Match reports in the PRS database:
Singles: https://rball.pro/sa1
Doubles: https://rball.pro/4gh
——————
Lets review the notable matches in the Singles draw.
—————-
In the 128s and 64s:
– The match of the opening qualifying rounds did not seem to disappoint, as Diego García got by Alejandro Cardona 14,10. Wish we had a live-stream somewhere of the match.
– As predicted, the two top U21 internationals debuting in this event won in the 128s and 64s to get to the main draw. Mexico's @Jose Carlos Ramos cruised past Maryland's @Eridson Lopez in the opener then topped #18 seed Erick Cuevas 10,11 to force a meeting with Mar.
– Meanwhile at the top of the qualifying draw, former 18U world champ @Gerson Miranda topped New York's Josue Perdomo in the opener, then went breaker to down veteran tour player and #17 seed @Robert Collin to setup a meeting with another top junior U21 player in Trujillo.
—————-
In the 32s:
– Trujillo topped Miranda in a battle of former World 18U champs, and fittingly it went breaker. I hope we see more of the Bolivian; he's got game.
– Alan Natera got a great win over Sebastian Fernandez , holding off match point against in game two and then winning the breaker 11-9. This is Natera's best win since this event in 2020, when he topped Bredenbeck at this same juncture.
– Andres Acuña got a solid win over upstart Garcia 11,7 in a match I thought could go the other way. This opens up the draw for Acuna, who could easily make a quarter's run.
– Anthony Martin got his second walk-over in a row, having gotten a wbf-ns over Zelada in the 64s then over Franco in the 32s. One has to wonder if these two players both had the same flight cancelled, being that they're both coming from BWI (not for nothing, a big Southwest airport, and Southwest continues to have major operational issues in the wake of weather issues over the past couple of weeks).
– Interestingly another "Team Zurek" guy in Eduardo Garay no showed as well, giving Jaime Martell a clear shot into the 16s.
– @Thomas Carter held serve and topped big hitting Sam Bredenbeck in two. A solid win for Carter to hold serve against a player he should beat.
—————-
In the 16s, multiple upsets, some of which were predictable, some not.
– In the 8/9 match, Adam Manilla gave @Rodrigo Montoya everything he could handle, going to the brink and losing 11-10.
– A career best win for Carter, who topped #5 @Alejandro Landa 13,10 to move into the quarters. Landa seemed none too pleased with the ball, describing the play in Texas this weekend as being closer to squash than racquetball.
– #10 Acuna made quick work of #7 Mario Mercado 7,7, the only guy who seemed to make his flight from the Baltimore suburbs.
– Lastly, for the third time in the last 10 months, Andree Parrilla was upset in the 16s as a #1 or #2 seed. This time, a repeat of what happened in Maryland last September, as #15 @Javier Mar flummoxed Andree with excellent serving tactics in games 2 and 3 to frustrate the #2 player and knock him out early.
—————-
In the Quarters, no real surprises
– #1 DLR went toe to toe with #8 Montoya, who last met in the final of the Dovetail Open in Sarasota. Game one was a tense tactical back and forth affair that looked for a while like a 15-14 game before DLR pulled away at 9-9 to win 15-9. Game two was anti-climactic, as DLR seemed to have solved the new ball and played with more patience and won going away.
– #4 @Eduardo Portilla absolutely blasted surprise quarterfinalist Carter 1,4.
– #3 Conrrado Moscoso won in two solid games against Jake Bredenbeck 11,10.
– #15 Mar kept his tournament going, taking two close tactical games from the master tactician #10 Acuna 13,13.
—————
In the Semis, the top two players in the world not named Kane advanced.
– #1 DLR cruised past #4 Lalo 8,7
– #3 Conrrado handled #15 Mar 10,12, mounting a furious comeback in game two to do so.
In the Finals, we got the match we wanted and that I predicted. These two had met 5 times previously: twice internationally in 2015 (1-1), then three times professionally. Conrrado beat DLR at the 2019 US Open in the semis before losing the final to Kane in his real eye opening debut domestically, then DLR beat him at the Lewis Drug a few months later, then they last faced off in the finals of the 2021 Denver event, another DLR win.
The neutrals were not disappointed. The two played a 40+ minute back and forth affair in game 1, with neither player backing down and little separating them. Moscoso made it to game point first but could not convert; DLR did, winning game one 15-14.
Game two featured DLR jumping ahead and threatening to run away with it, but Conrrado crawled back. Then Moscoso got the lead, and DLR clawed back. A couple of collisions and a couple of missed shots made the difference at the back end of game 2, as DLR pulled away and took the match 15-14, 15-12.
It was a statement win, the current (for now) #1 player taking out the upstart and threatening player who looked set to take the top spot.
—————-
Points Implications of results:
Despite his win, DLR will drop from the #1 ranking on tour, and Moscoso will ascend to #1 when the updated rankings come out. That's because this event expires the 2021 US Open, won by DLR (and worth 600 points). Moscoso lost in the quarters there, so he's gaining enough points on DLR with the finals appearance here to overtake both him and Parrilla (whose round of 16 exit really hurt him) for the #1 spot.
Other interesting moves:
– Jake should move up to #6, his career high.
– Kane and Rocky will drop to #10 and #11 respectively with the no-shows.
– This will move Mercado and Montoya up to the 8 and 9 spots, meaning we're possibly projecting Montoya to still be facing the #1 seed in the quarters.
– Carter will move up to #14, which may be his career high as well.
– Mar will jump up from #19 to #15. He's still a ways from a protected seed, but with a few players above him almost guaranteed to be missing from the next event, he's gotta like his future draws.
– Trujillo is now officially inside the top 20 and continues to get the wins he expects.
– Lastly, Keller, the 2021 US Open finalist, loses a ton of points and drops from 14 to outside the top 20.
—————-
Doubles review:
The #1 doubles team in the world Montoya & Mar took the Doubles title over #2 Landa/Moscoso with little fanfare in a match played after the scintillating singles pro file. The doubles draw was quite chalk-y; there was exactly one upset by seed the entire draw, that being the no-show loss when Garay/Franco missed the tournament as the #6 doubles team.
—————-
Other Notable draws:
– Men's Open: IRT touring pro Alan Natera took the Men's Open draw, defeating Texas 16U junior Cole Sendrey in the final. Sendrey took out the #2 and #3 open seeds to get to the final (Martin and Pruitt), a great tourney. LPRT top player Erika Manilla entered the Men's Open but lost in the first round.
– Women's Open: Hollie Scott took out newly crowned World 16U champ Naomi Ros to take the Women's Open title.
– Husband/Wife team Carla Munoz and Natera took the Men's Open Doubles draw, defeating NorCal duo @Will Reynolds and @Israel Torres in the final.
– Ros teamed with fellow junior @Estefania Perez-Picon to take the Women's Open Doubles crown. Fellow juniors Wargo and Diaz came in 2nd.
– Mixed open was won by Scott and @DDiego Gastel , topping Pruitt & Ros in the final.
Lastly, a shout out to the Men's A draw. Normally at these pro events, the largest division by entrants is always the Men's pro singles. Not here, not t his weekend. No fewer than 51 players entered Men's A. The semis featured the #9 seed Michael Fuller, the #45 seed in Jesus Jaquez, the #46 seed in Christian Treviato, and the #39 seed in Alfredo Estrada. Jaquez (from Chihuahua) toped Treviato (from Monterrey) in an all-Mexican final.
—————–
Thanks for all the streaming on the weekend, especially from broadcasters Favio Soto, Pablo Fajre and the IRTLive crew. They got some great help along the way from Alexis Iwaasa and from tourney director Soly Kor who was on the mike for the pro final.
Thanks to the Tourney Director Kor for putting this event on! It was great to be back in Austin after a two year hiatus.
Reminder to Players! Please like and follow this page so that when I tag you, you see it. Facebook will only retain tags of people that like/follow a page, which means lots of you are not getting the notoriety of getting tagged and noticed on Facebook. If your name is here and it isn't tagged … it probably means I attempted to tag you but Facebook stripped it.
——————
Next up?
Per our handy master racquetball calendar …
Next weekend is the long-running Wintergreen tournament in Maryland, which is getting some attention as Moscoso just committed to play it. Look for it to have some last minute sign-ups to get a shot at the Bolivian.
the following week is the Lewis Drug, always a tour favorite.
——————-
tags