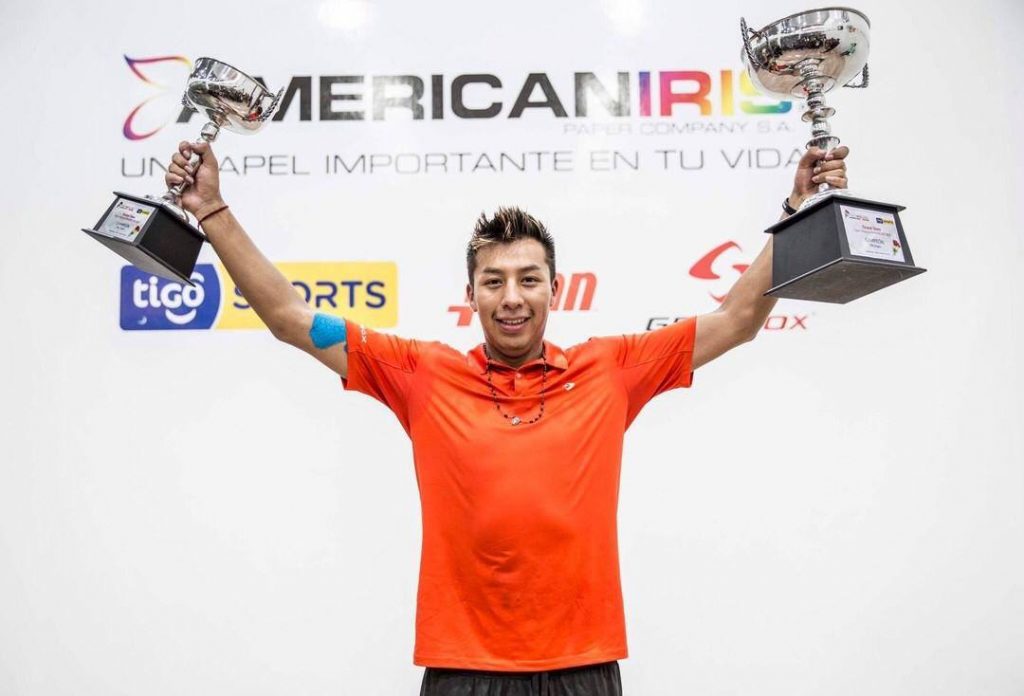 Congrats to your winners on the weekend:
– Singles: Conrrado Moscoso
– Doubles; Daniel De La Rosa & Javier Mar
Moscoso secures his 5th pro tour win, breaking a 5-way tie for 20th place and now sits tied at 19th ever with Tim Doyle. He also moves ahead of Andy Roberts for 7th place in Career W/L of all time.
Mar wins his 6th pro doubles title, but the first one he's won without long-time partner Montoya. DLR gets his 11th pro doubles title, his first without his own long time partner Alvaro Beltran
Singles Match report in PRS DB: https://rball.pro/ejz
Doubles Match report in PRS DB: https://rball.pro/kv9
R2 Sports App home page for event: https://www.r2sports.com/website/event-website.asp?TID=40409
——————
Lets review the notable matches in the Singles draw.
Singles Match report in the PRS database:
—————-
In the 64s and 32s, no real surprises to this observer.
– Just one tie-breaker: Utah's Anthony Martin going deep to take out Tanner Gross 13,(14),8.
– Jordan Barth dug deep in both games to come back against Montana amateur Ty Hedalen to advance 14,12.
– Argentina's Diego García cruised past @Sam Bredenbeck in game one 15-2 then held on for a 2,12 win to advance in the 16/17 seed match.
– @Adam Manilla made fast work of Bolivian u21 @Gerson Miranda 2,6. Miranda showed he has a bit of work to do to be broaching the top 10.
– Erick Trujillo topped Canadian veteran Lee Connell 10,7 to move into the 16s.
– Costa Rica's Andres Acuña won a straightforward 7,10 match over Barth, making it much less close than I anticipated.
—————-
In the 16s, no big surprises for me.
– In the 8/9, Manilla got a solid win over Mario Mercado to get another pro quarter.
– As predicted, #12 @Javier Mar ousted #5 Alejandro Landa to move on.
– #4 Portillo destroyed his younger Mexican countryman Trujillo 0,2.
– #6 @Jake Bredenbeck was pushed to a breaker by Illinois-based pro Thomas Carter but moved on.
– As was rumored earlier in the week, Samuel Murray missed a second straight event with a lingering injury, defaulting to Acuna.
—————-
In the Quarters: a couple of upsets
– #4 Portillo held serve and ousted #12 Mar in two. I thought this might go the other way, but Lalo played well to outclass his fellow control specialist.
– #6 Jake got a solid win, taking out #3 Andree Parrilla in two. These two met over and over on the WRT adn now they're frequently meeting on the IRT.
—————
In the Semis: two straightforward wins for the top 2 seeds:
– #1 Moscoso took out #4 Lalo in two straight. These two had played 3 times previously, all tiebreakers. But Conrrado played solid ball to win 10,7.
– #2 DLR was pressed by #6 Jake in both games but persevered 13,8 to get to the final.
In the Finals, for the second event running we get #1 vs #2, Moscoso vs De La Rosa. After watching DLR's master class in control to win in Austin, I thought going in he was the favorite, but I discounted the effect the panel walls would have on the Gearbox ball and specifically Moscoso's serve. Moscoso served lights out this match, scoring aces left and right and controlled the match for long swaths. DLR was flummoxed and flustered and could not consistently score points, and that was the match. Moscoso wins 9,12.
—————-
Points Implications of results
Irrespective of this result, Moscoso was going to keep the #1 seed thanks to this tournament replacing the 2021 Arizona open (which Canrrado did not play). With the win suddenly he's got a sizeable gap in front; nearly 500 points.
The rest of the results here gave us some interesting points machinations:
– Portillo will overtake Parrilla for #3 on tour.
– Jake moves up to #5 as Landa continues to slip with two one and dones in a row.
– Despite missing the event to receive an award back home, Montoya moves up to #8.
– Acuna is now in the top 10.
– Mercado and Carson take a big slip, dropping to #12 and #13 respectively. Its amazing how quickly Rocky has been falling by missing 3 straight events.
– Trujillo is now ranked #16, which puts him safely into the "second bye" section and given the odds of several players ahead of him missing each event right now, gives him an even better seed going forward.
– Diego Garcia is now #24.
—————-
Doubles review
The doubles draw went perfectly chalk to the final, with all expected seeds winning. That chalkiness continued in the final, as #1 seeds team PK DLR/Mar eked out a win over #2 Landa/Moscoso.
—————-
Men's Open, other draws
– Alan Natera went breaker to top Bolivian Miranda to take Men's Open singles.
– Trujillo got a surprising win over Garcia to take the IRT U21. He won 8,5 and made a statement.
– @Vallana Perault took the 3-person Women's Open RR draw.
– the legend @Ruben Gonzalez flew in from HHI to compete in Centurian Doubles, winning the title with Montana's Hedalen. They took out some tough teams, including Minor/Coyle in the group stage and Kisling/Adam in the final.
—————–
Thanks for all the streaming on the weekend, especially from broadcasters Favio Soto, Pablo Fajre and the IRTLive crew. Adam Manilla did a fantastic guest spot at the final and has a future in streaming.
Thanks to the Tourney Director Mark Gibbs for putting this event on!
——————
Next up?
Per our handy master racquetball calendar …
In two weeks' time its Nationals time. USAR is holding National Doubles with team qualifying along with National Amateur singles in Arizona. Mexico was scheduled to hold its Nationals but I've yet to see an R2 site. And Canada is having its 2nd qualifier in Grand Prairie. Lots of ball going on.
——————-
tags