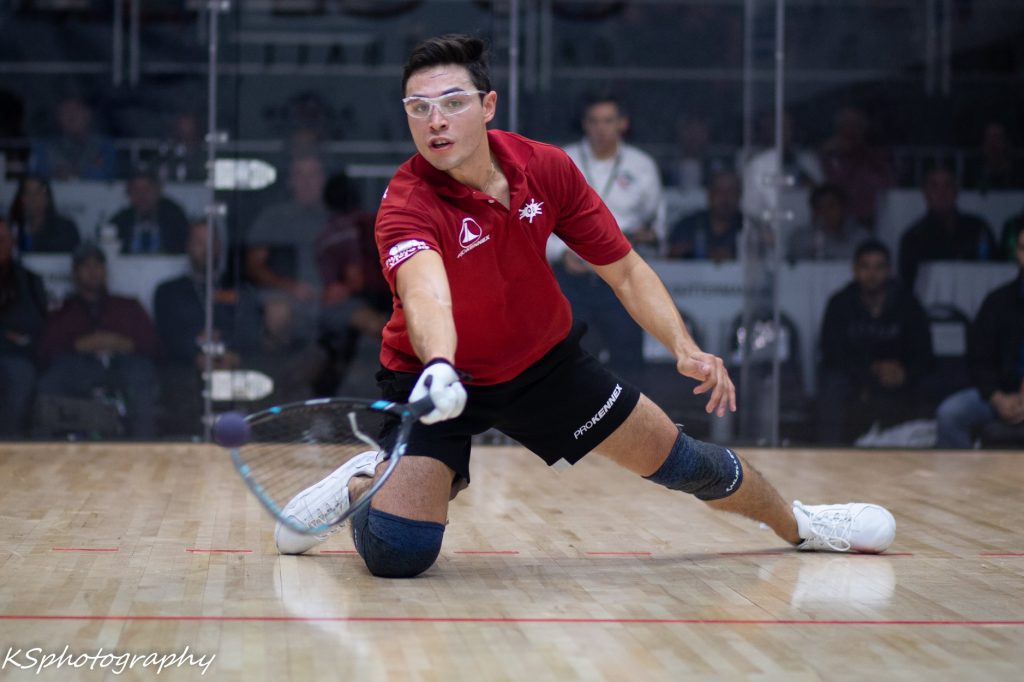 Welcome to one of the longest running tournaments in the world, and certainly the longest running Pro tournament that we have in the sport. The Lewis Drug event has been a pro event (either a satellite or a full Tier 1 event) for all 43 years of its existence, and it has become a must-play for many pros on tour.
We've been missing Sioux Falls; it hasn't been played since January of 2020 thanks to Covid concerns the last two years, but we're back and the community is ready. The event gets a ton of local media coverage, with all the local TV stations and the local paper well-covering the event.
Tournament Director and IRT part-owner Mark Gibbs puts on a fantastic event every year, guarantees RR competitions, throws a banquet every year, and always draws a solid crowd of pros and top amateurs from the Midwest and Canada.
This year is no different, as we get to see no less than 5 members of the Canadian National team competing, one of seven different countries represented at this event.
R2 Sports App link: https://www.r2sports.com/website/event-website.asp?TID=40409
Thirty players are entered into singles draw. Top-20 players missing this week include #8 Montoya, #10 Carson (semi retiring), #11 Waselenchuk (injured), #16 Franco, #17 Fernandez, #19 Garay, and #20 Beltran (injured). These absences give in particular @Erick Trujillo a huge boost; he's ranked 18th but is the 13 seed here. Furthermore, @Robert Collin and @Sam Bredenbeck both slip into the top 16 despite being deep into the 20s in the rankings.
——————————
Lets preview the draw. Here's some notable qualifying matches that i'm looking forward to:
In the round of 64, most of the Travelling Canadians have a play in thanks to having so few IRT points. Look for the likes of Tanner Prentice , Lee Connell , and @Kurtis Cullen to make some noise. Also look for top mid-west players like Jordan Barth , John Goth , and of course our Montana contingent Matthew Ivar Majxner and @Ty Hedalen to compete well.
——————————-
Projecting the 32s: I see some fun matches here.
– In the 16/17 matchup, Diego García will take on the younger Bredenbeck in a competition to see who takes on the new #1.
– #9 Adam Manilla projects to face the upstart Bolivian former junior world 18U champ Gerson Miranda . Miranda is a tough out and Manilla will have his hands full here.
– #12 @Javier Mar projects to face the top Minnesotan Goth in the 32s. Goth is a power player who trains regularly with the Bredenbecks and is no slouch. Mar must focus here.
– The match of the round may be #10 Andres Acuña versus Barth. For those of you not familiar with Barth's resume, he owns 9 US Junior National titles and another 3 Junior world titles; he's the same age-class as current IRT #4 Eduardo Portillo and beat Lalo several times internationally as kids. Barth basically stopped playing competitive racquetball to focus on a baseball career at age 17, and played in both College and briefly professionally. He's one of the more highly ranked players on USAR's rankings right now, and Acuna will have to be on his toes for this match.
——————————-
Round of 16: thanks to the absenses and the recent ranking shuffling, we have a ton of really intriguing round of 16 matches.
– #1 Conrrado Moscoso projects to face Garcia in my predictions. I don't think Garcia is winning, but he'll get some points.
– In the 8/9, Manilla vs @Mario Mercado is a close one: these two are neck and neck in my personal rankings and I think we get a slight upset with Manilla as the 9th seed winning.
– 5/12: Alejandro Landa has seen his ranking slide as of late and made it well known he can't stand the Gearbox ball; he's set to face the classy Javier Mar here, and I think Mar can beat him. They've split match-ups in the past, but i think they're heading in opposite directions on tour right now.
– #4 Portillo versus #13 Trujillo; While I don't think Trujillo is ready to beat Lalo, this is another excellent test for the rising junior Mexican star.
– #3 Andree Parrilla projects to get #14 Alan Natera in the 16s. Natera of course is coming off a solid tournament in Austin. Andree must be breathing a sigh of relief to get a reasonable round of 16 matchup; he's drawn Mar twice in the past few months for early exits.
– #6 Jake Bredenbeck likely draws fellow USA player @Thomas Carter in a manageable match for him.
– #7 Samuel Murray , who bowed out of the last event with the same injury that cost him the November Canadian qualifier final, projects to face the Acuna/Barth winner. Keep your eye out for a possibly still hampered Murray to struggle here and give an upset winner an easy ride into the quarters.
– #2 Daniel De La Rosa , fresh off his PPA 2023 pro pickleball debut last week in Palm Springs, trades 75 and sunny for 25 and windy in South Dakota and likely takes on IRT vet lefty Collins in his opener.
——————————
Projected Qtrs:
– #1 Moscoso over Manilla: Conrrado benefits from being the top seed with the most straight-forward quarter final matchup.
– #12 Mar over #4 Portillo; both play similarly; Mar is better at it.
– #6 Jake over #3 Andree: Parrilla never really plays well in SD, and this is a rematch of the Portland semi, also a Jake win. I like the hot hand.
– #2 DLR makes fast work of the Costa Rican Acuna in this quarter.
Semis:
– Moscoso over Mar; a rematch of the semis in Austin; Mar kept it close because he's quality, but Moscoso will prevail because he's better.
– DLR over Jake: Jake has pushed DLR in the past, but not this weekend.
Finals; DLR over Moscoso, again. DLR prevailed in two close games in Austin, which were cement courts that mitigated the new slower ball a bit. I think we're going to see a similar game in the SD final. DLR just does not make mistakes and plays patient racquetball. Moscoso does not; he is a shooter, goes for low-percentage shots, makes a ton of them, but misses enough to cost him against top players. Moscoso may be #1, but DLR is a better strategist right now.
By the way, as I noted in my in-depth review of "Why Moscoso became #1 even though Daniel beat him head to head last week" … Moscoso will REMAIN #1 this weekend irrespective of results. That's because he's defending zero points from the next tournament to expire (Arizona 2021) so he can only improve his lead at the top.
——————————-
Doubles review
Montoya's absence means Mar teams up with a new partner … and he picks another fellow Mexican, fellow Pro Kennex player, and fellow top doubles player who also needs a new partner in DLR. A precursor of a more frequent pairing going forward?
It is slightly curious that DLR chose not to play with Landa, with whom he's playing in two weeks' time at USAR nationals (That's a whole 'nother story, why DLR is possibly converting after decades of playing/representing Mexico). But Landa has picked up Moscoso and is the #2 seed. It's hard to envision a scenario where these two teams are upset by anyone prior to the final; team Dovetail at #3 (Acuna/Lalo) will try, as with the Bredenbeck brothers at #4, but both will fail.
In the final, I think a DLR/Mar pairing is unbeatable.
———————————
Look for Streaming in the regular places; follow the IRT on Facebook and sign up to get notifications when they go Live. Look for Favio Soto, Pablo Fajre and the IRTLive crew all weekend on the mike, calling the shots!