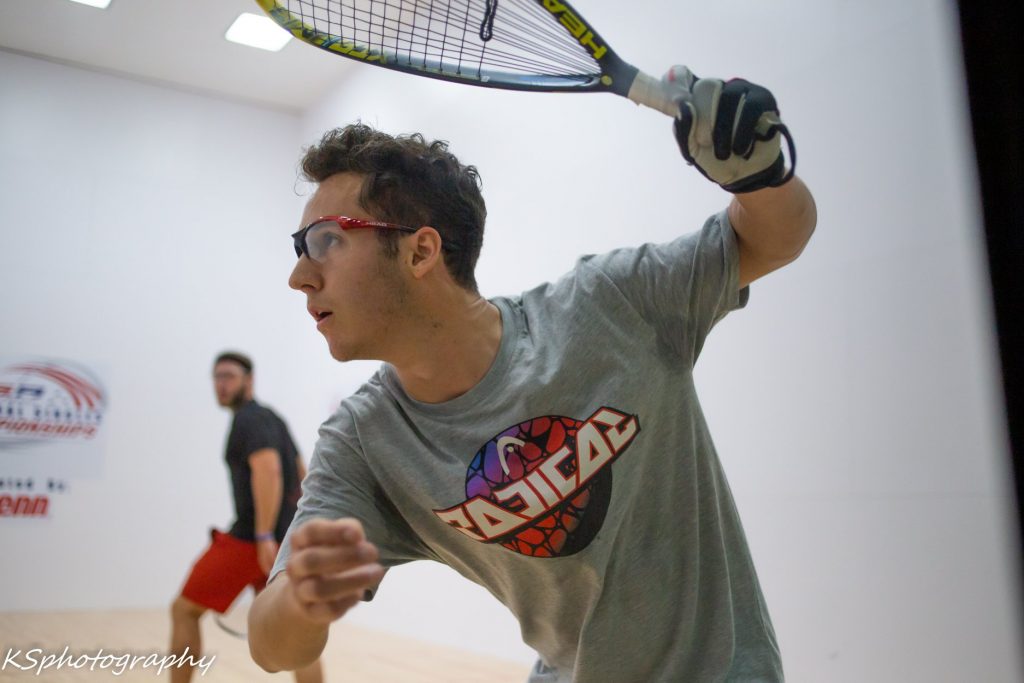 Congrats to your winners on the weekend:
– Singles: @Conrrado Moscoso
– Doubles: @Andree Parrilla and Adam Manilla
Moscoso secures his 6th career win, tying him for 16th all time. He now has as many tier 1 victories as @Jerry Hilecher , Ruben Gonzalez and Drew Kachtik each had in their careers.
On the doubles side, Parrilla wins his 4th career pro title and Manilla his 2nd.
see https://rball.pro/vhp for a list of all Tourney winners.
R2 Sports App home page for event: https://www.r2sports.com/website/event-website.asp?TID=40557
——————
Lets review the notable matches in the Singles draw.
Singles Match report in the PRS database: https://rball.pro/bqt
—————-
In the 64s and 32s, absolutely no surprises.
The only upset by seed was in the 16/17 game between Carrasco and Cuevas, and no one was surprised by the 6,8 victory by the 17th seed. All sixteen round of 32 matches were two-game wins, zero tiebreakers, zero upsets. Lots of blow outs, and even those games that appeared like they were closer probably weren't; if a player wins the first game 15-1 and then wins the second game 15-11 …. it's not like the losing player suddenly "figured things out" as much as its likely "the winning player coasted."
I mention these facts because this is a side-effect of going to a straight draw, which some lower level players have clamored for. Well, congratulations, you've gotten what you want. People are convinced that from a competitive level giving top players byes into either the 16s or the 32s was unfair to the rest of the tour; well, what you fail to realize is that these top players are there for a reason. Now instead of getting a more competitive match in the 32s against a player seeded closer to your ability, mid-20s seeds are forced to play IRT top 8 players and get crushed.
—————-
In the 16s, we got nearly chalk, with 7 of the top 8 seeds advancing. Only in the 8/9 match did we get an upset, with Acuna taking out Manilla a week on from a reverse outcome in the same matchup.
– Montoya held serve against an improving Natera in a closer than expected game 9,14
– Moscoso was taken to breaker by his countryman Carrasco.
– Landa dropped the first game and held on for an 11-9 tiebreaker win against Carter
– Murray made a statement against Mar, winning 2,13 to move on in a match I thought would go the other way.
—————-
In the Quarters
– Moscoso crushed Acuna 3,7
– Montoya topped Parrilla yet again, going breaker yet again. These two have been playing each other for so long, dating to Juniors and WRT, and now it looks like they'll continue to do so on the pro tour.
– Portillo made fast work of Landa 2,9
– Jake crushed Murray 3,7 to continue to prove that he belongs near the top of the IRT.
—————
In the Semis
– Moscoso won a captivating match 14,14 over Montoya, the player who just topped him at the last event. Great racquetball.
– Jake ground out a come-back win over Portillo to move into another final.
In the Finals…. Jake will be kicking himself for this one. After taking a close first game, Jake had leads of 8-0, 10-5, and 14-10 and could not close out the match, as Moscoso hung around and avoided the mental checkout of game 2. The tiebreaker was neck and neck before Moscoso ran off points at the end to win 11-7, but for me the story was Jake letting a winnable one slip away.
—————-
Points Implications of results
With no DLR, obviously this win puts Moscoso back on top of the tour. He should be about 150 points clear. The next event to expire was a DLR win, so he'll have 400 points to defend when the tour returns.
No other changes in the top 10.
In the 11-20 range:
– Mar and Carter flip spots at 11 & 12
– Natera up to 14th
– Collins up to 15th
– Martel now in the top 16, which may be a tough spot for him because he'll continue to run into #1 or #2 in the round of 16.
– Rocky and Kane are now 17 and 18 respectively.
—————-
Doubles review
Match report in the PRS database: https://rball.pro/vy2
Parrilla & Manilla topped Montoya and Mar 10,10 to win the doubles title here.
@Andree Parrilla wins his 4th career pro title and Adam Manilla his second with an impressive win over the #1 Montoya/Mar team.
Parrilla has bounced around partners for a while on tour: he played most of last season with Portillo, but Lalo seems to have gone with a Team Dovetail connection with Acuna. It was looking like he had paired up with Murray for a bit (as Murray was dropped by Landa for DLR upon Beltran's injury), but Murray picked up with Jake when Sam took the last few events off. This left Andree needing a partner again.
Manilla has been bouncing around too; he used to play mostly with Riffel, them being college buddies, but when Riffel stopped touring Manilla has needed a partner. In the past few Pro events Adam has played with Murray, Franco, Mercado, Fernandez, Jake, and even Horn going back to 2021. But none of these players are a reliable partner for him, either because of absences/stepping back from touring, or because they're playing more regularly with someone else.
Maybe Manilla and Parrilla are the new solid pairing, given that they just beat the clear #1 team in the world.
—————-
Men's Open, other draws
– Natera took out Longoria in the final. Semis Martell and Migliore, who had an excellent win over Trujillo to get there.
—————–
Thanks for all the streaming on the weekend, especially from broadcasters Favio Soto, Pablo Fajre and the IRTLive crew
——————
Next up?
Per our handy master racquetball calendar …
We will recap Intercollegiates tomorrow. The Warhawk IRT satellite is next weekend in Louisiana, then the next week starts the 2023 Pan American Racquetball Championships (PARC). This annual event takes on special importance this year, as it will be a qualifier for the Pan Am Games later this year in Chile.
——————-
tags