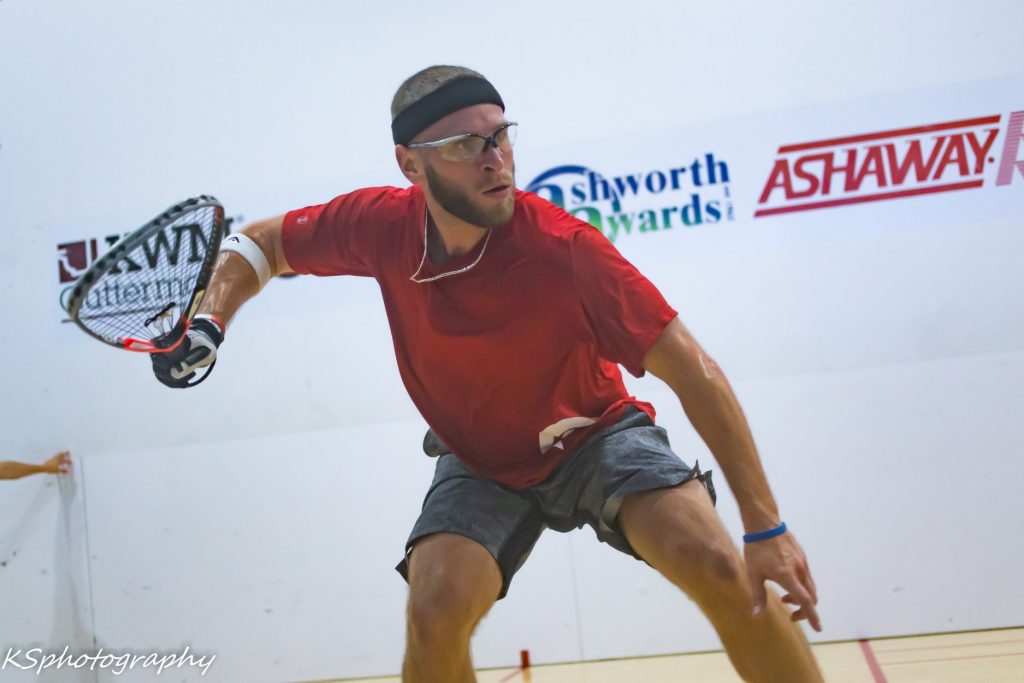 Welcome to Chicago, and the famed "fishbowl" court at the Glass Court Swim & Fitness club in Lombard, IL. Its the 2023 38th Annual Papa Nicholas Coffee Shamrock Shootout Presented by Glass Court Swim & Fitness.
R2 Sports App link: https://www.r2sports.com/website/event-website.asp?TID=40557
Two big news items from Chicago:
– #1 De La Rosa is not here. Instead, he's in Austin playing in the PPA pickleball event. I just got done going on @Sudsy Monchik 's show talking about how DLR had a smooth ride to #1 based on his Fall 2022 results expiring … but not if he's missing events in March. Look, this is probably a calculated decision on Daniel's part, knowing that the pay at PPA events is better, knowing that he's now representing Pro Kennex in both sports, and probably knowing full well of his game-plan schedule wise to ensure a year end #1. Just saying.
– This event has no qualifying; its a straight draw. This is the 3rd event in a row where the tiered qualifying has been abandoned, and this is being done at the request of a player suggestion. @Pablo Fajre and I have talked about this in the past; when he ran the WRT, he used straight draws, and there's decent arguments to go back to a straight draw in the IRT now based on the size of the draws (small) and the concentration of talent at the top.
Top 20 players missing: after DLR, we still don't have Mercado. Rocky hasn't played a pro event since November, kane still hurt, and Franco misses another.
——————————
Lets preview the draw. Here's some notable qualifying matches that i'm looking forward to:
In the 32s, I don't see anywhere where i expect an upset by seed, with the exception of the 16/17 match between Cuevas and Carrasco. But even that could go chalk. Longoria may give Montoya a push, or maybe you see Mendoza get points off of Collins, but there's little chance otherwise for upsets in this round. In fact, I see a ton of absolute blowouts. #1 Moscoso versus a high school kid in the 32s? #2 Bredenbeck against a local amateur?
Not for nothing, this is one of the reasons given for going to protected qualifying to begin with. Lets take the #29 seed in this event: Victor Migliore. Assuming he wins his round of 64 match against Blase Zera, he sets to face #4 Parrilla in the 32s, almost certainly a loss. However, under protected top 8 qualifying we've had in place since 1999, Migliore would have played #20 Edwin Galicia in the "round of 64" (a winnable match?), to then play into #13 Trujillo in the "round of 32." He would have more opportunities to get upset wins, which then lead to improved ran king and more prize money. Instead, with a straight draw? He loses in the 32s and probably gets zero prize money.
I know there's lots of proponents for straight draws, but realize that straight draws are almost guaranteed to eliminate the kinds of close early round matches that we've come to enjoy.
——————————-
round of 16:
I don't see a ton of upsets here: maybe 8/9 Manilla-Acuna will be close. Can Trujillo trouble Parrilla right now in the 4/13? i don't think so. Unless Landa is still hurt, he should cruise past Carter.
The two best matches in the 16s are at the bottom: Murray-Mar and Jake-Martell. Mar took out Murray at the US Open and is my pick to move on here. Martell can get wins, but probably not against Jake based on the way Jake is playing.
——————————
Projected Qtrs:
– Moscoso over Manilla
– Montoya over Parrilla: Rodrigo has Andree's number right now.
– Portillo over Landa: Even at 100% this is close, and I'm guessing Landa is still not 100% so i'll Pick Lalo here.
– Mar over Jake: this is the tough one. Jake has been playing so well, but Mar handled him easily the last time they played (last Sept). This could go either way.
Semis:
– Moscoso over Montoya: Rodrigo got him in Minnesota, i think Conrrado flips the script with the faster courts in Chicago. This is the real "final" for me with DLR in the draw.
– Mar over Portillo; similar game styles, Mar the classier player.
Finals;
– Moscoso over Mar.
——————————-
Doubles review
I like chalk to the semis. The "final" again comes early, with Montoya/Mar taking out Moscoso/Landa in the semis. On the bottom, Murray/Bredenbeck power their way over Manilla/Parrilla. In the final #1 team continues to win.
———————————
Look for Streaming in the regular places; follow the IRT on Facebook and sign up to get notifications when they go Live. Look for Favio Soto, Pablo Fajre and the IRTLive crew all weekend on the mike, calling the shots!