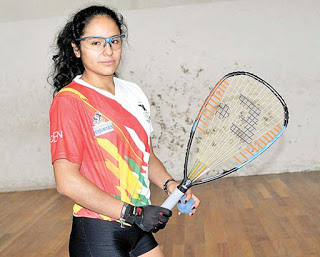 The LPRT is back in action just a few days after its last event, which was filled with upsets and surprising results. Now the tour is in Greenville, South Carolina, for one of its favorite stops; the Sweet Caroline Grand Slam.
The season-end race has tightened up considerably, and the results at this grand slam will play a huge part in determining whether the title will be Longoria's 14th or Mejia's first.
R2 Sports App link: https://www.r2sports.com/website/event-website.asp?TID=40764
24 ladies are here, including the top 15 players and 18 of the top 20 overall.
——————————
Lets preview the draw.
Because there's not a ton of movement down-rankings from event to event, we're seeing some repeated matchups in both the 32s and the 16s from last week. And we're seeing some intriguing meetings
– Its Guatemala vs Guatemala in the 16/17 match, as long-time doubles partners and National team members @Ana Gabriela Martínez takes on Maria Renee Rodriguez for a shot at #1 Longoria
– Two Argentinans Maria Katz and Maria Jose Vargas face off to play into Jessica Parrilla
– Impressive US Junior National team member and reigning16U world champ @Naomi Ros gets a shot at US Adult team member Kelani Lawrence , a week after taking a game off of another US team member Manilla. Can she get a breakthrough win here?
– Not for the first time this season, Colombian team mates Cristina Amaya and Maria Paz Riquelme have to face off.
——————————-
round of 16:
– #1 Paola Longoria projects to face Martinez again; last week was a tight 13,14 win. Can Gaby push it to a breaker this week?
– In the always-close #8/#9 matchup, a solid all South American match between Bolivian Angelica Barrios and Chilean @Carla Munoz . Barrios has owned this matchup as of late and is the favorite here, but Munoz is coming off a solid win last week and will try to keep it close.
– For the 2nd week in a row, Vargas plays into Parrilla, and likely gets the upset win. Bad luck for Parrilla.
– This week, USA national champ Erika Manilla gets another precocious opponent in Valeria Centellas . The U21 is coming off her career best win over Herrera last week, and has a h2h win over Manilla earlier this season. This is definitely danger zone for Manilla and this could be another major upset. Added wrinkle; these two are playing doubles together this week.
– #3 Alexandra Herrera projects to face US National Hollie Scott and should advance, but her shock loss last week has opened up questions about her game.
– #6 Brenda Laime may have made the final last week, but she projects to face #11 Kelani Lawrence , who's beaten her twice since December. I'm going with the upset loss; from the finals to one-and-done for Laime.
– #7 Natalia Mendez is reeling in the rankings, and now projects to face #10 Samantha Salas , who beat her in their last meeting in June and has generally controlled their h2hs. Upset watch here.
——————————
Projected Qtrs:
– #1 Longoria versus Barrios: Barrios shocked Longoria in Boston earlier this year, so we know she can get wins. But is Longoria too focused knowing what's at stake? I think so, and I think she wins.
– #12 Vargas over #4 Manilla; a rematch of the San Antonio quarters, where Vargas crushed Erika 3,6. I see no reason not to think a similar result happens, unless the Manilla coaching brain-trust comes up with a new gameplan to counter the powerful Vargas.
– #3 Herrera over #11 Lawrence; these two have met a few times, and Kelani has made things close, but the lefty is still 10-0 lifetime versus Kelani, looking to make it 11-0.
– #2 @Montse Mejía set to lock horns with Salas again, and somehow avoid another upset quarter-final outster. Few would have predicted last week's Salas win: will Mejia get re-focused for this week knowing that she likely needs two wins to secure the title? The pressure is on and I think she rises to the occasion.
Semis:
– Longoria over Vargas: when the chips are down and the pressure is on, I'll take Longoria.
– Mejia over Herrera: Mejia's quote familiar with Alexandra's game by this point and has won their last few meetings (4 straight wins since August) and if she can get past Salas I like her chances for the final.
Final: if it can be #1 vs #2, the pressure will be immense. I like Longoria to handle the pressure, but Mejia to handle Longoria. Mejia for the title and takes back control of the title race.
——————————-
Doubles review
So much is at stake in singles, I wonder how contested the doubles will be. But after lots of partner shuffling, we have the two top doubles teams together and on opposite sides of the draw. #1 Longoria/Salas and #2 Herrera/Mejia are likely on a collision course for the Saturday night final. I'll go with Longoria and Salas to retain the crown.
———————————
LPRT U21
The U21 are in action again for the 2nd week running; this time 5 of the tour's young pros will battle it out, with defending U21 Lprt champ Centellas the likely favorite. Look for a fun semis match between #2 Katz and #3 Ros, a great measuring stick for the Texan.
———————————
Look for Streaming in the regular places; follow the LPRT on Facebook and sign up to get notifications when they go Live.
Look for Timothy Baghurst, Jerry J Josey Jr., and Tj Baumbaugh on the mike, calling the shots!
Thanks to the Tourney Directors X and X for putting this event on!
Coincidentally, if you're interested in playing Fantasy Racquetball for this event, the links to the brackets are advertised on LPRT's main page. The winner each week gets free swag!
Associations
LPRT