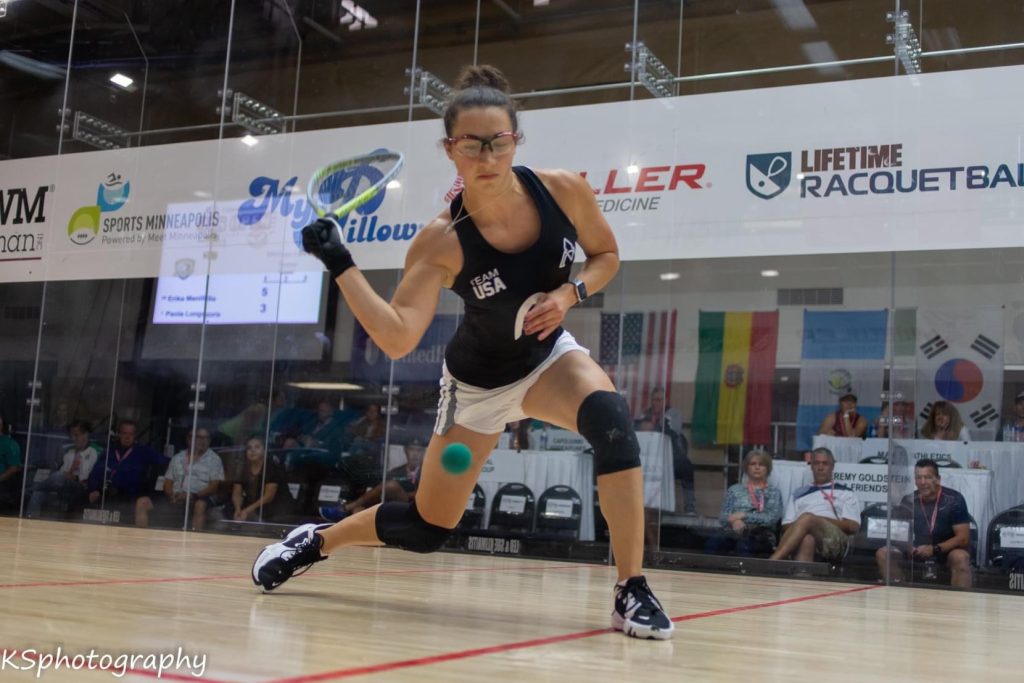 It has been a minute since we last published in this space. But we're to the end of May, which every year means Nationals time.
This year, the USA Racquetball did something a little different with its qualification, having doubles in February on its normal course then having just a National team qualifier at the Glass court club in Chicago land. The reasons behind this were partly financial in nature: National singles has struggled in attendance and in revenue for the last few years, so a combined event going forward seems inevitable. This weekend in Chicago there's a small shootout in conjunction with the 15 top US nationals competing in a win-or-go-home singles competition for the National team slots.
r2sports link for USA: https://www.r2sports.com/portfolio/r2-event.asp?TID=41063
Here's a quick preview of USA competitions.
USA Men:
The Seedings for singles, in a change to some years' past, is done by the USA Rankings as of the time of seeding. As a result, you may be somewhat surprised by the seeding. Jake Bredenbeck gets the #1 seed over two-time defending IRT pro champ @Daniel De La Rosa . The other slight surprise is probably Thomas Carter pipping Adam Manilla for the 4th seed despite their current IRT rankings being reversed. Otherwise the draw is probably as you'd expect. 2022's champion Rocky Carson has fallen all the way to 6th as he's essentially retired from IRT competition.
In the quarters:
– Jake advances past Indiana amateur James Black.
– Manilla should advance past Carter in a battle of lefties.
– In a rematch of the 2022 final, Carson takes on Alejandro Landa . It may look curious that the two finalists from last year are seeded 3rd and 6th, but that's where the rankings fall and they're probably a fair representation of the talent level right now. It is tough to know where Landa's game is week in and week out, while Carson no longer tours and may be rusty against top competition. I'll predict Carson in an upset.
– De la Rosa likely takes out @Sam Bredenbeck , who should advance past Texan amateur Limonciello in the play-in.
Semis:
– Jake over Adam: amazingly these two have managed to avoid each other in all top competitions since 2017. Jake has never lost to Adam, and is playing better than ever, and should advance.
– DLR over Rocky; Rocky did get a h2h win over DLR back in march 2022 on these exact courts, but otherwise DLR has owned Rocky since mid 2019. DLR is qualified already for the team by virtue of his doubles win earlier in the year, but doesn't want to leave anything to chance.
Finals: Playing for pride, as the two finalists are on the team, but I suspect Jake is more interested in owning a US national title than DLR. I think jake wins.
—–
National team impact if these results hold. Right now the team is:
– Men's Doubles: DLR and Landa
– Mixed Doubles: Manilla
– Men's Singles projection: Jake and DLR.
(Note: post publishing i deleted in accurate claim that there's Worlds in august. There's World SENIORS in august, not regular worlds).
This would make for 4 players for 3 Pan Am Games slots, and would make for a difficult selection between Landa and Manilla for the third slot. Unless there's other circumstances that arise, someone with a national title will be disappointed for the Pan Am games roster.
—
USA Women:
Just 5 players in Chicago, and like with Rocky above, we see the impact of the non-protected seeds on the essentially retired @Rhonda Rajsich , a finalist in 2022. Thanks to her inactivity playing, she's dropped behind all the top USA women competitors and is seeded 4th here.
Kelani Lawrence gets the #1 seed despite being well behind Erika Manilla in the LPRT points standings right now, seemingly by virtue of a couple of h2h wins over Brenda Laime recently, who has now shot up to #2 overall.
Predictions.
in the quarters, Lexi York has a shot at topping Rajsich, but we'll go with the legend to advance. She always comes to play in Nationals.
In the semis:
– Lawrence should advance past the winner of York/Rajsich, though Rhonda has had a lot of success beating Kelani in USA national events. They've met in this event every year since 2016 save one, and Rajsich has beaten Kelani in every year save one. So, Kelani has her work cut out for her; the winner here gets on the team, the loser is out.
– In the 2/3 seed semi, @Erika Manila faces a familiar foe in Hollie Scott , who she keeps running into on the pro side as well. Manilla has handled Hollie multiple times in the past year and has only lost to the Washington native once in 7 known meetings. Manilla moves on.
In the final, i'd expect Manilla to win over Lawrence if seeds hold; these two have very little history playing each other, kind of surprising given that the top of the US women's pool has been the same four players for years.
—–
National team impact if these results hold. Right now the team is:
– Women's Doubles: Erika and Michelle Key
– Mixed: Erika
– Singles projection: Erika and Kelani
So, if these results hold, it'd be three women qualified for the team for the Pan Am Games … but we only get 2 spots thanks to our team's poor finish at the 2023 PARC. See https://www.santiago2023.org/descargas/en/Racquetball.pdf for the team qualifications to Pan Am games: host nation plus top 3 countries at PARC get 3 players, the rest two.
Erika triple-qualifying would make one decision pretty easy, but how would you decide between Key and Kelani for the 2nd spot? And, what if we get a surprise singles finalist (Scott or Rhonda?) That'd throw a huge monkey wrench into the team selection procedures.
I don't envy the US National team committee, who will have to make some tough decisiosn on who to send to the sport's marquee event later this year.
——————-
Canada Preview
Trackie site for the event: https://www.trackie.com/online…/entry-list/matches/486924/
Why does Canada use Trackie instead of R2sports? Because of new regulations in Canada that require personal information of Canadian citizens to be kept in Canada.
Canada is having their Nationals this week and weekend as well, but they're stretching this into an all week affair and holding Singles, Doubles and Mixed all at once. Lots of playing for the top guns, with round robins all week feeding into single elimination draws this weekend.
On the Men's singles side, 11 straight Canada national selection events/nationals tournaments have come down to the same two guys in the final: Samuel Murray and @Coby Iwaasa . With all due respect to the rest of the Canadian men right now, its hard not to think this weekend will be anything other than the 12th. Mostly its Murray taking the titles, but their last meeting went 12-10 in the fifth, and Iwaasa can play. I'm predicting Murray over Iwaasa in another barn burner.
Women's Singles:
Frederique Lambert is in the draw, which usually means everyone else is playing for 2nd place. Lambert has just ONE loss in Canadian nationals in the last decade, a finals loss to Jen Saunders (now the sporting director for Racquetball Canada) in May of 2014.
So, we'll go out on a limb and say that Frederique will take this championship. The next four seeds in Christine Keay , Michele Morissette , and Parent Julienne will jocky for 2nd place.
—-
Canadian Doubles:
Men's Doubles: They're already to the semis by the time you're reading this, and the #1 seeded Murray brothers are still the favorites. With Canada only getting two Pan Am games spots, likely we'll see Murray play with Iwaasa at the Pan Ams like he normally does internationally.
Women's Doubles: Lambert is teamed up with Morissette to be the formidable #1 seed, and only Keay/Prentice seem like they have a shot to unseat them.
Mixed Doubles: none of the singles favorites are playing in Mixed, so the draw is wide open. Four teams are playing, which means we're going to likely have a brand new international rep for Canada at the next PARC event in the spring of 2024.
—
Streaming at @usUSA Racquetball or Racquetball Canada Facebook pages; JT R Ball and Timothy Baghurst are in Canada doing the streaming and broadcasting for Canada, while the IRT's Pablo Fajre is in Chicago with the IRT team handling the streaming.