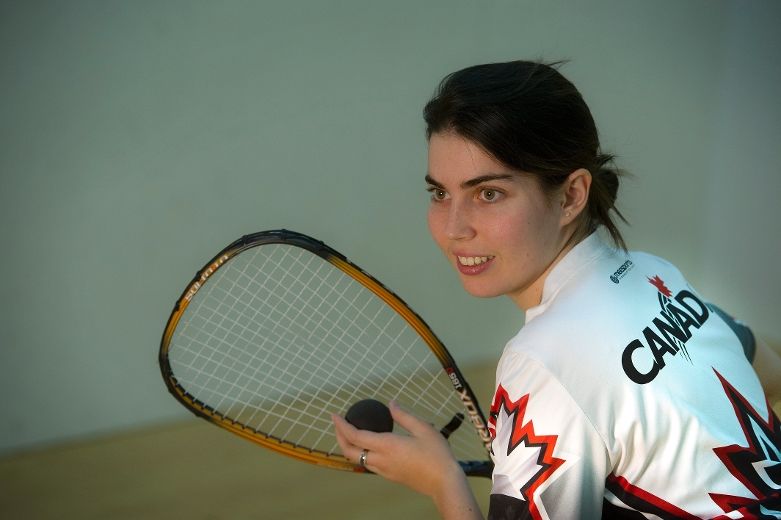 Congrats to your newly crowned National title winners on the weekend:
– USA Men's Singles: Daniel De La Rosa
– USA Women's Singles: Erika Manilla
– Canada Men's Singles: Samuel Murray
– Canada Women's Singles: Frederique Lambert
– Canada Men's Doubles: Coby Iwaasa & Kurtis Cullen
– Canada Women's Doubles: Frederique Lambert & Michele Morissette
– Canada Mixed Doubles: Christian Pocsai & Ofelia Wilscam
ProRacquetballStats.com match reports for these events:
– USA Men's Singles: https://rball.pro/nv7
– USA Women's Singles: https://rball.pro/r10
– Canada Men's Singles: https://rball.pro/aiz
– Canada Women's Singles: https://rball.pro/m1c
– Canada Men's Doubles: https://rball.pro/d4g
– Canada Women's Doubles: https://rball.pro/tlb
– Canada Mixed Doubles: https://rball.pro/wgy
R2 Sports App home page for USA event: https://www.r2sports.com/tourney/home.asp?TID=41063
Trackie page for Canada event: https://legacy.trackie.com/…/racquetball-canada…/486924/
——————
Lets review the draws.
USA Men's first.
There were no real surprises to the Semis from the 10-man draw; we were robbed of the best quarter final match when 2-time defending USA national champ Rocky Carson announced he was skipping the event. I don't blame him; flying halfway across the country on Memorial day weekend for a likely one-and-done against a top IRT player for someone who has played basically two tournaments all year wasn't a strong strategy. Carson is off the national team for the first time since (I believe) 2002, an amazing stat.
In the semis, a shock upset by Adam Manilla , taking out the #1 seeded Jake Bredenbeck with relative ease in four games. A real surprise loss that has major US team ramifications for the Pan Am games (which we'll summarize below). From the bottom, #2 Daniel De La Rosa cruised past his doubles partner Alejandro Landa to guarantee his singles qualification to the team and solidify his claim.
In the final, Manilla made a match of it, stretching the 2-time defending IRT champ to five games, but DLR persevered to claim his first ever USA singles title. Jake rebounded to take the 3rd place match over Landa, which I was initially shocked was even played given the circumstances (but read on for the likely real reason).
—————-
US Men's National Team/Pan Am games roster ramifications.
Your 2023-24 team qualifiers are now:
– Men's Doubles: De La Rosa & Landa
– Mixed Doubles: Manilla
– Men's Singles: De La Rosa & Manilla
Three players for three Pan Am Games Slots. So, absent any externalities that impact the availability/eligibility of these three players, this is your Pan Am Games Men's team. I'd imagine that we'd line up these players exactly like this in Chile in the fall.
Now, why did they play the 3rd place match? Probably for positioning in case one of these three players cannot go to Chile. And the "order" of finishing matters when selecting the next players to go. If the USA men need a 3rd player, here's the next in line:
– Men's Doubles finalists from Feb: Manilla & Antone
– Mixed Doubles finalist from Feb: De La Rosa
– Men's Singles semi finalists from May: Bredenbeck & Landa
So, next in line to be asked probably would be Jake and then Wayne, then the team would start to dig deeper. Given the import of the Pan Am Games, its not likely we'd have to; this is the crown jewel event of the sport.
—————-
USA Women's competition;
There were no real surprises in the 5-person Ladies draw. Lexi York did her best to upset @Rhonda Rajsich in the quarters but fell in five games. Kelani Lawrence broke her duck against Rhonda in the semis, winning in three to ensure her national team consideration. Erika Manilla had a battle against Hollie Scott that went 5 games, with Scott knowing only a win would put her into contention after early losses in doubles draws in February. In the final, Manilla took the title in an upset by seed but certainly not by LPRT current rankings. Manilla repeats as National singles champion.
—————–
US Women's National Team/Pan Am games roster ramifications.
Your team qualifiers are now:
– Women's Doubles: Manilla & Michelle Key , who did not travel to Chicago this weekend to compete
– Mixed Doubles: Manilla
– Women's Singles: Manilla & Lawrence.
So, as we thought might happen, three ladies for two spots in Chile. Someone is going to be disappointed. We can speculate now as to what the US Team committee/future US coach may decide w/r/t putting the best team forward, but that wouldn't be fair to any of these women, who have earned their US team titles on the court.
—————–
Canada Men's Singles
For the 14th straight time. the final of a national Canadian tournament came down to its top two players, #1 @Samuel Murray and #2 Coby Iwaasa . There were a couple of notable down-bracket upsets, a rarity in Canadian racquetball; congrats to Kurtis Cullen for taking out #4 @Connell Lee and for #6 @Tanner Prentice to get the upset win over #3 @Trevor Webb to advance to the semis and eventually compete for 3rd place. Cullen took 3rd and capped a banner weekend for him (he also won the Doubles title; see below).
In the men's final, Murray controlled Iwaasa to win in three 4,10,3 and claim his 4th straight National title.
—————–
Canada Women's Singles:
#1 Frederique Lambert won her 3rd straight Women's singles title, and 5th overall, by downing @Juliette Parent in the final. Lambert did not cruise through this draw though, she was stretched to five games in the semis by last year's finalist @Michele Morissette and then taken to four by the upstart Parent. Bravo to Parent for breaking through with a marquee win over Christine Keay , who had more or less solidified herself as the #2 Canadian woman over the past few years with three straight singles finals appearances at Nationals.
—————–
Canadian Men's Doubles:
A huge upset in the doubles final, as the Murray brothers were taken out by Iwaasa and Cullen in three. This was a rematch of last year's final, and breaks the string of three straight Canadian doubles titles by the Murray brothers.
—————–
Canadian Women's Doubles:
#1 seeds Lambert & Morissette defended their Canadian national doubles title by taking the 5-team round robin group without losing a match. A 3-way tie for second resulted in Keay and Prentice being the 2nd place finishers.
—————–
Canadian Mixed Doubles:
In a small round robin competition, @Christian Pocsai and @Ofelia Wilscam took the National mixed doubles draw title, a first for both. Unfortunately, this draw was purged of most of the top players by virtue of the workload it would have caused, something for the US to consider if/when we combine both singles and doubles qualifying into one event.
—————–
Canadian Pan Am Games team selection discussion;
So, the Canadian team selection process may now be a bit complicated by the above results, and thanks to their poor showing at the 2023 PARC. Canada finished 6th in Men's and 10th in Women's in Guatemala, meaning they were no where close to the threshold for getting three players in either gender. So just two men and two women will be selected to represent Canada in Chile. But who? Here's your player pool:
– Men's Singles: Murray, Iwaasa
– Men's Doubles: Iwaasa, Cullen
– Mixed Doubles: Pocsai
Technically four players for 2 spots, though there's a clear gap between Murray & Iwaasa and the others, so one would have to think that will be the team. It normally is Murray & Iwaasa at the major IRF events and i'd have to think it'd be the same in Chile.
Canadian Women's team selection consideration.
Here's the qualified female players under consideration:
– Women's Singles: Lambert, Parent
– Women's Doubles: Lambert, Morissette
– Mixed Doubles: Wilscam
A tough decision here; both Parent and Morissette have represented Canada internationally in each of the last three years, but Lambert is the double qualifier. However, as we know Lambert is a practicing medical doctor and may very well not be able to get away for a trip as long as the Pan Am games requires. I could see a repeat of the 2023 PARC team of Parent & Morissette in Chile, but we hope to see Lambert (the former #2 LPRT player) show up at the sport's biggest stage.
—————–
Thanks for all the streaming on the weekend. Pablo Fajre and his IRT crew in Chicago, and @JJT R Ball and Timothy Baghurst in Winnipeg.
——————
Next up?
Per our handy master racquetball calendar …
We have a couple weeks off until the final LPRT stop of the season in Chesapeake, where the title is up for grabs for the first time since the late 2000s.
——————-
tags