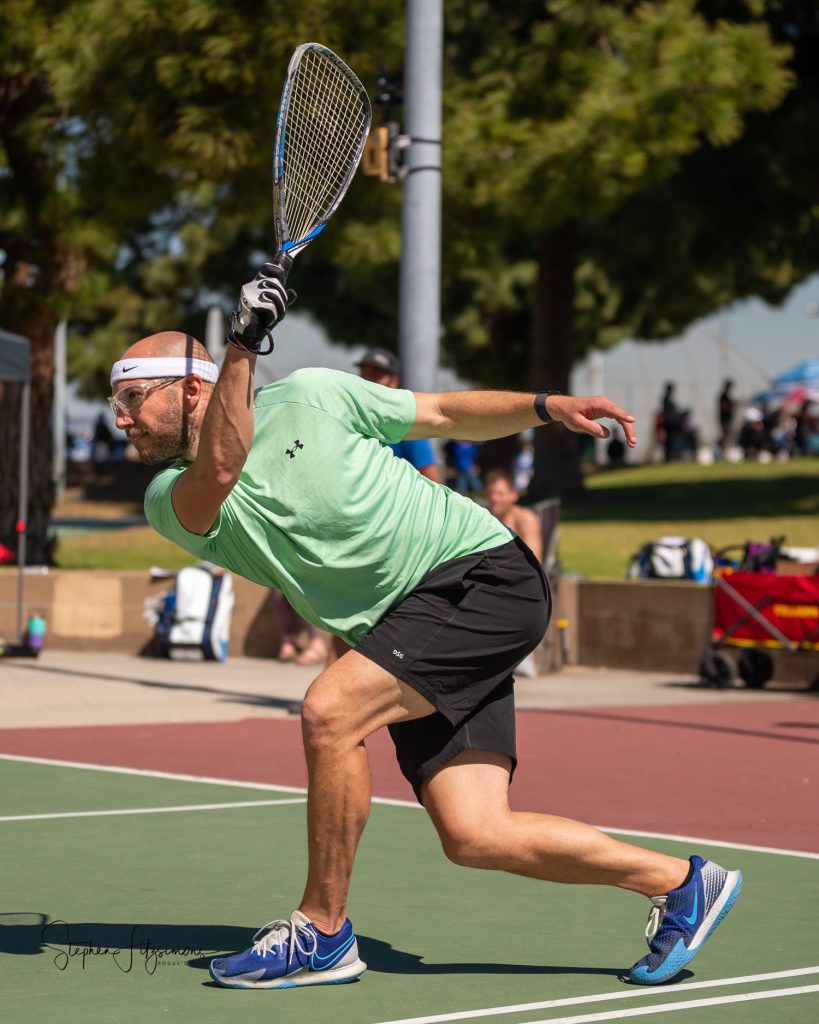 Welcome to the Outdoor Nationals, being held at the Marina Park outdoor courts in Huntington Beach, where it has been since 2006. This year's event is presented by PROKENNEX , one of the sport's biggest outdoor sponsors, as well as 3Wall Ball . Additionally we have Keith Minor 's continual support via KWM Gutterman Inc. , frequent Vegas sponsor Melissa's, Gearbox , Splathead Sportsgear , and my old friend Mark Bloom and his law firm Bloom Injury Law , taking a break from padel to support his first love; racquetball.
It has been a tumultuous year for Marina Park and its players, as a redevelopment effort threatened the courts altogether. Thanks to the nationwide community for its support, and for the players who represented our sport at the July 12th hearing (not the least of which being junior Victoria Rodriguez , who by all accounts gave a fantastic presentation that may have prevented even reconstruction).
This is the 2nd leg of the Outdoor cup Series: see https://3wallball.org/lpl-financial-ladies-cup/ and https://3wallball.org/kwm-gutterman-mens-cup/ for the current standings.
Also, go to 3WB's Outdoor Nationals page here https://3wallball.org/…/huntington-beach-outdoor…/ for links, including a link to the 2023 Outdoor Nationals Broadcast Binder, put together by yours truly. It has 120 player profiles, all the WOR rules, past tournament winner history, WOR HOF, etc. https://3wallball.org/…/Outdoor-Nationals-2023… for a direct link. If you want a MS Word copy or if you see any information needing updating DM me.
By the time you read this, the matches have already begun. My apologies for the tardiness. The draws were still being worked on up until the beginning of the event and I had some pressing time issues this week both personally and professionally.
R2 Sports App link: https://www.r2sports.com/website/event-website.asp?TID=40547
The overall draw for this event is down from last year, and down from past years, a continuing trend in our sport.
———————————
We'll do quick observations on the major pro draws:
– Men's Pro Doubles: 13 teams are signed up, including some fascinating names. 14-time indoor pro tour champ @Kane Waselenchuk is making his return to competitive racquetball nearly 10 months to the day after tearing his achiles heel in a pro stop in Maryland. He's teamed with Alvaro Beltran , owner of 12 major outdoor pro doubles titles, but are seeded 8th and play into the #1 seeds and 2-time defending champions Micah rich and Jason Newberg . It will definitely be a must-watch stream saturday at 12:20pm PST, but I expect the #1 seeds to advance; Rich will dominate Alvaro on the left, and I'm not sure Kane can impose his will enough from the right to make a difference on the massive Marina courts. Rich/Geis project to face 2018 champs Brandon Davis and Josh Tucker in the semis.
From the bottom half, @Daniel de la Rosa has parted ways with Beltran obviously, breaking up a partnership that lasted 10 years and earned them six major outdoor titles together, on top of numerous indoor pro, national, and international titles. He's teamed here with his now-USA racquetball doubles partner @Alejandro Landa , who is new-er to outdoor but is still a capable doubles player. I can see them out-lasting #3 Rocky Carson and Ustarroz in the semis by just wearing down Jay to force a 1v2 final.
Look for Rich/Geis to 3-peat.
—-
Women's Pro Doubles: Eight teams are here competing, but we'll have a new champ for 2023 as the 4-time defending champion team of @Carla Munoz and Key Michelle have split up (at least for this event). Key is not present, so Munoz has picked up WOR legend and future Hall of Famer Janel Tisinger. They're the #2 seeds, but they'll be tough to beat. Speaking of future Hall of Famers, Rhonda Rajsich is back in action, having missed the last couple of outdoor majors. She's teamed with @Danielle Maddux as the #3 seeds.
Look for Munoz/Tisinger to top #1 seeds and last year's runner's up @Kelani Lawrence and @Hollie Scott in the final.
—
Mixed Pro Doubles: The #2 team of Greg Solis and Tisinger has won this title 5 times together, the first being in 2011. But they're #2 here behind the Mixed pro juggernaut that is De La Rosa. DLR has won 5 out of the last 6 mixed pro titles here, all with his former partner Key. Now he's partnered with Scott, they're the #1 seeds, and they're the prohibitive favorites here. They won both Vegas 1-wall and Beach Bash together, and DLR is really tough to beat in mixed.
DLR/Scott will get an early test, as Landa is paired with first-time-playing-outdoor and newly crowned LPRT #1 Montse Mejia , and their semi possibly against #4 Munoz/Tucker will be awesome. From the bottom, Solis/Tisinger will have to deal with Rich early; he's paired with Maddux for a juicy quarter, feeding into the multi-title holding pair of Rick "Soda Man" Koll and Rajsich. Lots of good matches here.
Look for DLR/Scott to win out.
—-
Men's Singles: 3wall singles in Marina Park is not for the faint of heart; only 3 signed up to try this year. Danny Lavely (last year's finalist), Mike Orr , and Alonzo Tavares . Look for Lavely to make it 7 winners out of 7 years in this division that was once dominated for the better part of 4 decades by just two men: Carson and Brian Hawkes .
Women's Singles: The women's pros weren't scared off by the big courts in HB: eight pros are in Women's singles to try to knock off two-time defending champ and #1 seed Munoz. Included in that group is Mejia, former 5-time champ Tisinger, former 4-time champ Rajsich, and multiple outdoor singles champ Scott. It's going to be a dog fight, but i'd expect Munoz over Scott in a rematch of last year's final.
—-
CPRT:
The CPRT draw is stacked, with Tucker/Solis as the #1 seed but who might have to fend off Tom Durham/Jason Geis to get back to the final. That is, if Durham/Geis can hold off Koll/Beltran. From the bottom, multi-pro titlists Carson/Ustarroz are always a threat here, but @Scott St Clair and Tony Berg are double tough as a team.
Lets go off-chalk; i'm going with Durham/Geis over St. Clair/Berg in the final.
—-
Other Draws:
The Men's Open is basically a pro-lite draw, with a slew of top teams. Combined 75+ looks tough, 50+ has pros playing, Centurion too. Lots of solid ball this weekend.
———————————
Look for Streaming being provided by home-town JT R Ball . Follow the World Outdoor Racquetball page for live streaming updates, which are pretty well shared for this event in WOR and in KRG.
Thanks to the long-time Outdoor nationals Tourney Directors Geoff Osberg and Jesus Ustarroz for putting this event on!
Associations
– WOR, wholly owned by USA Racquetball