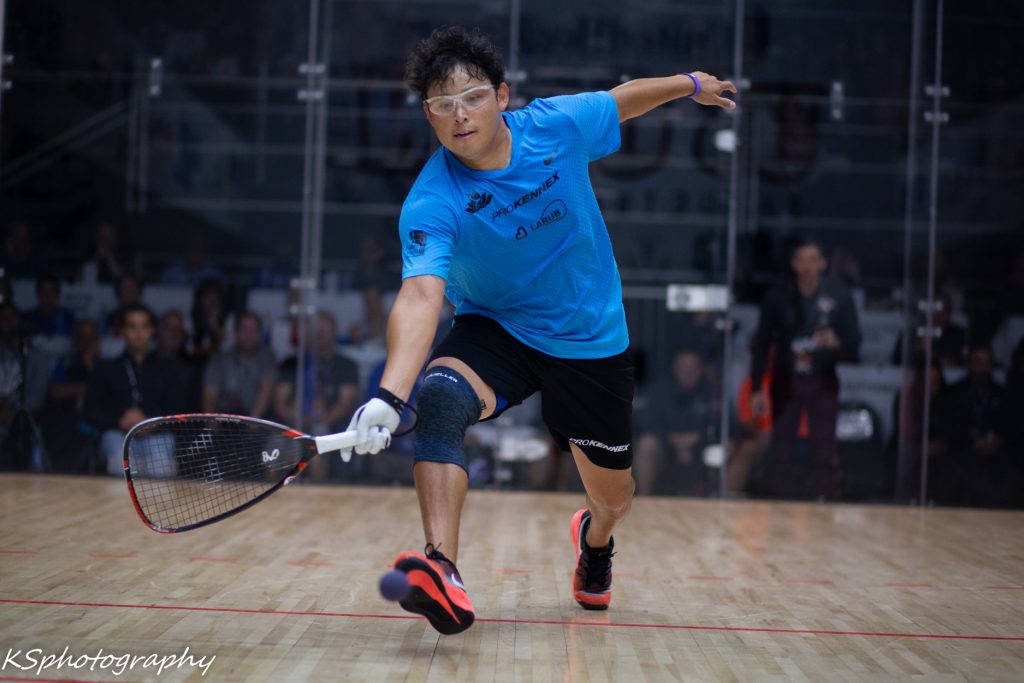 After months away, the IRT is back in action, heading to Boston for the 2023 Rally for our Warriors. The LPRT was at the same club (Wayside Athletic in Marlborough) back in March, but it has been some time since the Men's pros were in the Boston area. You have to go all the way back to March of 2007, for the Red Swain Memorial for the last time the IRT was in Massachusetts, so congrats to Stuart Solomon for putting this together.
R2 Sports App link: https://www.r2sports.com/website/event-website.asp?TID=41684
The draw is a bit diminished for this event (22 pros are in town, probably a side effect of the expense of the Pan Am games and other travel this summer), but the stakes couldn't be higher. With just this event, the satellite in Portland, and then the season finisher in Pleasanton, there's very little time to settle the 2023 year end title. Assuming that this event and Pleasanton are regular Tier1 tour stops, #1 seed @Daniel De La Rosa can secure the year end title with a win here in Boston. however, #2 Jake Bredenbeck and #3 Conrrado Moscoso can both really put a monkey wrench into those plans with winning performances here.
Also interesting: none other than Kane Waselenchuk is in this draw. He turns 42 today. We havn't seen Kane in singles since his Achilles injury in Sept 2022. Will he compete? He entered singles in Denver but withdrew, so it remains to be seen. If he competes, he's seeded 22nd out of 22 by virtue of having expired all his previous rankings points, and is scheduled to play #11 Robert collins at 4pm EST. If he wins, he plays into #6 Adam Manilla and then to #3 Moscoso, so that'd be a heck of a test for him.
——————————
Lets preview the draw. Only the singles draw has been released as of this writing.
Two top 10 players are absent: Portillo and Landa. this slightly changes the projected round of 16 matches for the top 3 players, which could play into the year end standings heavily.
——————————-
In the 32s, some notable matches:
– Should be fun to see what Mexican Axel Barojas can do against the Chilean national Rafael Gatica
– Kane should have a decent shot against Collins in a battle of veteran pro lefties.
– top New England player @JoJose Flores should move on against IRT regular @Jim Douglas
——————————-
round of 16:
– The 8/9 matchup between Alan Natera and Andres Acuña could be great. Natera has been on fire lately and could push the Costa Rican here.
– #4 Rodrigo Montoya will get an early test against Erick Trujillo , who has seen his progress stall a bit after some eye opening early results.
– If he plays, and if he advances, all eyes would be on #22 Kane versus #6 Adam Manilla in this round. It'd be another matchup of lefties, but a different battle for Kane. Manilla is fresh off a gold medal in Chile in Mixed, and has been getting some pretty solid results lately. He beat Diego Garcia in Chile, he's got pro wins over Murray and Acuna this season, and he took out Jake at USA Nationals. This would be a great litmus test for Kane's comeback, but I suspect Adam would be too much for him.
——————————
Projected Qtrs:
– #1 DLR over the Natera/Acuna winner. I don't think either player has what it takes to take out Daniel right now.
– #4 Montoya over #5 @Andree Parrilla ; these long-time adversaries are now settling into the realization that Montoya has the upper hand in their rivalry.
– #3 Moscoso versus the Kane/Manilla winner. Well, I'm certain that neutrals (myself included) would love to see Kane versus Conrrado. It would certainly put and end to the social media campaign that believes that Kane still would beat anyone who he plays. Many believe that, even if he got by Manilla, Kane would be overpowered at this juncture against a player who is probably the most talented in the world.
– #2 @Jake Bredenbeck over Big Canada #7 Samuel Murray
Semis:
– DLR over Montoya. Montoya does have a handful of wins against DLR in their careers. I also think DLR knows precisely what he needs to do to secure the title and will be rather motivated here.
– Moscoso over Jake; Jake may be seeded #2, and Jake may have beaten Conrrado in their last meeting in Chicago, but Conrrado's the better player.
Finals;
– Moscoso over DLR. Moscoso is on a run, fresh off Pan Am gold, and looks unstoppable. He wins Boston to force Pleasanton to count.
——————————-
Doubles review: no draws as of this publishing.
———————————
Look for Streaming in the regular places; follow the IRT on Facebook and sign up to get notifications when they go Live. Look for Favio Soto, Samuel Schulze, Pablo Fajre and the IRTLive crew all weekend on the mike, calling the shots!
International Racquetball Tour
#irt #lprt #wor