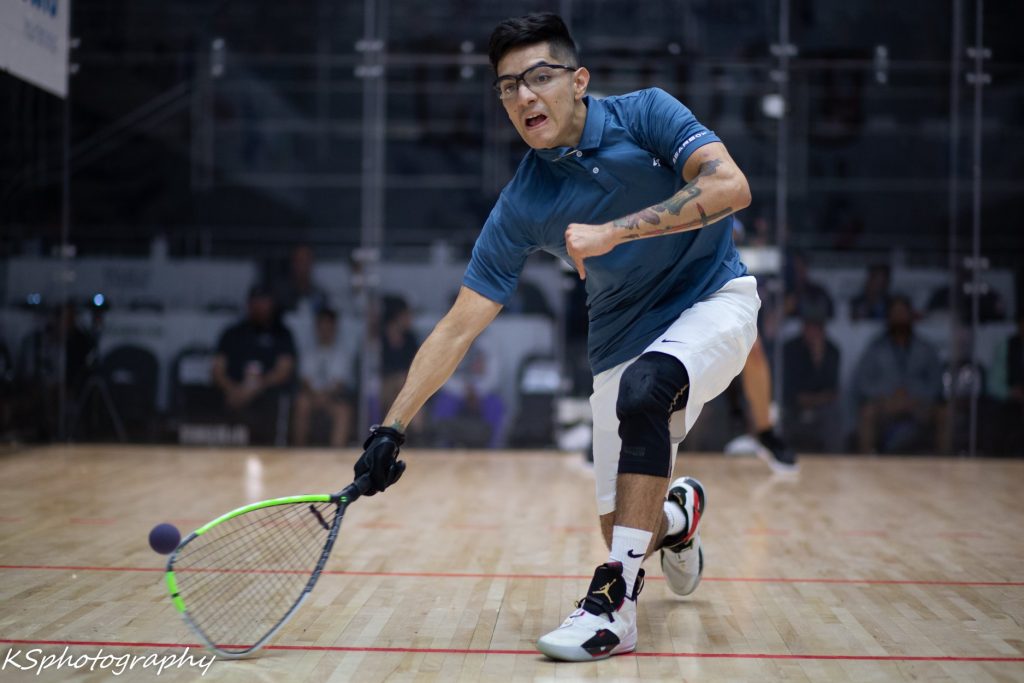 Congrats to your IRT Singles Pro winner on the weekend: Andree Parrilla
Parrilla surprises the field, taking out the #1, #2 and #4 seeds en route to the title. This is Andree's 3rd career IRT tier 1 title, and he becomes the 5th different player to take a tier 1 title this year. Each of the top 5 ranked players on tour have taken a title this year, after 6 different players won last year, continuing to show the diversity on tour that we have right now.
R2 Sports App home page for event: https://www.r2sports.com/website/event-website.asp?TID=41684
——————
Lets review the notable matches in the Singles draw.
Singles Match report in the PRS database: https://rball.pro/4ki
—————-
In the 32s:
– 14-time IRT season-ending champion @Kane Waselenchuk made his return to pro singles, nearly 14 months after he tore his Achilles heel, and on the weekend of his 42nd birthday. He had entered Denver in August but pulled out last minute. Not this time, as he took the court against fellow lefty veteran Robert collins to open the event. Seeded 22nd out of 22, Kane made fast work of the #11 seed Collins 5,5 to announce his return to the sport.
—————-
In the 16s:
– #8 @Andres Acuña got a nice win against the streaking Alan Natera 13,13.
– Kane survived his first real test against a top ranked opponent, taking out #6 Adam Manilla with ease 2,4.
– #7 Samuel Murray was taken to a breaker by veteran lefty #10 Thomas Carter but rebounded to advance in three.
—————-
In the Quarters:
– #1 @Daniel De La Rosa was pushed to the limit by Costa Rican Acuna, advancing 14,14. It doesn't get much closer than that, and it makes this observer wonder if DLR is entirely "into" this tourney.
– #5 Parrilla reverses a recent trend of losing to his long time Mexican Rival #4 Rodrigo Montoya , winning an 11-7 breaker to move into the semis.
– In the match that I, along with many neutrals wanted to see, former #1 King Kane trounced #3 @Conrrado Moscoso 8,6 to move on. Kane mixed up power and touch masterfully, using power-based accuracy on his serves to force attackable returns from Conrrado, and then using his amazing touch in the front court to dink balls away for winners. Moscoso was unable to adapt his all-attack game and had no answers really for Kane's approach. The scores probably weren't as close as they indicated, as game two was mostly one way traffic once it became clear Conrrado had no answer. This was a real eye-opening result for this observer; i was certain a 42-yr old Kane coming off a massive injury would fall here, and It really makes me question the status of the current top ranked pros in the game's hierarchy if Kane can win so easily. More importantly to the 2023 points race, this early round loss combined with DLR's advancing to the semi most likely sealed the 2023 title for DLR; more on that later.
– #2 Jake Bredenbeck survived match point against versus Big Canada Murray to move on to the semis for the 8th time in 9 tournaments this year, continuing to be the most consistent player on tour.
—————
In the Semis
– #1 De La Rosa frittered away game one 15-14 against Parrilla and then played catchup most of game 2 before losing 14,13 and missing out on an opportunity to really seal the 2023 title.
– #2 Bredenbeck showed more of a game plan against Kane than the opponents prior, but still had to survive another match point against in game two to get this to a tiebreaker. There, a clearly injured Kane limped his way to an 11-4 game3 loss that he probably should have just forfeited. Nonetheless, its Jake who advances to the title game.
In the Finals, Andree and Jake gave a fantastic showing, with the game going to the very end. Andree takes the title with an 11-10 thriller.
—————-
Points Implications of results
In the short term, I believe making the finals will vault Jake to the #1 spot on tour, if just barely over DLR. I say "I believe" because my working XLS doesn't take into account the slight points totals that the players earn for losing in three. If this happens, it'd be the first time Jake has officially ascended to #1, even if briefly.
In the longer term (i.e. for the rest of the season), DLR increases his "season to date" points lead over Moscoso to 495 points (his lead over Jake is 540 points once you drop the lowest scores for all players). This means the following: If Pleasanton is a normal Tier 1 event in terms of points awarded, then DLR has now sewn up the year end title for 2023. If however Pleasanton is counted as a grand slam (which awards 600 points to the winner), the title technically is still up for grabs. There's also a chance that Boston counts as a Grand Slam as well (though doubtful, since there was no money in Pro Doubles), but we'll have to see what happens when the rankings run on Tuesday.
—————-
Open Singles, other notable draws
– In Open Singles Trujillo defeated Murray (who was "allowed" to enter Open since he has dropped out of the IRT top
in the final. Top NE players Flores and Keegan Smith were in the semis.
– Open Doubles: competed on Sunday, Flores teamed with Orlando Cabana to take the doubles title, beating Alok Mehta and Erick Cuevas in the final.
—————–
Thanks for all the streaming on the weekend, especially from broadcasters @FavFavio , Steve Schulze ,Pablo Fajre and the IRTLive crew
Thanks to the Tourney Director @Stuart Solomon or putting this event on!
Reminder to Players! Please like and follow this page so that when I tag you, you see it. Facebook will only retain tags of people that like/follow a page, which means lots of you are not getting the notoriety of getting tagged and noticed on Facebook. If your name is here and it isn't tagged … it probably means I attempted to tag you but Facebook stripped it.
——————
Next up?
Per our handy master racquetball calendar …
The LPRT visits Chicago next weekend, and World Juniors has already started down in Tarja Bolivia. After that, we have 3 more pro events to finish out the calendar year; a satellite IRT in Portland, the Pleasanton IRT event, then the LPRT returning to Severna Park for the Xmas classic.