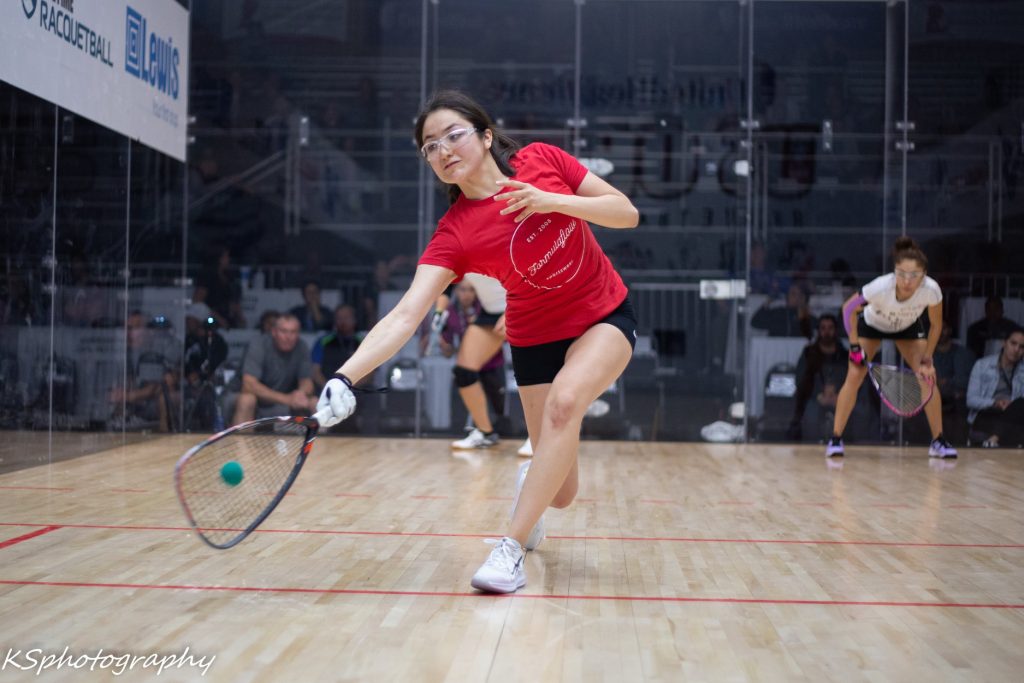 The LPRT is back in action after a 3 month hiatus; the last time we saw the pro ladies on the court was in Denver for World Singles & Doubles. This is the 5th year in a row the famed Glasscourt club in Lombard outside of Chicago has hosted the Ladies for the "Turkey Shoot," and it'll be great to see the pros battling it out on the "Fishbowl" court in the club (which features glass on three sides).
R2 Sports App link: https://www.r2sports.com/website/event-website.asp?TID=41683
We have a bit of a smaller draw than expected: just 18 players here in Chicago. Two of the top 10 are missing (Barrios and Gaby) but most of the rest of the top 10 is here, making for a pretty solid draw.
——————————
Lets preview the draw. With 18 players there's just two play ins: @Lexi York takes on @Stephanie Synhorst and @Maria Paz Riquelme takes on Chanis Leon . Both could be pretty tight, and it'll be interesting to watch the two lefties (Riquelme and Leon) battle for a spot in the 16s.
——————————-
round of 16: Some fun matches coming our way in the opening round:
– 8/9: Carla Muñoz versus Natalia Mendez : Carla is just 1-8 lifetime against the Argentine. They've split their last 2 meetings, but Natalia got her in Denver at this same juncture.
– 5/12: @Alexandra Herrera versus Jessica Parrilla . Herrera has slipped out of the top 4 for the first time since January 2018. Parrilla spent all of last season in the top 8 and now is on the outside looking in. These two have met 13 times in all competitions, and Leoni hasn't gotten a win over her lefty counterpart since 2016. Odds are Alexandra is moving on here.
– 6/11: @Erika Manilla versus @Valeria Centella : Centellas shocked Erika in December of last year, and Erika won the rematch rather handily in May in Greenville. Which Centellas shows up here? Manilla is coming off a gold medal in Chile, a career accomplishment, and is riding high.
– 7/10: Samantha Salas vs Kelani Lawrence: 4 career meetings between these two and Samantha is 4-0. Kelani has pushed their last two meetings to the bring though and will be pushing to get a breakthrough win.
——————————
Projected Qtrs:
– #1 Monserrat Mejia over Mendez. Montse is 3-1 lifetime, but they're usually close. But Mejia should advance here.
– #4 @Maria Jose Vargas over Herrera. Vargas is 9-2 lifetime, and Herrera's wins came during a time when Vargas was down and Alexandra was seriously "up." The tides have changed now, and Vargas is going to be tough to beat.
– #3 Brenda Laime over Manilla: Laime has quietly ascended to #3 with a slew of top finishes this season. But she's jeckyl and hyde: in six events in the calendar year 2023, Laime has three round of 16 losses … and two finals. She's 2-0 over Manilla this year, handling her with relative ease in their last meeting in Denver, and her time training with Mercado & Zelada is paying off. She moves on.
– #2 @Paola Longoria over Salas: Longoria and Salas meet again; they've met 60 times previously on the LPRT (and more in Mexican nationals) and they'll meet again. Longoria moves on.
Semis:
– Mejia over Vargas: despite Vargas' career rebound, Mejia has owned her in 2023, winning all three of their matchups. Mejia's mental game is solid and she handles Vargas' power with ease.
– Longoria over Laime: Brenda may have famously beaten Paola in Virginia last September, but Longoria otherwise has owned this matchup. Laime needs to play flawless racquetball and have a strategy to win here.
Finals; Longoria over Mejia.
I do think Paola is highly motivated to regain #1. And despite Mejia winning the title and being ranked #1 right now, Longoria has won their last three matchups (Mexican Nationals in Feb, World Singles in Aug, and then the Pan Am Games gold medal match). Three wins, three different confederations.
——————————-
Doubles review
Just 8 teams competing, but all the regulars partnerships are present. Longoria & Salas are #1, Herrera & Mejia are #2 and are the favorites to get to the final to battle again. Team Argentina (Vargas & Mendez) will try to stop Longoria & Salas in the semis, while an intriguing team of Laime & Manilla will test their mettle against the long-time partners Scott & Lawrence before getting to the semis.
Look for Mejia & Herrera to take this.
———————————
Look for Streaming in the regular places; follow the LPRT on Facebook and sign up to get notifications when they go Live. Regular broadcaster @Timothy Baghurst is busy coaching the kids in Bolivia, so look for others on the mike this weekend to join Jerry J Josey Jr. ., and Tj Baumbaugh on the mike.
Thanks to the Tourney Director Dan Jaskier for putting this event on!
Reminder to Players! Please like and follow this page so that when I tag you, you see it. Facebook will only retain tags of people that like/follow a page, which means lots of you are not getting the notoriety of getting tagged and noticed on Facebook. If your name is here and it isn't tagged … it probably means I attempted to tag you but Facebook stripped it.
Coincidentally, if you're interested in playing Fantasy Racquetball for this event, the links to the brackets are advertised on LPRT's main page. The winner each week gets free swag!
Associations